UPDATE - 7/12@12:36PM: Reader campbellcanuck received the following email from Music Today regarding fans who had purchased Calgary tickets through them:
... all of our fan club customers will be emailed a special code that will get them access to special tickets held just for the fan club. It will be separate from the presale happening now - if you have any more questions, please give our CS a call at 1-800-594-TIXX.
Also, reader clockwork-fan bought Calgary tickets through Ticketmaster and did receive an email with an offer code, and was able to purchase tickets for Red Deer.
----- snip -----
UPDATE - 7/12@12:22PM: The Red Deer pre-sale is now up on Ticketmaster but you need an offer code to complete your purchase. I assume that Calgary ticketholders have been or will be sent the offer code. If anyone has any information, please let us know.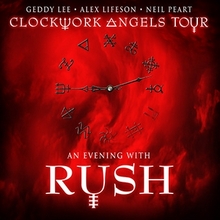 Rush's Clockwork Angels tour made its way across eastern Canada this past week, playing shows in Hamilton, Ottawa and Quebec City. Both the Ottawa and Quebec City shows were outdoor festival concerts, and the setlists for both shows were shorter than the usual 3-hour sets the band typically plays. However, while the Ottawa Bluesfest set was shortened intentionally to fit into the timeslot, the Quebec City Summer Festival set was not; the band had started playing their standard Night A setlist when inclement weather forced the show to be cancelled towards the end of the second set, causing concertgoers to miss the last 6 songs or so, including the encore. Rush posted a statement from Geddy Lee yesterday apologizing to all the fans for the premature ending of the show which you can read online at Rush.com. Tonight Rush will play the first of two long-awaited, back-to-back shows in Halifax - the band's first appearance there in nearly 26 years, as pointed out in this article from Halifax's The Coast. After tonight's show at the Halifax Metro Centre, the band will take Saturday off and then play another show there on Sunday night before breaking for 10 days. They'll then close out the tour with a string of 6 dates out west, the first of which was to be a July 24th show at the Calgary Saddledome which was finally cancelled yesterday due to severe flooding damage suffered by the venue last month. They will instead perform a separate show on the same date in Red Deer, Alberta at the Enmax Centrium with all proceeds to go to Alberta Flood Relief. According to Live Nation and Rush, tickets for the Calgary show that were bought online or by phone will be refunded automatically starting sometime today, and any other tickets can be returned at the point of purchase starting July 16th. They also indicated that ticket holders will receive an email from Ticketmaster with exclusive presale details for the new show. This pre-sale is scheduled to begin shortly at 10AM MST (12PM EST). But as of this point I haven't heard from anyone who has received one of these emails, or any other details regarding the pre-sale. Any tickets remaining after the presale will be available to the general public this coming Monday, July 15th at 10AM. They've also indicated via the Live Nation Alberta Facebook page that VIP Nation will be directly contacting VIP ticket package purchasers. There hasn't been any word regarding Music Today fan pre-sale tickets though. If anyone gets contacted by either Ticketmaster, VIP Nation or Music Today, please let us know.
In the lead up to Rush's appearance in Halifax this weekend, earlier this week the Halifax Chronicle Herald posted a new interview with Geddy Lee that was conducted just prior to the summer leg of the Clockwork Angels tour. Geddy talks about the Clockwork Angels album and tour, and addresses the conceptual nature of the album:
... It was an interesting trip because we got away from making those kinds of records. We continued to make concept records, we just didn't tell anyone. So nobody commented on that; I guess they didn't put two and two together, but it is quite different when we go out there and say, 'Yes, it's a concept record.' You can connect the songs in a more overt way as we express the concept in a visual sense, especially in our live show and so on. It was quite a job, making sure that it had the right tone. We wanted it to be progressive, but we didn't want to sound too 'proggy.' We wanted it to rock, but it still has to follow a storyline and have its more contemplative moments. It was really a difficult job to deal with the concept in the right light, but the music came quite easily, quite naturally, and that was a blessing for the record. ...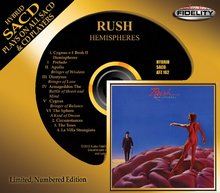 Audio Fidelity will be releasing an SACD (Super Audio CD) version of Rush's Hemispheres next month on August 6th. The Audio Fidelity website now has the SACD listed along with the cover art. The listing states that the SACD will retail for $29.99 and was mastered by Kevin Gray at Cohearent Audio. You can pre-order your copy of the Hemispheres SACD at this location. Audio Fidelity released an SACD version of Counterparts earlier this year.
The second annual Prog magazine Progressive Music Awards nominees were announced earlier this week. The ceremony will take place at London' Kew Gardens on September 3rd and Rush is nominated for Band of the Year and their 2112 Deluxe Edition is nominated in the Grand Designs category. To place your vote for Rush register at the Progressive Music Awards website (vote for Rush for Band of the Year here, and 2112 here). For a complete list of categories and nominees along with all the other details, check out the Prog magazine website here.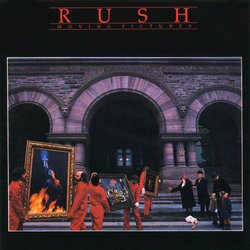 Gibson.com published their list of the Top 10 Greatest Rocking Bass Riffs earlier this month and topping the list at #1 was Geddy Lee's bass riff from Rush's YYZ. Here's what they had to say:
Pretty much any song by Rush could have been on this list. Rush bassist, keyboardist, and singer Geddy Lee has come up with quite a few intricate bass lines over the years. Keep in mind that Geddy doesn't simply play bass - he sings lead vocals at the same time. Not an easy feat by any standards. But Geddy's finest moment must be the instrumental "YYZ" from the band's 1981 Moving Pictures album.
It's been over 2 years since his last update, but MusicInTheAbstract - owner and operator of the MitA's Rush Oddities site - finally posted several new Rush audio nuggets to his website earlier this week. For all the details and to listen to all of the audio samples, just check out this post.
The guitars of Alex Lifeson and Geddy Lee will be featured in an upcoming book from author/photographer Lisa Johnson titled 108 Rock Star Guitars. The book includes a forward by Les Paul and is slated for release this fall. Johnson was recently interviewed for the Thousand Oaks Acorn and discusses the book in detail. You can read the interview online here and pre-order the book on Amazon at this location.

Back in 1987, New York City based drummer Mark Feldman entered and won a drum solo contest sponsored by Modern Drummer Magazine to win Neil Peart's legendary Slingerland drum kit. Then back in 2009 Feldman auctioned off the kit on eBay where it was sold for over $25,000. The kit was then refurbished by its new owners and has been making the rounds at Rush events ever since, helping to raise money for Cancer research and gaining a new nickname - Chromey. Feldman put the $25,000 to good use, using it to fund the 2009 creation of BANG! The Drum School which recently announced an expansion and new class in this press release:
Feldman sums it up: "One of the founding philosophies of BANG! is that dreams do come true, and that you should pursue them. It still seems unbelievable to me, but I managed to turn a two minute drum solo into $25K, and that allowed me to start my dream business. Our new class is designed to help beginning drummers get better so that they can follow their dreams as well."
Paul Gleason at Caught in the Carousel wrote a great piece earlier this week describing the experience of taking his kids to see Rush for their first concert experience. It's titled The Kids' First Concert: Rush Live at Summerfest Bring Generations Of Their Fans Together and you can check it out here.
Larry Walsh of Channelnomics.com recently wrote this great article describing how he has drawn inspiration from Rush and 2112 in particular, prompted by his recent meet and greet with Geddy and Alex at last week's show in Hamilton.
... We all find inspiration in different places and different forms. We have a song inside that drives our aspirations and actions. Saturday night, I got to meet the men who created the words and music that stirred my soul on that wayward beach so many decades ago. While I was just one among thousands of fans that night and one among the millions of fans around the world, I was - but for a brief moment - with the people who gave me the inspiration to "break the surface tension with wild kinetic dreams."
Reader liquidmuse3 let me know that Grammy-winning producer Steve Lillywhite was a guest on the Mohr Stories podcast with Jay Mohr last week. Lillywhite was the producer first tapped by Rush to take the reigns from Terry Brown back when they parted ways after the Subdivisions album. After promising to produce the band's Grace Under Pressure album, Lillywhite backed out at the last minute, much to the chagrin of the band and Ray Danniels. Lillywhite addresses this at about the 1 hour and 13-minute mark of the podcast, remarking that Rush HATES him because of this incident. He also insinuates that Rush manager Ray Danniels even threatened to break his legs because of it. You can listen to the podcast online at this location or via iTunes (#172).
Reader Riley F of recently reformed Norwegian Christian metal band Extol just released a new self-titled album last month. Inside the album jacket is a photo of the band, and lead vocalist Peter Espevoll is wearing a Rush Fly By Night t-shirt. Drummer David Husvik also gives a shout-out to Neil Peart in the special thanks section of the liner notes.
Reader Adam C let me know that over the July 4th weekend Long Island rock radio station WBAB ran their Firecracker 400 countdown of the top 400 rock songs. Rush's Tom Sawyer actually topped their list at #1. You can view the entire list here. Other Rush songs making the list were Closer to the Heart at #94, Freewill at #189, Limelight at #205, Subdivisions at #273, The Spirit of Radio at #321, and Fly by Night at #395.
Canadian pop singer Carly Rae Jepsen recently performed her hit song Good Time at a free concert in Ottawa this past Canada Day. The song is a duet with Owl City's Adam Young and one of the lines sung by Young in the studio version of the song is, What's up with this Prince song inside my head?. The male performer at the Ottawa concert switched the line and instead said, What's up with this Rush song inside my head? You can check it out in this YouTube video at about the 15-second mark (thanks ou812112).
Reader Scott F let me know that in a recent interview with Good Life Project's Jonathan Fields, vulnerability researcher-storyteller Brené Brown says that not only is she a big Rush fan, but that Neil Peart could save the world. She also quoted Rush in her book Daring Greatly. You can listen to the interview on YouTube at this location - the Rush mention comes in at about the 37:30 mark.
Drummer extraordinaire and huge Rush fan Mike Portnoy (formerly of Dream Theater) posted a video to YouTube last week showing him teaching his 14-year-old son Max how to play Rush's The Spirit of Radio on drums. You can check it out below or on YouTube here.
That's all for this week. Enjoy Rush this weekend Halifax. You deserve it after all these years! Have a good weekend everyone!