UPDATE - 7/8@10:22AM: Here's a review from GeekDad.
UPDATE - 7/7@7:50PM: Here's a great collection of photos that was posted over at Cygnus-X1.net.
UPDATE - 7/7@3:43PM: Here's a review and photo gallery from thespec.com.
UPDATE - 7/7@8:43AM: Last night's setlist was Night B - version 5 (thanks Kelly D), and official photos are posted at Rush.com.
UPDATE - 7/6@9:04PM: The first set is almost over and it looks like Night B - version 5 (thanks Kelly D).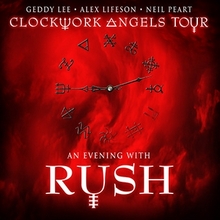 Rush takes the Clockwork Angels tour back to the homeland tonight to play their first Canadian show of the 2013 tour at the sold-out Copps Coliseum in Hamilton, ON. This coming week they'll then head to Ottawa, Quebec City and Halifax for a 2-night stand before taking a short break and closing out the tour with a series of 6 shows out west. Rush played one of their Night A setlists for the Milwaukee Summerfest crowd on Thursday, so fans at tonight's show should see a Night B set. I'll post confirmation of this as soon as I learn about it. In the lead-up to tonight's concert, CBC Hamilton posted an article yesterday profiling Rush fans and RushCon titled Rush nerds: an inside look. For those of you not going to RushCon, Hamilton's Y108 is hosting a Crush the Rush pre-party at Stonewalls from 2-7PM, and then Rush tribute band Wavelength will be playing an after-show party at 11PM. For everyone going to the concert tonight, have fun, stay safe, and be sure to share your photos, videos and reports with us. A special shout-out to all the RushCon attendees! Rush off to the Great White North!!
Date/Time: Saturday, July 6th @ 7:30PM
Show Number: 27
Venue: Copps Coliseum
Place: Hamilton, ON
gallery: [view] [upload] [YouTube videos]
reviews: [reviews] [setlist]