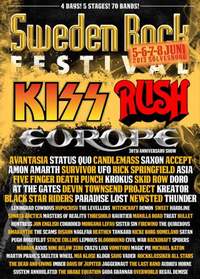 Rush worked their way across the European mainland this past week, playing shows in Amsterdam, Cologne and Berlin. Tomorrow they'll be bringing the Clockwork Angels tour machine to the Sweden Rock Festival for their first European festival show in 34 years. Rumor has it that the band will be playing a truncated, 2-hour set rather than their standard 3-hour show, with no intermission and a reduced rig setup. This is consistent with what is listed on the Sweden Rock website, which shows the band hitting the Festival Stage at 9:30PM and playing until 11:45PM. From what I understand, the Festival is also being filmed - so it's possible some footage of Rush will see the light of day at some future date (possible bonus footage on the upcoming Clockwork Angels DVD?). After the festival they'll close out the European leg with a show in Helsinki on Monday before heading back to North America. On that note, VIP ticket packages are still available for the shows in Jones Beach, Saratoga Springs, and Chicago, as well as the 2nd Halifax show.
MusicRadar.com posted the 4th and final installment of Chad Smith's multi-part In Conversation podcast interview with Alex Lifeson earlier this week. You can check out part 4 of the interview and read the transcript at this location. The first 3 portions of the interview were posted over the last few weeks, and you can listen to part 1 here, part 2 here and part 3 at this location. The interview took place a few days before the band's Rock and Roll Hall of Fame induction over a leisurely dinner at the Sunset Marquis in West Hollywood, California. In part 4 Chad and Alex talk about Alex's grandkids, the Rock Hall, Geddy's baseball obsession, golfing, Alex's psoriatic arthritis, Nick Raskulinecz and more. The pair talk a lot about the Rock Hall and the induction ceremony, with Chad sharing his experiences being inducted with the Red Hot Chili Peppers last year. You can get the podcast on iTunes here, or listen to the interview on SoundCloud.
Speaking of Lerxst, MusicRadar.com put together a list of 8 Underrated Guitarists earlier this week and Alex Lifeson made the cut at #3 (thanks RushFanForever):
Despite monster prog chops and a Les Paul tone to die for, the Rush man rarely gets a mention in pub discussions, presumably because he's never achieved notoriety by falling out of Stringfellows with a stripper's garter belt over his head.
Alex Lifeson will also be featured in an upcoming book from author/photographer Lisa Johnson titled 108 Rock Star Guitars. The book includes a forward by Les Paul and is slated for release this fall. You can learn more about it and get updates on the book's Facebook page. Thanks to MusicTheAnswer for the heads up.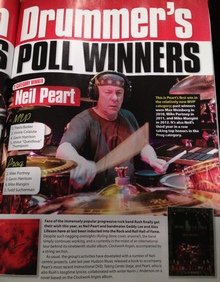 The July, 2013 issue of Modern Drummer hit subscribers' mailboxes earlier this week, and it contains the results of their 2013 Readers' Poll. Neil Peart won in the relatively new MVP category for the first time, along with taking top honors in the Best Prog Drummer category for the third year in a row. You can check out a screenshot where they feature Neil and his awards here. Speaking of Neil, Rolling Stone's Andy Greene posted his list of The 10 Most Annoying Rock Star Behaviors earlier this week, and #9 on his list was the solo. Although he makes an exception when it comes to Neil Peart and a few others:
This will have some dissenters. But if you aren't Neil Peart, Ginger Baker, Eric Clapton or a musician on that level of genius, nobody wants to hear you solo. ...
And continuing with the Neil Peart news, Canadian musician Danko Jones recently penned an article for the Huffington Post (thanks RushGuy) where he talks about growing up a Rush fan. He relates a story about how he wrote a letter to Neil Peart back in 2004 and how Neil finally wrote him back in 2007:
... reading some of [Neil Peart's] books inspired me to write him a hand-written fan letter in 2004. After years of seeing behind the velvet curtain and turning my ever-growing jadedness into a fine pointy lance, I'm still not above writing fan letters. ... I didn't expect an answer back, and being that I was an otherwise serious adult, just the writing of it was enough to make me feel good. ... in November of 2007 I received a hand-written reply from Peart in the mail. It had taken so long that I had forgotten I even wrote the letter in the first place. My heart stopped, my pulse raced, my brow beaded, Neil Peart had written me back! ...

The 3rd annual Lonny's Smile benefit show and auction will be taking place in Toronto at the Horseshoe Tavern on Thursday, June 20th. Lonny Smile is a fundraising event to help send sick kids with congenital heart disease to summer camp, and one of the hot auction items this year is a Geddy Lee signature bass guitar. Here are the details from Geddy's tech:
This is a brand new Geddy Lee signature bass. You could walk into a music store and buy one for about $1000.00. However, it does have a used set of (Geddy played) Rotosound strings on it. The pick guard is an original piece of art by friend James Hogg, who does all of Geddy's pick guards. The images are drawn in AutoCad, then laser engraved and finally hand filled with paint so each one is unique and there are no duplicates. Hogg also signs and dates the back. The bass has been set up by me to the same specifications as all of Geddy's basses. The original plain white pick guard is included so the bass can be taken out and played and the engraved and signed one put away. Geddy will sign and personalize the pick guard for the winner after the auction.
The event is a silent auction held in Toronto, and bidders do have to be at the auction in person to bid and win. Tickets are for sale through Sick Kids hospital in Toronto at this location. Proceeds will benefit Camp Oki, a free weeklong camp for children from Quebec and Ontario who suffer from heart defects and require implanted pacemakers or defibrillators (ICDs). Thanks to Tina C for the information.

In a tweet from earlier this week, Lita Ford congratulated Rush on their recent Rock Hall induction - including in the tweet this mid '70s photo of Rush with The Runaways. She apparently has no problem with Rush, unlike her former The Runaways bandmates Joan Jett and Cherie Curie who claimed that Rush were jerks to them when The Runaways opened for Rush back in 1977, as was dramatized in the movie biopic The Runaways.
Someone else who seems to have a problem with Rush is recently fired, former STP frontman Scott Weiland. He was interviewed by the Arizona Republic this past week and spent some time going off on his former bandmates. He also takes a shot at Rush when describing his disagreement with STP's artistic direction (thanks james labrie):
... I think about how selfish [STP] are and how much it blows me away that after two times of trying this, they still think they have any opportunity of doing it without me. And it's not me saying that I'm the greatest because you know what? I'm not. John Lennon. Paul McCartney. They are ... better than I am. But as far as this band goes? The vision? The artistic direction of the band? And trying to keep them from sounding like Rush? I'm sorry. I have to be totally honest. It was me. I'm guilty. I kept them from doing it. That's all I've got to say.
Canadian actor/comedian Rick Moranis was recently interviewed for Spin.com and spoke a little about his history with Rush:
Geddy Lee and I went to the same grade school. He moved away when we were still young but I remember him like I do all my friends from back then. Then in 1982 Dave Thomas and I were approached to do a record as the McKenzie Brothers on Anthem Records, the same label that Rush was on. So when we did the album we wound up having Geddy sing the vocal lead for the first single, "Take Off." That was the first time I had seen him since we were kids and the first time he had this enormous success. I've seen him subsequently a number of times and he always says, "That's the only number one record I've ever had!" Which is insane to me because those guys have sold about a 150 zillion records.
The new season of That Metal Show on VH1 Classic premiered this past weekend and the featured guest was bass player Jason Newsted. At one point Newsted answered questions from audience members and someone asked him who his favorite bass player was. Jason listed Geddy Lee as one of his 5 favorites. You can watch the show online at this location. The part where Geddy is mentioned comes in at about the 27-minute mark. Thanks to mhill for the heads up. Bassist Robbie Shakespeare - one half of the legendary reggae rhythm section Sly & Robbie - also is a big fan of Geddy Lee. He was recently interviewed by United Reggae and when asked about Geddy said the following:
Yeah! Geddy Lee is bad! And you have a couple more. Metallica I love. Metallica are bad. Again, with rock I listen to them for different reasons. ...
Staying on the subject of Geddy Lee fans, reader simont2112 came across this video on YouTube which shows a fan chatting with Geddy at a recent Lakers playoff game. The fan chats with Geddy for a little while and then snaps a photo with him. The fan also looks like he might work for the venue, which is why he may have had access to him. This looks like the same game in which Geddy was called out by the announcers during the game.
Rob over at the Rush Vault noticed that the 1974 Rush ABC live version of Working Man contains a riff that later showed up in the 1975 studio version By-Tor and the Snow Dog. This isn't necessarily a new revelation for many fans familiar with the ABC live bootleg, but might be new to others. Rob took things a step further and created this 30-second video where you can hear the two versions next to each other. He also included visuals of the tabs for both versions, so you can follow along with a bouncing red ball to see how the riff is played.
Canadian TV and radio personality George Stroumboulopoulos is set to host a new show on CNN called Stroumboulopoulos which premiere's this Sunday at 10PM. CNN's Jake Tapper recently spoke with Strombo about the show and gave him a little quiz of Canadian terms and culture (thanks Paul D). When Strombo was asked what the greatest rock band to come out of Canada was, he gave the correct answer:
Really tough question, like east coast, west coast battles in hip hop, I worry about my safety in this one. The correct answer is "Rush." Though I do believe it might be "The Tragically Hip" or Neil Young.
Cleveland-based photographer Joe Kleon will be debuting his first one-man show tonight at Cleveland's Space: ROCK gallery at 15721 Waterloo Road. The exhibit is titled A Decade of Decibels: The Photography of Joe Kleon and will feature photos from a number of artists including Rush. For all the details visit the Facebook event page.
American jam band moe. played an outdoor concert in Danbury, CT this past weekend and played a cover of Rush's Tom Sawyer in its entirety. You can watch a YouTube video of a portion of the performance here (thanks Kelly D).
This coming Wednesday, June 12th is the first anniversary of the official release date of Rush's Clockwork Angels album. I emphasize official release date because purchasers of the band's special fanpack promotion were able to receive the album as early as 2 weeks prior to the official release. Here's a behind-the-scenes video interview with Geddy Lee that was produced by Classic Rock magazine for the release. Geddy talks about the making of Clockwork Angels for about 6 minutes, interspersed with in-studio footage from the recording of the album.
That's all for this week. Have a great weekend!