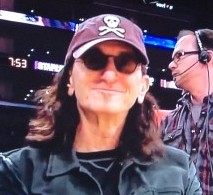 Geddy Lee was spotted court-side at last night's Lakers game in Los Angeles. At one point they put a camera on Geddy and the announcer said the following:
That is a rock 'n' roll legend - Geddy Lee from Rush. He is here enjoying the game from the front row and we knew we were going to have to show him because our director Gerry Weinstein - it's his favorite band. He's probably seen them in concert 50 times. And they're going to be inducted into the Rock and Roll Hall of Fame next week.
You can watch the video on YouTube here. The band is currently rehearsing for the upcoming 2013 leg of the Clockwork Angels tour out in Los Angeles and are also there for next week's induction. Thanks to Jackson P and DigitalMan93 for the video and screenshots.