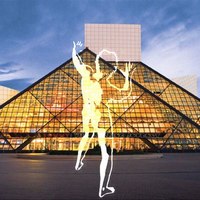 The moment is almost here! After 14 long and frustrating years, this coming Thursday, April 18th - barring any natural disasters - Rush will be inducted into the Rock and Roll Hall of Fame.... that is, the current members of Rush will be inducted. The Rock Hall quietly revealed yesterday that founding Rush drummer John Rutsey (who passed away 5 years ago) will be excluded from the induction. So what do you think of this decision by the Rock Hall to exclude Rutsey? Take the poll and let us know. Judging by the results of the poll thus far, fans are about evenly split on the issue with strong opinions on each side. The induction ceremony will take place at the Nokia Theatre in Los Angeles and then a truncated, 2-hour version will be broadcast on HBO in the US and Canada on May 18th. Dave Grohl and Taylor Hawkins of the Foo Fighters will be inducting Rush; John Mayer and Gary Clark Jr. will perform for inductee Albert King, with Mayer giving the induction speech; Don Henley will induct Randy Newman, who will perform with Jackson Browne and John Fogerty; Christina Aguilera and Jennifer Hudson will perform in honor of the late Donna Summer; Pearl Jam's Mike McCready and Jerry Cantrell of Alice In Chains will perform with Heart, and Chris Cornell of Soundgarden will induct them; and Spike Lee and Harry Belafonte will pay tribute to Public Enemy. Also, Usher will perform a tribute to Quincy Jones and Cheech and Chong will induct producer Lou Adler in honor of both artists' Lifetime Achievement Awards; Carole King will perform for Adler. The show is sold out but plenty of tickets are still available on a number of broker websites, and VIP ticket packages are also available (see rockhall.com for details). The Rock and Roll Hall of Fame will be officially opening a 2013 inductees exhibit this coming Tuesday, April 16th although the exhibit has already been opened up to the public. The Rush portion of the exhibit includes a Neil Peart snare drum, Alex Lifeson's double-neck guitar and a Geddy Lee bass along with various other items. It will also feature a three-screen multimedia presentation that tells the stories of the inductees. You can check out a short video tour of the new exhibit along with some photographs at the Cleveland Plain Dealer website. The onslaught of press coverage of the event has already begun and will likely increase over the next several days. Sean Murphy at PopMatters wrote this great article earlier this week on why he thinks Rush deserves to be inducted:
... Rush, as much as any rock band, represents the eternal present tense. They adapted, and evolved in real time, reflecting the issues, sounds and styles of their day. And one reason, aside from merely making excellent music, that they endure, and remain so popular is that their audience has grown with them-in most senses of the word. Rush has mirrored, and described that journey, so they are never a nostalgia trip; it's very much about the here and now. ... Put yet another way, and perhaps the most important way: Rush has never been less than good. By all accounts they have never turned in a live performance that was less than competent ... somewhere along the line Rush reached a different stage wherein they are the only band they can measure themselves against. This is something exceedingly few bands, in the history of rock music, can ever claim.
There was also this article celebrating the induction from The Toledo Blade titled And the meek shall inherit the hall. If you had to give Rush's induction speech, what would you say? Reader J Russ gave it a try in this post over at his blog. Dave Grohl of the Foo Fighters will be the actual person giving the induction speech and - according to my last poll - most of you think this was a great choice. Paul from The Canadian Music Scene has launched a new Facebook page where Rush fans can post their congratulations to the band for their induction. The big questions about Thursday's ceremony for Rush fans are what songs will they play? and who will they perform with?. We probably won't know the answers to these questions until Thursday. I'll be sure to keep everyone updated as the ceremony progresses; I will be in attendance live-tweeting the event at @rushisaband.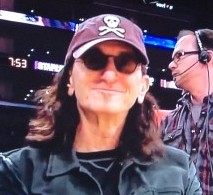 Just five days after the Rock Hall induction, the band will kick off the 2013 leg of the Clockwork Angels tour in Austin, TX. Since the induction is in Los Angeles, the band decided that it would make sense to hold tour rehearsals there as well. Geddy took a break from rehearsing this past Tuesday night when he decided to take in a Lakers game, and ended up having the spotlight put on him by the announcers. You can check out a short video and screenshot in this post. On Tuesday, April 16th Geddy and Alex will attend a Q&A session hosted by Jim Ladd at the ArcLight Cinema in Los Angeles after a special screening of the Rush documentary Rush: Beyond the Lighted Stage. Tickets are available through the ArcLight Cinema website here. Speaking of the upcoming tour, Neil Peart's custom-designed Ruby electronic drum pads - that he introduced to his kit midway through the 2012 leg of the tour - are now available for the general drummer public via the Dauz Electroic Drums website.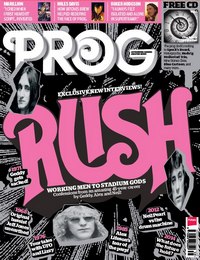 Last week it was revealed that Prog magazine issue #35 would feature a 14-page Rush article in celebration of the band's upcoming Rock Hall induction and tour along with a special, limited edition hardback version of the issue which contains an additional 12 pages of Rush coverage. Prog magazine has started mailing out subscription copies of the standard version of the issue which will also appear on newsstands next Wednesday, April 17th. They posted the cover along with a few details on the contents of the issue to their Facebook page this morning:
... Prog 35 - Rush discuss their 45 years on the planet, from their first ever gig, original bassist, sacking Geddy, getting drunk with UFO, the truth behind that Runaways story, the albums they hate, the songs they can't play, Neil wanted to play with Roger Waters and much more. Including a picture of Alex Lifeson in his pants! ...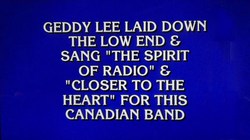 One of the $800 answers in the Bass and Vocals category on Monday night's episode of the American quiz show Jeopardy! made reference to Rush and Geddy Lee:
Geddy Lee Laid Down the Low End & Sang "The Spirit of Radio" and "Closer to the Heart" For This Canadian Band
The question of course was - What is Rush?. This is the 2nd Rush-related answer to appear on the show in the last month. Back on March 1st the show used a Neil Peart reference as the answer to the What is Rush? question. Rush was also referenced on the show back in February of 2011.
Speaking of Rush TV references, apparently there was yet another reference on last night's episode of the FX animated show Archer (Season 4, Episode 13, Sea Tunt: Part II). I don't have many details yet, but apparently Krieger air-drums Tom Sawyer at some point in the show (thanks damon h).


The special Clockwork Angels: Watchmaker's Edition of the audiobook for Clockwork Angels: The Novel officially released early last month. The special package was designed by Hugh Syme and contains the unabridged audiobook along with a working clocktower. Earlier this week John over at Cygnus-X1.net transcribed and scanned the package's liner notes and artwork and made them available online here (liner notes) and here (artwork). The special Clockwork Angels: Watchmaker's Edition is available for purchase through Amazon at this location.
A new concert photography book by Erin Feinberg titled Diehards was released last month. The book focuses on photographs of concert audiences and includes an original essay by Neil Peart. The book can be purchased on Amazon at this location.
Speaking of Neil Peart, author and Rush fan Charlie Gibbons recently released a book titled Ellison & Amos which was inspired by events in Neil Peart's life following the tragic deaths of his daughter and wife in the late '90s. From the book's description:
When a rock 'n roll legend loses everything of meaning, Ellison embarks on his motorcycle to find himself, but faces his greatest fear- the fan. Converging on Dawson City, Canada, Amos comes to Ellison's rescue when he loses the copy of his Jack London book to the mighty Yukon River. Not until circumstance separate them does Ellison realize how much he has changed, and sets out to complete Amos' story.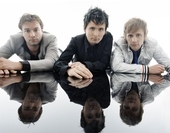 Muse played the Air Canada Center in Toronto this past Tuesday and gave a shout-out to Rush and Geddy Lee during the band's encore:
... In an additional nod to their Canadian fans on hand, they also threw in some of Rush's "YYZ," which would have probably meant more if the crowd of 14,000 had actually picked up on it before Bellamy personally offered a Geddy Lee shout-out. ...
They played about the first 35 seconds of YYZ followed by Bellamy shouting Geddy Lee!. Here's a YouTube video (thanks graemeb).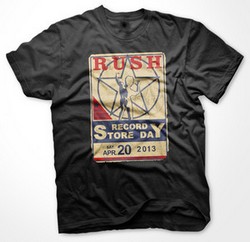 Record Store Day takes place next Saturday, April 20th. In the UK, a special, limited edition orange/brown 180 gram vinyl version of Rush's ABC 1974 will be made available to celebrate the occasion (thanks Louis2112). Rush has also made available a Rush-themed t-shirt for Record Store Day in the US which can now be pre-ordered in both men's and women's sizes via BullMoose.com. The t-shirt comes in black with a red and blue design on a cream-colored background. The design depicts the iconic Rush starman logo with the words Record Store Day and the April 20th date. To learn more about Record Store Day check out their website at RecordStoreDay.com.
Former UK Prime Minister Margaret Thatcher passed away earlier this week. Thatcher once visited the London studio where Rush happened to be filming the video for Distant Early Warning back in 1984. Reader Will C located a clip from MTV's first airing of the video where VJ Mark Goodman reports about Thatcher's visit to the studio and how she got to meet Geddy Lee but declined an offer to make a cameo in the video. You can check out the video clip on YouTube here.
Geddy Lee and Alex Lifeson were recent guests on Sirius XM's Deep Tracks and Classic Vinyl programs respectively. Geddy appeared on Deep Tracks on Monday, April 1st for an interview feature titled Around The Basses with Rush's Geddy Lee. Geddy chatted with host Earle Bailey in this one-hour special, giving his picks and predictions for the base runners in the 2013 MLB season, and discussing and playing music from the influential bass players in his life; Jack Bruce, Jack Casady, John Entwistle, Jaco Pastorius, Jeff Berlin, and Paul McCartney. You can listen to the special on YouTube below or at this location. Alex appeared on Classic Vinyl this past Monday afternoon for an interview feature titled Classic Vinyl Influences with Alex Lifeson. Alex remembers 10 classic rock songs that were influential to him and his career as a guitarist, and they play each of the tracks with some commentary from Alex to introduce the songs. The interview portion of the hour-long special is available for listening on YouTube below or at this location.
That's all for this week. Have a great weekend!