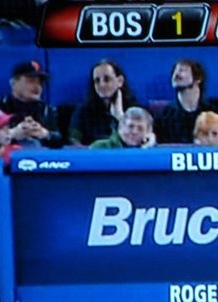 Despite the uncooperative weather in many locales, spring has arrived and that means baseball season here in the US and Canada. The 2013 major league baseball season kicks off next week, and it's no secret that Geddy Lee is a huge fan of the game. He's been talking a lot about his hometown team the Toronto Blue Jays in several recent interviews and thinks their chances for making the playoffs are pretty good this year. The Blue Jays must have liked all the positive press he's been giving them lately because this past week they announced that Geddy would have the distinct honor of throwing out the first pitch at the Blue Jays home opener against the Cleveland Indians this coming Tuesday, April 2nd. This will be a great way to kick off what stands to be a very big month for Rush. Later in the month on April 18th they'll be inducted into the Rock and Roll Hall of Fame, and just a few days after that they'll kick off the 2013 leg of the Clockwork Angels tour in Austin, TX. Speaking of the tour, remember to enter the Rush Backstage Club's contest to win a meet & greet with Alex & Geddy if you haven't already. Also, the band has updated the Rush mobile app for the 2013 tour, adding in all the tour dates and some new wallpaper (thanks Mark R). Hopefully I'm wrong, but from everything I've been hearing lately it looks like the band will not be adding any further dates to the 2013 tour at this point. The Ottawa Bluesfest is gearing up for Rush's upcoming July 8th performance at the festival. Yesterday Rush was their artist of the day and they featured a backstage video from the band's 2010 appearance at the festival on their Facebook and Twitter pages which you can check out here.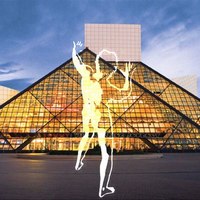 Earlier this week the Rock and Roll Hall of Fame released some more details on the upcoming Rock and Roll Hall of Fame induction ceremony next month where Rush will be inducted. The induction ceremony will take place at the Nokia Theatre in Los Angeles on Thursday, April 18th and then be broadcast on HBO on May 18th. In addition to Dave Grohl and Taylor Hawkins of the Foo Fighters inducting Rush, John Mayer and Gary Clark Jr. will perform for inductee Albert King, with Mayer giving the induction speech; Don Henley will induct Randy Newman, who will perform with Jackson Browne and John Fogerty; and Christina Aguilera and Jennifer Hudson will perform in honor of the late Donna Summer. Pearl Jam's Mike McCready and Jerry Cantrell of Alice In Chains will perform with Heart, and Chris Cornell of Soundgarden will induct them. Also, Usher will perform a tribute to Quincy Jones and Cheech and Chong will induct producer Lou Adler in honor of both artists' Lifetime Achievement Awards. The Rolling Stone magazine website posted an article earlier this week where they spoke with the Rock Hall Foundation president Joel Peresman about the ceremony:
... The 2013 induction ceremony has made waves with Rush fans, who have been loudly petitioning for the Canadian rockers' inclusion for many years. It's unclear what material Rush will perform at the ceremony, but it's quite possible they will perform with Taylor Hawkins and Dave Grohl. "Dave and Taylor were one of the first people we thought about to induct Rush," says Peresman. "They said 'yes' in about two seconds. I'm hopeful [they'll play together]. More than a few times in the past, people have got caught in the moment and decide to perform. ... The Rock and Roll Hall of Fame induction event typically concludes with an all-star jam, though it's a bit hard to picture one within this year's diverse lineup. "I can see Chuck D rapping something and Flavor Flav doing something with the guys from Rush onstage," says Peresman. "You have Dave Grohl around, Don Henley there . . . Who knows what will happen? We have some very interesting people." ...
Last week the Rock Hall released a number of reduced-price tickets for the induction ceremony in both the Orchestra and Loge levels. Tickets in these sections had originally been priced between $350-750 but were offered for just $100. Since those tickets were released the show quickly sold out, although tickets are still available on a number of broker websites, and VIP ticket packages are available (see rockhall.com for details). The Rock Hall is also running a contest through Facebook where the winner will get a trip for 2 to LA for the ceremony.

Last month while Geddy Lee was hitting the interview circuit in New York City, he stopped in to the MLB Networks studio to talk some baseball, and a short, 1-minute video from the interview was released online at the time. In celebration of Wednesday's news that Geddy will be throwing out the first pitch at the Blue Jays home opener Tuesday, MLB Networks released the entire 4-and-a-half minute interview for viewing online via the Blue Jays website. Geddy talks about how he became such a big baseball fan along with what his thoughts on the Blue Jays chances are this year. You can watch the interview online at this location. The Blue Jays open up their season in Toronto against the Cleveland Indians this coming Tuesday, April 2nd. Geddy will also be talking some baseball on Sirius XM's Deep Tracks this coming Monday, April 1st at 2PM for an hour-long interview feature titled Around The Basses with Rush's Geddy Lee. You can get all the details at the Deep Tracks website. Geddy will also be a guest on Toronto sports radio station The FAN 590's Prime Time Sports with Bob McCown on opening day to discuss the Blue Jays and throwing out the first pitch.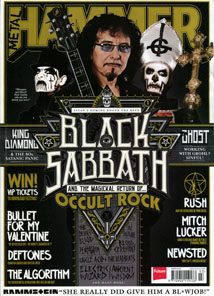 There's a large feature on Rush in the March, 2013 issue of Metal Hammer magazine titled Rush and the Weird Rise of Prog Metal. John over at Cygnus-X1.net transcribed the entire article earlier this week and made it available online at this location. They speak with Geddy Lee about Rush's contributions as pioneers of heavy progressive music. Towards the end of the article Geddy addresses the band's upcoming 40th anniversary:
.... "I don't think about things like the 40th anniversary. We have no plans to celebrate it. We did enough for the 30th. So, if anything is being planned, it will be without our involvement. We are still looking forward, not back." ...
So this unfortunately makes it sound unlikely that the band will embark on any kind of 40th anniversary tour. You can read the entire article online here.
Music For Newtown is a charity auction that ran all this past week with the aim to unite the music community in support of the victims of the Sandy Hook Elementary School shooting in Newtown, CT. Dozens of musicians donated items for the auction including a signed Neil Peart drumhead and sticks, and a signed (by all three members) 8x10 photo of the band donated by Rush. The auction was sponsored by Republic Records with all proceeds benefiting the Sandy Hook School Support Fund set up through Newtown Savings Bank/United Way of Western Connecticut. For all the details be sure to follow Music For Newtown on Facebook and Twitter, or visit their website at musicfornewtown.org and the auction website here.


The special Clockwork Angels: Watchmaker's Edition of the audiobook for Clockwork Angels: The Novel officially released earlier this month. The special package was designed by Hugh Syme and contains the unabridged audiobook along with a working clocktower. Author Kevin J. Anderson was recently interviewed for Media Mikes and spoke a little about the Watchmaker's Edition:
... Neil has a gorgeous voice and he wanted to do this. This novel is very close to him and me as well. And what could be better than having Neil Peart read it himself? The novel and the audiobook itself were released last September. "The Watchmaker's Edition" is a very snazzy special edition, with a modeled clock tower with a working clock inside. It has beautiful artwork all around it by Hugh Syme, the cover and album artist. (He's done all of the artwork for Rush's albums dating the way back to "2112″. ) It also has a nice poster inside with a timeline for the "Clockwork Angels" project for Rush and my work as well. Any die-hard Rush fan should have this. ...
The special Clockwork Angels: Watchmaker's Edition is available for purchase through Amazon at this location.

Last month Rush released The Anarchist as the next single from last year's Clockwork Angels album. The single has finally broke into the top 20 on the Mainstream Rock Charts where it currently sits at #20.
Last Fall Volkswagen released a commercial for the 2012 Passat which featured a man stopped at a traffic light in a Passat rocking out to Rush's Fly By Night (watch it on YouTube here). Reader RushFanForever recently noticed this video outtake from Rush's October Wall Street Journal interview where Geddy Lee and Alex Lifeson are asked about the commmercial:
... "Sometimes the right idea gets sent to you and it's funny, and you go, 'yeah, funny's good, we'll go with that'! I think we just react to humor." ...

Ari Gold is the writer, director and star of the 2008 air-drumming film Adventures of Power, which featured a cameo appearance by Neil Peart. This past week Gold made the Guinness Book of World Records when he led a performance of the largest ever air-drum ensemble. One of the air-drum moves the group performed was the Adventures of Power vs. Neil Peart Tom-Rototom-Crash 360 - Spin MegaFill as shown in this video and in the photo above. Thanks to RushFanForever for the heads up.
The Now Newspaper recently ran an article on South Surrey artist Dave Benning who draws ultra-lifelike acrylic paintings of rock icons, including Rush:
... "When I did the Rush painting, I wasn't a huge fan (of the band) and didn't know a lot about them, so I listened to them for a week beforehand and the whole time I was painting that one," ...
Here is a photo of Benning at a Rush meet-n-greet holding his Rush painting with Alex Lifeson and Geddy Lee. Thanks to RushFanForever for the heads up.
Will work for Rush tickets! Just like he did last year, author and RIAB reader Phil Simon is offering to speak for "free" at your organization... but there's one important catch:
Readers of my books and blog posts know that I'm an obsessive Rush fan. I mean, restraining orders. (I'm kidding...sort of.) ... Here's the deal: I'll come to your organization or conference to do a one-hour talk about whatever you like. I'll waive my normal fee. I'll only ask that you do the following:

* Buy a decent number of copies of The Age of the Platform and/or Too Big to Ignore
* Cover my travel expenses (flight, hotel, parking, a bit of food)
* Buy my Rush ticket (usually about $160 USD, and yes, worth every penny)
Clever plan. If you feel like taking Phil up on his offer, you can contact him through his website. Phil Simon is a sought-after speaker, Huffington Post contributor, author of several management books, and a recognized technology expert who consults companies on how to optimize their use of technology. He also loves to stick a bunch of Rush references in all of his books. :)
Sloan bassist Chris Murphy was recently profiled for CBC Radio 2's My Playlist feature, and includes Rush's Subdivisions on his playlist.
The drumming world is mourning the loss of Robert Zildjian who passed away at age 89 yesterday. Zildjan was the founder of musical cymbal manufacturer Sabian - the cymbals that Neil Peart and countless other drummers use. RIP.
Eddie Trunk posted the complete, 38-minute interview he conducted with Geddy Lee and Alex Lifeson last month to his website earlier this week. Geddy and Alex talk about a number of subjects including Clockwork Angels and the accompanying tour, the upcoming 2nd leg of the tour, the band's future, the Rock Hall induction, baseball and more. You can watch to the interview below or on YouTube at this location.
That's all for this week. Have a great weekend and - for everyone who celebrates it - have a great Easter too!