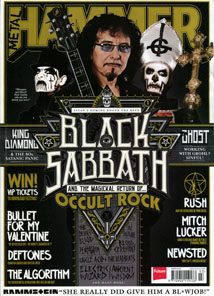 There's a large feature on Rush in the March, 2013 issue of Metal Hammer magazine titled Rush and the Weird Rise of Prog Metal. John over at Cygnus-X1.net has transcribed the entire article and made it available online at this location. They speak with Geddy Lee about Rush's contributions as pioneers of heavy progressive music. Towards the end of the article Geddy addresses the band's upcoming 40th anniversary:
.... "I don't think about things like the 40th anniversary. We have no plans to celebrate it. We did enough for the 30th. So, if anything is being planned, it will be without our involvement. We are still looking forward, not back." ...
So this unfortunately makes it sound unlikely that the band will embark on any kind of 40th anniversary tour. You can read the entire article online here.