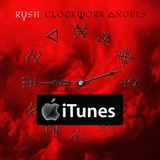 MusicRadar.com has posted a track-by-track review of the entire Clockwork Angels album at this link (thanks RushFanForever):
... the three men ... who power their way through the sprawling, open-hearted and wildly alive Clockwork Angels know that the best way to avoid creative stasis is to simply be themselves, and in doing so they're growing in sophistication and revealing new depths of feeling at an astonishing rate.

Produced by the band and Nick Raskulinecz ... the album is built around a narrative of a young man's journey towards his dreams, and fittingly, the music comes at you in a nonrepetitive succession of images, textures and moods, many of them strikingly abrupt - the band never hammers a point for too long; they make a case quickly and move on. It's propulsive and heady - by turns dizzyingly sensual, gut-rocking, lofty and raw - but there's a warm, human spirit to the band's rhythmic volleys, and they have an uncanny gift for imbuing even their most orgiastic musical moments with a unity of feeling and purpose.

What's most amazing about the general state of Rush in 2012 - and this is played out vividly throughout Clockwork Angels - is how comfortable they are in their own skin. "The best actors don't let the wheels show," Henry Fonda once said, and in their own idiosyncratic way, Rush never get bogged down in craft. Their songs, epic in scope, abstract yet achingly personal, rendered here with a commanding sonic radiance, are born out of instinct and impulses, unique as a fingerprint and every bit as fascinating. ...
The article then goes on to describe each track in vivid detail, and it sounds amazing. Be sure to read the whole thing. For reference, here's the entire Clockwork Angels track list along with run times:
1. Caravan(5:40)
2. BU2B(5:10)
3. Clockwork Angels(7:31)
4. The Anarchist(6:52)
5. Carnies(4:52)
6. Halo Effect(3:14)
7. Seven Cities Of Gold(6:32)
8. The Wreckers(5:01)
9. Headlong Flight(7:20)
10. BU2B2(1:28)
11. Wish Them Well(5:25)
12. The Garden(6:59)
Related Posts:
[Rush Clockwork Angels feature in April, 2012 issue of Prog]
[Rush Clockwork Angels official announcement, video trailer with Headlong Flight preview, cover art and track list!]
[Headlong Flight single from Clockwork Angels radio and digital release update]
[Clockwork Angels novelization by Kevin J. Anderson and Neil Peart now available for pre-order]
[Geddy Lee talks Moog Taurus pedals in new in-studio interview]
[Geddy Lee talks Clockwork Angels in new Classic Rock interview]
[Rush wraps up Clockwork Angels recording]