UPDATE - 11/11@3:43PM: News broke this AM that Geddy Lee will be releasing 2 NEW, unreleased tracks from the My Favorite Headache sessions on Tuesday as part of the My Effin' Life audiobook release, with digital/streaming to follow, AND as a precursor to a planned solo project next year. Details in this post. There's also a new Classic Rock interview with Ged out where he mentions the new tracks, but nothing about the release.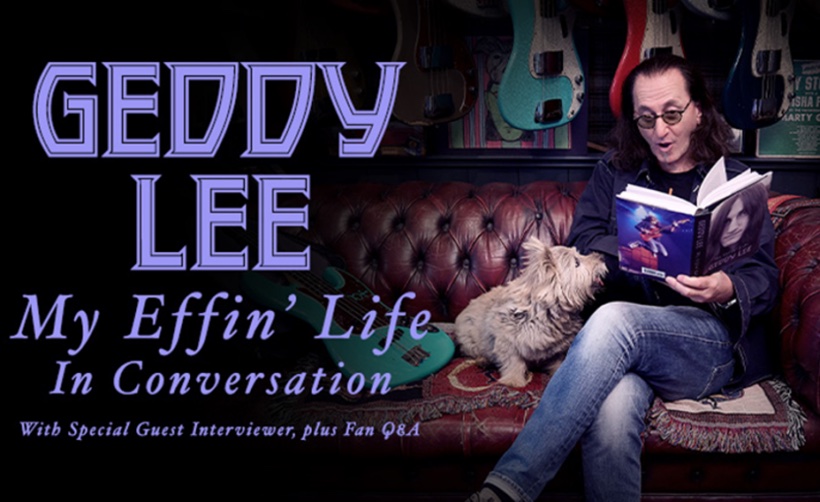 Geddy Lee will be releasing his long-awaited memoir My Effin' Life this coming Tuesday, November 14th, and will be embarking on a spoken word In Conversation tour to promote it starting Monday. A slew of new interviews with Geddy where he discusses the book were released in the past couple of days including two extensive features for both The Toronto Star and The Washington Post. Geddy dishes on some of the more intriguing stories in the book, including his 50-plus year relationship with his wife Nancy, the last years of Rush, dealing with the death of bandmate Neil Peart and more. Here is what he had to say about Rush's final tour:
... "It was weird," he says, arms folded. "That last night was complicated. Because as the tour was winding down, Alex and I were getting sadder and Neil was getting happier. We were diverging. I don't know if he realized how bummed out we were. I was upset with him. I was frustrated. I wasn't ready for the tour to be over." But the finality dawned when Lee overheard Peart ask for his dressing room case to be shipped to his L.A. home, or the "Bubba Cave." For decades, between tours, those three dressing room cases - massive chests equipped with drawers, hangers and enough cubbyholes to stash books and contraband - ended up back in Toronto, in a Rush storage facility, side-by-side-by-side. The shattered symbolism made Lee wince. "That was heavy for me," he says. "Neil had never asked for that before."
...
You can read the entire interview online here. Here is what Geddy had to say about dealing with Neil Peart's cancer diagnosis in his Washington Post interview:
... Lee was frustrated when an exhausted Peart limited their 40th-anniversary tour to 30 dates in 2015, opting to go home rather than extend to Europe. Still, he hoped his friend would come around again - that Rush would carry on again, eventually. Until he got the email. For the next three years, Lee maintained a promise not to talk about Peart's illness, even when other friends tried to ask about him. The drummer was so private, he hired a publicist to keep the news from getting out. "The thing he feared most was people sitting in his driveway singing 'Closer to the Heart' while he was going through this thing," Lifeson says. "He was a very private person. If you became his friend, he was wonderful. But if not, he could be very aloof and tough." Lee and Lifeson would fly out to visit Peart, or "Peke" as they called him, in connection with some long-ago joke. Peart would pour them two fingers of Macallan, and then they would make fun of Lifeson (or "Leke," as they called him). One day, instead of offering him ice, Peart asked if Lee wanted bacon. He also wrote Lee a note addressing him as "Baby." Lee's many nicknames within the band included Deke, Dirk, Dekey - but never Baby, and this left him deeply rattled. "He's losing his life, but I'm watching his gray cells diminish, and this was the most incredible mind that I had personally known so intimately," Lee recalled. Nancy Young, his wife of 47 years, suggested he find a therapist to try to cope with his friend's illness. It wasn't enough, and soon he saw his mother begin to fail, as well. He began to consider the gravity of all this, "the potential of losing a life's worth of memories." ...
He also spoke a bit about reuniting with Alex Lifeson for last year's Taylor Hawkins tribute shows in London and LA, and how that experience affected his viewpoint on whether Rush would ever reunite in some shape or form:
... It felt good to hang out with musicians and remember how much Rush was loved, and even better to stretch out with Lifeson on three of their signature songs. At the after-party, Paul McCartney congratulated them and urged them to get back on the road. It had been a taboo subject, and playing those songs again with a third person was the elephant in the room, and that kind of disappeared, Lee said. It was nice to know that if we decide to go out, Alex and I, whether we went out as part of a new thing, or whether we just wanted to go out and play Rush as Rush, we could do that now. Maybe they will. Maybe they wont. But in October 2022, for the first time in years, Lee and Lifeson went down into Lees home studio and jammed. The idea lingers. Lifeson was excited as offers rolled in after the Hawkins shows. Then he thought about sitting in a hotel room as he waited for the next gig. He also had surgery in July for his long-standing stomach problems. Hes improving but still wakes up feeling nauseated. Does Lee plan on nudging his pal to get back onstage? Of course not. He doesnt even plan to bring it up. He needs to feel good and feel healthy and strong, Lee says. And then maybe we have a discussion. ...
You can read the entire interview online here. Geddy also spoke with the Shropshire Star and Long Island Weekly for new interviews that cover many of the same items discussed in the Toronto Star and Washington Post interviews. As mentioned above, Geddy will kick off his spoken word book tour this
coming Monday, November 13th at the Beacon Theatre in New York City. He'll then hit another 13 dates across the US and Canada throughout late November and early December. The North American leg ends on December 7th at Massey Hall in Toronto before crossing the pond for the UK tour in Wolverhampton on Sunday, December 10th. All attendees will receive a copy of Ged's book, along with a 16 page color tour book which features unpublished stories, photographs and more. You can get all the details and learn how to get tickets at Rush.com (North America, UK). RushCon will also be hosting pre-show hangouts prior to Ged's appearances in New York City, Boston, Chicago, and Toronto, with details and ticket info available at Rushcon.org.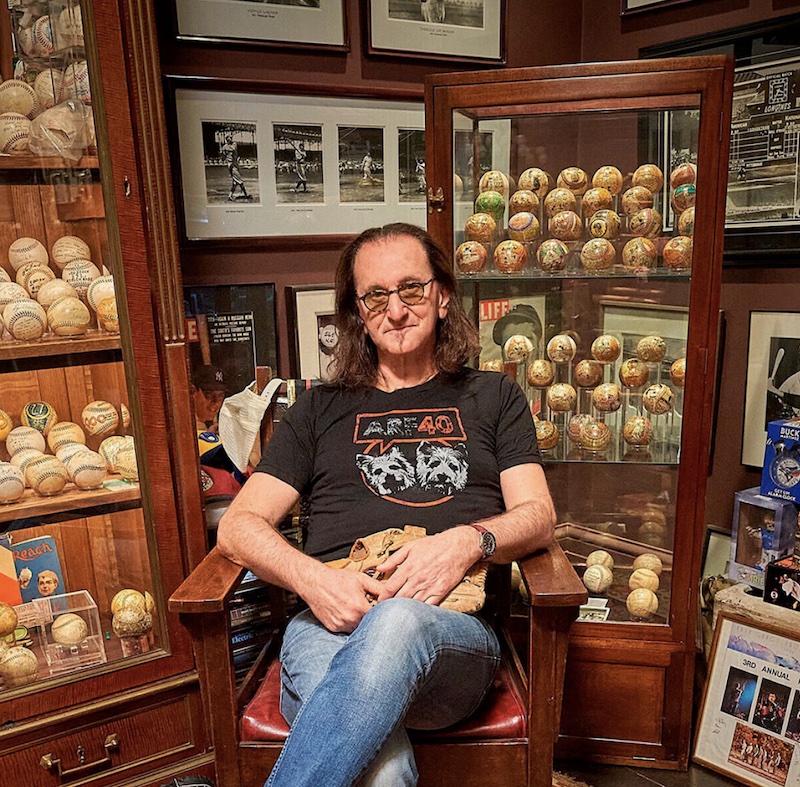 Last week Christie's and Hunt Auctions announced that Geddy Lee will be auctioning off some of his extensive baseball memorabilia collection as part of an online auction beginning later this month, and a live auction next month. After the announcement, The Athletic published a new interview with Geddy earlier this week where he discusses his love of baseball, his extensive collection of memorabilia and how it came about, the stories behind some of his most treasured items, and why he's decided to auction off some of his collection:
... Some 300 items from Lee's collection will be auctioned by Christie's on December 6. It is being billed as "Selections from The Collection of Geddy Lee," and the auction house has estimated The Beatles ball alone to be worth upwards of $300,000. Same for the Mantle bat and a ball signed by Rube Waddell. One of the Kennedy autographs could fetch $100,000. It's a lot of money. "If you really look at it from an abstract point of view, it's greed," Lee said. "You want to own the game. You want to own a piece of every great player, to hold in your hand a ball that was signed by Lou Gehrig. It just became a magnificent obsession for me." What's telling, though, are the pieces Lee has decided to keep, and the unmistakable care with which he accumulated so many artifacts in the first place. "Baseballs, nobody owns them," Lee said. "They're like houses. You take care of them for a while, and then they move on to the next person, the next custodian." ...
Selections from the Geddy Lee Collection and Important Baseball Memorabilia auction will take place online from November 21st through December 7th, along with a live auction on December 6th.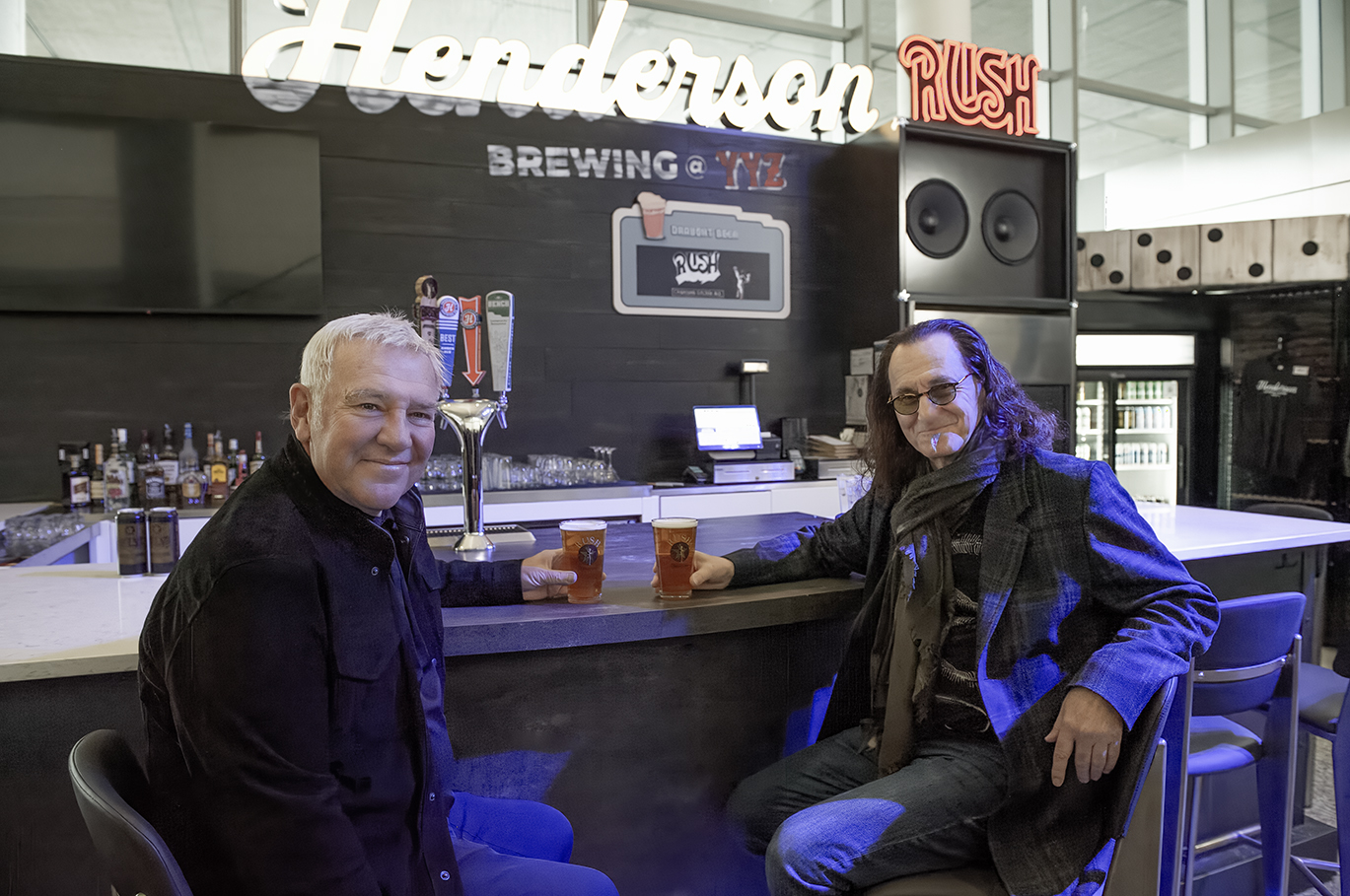 Back in June we shared the news that global restaurateur HMSHost had partnered with Rush beer producers Henderson Brewing to bring a new Rush-themed specialty bar to Toronto Pearson International airport (aka YYZ) with the promise to open later this year. Earlier this week Toronto Pearson Airport announced via social media that Henderson Brewery at YYZ is now open for business, and also included a photo of Ged and Al sipping a couple of cold ones at the bar. From the post:
The moment we've all been waiting for is finally here! 🍻🎸

We're excited to announce a one-of-a-kind brewery at Toronto Pearson in collaboration with Henderson Brewing Co, HMSHost and the iconic rock band RUSH. Inspired by 'YYZ', you'll get to savour the true spirit of Toronto before you jet off or when you arrive home. We welcomed Geddy and Alex to celebrate the ultimate Rush fan's paradise at YYZ, where you can savour the iconic range of Henderson's Rush beers and immerse yourself in exclusive memorabilia and merchandise!

Located in Terminal 1 Arrivals, pre-security and open daily 9am to 11pm. Please enjoy responsibly.
Former Rush producer Terry Brown was recently interviewed for the Rock History Music YouTube channel, and was asked whether he knew if Rush had any plans for the upcoming 50th anniversary of the release of the band's debut album next year. He's heard that there are rumors afoot, but nothing definitive, and mentioned that he should find out more in a couple of months. You can watch the interview on YouTube here (thanks RushFanForever).
Geddy Lee isn't the only Canadian rock star to write a memoir in recent months. Triumph's Rik Emmett released his memoir Lay It on the Line last month, and was recently interviewed for Ultimate-Guitar.com to talk about the book, along with other subjects, including how Triumph is often compared to Rush:
... 'Oh. Three-piece band from Toronto, Canada. RUSH is the one I'm familiar with. TRIUMPH is the one I'm not. TRIUMPH must be similar to the one I am familiar with.' That would have been an insubstantial kind of look at it - at any given point in time. Because the bands were not really that similar - except for the fact that there was a high male vocalist guy, they were both trios, and both from the same geographic location. Beyond that, the bands didn't really have a lot of similarities - in terms of the music that was being made and the albums and stylistically. ... I've always said it and I'll say it again now - they had nice coattails. And there were nice things - Triumph was able to get a second look by radio people because of the fact that Rush had been there before, concert promoters, all the rest of that kind of stuff. So, they did make our life easier in some respects. And then on another level, they sort of entered into a stratosphere of your Pink Floyds and almost like a Led Zeppelin-ish kind of...they were huge. And they were international. And they would go on concert tours - even South America, they played soccer stadiums. And you'd go, 'OK. They're on another level.' Triumph was never a band on that level. It's not apples and oranges - this is kind of like a grape and a watermelon. [Laughs] ...
Iconic Canadian talk show host Rick Mercer also just published a memoir which released last week titled The Road Years: A Memoir, Continued. In it he geeks out about Rush and Neil Peart, as described in this article:
... Mercer also isn't afraid to fanboy over Canadian celebrities in the book. That's most apparent in the chapter on his interactions with legendary prog-rock trio Rush. He did segments with bassist-vocalis
t Geddy Lee and guitarist Alex Lifeson but is most enthralled with an episode when he receives lessons from the late Neil Peart, Rush's press-shy but supernaturally talented drummer. ...
Far Out magazine posted their list of 10 masterpieces that were critically slated upon release this past week, and Every Rush Album was included at #6:
... Coming up in the mid-1970s, every single project the band came out with got torn to shreds by the press. Whether it was dissecting their lyrics that were too esoteric or making bold claims about their political affiliation, Rush was put under scrutiny before most fans had even heard of them. That's before they even got to Geddy Lee's voice, which had been compared to everything from Mickey Mouse on helium to a deranged version of Robert Plant. Then again, no amount of bad press was going to detract from the Rush army, quickly building a global fanbase of fans who only wanted to listen and didn't care about what the likes of Rolling Stone had to say about their mass hangups. Rush never went along with what the cool kids wanted, but their ambition to go beyond the realm of traditional rock turned them into the world's most popular cult band.
Ultimate Classic Rock posted an article on Rock's 34 Fiercest Fan Bases and Their Nicknames earlier this week, and a nickname for Rush that originated in the RIAB comments section back in the late 2000s was included - Rush Rats:
Rush: Rats
It appears not to have stuck, but at one point, Rush fans affectionately called themselves Rats, apparently for their acute pursuit of all things Rush related. (There were even some events dubbed RatCon.)
As mentioned, this lead to a number of Rush RatCons that took place annually starting in 2009 and ran for several years thereafter. Ultimate Classic Rock also published their list of 20 of Rock's Worst Music Videos this past week, and Rush's Roll the Bones is mentioned:
Credit where it's due: The animated skeleton cop (with a pink Mohawk) in the "Roll the Bones" video is the perfect visual accompaniment to Geddy Lee's rapping. That's not a compliment on either front.
This past week's episode of the Something for Nothing podcast featured an interview with Paul Wells - a Professor of Jazz Drums at The Juilliard School in New York City who possesses an encyclopedic knowledge of Neil Peart's kits. He joined hosts Steve and Gerry to talk about Rush and his efforts to restore Neil's original Rush kit, the famous Chromey:
On the latest episode of Rush Roundtable (#204) on the Rushfans YouTube channel, the panel continues their Counterparts song discussions with Everyday Glory:
That's all for this week. Have a great weekend!!