UPDATE - 4/14@9:58AM: The listing now includes this description:
The long-awaited memoir, generously illustrated with never-before-seen photos, from the iconic Rock and Roll Hall of Famer, Rush bassist, and bestselling author of Geddy Lee's Big Beautiful Book of Bass.

Geddy Lee is one of rock and roll's most respected bassists. For nearly five decades, his playing and work as co-writer, vocalist and keyboardist has been an essential part of the success story of Canadian progressive rock trio Rush. Here for the first time is his account of life inside and outside the band.

Long before Rush accumulated more consecutive gold and platinum records than any rock band after the Beatles and the Rolling Stones, before the seven Grammy nominations or the countless electrifying live performances across the globe, Geddy Lee was Gershon Eliezer Weinrib, after his grandfather murdered in the Holocaust.

As he recounts the transformation, Lee looks back on his family, in particular his loving parents and their horrific experiences as teenagers during World War II.

He talks candidly about his childhood and the pursuit of music that led him to drop out of high school.

He tracks the history of Rush which, after early struggles, exploded into one of the most beloved bands of all time.

He shares intimate stories of his lifelong friendships with bandmates Alex Lifeson and Neil Peart-deeply mourning Peart's recent passing-and reveals his obsessions in music and beyond.

This rich brew of honesty, humor, and loss makes for a uniquely poignant memoir.
----- snip -----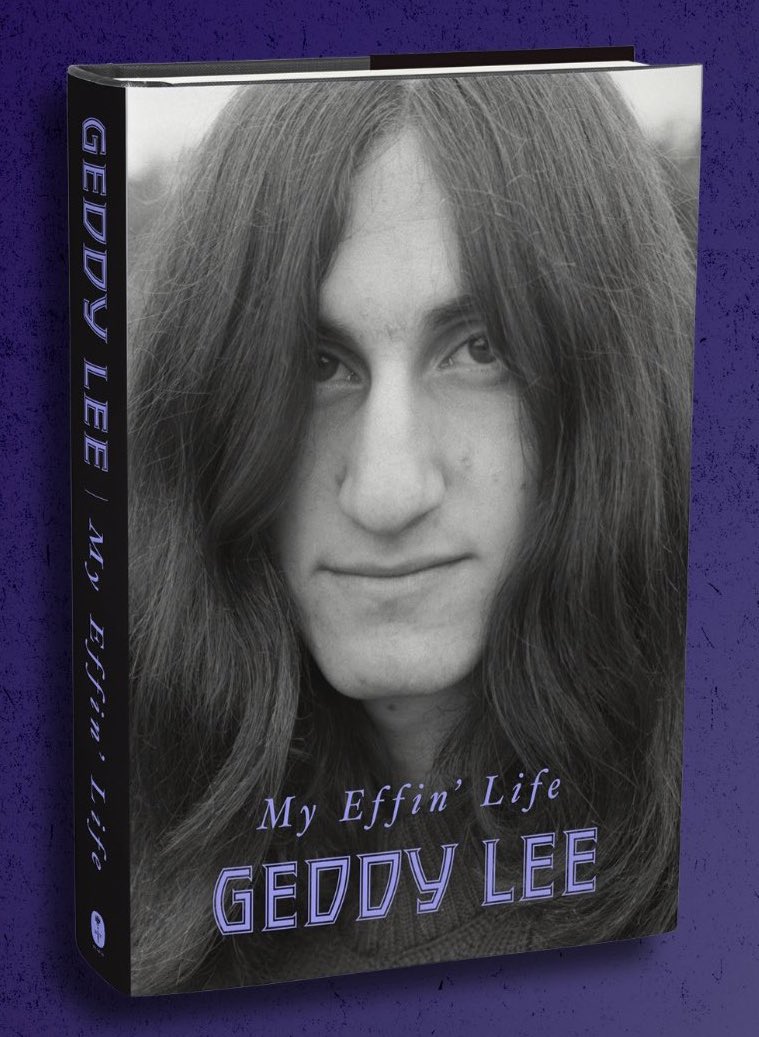 Back in September of 2021, Geddy Lee announced via Instagram that he was working on a memoir with a planned release via Harper Collins in the Fall of 2022. He later clarified via a Classic Rock interview last April that the book would instead probably release sometime in the spring of 2023. This was confirmed back in November when the publisher's website posted a listing for the untitled (at the time) memoir, and it gave a tentative release date of May 16, 2023. Earlier today Rush posted the following brief message to social media, revealing the book's title and tentative cover, and giving a release date of November 14th:
Geddy Lee "My Effin' Life" out November 14, 2023.
More soon...#myeffinlife #tgif pic.twitter.com/dVSWsrpgJ3

- Rush (@rushtheband) April 7, 2023
Geddy Lee's My Effin' Life will release on November 14th and is now available to pre-order at this location.
From Geddy's original Instagram post announcement:
... My friend and collaborator on the Big Beautiful Book of Bass, Daniel Richler, saw how I was struggling in the aftermath of Neil's passing, and tried coaxing me out of my blues with some funny tales from his youth, daring me to share my own in return. So I did-reluctantly at first, but then remembering, oh yeah, I like wrestling with words. It's a less physical version of arguing with musical notes, without a Ricky doubleneck breaking my back! And soon my baby-step stories were becoming grownup chapters. Being the nuclear obsessive that I am, I'd write and re-write them, reassessing perspectives in the narrative not just by scouring my memory banks but my diaries and piles of photo albums too. I was piecing together a mystery of a different kind.

I'd then send these improved and even illustrated stories to Daniel, who'd clean up some of the grammar and remove a lot of the swearing (I love to fucking swear), and presto! In a voice that sounded, well, just like me, a presentable, epic-length account of my life on and off the stage was taking shape: my childhood, my family, the story of my parents' survival, my travels and all sorts of nonsense I've spent too much time obsessing over. And Daniel said, "I think you're writing a book. An actual memoir, in fact." To which I replied, "Hmm... I guess I am."

I'm rounding third on this as-of-yet untitled memoir, which will be published by HarperCollins, edited by Noah Eaker, and is scheduled for release in Fall 2022.