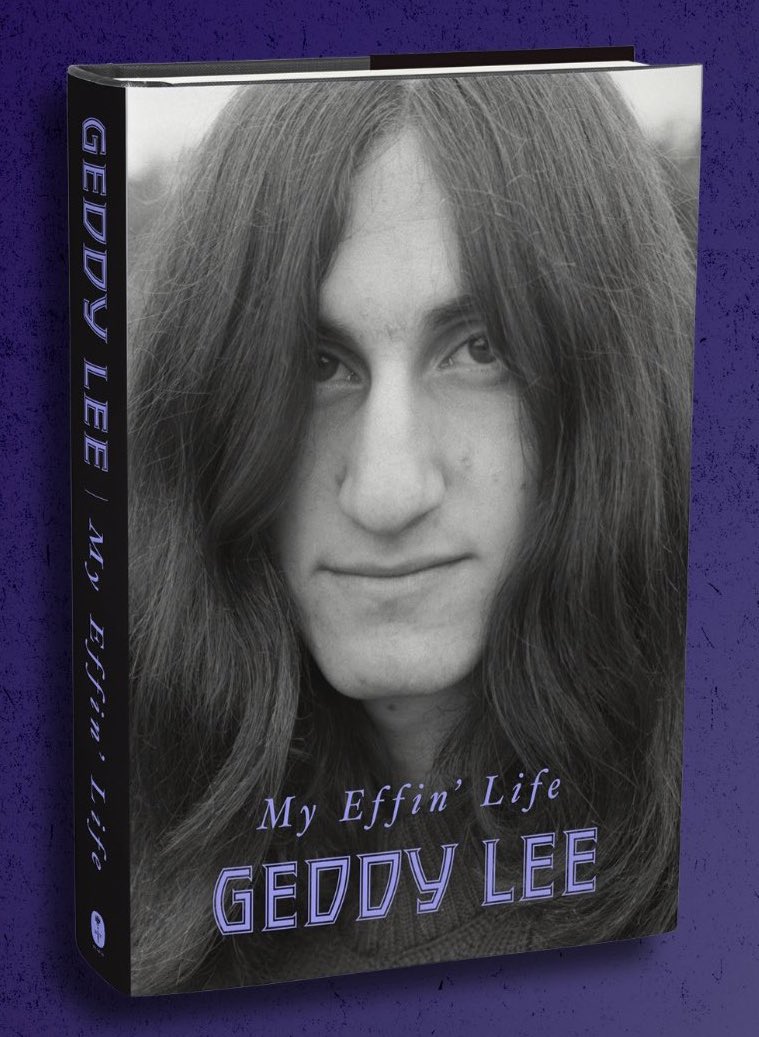 Back in September of 2021, Geddy Lee announced via Instagram that he was working on a memoir with a planned release via Harper Collins in the Fall of 2022. He later clarified via a Classic Rock interview last April that the book would instead probably release sometime in the spring of 2023. This was confirmed back in November when the publisher's website posted a listing for the untitled (at that time) memoir, and it gave a tentative release date of May 16, 2023. Earlier today Rush posted the following brief message to social media, revealing the book's title and tentative cover, and pushing the release date out even further to November 14th:
Geddy Lee "My Effin' Life" out November 14, 2023.
More soon...#myeffinlife #tgif pic.twitter.com/dVSWsrpgJ3

- Rush (@rushtheband) April 7, 2023
Geddy Lee's My Effin' Life will release on November 14th and is now available to pre-order at this location.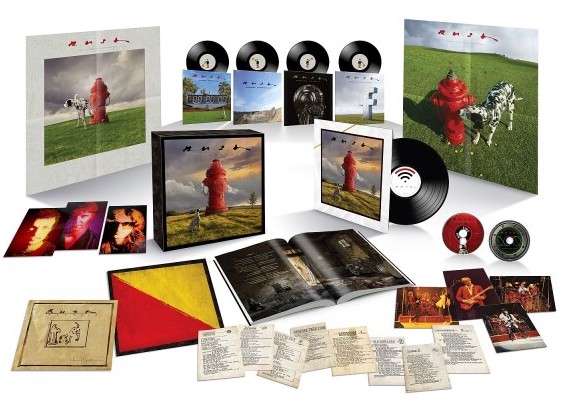 Rush will be releasing a Signals 40th anniversary box set later this month - the latest in a string of 40th anniversary box sets released by the band over the past several years, beginning with a 2112 set back in 2016. The set will be available in three distinct configurations, including a Super Deluxe Edition, an LP Picture Disc Edition, and a Dolby Atmos Digital Edition. There will also be a limited edition Super Deluxe box set edition featuring eight lithographs of Neil Peart's original hand-drawn lyrics for each song on the album. The band has released several visualizer videos from the box set over the past few weeks including vids for Digital Man, The Analog Kid, and Chemistry along with an unboxing video which you can watch here. The set is slated for release on April 28th, and can be pre-ordered via this link, or via Amazon. All the details regarding the set can be found in the press release. The Rush Backstage Club is running an online sweepstakes where the winner will receive a Super Deluxe Edition of the box set. For all the details and to enter visit rushbackstage.com.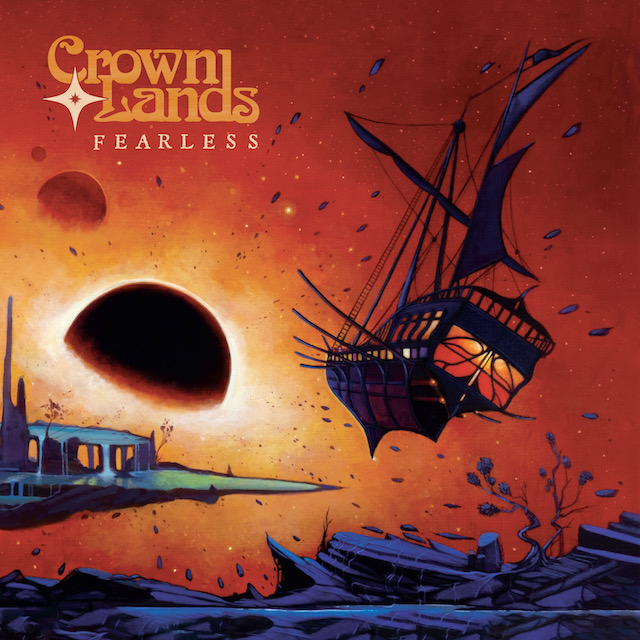 Toronto-based progressive blues-rock duo Crown Lands consists of drummer/singer Cody Bowles and guitarist Kevin Comeau, who bonded over their shared obsession with Rush several years ago and formed Crown Lands shortly after. The duo released their self-titled debut album in 2020, and were named Breakthrough Group of the Year at the 2021 JUNO Awards, with the album also being nominated for Rock Album of the Year. The pair make no secret regarding their obsession with Rush - the Crowns Lands album includes a 10-part song with sections referencing Rush's work titled Context: Fearless Pt. 1. They made a demo of the song with former Rush producer Terry Brown, and later worked on the track with Nick Raskulinecz, co-producer of Rush's last 2 albums, and David Bottrill (who remixed Rush's Vapor Trails album). The pair also joined Alex Lifeson and others as part of an ensemble performance of a Led Zeppelin medley at the 2021 Andy Kim Christmas show. Last week the duo released their sophomore album Fearless, with the centerpiece of the album being an epic, 18-minute, 10-part, Rush-inspired (part 1 is titled Overture!) track titled Starlifter: Fearless Pt. II, which continues the story of Fearless from their 2021 single The Oracle. Reviews of the album have been very positive thus far, and it's hard to find any that don't mention the glaringly obvious Rush comparisons. As an example, Philip Wilding's review for Classic Rock magazine is titled Crown Lands: so deep in 70s Rush you can almost see Geddy Lee's kimono flapping about (thanks RushFanForever):
Mere minutes into Starlifter: Fearless Pt. II ... you find yourself playing, which Rush song is this? Split into nine parts, naturally, and starting with Overture (I'm not making this up), you think to yourself: Begin Transmission, that part's from Hemispheres, right? Didn't I originally hear that section from Requiem in La Villa Strangiato? ... The duo (and that they can sound almost exactly like Rush with one less member is astounding) of Cody Bowles and Kevin Comeau - I'd list the instruments they play, but that would take up the rest of the review - are so very deep in the 70s Rush oeuvre that you can almost see Geddy Lee's kimono flapping about. There's even a thank you to producer Terry Brown for his work on the record; close your eyes and you could be back in time, somewhere in the twilight zone. ...
The album was recorded in the 80A Studio at Universal studio in Toronto with producer David Bottrill, and you can order it here. For more information on Crown Lands, visit their website at crownlandsmusic.com. Drummer Mike Portnoy was so impressed, he posted the following to his social media channels, plugging the album to all of his followers:
A new documentary on iconic Toronto radio station CFNY (The Spirit of Radio) is in the works, and former DJ Alan Cross (one of the film's producers) has been giving periodic updates on the film's progress via his A Journal of Musical Things blog. The station and their slogan was the direct inspiration for Rush's The Spirit of Radio from 1980's Permanent Waves album. Both Geddy Lee and Alex Lifeson are slated to be interviewed for the documentary, and they hope to release it next year. From an update Cross posted last week:
... we're sorting out a chat with Geddy Lee and Alex Lifeson to give us the real story behind their song, "The Spirit of Radio"-which was written about us back in 1980, not the other way around as some people believe. We have terabytes and terabytes of 4K video. We're also working on the parts of the story. We MUST hand in the finished product on November 4. If all goes well, the premiere will be sometime in early March 2024. ...
This past Fall, American Songwriter's Jim Beviglia conducted an interview with Alex Lifeson which was posted online in late February (thanks RushFanForever). Despite being a bit outdated at this point, it's an interesting article where Alex talks about last year's Envy of None project, Rush's musical legacy, Neil Peart, playing at the Taylor Hawkins tribute concerts, and his future plans:
... "When we did these gigs together for the Taylor Hawkins memorials, we got a real charge out of playing together," he says. "It was the first time in seven years that we played together. We'll see. I'm sure we'll do something musical together. But we don't seem to have any urgency and we're not putting any pressure on each other to do anything. And yet the interest is there. We keep hearing from Rush fans who can't wait for us to do something new, something next." ...
British journalist Geoff Barton wrote a piece for Classic Rock magazine this past week titled Losing my way: how I fell out of love with my favourite band, Rush where he describes how Rush's Hemispheres album caused him to change his opinion of the band:
... When Hemispheres was released, it sounded as if Rush had metamorphosed into nothing less than a turgid, torturous techno-rock trio. Plus, to compound the agony, I didn't understand the 'conclusion' to Cygnus X-1, one of the outstanding tracks on ...Kings that the band had promised to wrap up on Hemispheres. I'm a simple sci-fi soul; all I wanted was to find out what had happened to the spaceship (the Rocinante) after it had plunged into an imploding star - a black hole. But instead of admitting the Klingons were to blame in a tidy Star Trek-style ending, Rush embarked on a baffling progressive-rock marathon packed full of allusions to Greek mythology. I'm sorry, but I didn't understand a word - or a note - of it. It took me ages to gather my senses and come to the grim conclusion that Rush weren't my No.1 band any more. ...
Barton references a couple of article he wrote for Sounds magazine, including his review of Hemispheres and his 1981 interview with Geddy Lee (thanks RushFanForever).
Earlier this week AXS TV aired a new episode of Top Ten Revealed where they counted down the Top Ten Rock Trios. To nobody's surprise, Rush came in at #1. Thanks to Alex M for the heads up.
Last month, Canadian band Nickelback were inducted into the Canadian Music Hall of Fame at the 2023 Juno Awards. The band also played live at the ceremony, and drummer Daniel Adair wore a Rush Permanent Waves t-shirt during the band's performance as seen in this clip (thanks RushFanForever). Prior to the induction, Adair and Chad Kroeger sat down with the American Songwriter to talk about the band's latest album Get Rollin', and also revealed their 5 favorite songs, one of which is Rush's Red Barchetta.
YardBarker.com posted their list of The Best Bass Players of All Time this past week, and Rush's Geddy Lee made the cut at #8:
Rush's greatness was always the sum of its individually talented three parts. Yet, Lee seemed to be the consistent face of the band. In fact, many pray to the altar of Rush, specifically Lee. While best known for his signature countertenor vocals, Lee always mastered the strings on his bass and continues to do so in life after Rush. He was exceptional in incorporating high treble to counter Alex Lifeson's guitar, making a more fluid unity between the two instruments. Bass gods Cliff Burton and Steve Harris are just two of the countless musicians who consider Lee a major influence on their successful careers.
This past week's edition (#175) of Rush Roundtable on the Rushfans YouTube channel featured a discussion on Presto's Available Light with special guest Donna Halper:
That's all for this week. Have a great weekend and a Happy Easter everyone!!