UPDATE - 3/14@10:33AM: UPDATE - 3/14@10:33AM: The Signals Super Deluxe Edition is now also available via Amazon.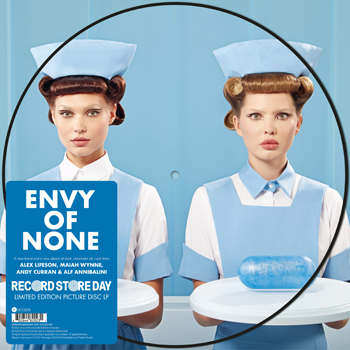 Alex Lifeson's Envy of None project with Andy Curran, guitarist Alfio Annibalini and vocalist Maiah Wynne released their self-titled, debut album last April, and it's currently available for purchase and streaming worldwide via several different online retailers and services, including Amazon and the official Envy of None merch store. A few weeks ago, Record Store Day announced that an exclusive Envy of None picture disc will be made available in participating stores for Record Store Day in select countries including Canada and the UK (it is NOT available in the US). Record Store Day for 2023 will take place next month on Saturday, April 22nd. For a list of participating stores in Canada visit recordstoredaycanada.ca, and in the UK go to recordstoreday.co.uk.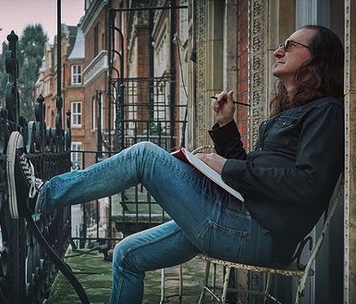 Back in September of 2021, Geddy Lee announced via Instagram that he was working on a memoir with a planned release via Harper Collins in the Fall of 2022. He later clarified via a Classic Rock interview back in April that the book would instead probably release sometime in the spring. This was confirmed back in November when the publisher's website posted a listing for the as-yet-untitled memoir, and it gave a tentative release date of May 16, 2023. The listing indicates that the book will be around 512 pages and available as a hardcover or as an e-book. There's also a listing on Amazon where you can pre-order the hardcover for $35 and the e-book for $17.99. Amazon also shows a CD option for $39.99 but it's not clear what that includes. From Geddy's original Instagram post announcement:
... My friend and collaborator on the Big Beautiful Book of Bass, Daniel Richler, saw how I was struggling in the aftermath of Neil's passing, and tried coaxing me out of my blues with some funny tales from his youth, daring me to share my own in return. So I did-reluctantly at first, but then remembering, oh yeah, I like wrestling with words. It's a less physical version of arguing with musical notes, without a Ricky doubleneck breaking my back! And soon my baby-step stories were becoming grownup chapters. Being the nuclear obsessive that I am, I'd write and re-write them, reassessing perspectives in the narrative not just by scouring my memory banks but my diaries and piles of photo albums too. I was piecing together a mystery of a different kind.

I'd then send these improved and even illustrated stories to Daniel, who'd clean up some of the grammar and remove a lot of the swearing (I love to fucking swear), and presto! In a voice that sounded, well, just like me, a presentable, epic-length account of my life on and off the stage was taking shape: my childhood, my family, the story of my parents' survival, my travels and all sorts of nonsense I've spent too much time obsessing over. And Daniel said, "I think you're writing a book. An actual memoir, in fact." To which I replied, "Hmm... I guess I am."

I'm rounding third on this as-of-yet untitled memoir, which will be published by HarperCollins, edited by Noah Eaker, and is scheduled for release in Fall 2022.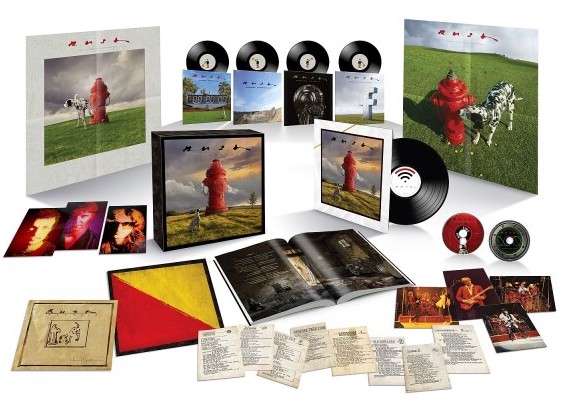 Rush announced last week that they'll be releasing a Signals 40th anniversary box set later this spring. The set is the latest in a string of 40th anniversary box sets released by the band over the past several years, beginning with a 2112 set back in 2016. The set will be available in three distinct configurations, including a Super Deluxe Edition, an LP Picture Disc Edition, and a Dolby Atmos Digital Edition. There will also be a limited edition Super Deluxe box set edition featuring eight lithographs of Neil Peart's original hand-drawn lyrics for each song on the album. The set is slated for release on April 28th, with all configurations already currently available for pre-order via this link. The band have also released an unboxing video which you can check out on YouTube here, and there are also several other Signals 40th merchandise items available. More details can be found in the press release
Rush took some time out this past week to recognize the Rush moms for International Women's Day on their social media channels, as seen here:
This past summer, drummer Rob Silverman followed up his critically-acclaimed 2020 Drumology project, with Drumology: Volume 2, which released last August via Autumn Hill Records. Both volumes were so successful, he continued the series with Drumology Volume 3, which released late last year as detailed in this article:
... While the first two volumes carried such high-profile names as Billy Cobham, Dave Weckl, Steve Smith, Simon Phillips, Kenny Aronoff, Gregg Bissonette and Mike Mangini, the recently released Drumology Volume III boasts a potent lineup of drummers Roy "Futureman" Wooten, Gavin Harrison, Greg Sobel and Budapest-born fusion monster Gergö Borlai. Weckl returns for this latest edition of Drumology, playing alongside his former Elektric Bandmates Frank Gambale, John Patitucci and Eric Marienthal on a searing tribute to Chick Corea. That powerful, Spanish-tinged homage, "The Alchemist," written by keyboardist and longtime Weckl collaborator Jay Oliver, also features drummer Steve Gadd, a key Corea sideman since 1976. Silverman and his keyboardist-composer brother Michael both play on all seven tracks of this epic gathering of drumming brethren. ...
Just like the original Drumology, all proceeds will benefit the Neil Peart Fund for brain cancer research at Cedars-Sinai Medical Center. For more information on where to get Drumology Volume 3 along with the 1st 2 volumes, visit autumnhillrecords.com.
GameRant.com posted their list of 10 Great Heavy Metal Horror Movies this past week, and the 2009 film Suck is included at #7. Suck featured Rush's Alex Lifeson playing a small role as a Canadian border guard:
Suck is a black comedy centering on an indie rock band, whose band member, Jennifer, gets turned into a vampire. A vampire hunter called Eddie gets wind of this and goes off in hot pursuit as the band heads out on tour. While the music on show in Suck is more rock than metal, there are some fantastic cameos from the metal world, including Alice Cooper, Alex Lifeson of Rush, and Henry Rollins. Iggy Pop also turns up, and genre legend Malcolm McDowell plays the aforementioned Eddie Van Helsing (close enough to the name of a guitar god).
Speaking of 2009 films featuring Rush, actor Paul Rudd was recently interviewed for GQ magazine to talk about some of his most iconic roles, including his role in the 2009 film I Love You, Man, where Rush made a cameo appearance and was central to the plot. You can watch the interview on YouTube here with the I Love You, Man part starting at the 8:16 mark.
PopMatters.com posted their list of The 25 Best Classic Era Progressive Rock Albums this past week, and 3 Rush albums made the cut; 2112 came in at #22, Hemispheres at #12, and Moving Pictures at #6:
... Along with King Crimson's Discipline, Moving Pictures illustrates that the first great era of progressive rock had been taken as far as it could, or should, go. Progressive rock became, in some ways, something very different than it was in the late 1960s, and that's the point of its appeal. Always recognizable but seldom derivative, it pushed boundaries, sought new ways to explore sound and feeling, and strived to become, as Rush put it best, "emotional feedback on a timeless wavelength".
Bassist Billy Sheehan (Mr. Big, The Winery Dogs) was recently interviewed for MetalTalk.net and spoke a bit about his time in Mr. Big opening for Rush:
... "To Be With You hit 100 million views on Youtube recently," Billy says, "which we're incredibly proud of. We did write some full-on rockers in Mr. Big, but we also mixed it up with softer songs. I remember we were out supporting Rush on tour, and their audience was predominately male. Geddy Lee said to me after a few shows, 'It's great to see some women in the crowd'. We can hold our own in the rocking stakes, but we always have that major sense of melody which was helped by all of us being able to sing as well." ...
Crowbar frontman Kelly Jay passed away back in 2019 at the age of 77 from a stroke. Crowbar was a Hamilton-based band known for their 1971 party anthem Oh What a Feeling, and Rush opened for them in the early '70s. Interestingly enough, Jay was also one of the movers on the Moving Pictures album cover as he describes in this Classic Rock magazine interview from before his death that was recently re-posted via LouderSound.com.
This week's Rush Roundtable episode (#171) on the Rush Fans YouTube channel focuses on the title track of Rush's Presto album:
That's all for this week. Have a wonderful weekend everybody!!!