UPDATE - 2/10@9:42PM: To celebrate Rush Golden Ale coming to the US as mentioned below, the comedy team of Dirk and Lerxst have put out yet another beer-tasting video:
----- snip -----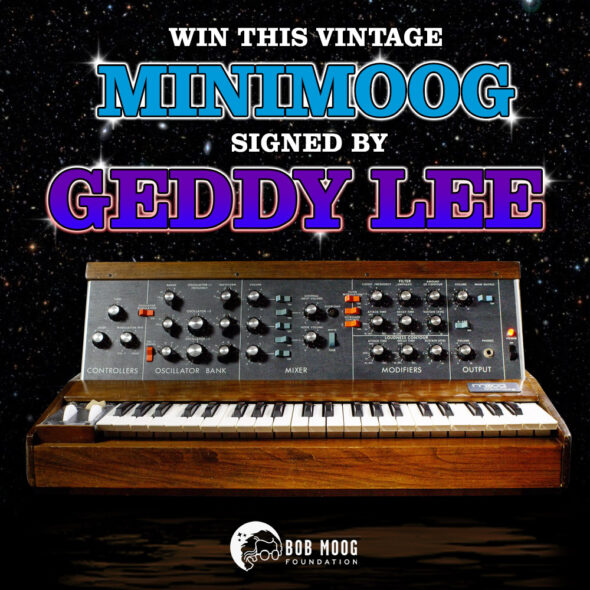 The Bob Moog Foundation is running a raffle contest where the winner will get a fully-restored, vintage Minimoog synthesizer signed by Rush's Geddy Lee. Rush used Moog synths extensively in the '70s and '80s, most famously on their 1981 hit Tom Sawyer, and Geddy wrote the following line beside his signature on the Minimoog: "This device is a modern-day warrior". This particular Minimoog is serial number 4070, and was built at Moog Music's Williamsville, NY factory almost exactly 49 years ago, on February 14, 1974. Despite a few minor cosmetic flaws commensurate with a vintage instrument, it is otherwise in excellent technical condition with an estimated value of $10K. The raffle kicked off earlier this week and will run through Noon on February 27th EST, or when all 10,000 of the available tickets run out. Raffle tickets are $25 each, five for $100, 12 for $200, or 35 for $500, with all proceeds going to benefit the charitable efforts of the Bob Moog Foundation. For all the rules/regulations, to see photos of the Minimoog, and to purchase some raffle tickets, go to this location. Geddy was also interviewed for the raffle announcement and talks about his personal history with the Moog synth, and its importance in the history of Rush's music. You can watch that video below or on YouTube here.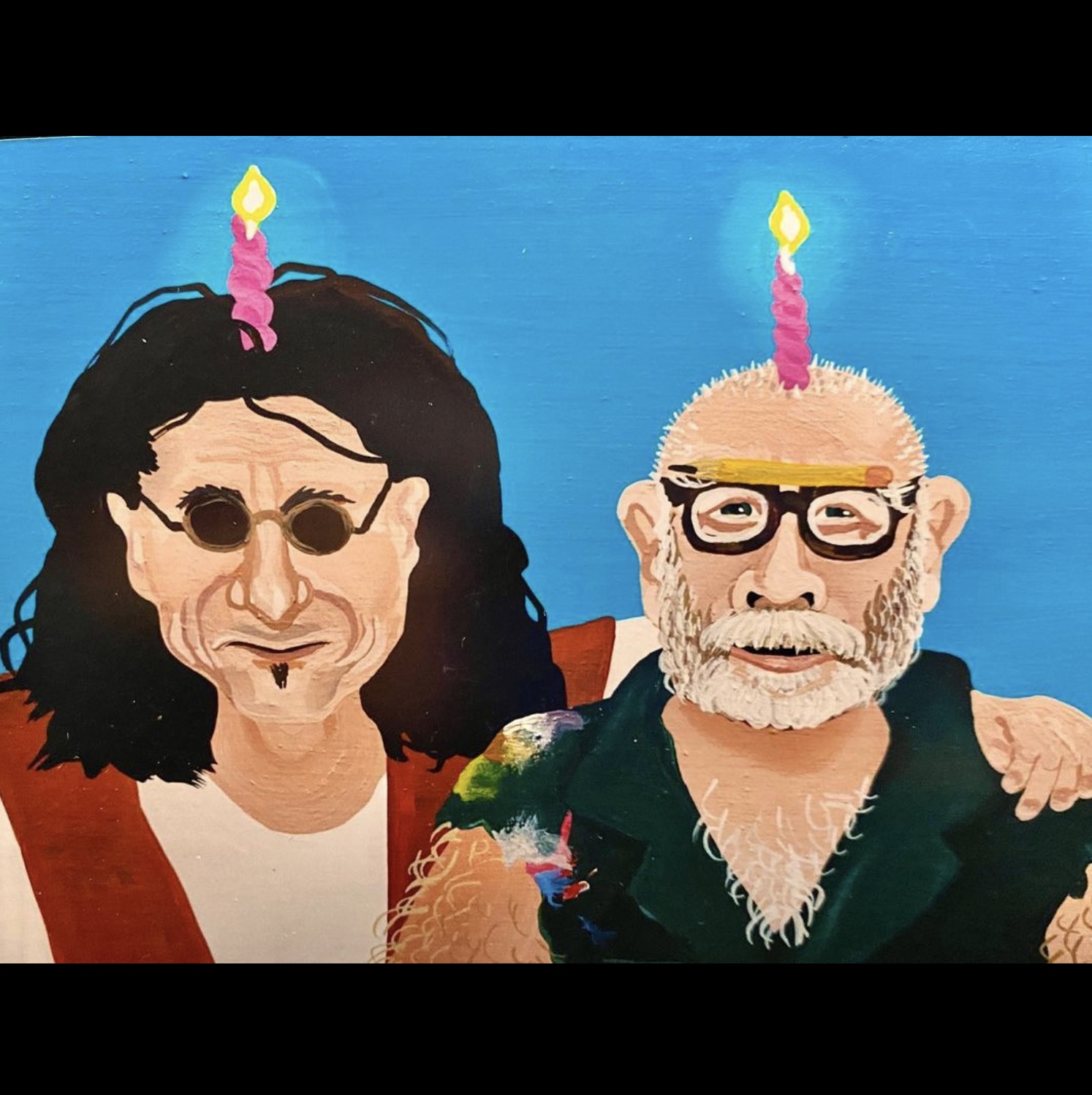 Canadian singer-songwriter, visual artist and activist Mendelson Joe passed away earlier this week at the age of 78. Mendelson Joe was a longtime friend of Rush, and opened a few Canadian shows for the band back in the mid '70s. Geddy Lee also convinced Rush's label Anthem Records to release his 1988 album Born To Cuddle because he thought it was great, and his 1991 follow-up Addicted was also released on Anthem (thanks RushFanForever). Geddy posted a tribute to his late friend via Instagram on Wednesday:
I just found out the sad, sad news that Mendelson Joe has left the planet. He was an out-spoken big thinking human, truly a giant that represented many things to me.

Friend, Artist, Songwriter, Guitarist, Activist, Letter-Writer, Mentor, and fellow Jew from Mars... (his words)

He is already missed. RIP my friend. 💔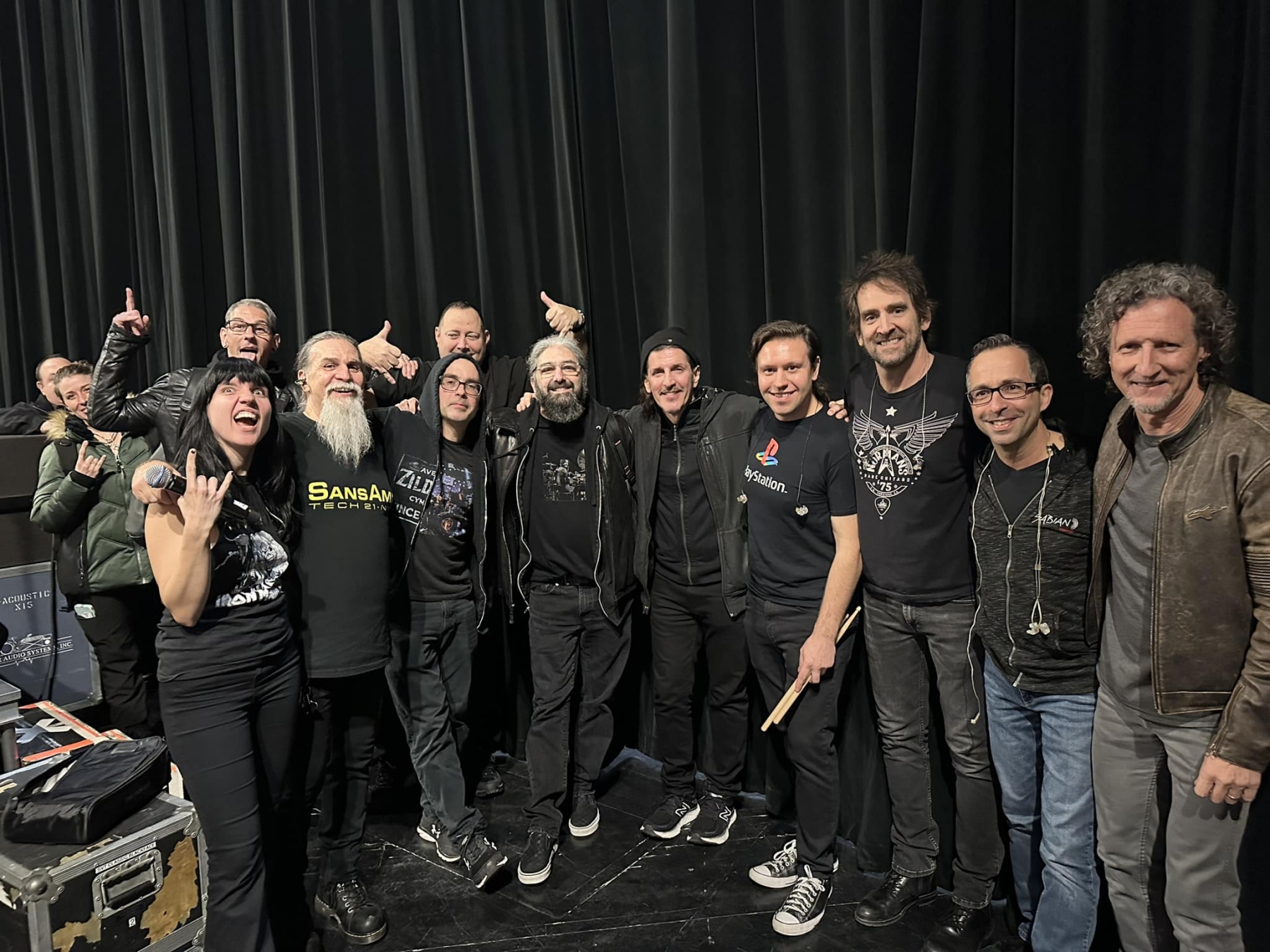 In commemoration of the 3-year anniversary of the passing of Neil Peart, Rush tribute band YYNOT hosted a charity concert last month on January 7th dubbed Bubba Bash 2023 at the Keswick Theatre outside Philly (Glenside, PA). The show featured YYNOT along with special guests Mike Portnoy (Dream Theater, etc.), Frank Bello (Anthrax), Jason Bittner (Shadows Fall, Overkill, etc.), Jon Dinklage (Clockwork Angels string ensemble), Joe Bergamini (drum instructor, author, etc.), John Wesley (Porcupine Tree), and Seven Antonopoulos (Opiate for the Masses). Loudwire.com posted this great summary of the concert earlier this month:
... YYNOT opened up the night running through some of the Rush classics such as "The Spirit of Radio," "YYZ" and more before starting to bring out the night's specials guests. Anthrax's Frank Bello and Porcupine Tree's John Wesley were first up, getting a chance to rock out "Tom Sawyer" and "Limelight," ... Bergamini joined the band for "Vital Signs," before Opiate for the Masses drummer Seven Antonopoulos took his spot behind the kit for "Freewill" and "Closer to the Heart." Overkill's Bittner took his turn behind the kit on "Natural Science" and "Red Barchetta," giving way to Dinklage for "Losing It." Portnoy then got the epic penultimate climax on drums for the night nimbly working his way through "2112 Part 1: Overture," "2112 Part 2: The Temples of Syrinx" and "La Villa Strangiato." YYNOT then closed out the night with "By-Tor & The Snow Dog / In the Mood / 2112 Part VII: Grand Finale." ...
The final fundraising tally for the concert came in this past week, and they ending up with over $50K in contributions to benefit Cedars Sinai Hospital! YYNOT has been posting videos from the performance over the last few weeks, with the latest being this video of Natural Science with Jason Bittner on drums.
Back in August of 2021 Rush teamed up with Henderson Brewing Company to release their first Rush-branded beer - Rush Canadian Golden Ale. Since then they've released a few more varieties of Rush-branded beer including Moving Pictures Ale, Moving Pitchers beer, and Signals Belgian Ale. They recently made the original Canadian Golden Ale available for shipping to the US via HalfTimeBeverage.com, and as of today you can now also buy it at select stores in Pennsylvania:
... Shangy's Beer Authority announced earlier this week that they are now an exclusive distributor of the Rush beers beginning this week. On Friday, February 10th, they will begin carrying Golden Ale at their Emmaus and Macungie locations. A single 12oz bottle will run you $3.99, a full case is $59.99. The beer distributor opens at 9am and quantities are limited. Choose a path that's clear... and get there early.
There are also several more unique items available in Henderson's Rush store, including a Rush Canadian Golden Ale Decorative Keg (NOTE: decorative only - no beer in it), a Canadian Golden Ale Mustard, and more. The mustard was first made available back in December, but garnered some renewed attention last week when Geddy and Alex posted this hilarious video promoting the mustard. For all the details, and to make a purchase visit shophendersonbrewing.com.
Back in January of last year, Rush teamed up with pinball machine company Stern Pinball to release a line of Rush pinball machines. The machines where a huge hit, and can now be found in game rooms all across the country. The annual Pinball Industry Awards took place back on January 28th, and the Rush pinball machine ended up winning several accolades including Game of the Year, Best Rules, Best Layout, Best Music and Best Lighting Effects! Congratulations!!
Far Out Magazine posted a story this past week on 10 musicians who refused to sell their soul, and Rush is included:
... After spending their salad days playing by-the-numbers rock and roll, Neil Peart was adamant about going into progressive territory on albums like Caress of Steel. Although their label was not a fan of their progressive leanings and even threatened to drop them if the new direction continued, the band stood their ground. After their manager lied to bosses about them making something pop-friendly, the band offered up 2112, featuring a 20-minute epic that told a story about not being kept down by the man. Although this one song served as a screw-you to the label, the rest of the world resonated with the message and started showing up to the band's shows in droves. By the time the band peaked in popularity in 1981, they were the most sophisticated rock band to grace the charts. Rush are always looking to entertain their fans, but nothing they play is meant to be on the charts.
In the lead up to this past weekend's Grammy Awards, the NY Daily News posted an article profiling several best-selling musicians who have never won a Grammy, and Rush was included. Rush has been nominated a whopping 7 times, but has never won.
Guitarist Björn Gelotte of Swedish metal band In Flames recently sat down with MusicRadar.com to talk about the 10 albums that changed his life, one of which was Rush's Moving Pictures (thanks RushFanForever):
... "Like any band who has been around for that amount of time but they also went through so many, not genre changes, but the introduction of electronic music, all that stuff, they just changed a lot of things and they just moved with it, and were never afraid of experimenting. Rush is a band my uncle tried to get me into because he know I was into metal or rock but I could never get my head around it. It was not until I heard Dream Theater, and they were talking about Rush, and then I started to understand. Then I found Moving Pictures and yeah. And it's a fucking three-piece!? It's incredible. And they were as good live. I am getting goosebumps just thinking about it....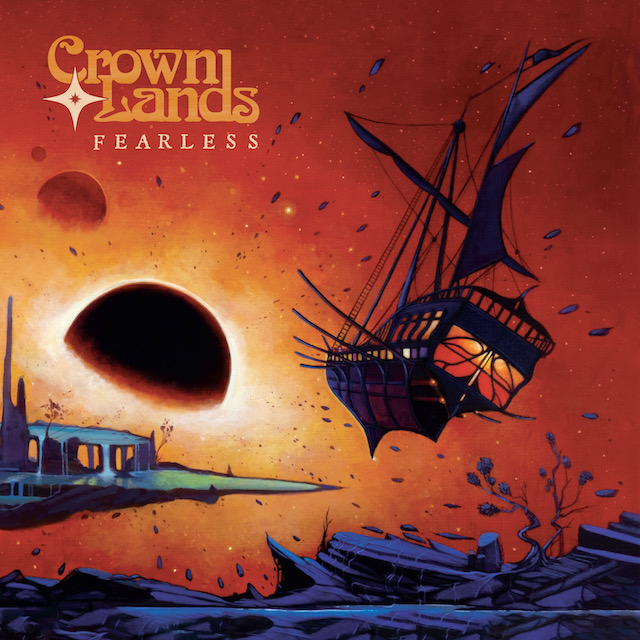 Toronto-based progressive blues-rock duo Crown Lands consists of drummer/singer Cody Bowles and guitarist Kevin Comeau, who bonded over their shared obsession with Rush several years ago and formed Crown Lands shortly after. The duo released their self-titled debut album in 2020, and were named Breakthrough Group of the Year at the 2021 JUNO Awards, with the album also being nominated for Rock Album of the Year. The pair make no secret regarding their obsession with Rush - the Crowns Lands album includes a 10-part song with sections referencing Rush's work titled Context: Fearless Pt. 1. They made a demo of the song with former Rush producer Terry Brown, and later worked on the track with Nick Raskulinecz, co-producer of Rush's last 2 albums, and David Bottrill (who remixed Rush's Vapor Trails album). The pair also joined Alex Lifeson and others as part of an ensemble performance of a Led Zeppelin medley at the 2021 Andy Kim Christmas show. The duo announced last week that they will be releasing their sophomore album Fearless in March, with the centerpiece of the album being an epic, 18-minute, 10-part, Rush-inspired (part 1 is titled Overture!) track titled Starlifter: Fearless Pt. II, which continues the story of Fearless, as Comeau explained to BraveWords.com:
... "Starlifter: Fearless Pt. II," embodies otherworldly, Vangelis-esque qualities offset by juicy rock solos, sci-fi mystique, a captivating 11/8 section, gentle chimes and gauzy synths. It also builds on the same protagonist, the same universe that Crown Lands have been cultivating. Bowles explains the premise, "this epic story spans hundreds of years following our titular hero: Fearless after the events of (2021 single) 'The Oracle.' He stands against the colonization of outer space and the decimation of his people to reclaim what was stolen by capitalistic greed and bloodshed." Bowles, who also writes science-fiction continues, "These are themes that may sound like a mere fantastic tale to some, but we wanted to marry sci-fi elements with very real issues Indigenous people have gone through time and time again. I guess that would be called Indigenous futurism. I have always loved songs that give you more the more you lean into them, and there is a deeper meaning to this story if you look for it." ...
The album was recorded in the 80A Studio at Universal studio in Toronto with producer David Bottrill, and you can pre-order it here. For more information on Crown Lands, visit their website at crownlandsmusic.com, and you watch a live, in-studio performance video of Starlifter below or on YouTube here.
That's all for this week. Have a great weekend!!