UPDATE - 1/28@10:03AM: Geddy and Alex have made a hilarious new video promoting the Rush Mustard mentioned below:
----- snip -----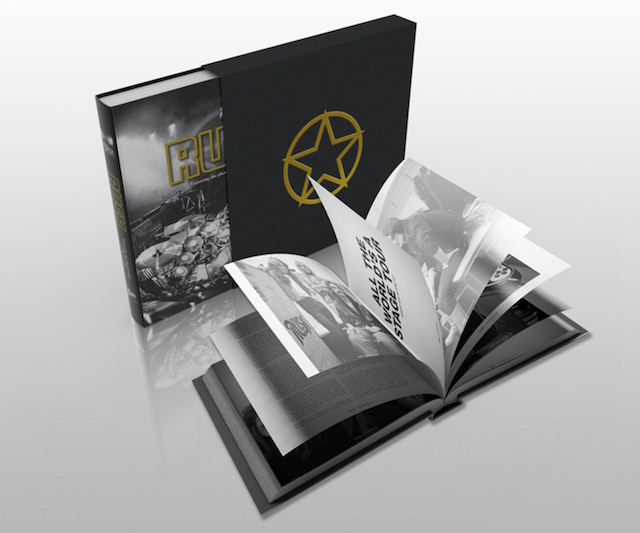 UK-based Rufus Publications has launched a new rock photo book series called Portraits, featuring beautiful 9" square books presented in a slipcase. The first book in the series is titled Portraits of Rush, and features photographs of Rush by rock photographer Fin Costello. The books are numbered but not signed, and will come with an exclusive poster or print. The 240-page, casebound book is printed on luxury 170gsm matte coated paper, includes a fold out poster, and is presented in a black slipcase with a gold foil logo. The main edition comes in 666 numbered copies worldwide. There's also a Leather And Metal Edition, along with a bundle containing both editions of the book. From BraveWords.com:
... Featuring the photo's of legendary music photographer Fin Costello, who had total access to the band as they travelled, rehearsed, played live and recorded in the studio, Portraits Of Rush is a candid, beautiful book of the Canadian trio as they became one of rock's major bands. The images in this book have been specially prepared and processed for the black and white printing process, and will be re-produced using high quality matt coated art paper. With an introduction by John Tucker and featuring several articles on the band from magazines of the time the book is a celebration of one of the finest trio's in rock. ...
The book is currently available for pre-order and will begin shipping out in late May. Orders made before the end of February will receive a 10% discount.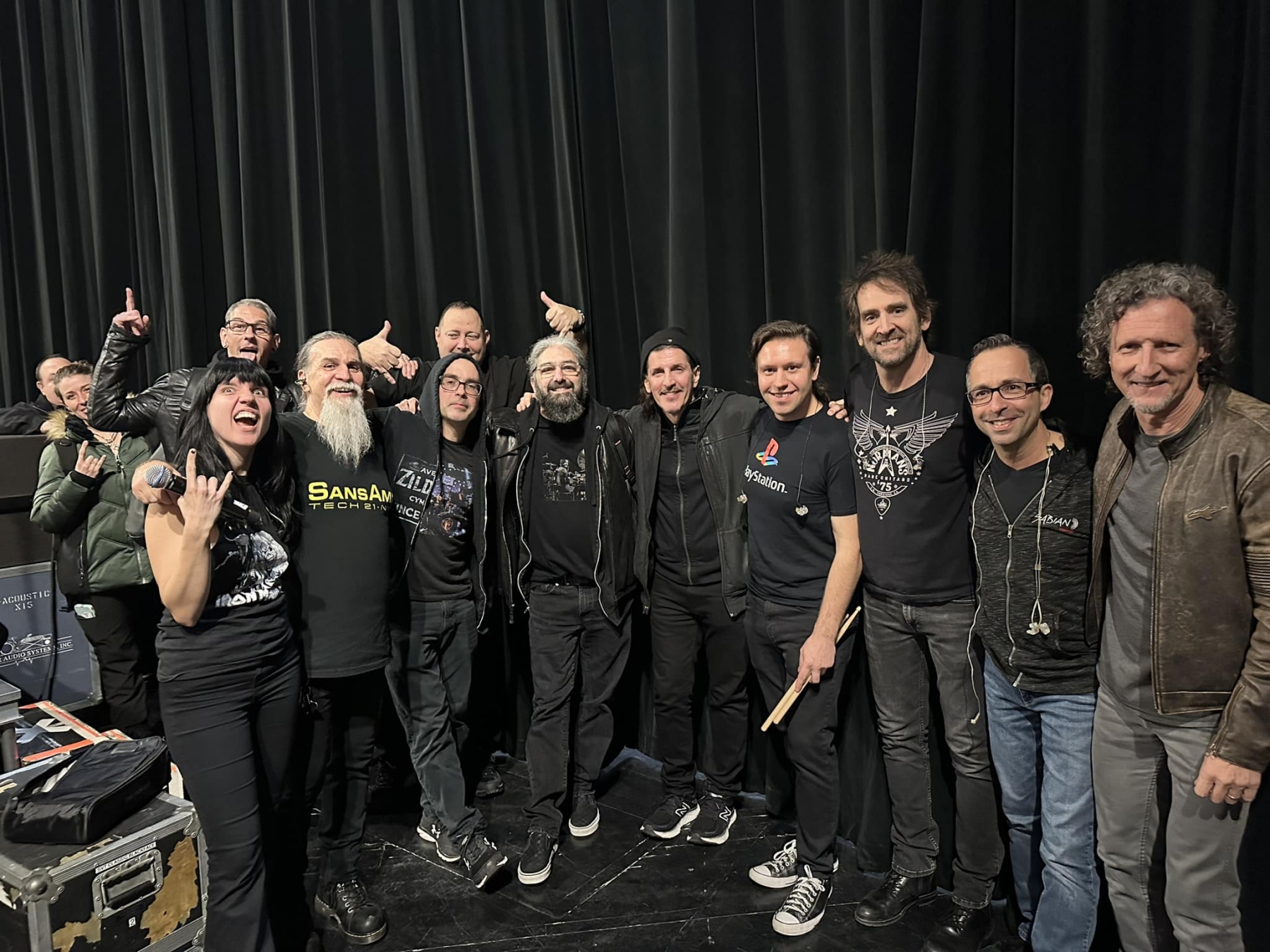 In commemoration of the 3-year anniversary of the passing of Neil Peart, Rush tribute band YYNOT hosted a charity concert back on January 7th dubbed Bubba Bash 2023 at the Keswick Theatre outside Philly (Glenside, PA). The show featured YYNOT along with special guests Mike Portnoy (Dream Theater, etc.), Frank Bello (Anthrax), Jason Bittner (Shadows Fall, Overkill, etc.), Jon Dinklage (Clockwork Angels string ensemble), Joe Bergamini (drum instructor, author, etc.), John Wesley (Porcupine Tree), and Seven Antonopoulos (Opiate for the Masses). Loudwire.com posted this great summary of the concert earlier this month:
... YYNOT opened up the night running through some of the Rush classics such as "The Spirit of Radio," "YYZ" and more before starting to bring out the night's specials guests. Anthrax's Frank Bello and Porcupine Tree's John Wesley were first up, getting a chance to rock out "Tom Sawyer" and "Limelight," ... Bergamini joined the band for "Vital Signs," before Opiate for the Masses drummer Seven Antonopoulos took his spot behind the kit for "Freewill" and "Closer to the Heart." Overkill's Bittner took his turn behind the kit on "Natural Science" and "Red Barchetta," giving way to Dinklage for "Losing It." Portnoy then got the epic penultimate climax on drums for the night nimbly working his way through "2112 Part 1: Overture," "2112 Part 2: The Temples of Syrinx" and "La Villa Strangiato." YYNOT then closed out the night with "By-Tor & The Snow Dog / In the Mood / 2112 Part VII: Grand Finale." ...
The concert and associated fundraiser raised over $30K to benefit Cedars Sinai Hospital, and you can add to that total by sending along your donation here. YYNOT has been posting videos from the performance over the last few weeks, with the latest being a video of their rendition of Rush's Tom Sawyer with Frank Bello and John Wesley.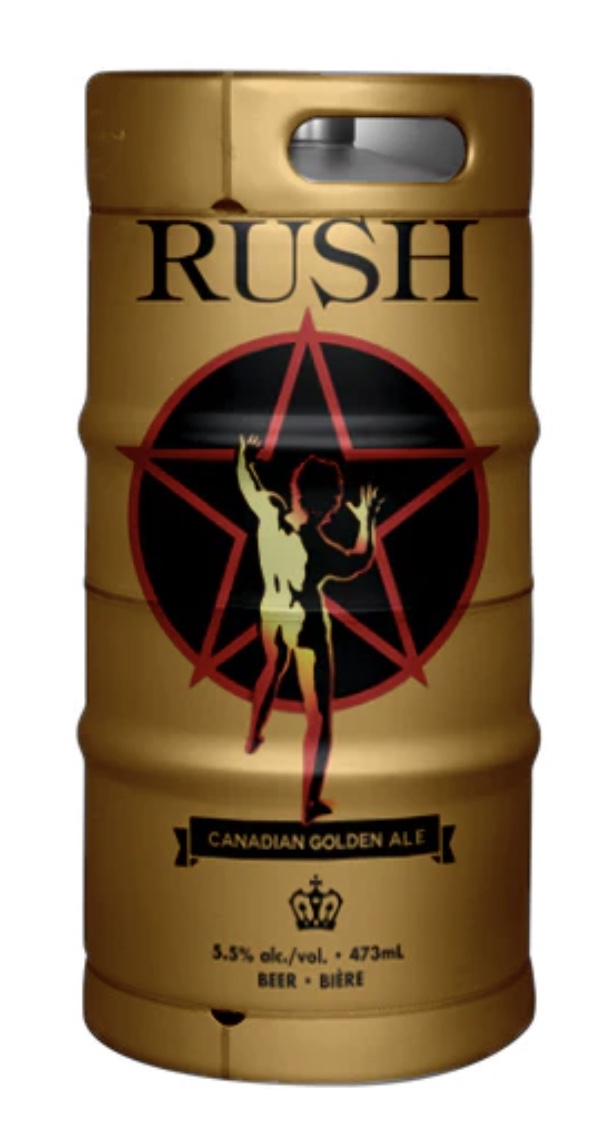 Back in August of 2021 Rush teamed up with Henderson Brewing Company to release their first Rush-branded beer - Rush Canadian Golden Ale. Since then they've released a few more varieties of Rush-branded beer including Moving Pictures Ale, Moving Pitchers beer, and Signals Belgian Ale. They recently made the original Canadian Golden Ale available for purchase in the US via HalfTimeBeverage.com, and they are currently accepting pre-orders, with items shipping out the first week of February. There are also several more unique items available in their Rush store, including a Canadian Golden Ale Mustard, a Rush Canadian Golden Ale Decorative Keg (NOTE: decorative only - no beer in it), and more. For all the details, and to make a purchase visit HalfTimeBeverage.com.
U2's Bono was the most recent guest on the SmartLess podcast with Jason Bateman, Sean Hayes, & Will Arnett. At about the 10-minute mark, Bono mentions that the 3 podcasters are a power trio. Someone then says, "like Rush", and Bono replies, "don't be Rush". He then goes on to remark on how he and his bandmates have very different opinions on progressive rock. Sounds like Bono is not a fan! Thanks to Greg M for the heads up.
Yahoo! Entertainment posted a story this past week on the 59 Best Music Documentaries, and the 2010 Rush documentary Rush: Beyond the Lighted Stage was included:
Enduring prog rock trio Rush are akin to deities in their native Canada, and have earned a devoted audience that's followed them for the best part of five decades. Their back catalog includes seismic LPs such as 2112, Permanent Waves, and Moving Pictures, and their long and winding career is treated with the reverence it deserves in Scot McFadyen and Sam Dunn's Beyond The Lighted Stage, which - aside from a wealth of backstage and personal footage - includes enthusiastic testimonials from stellar artists as diverse as Billy Corgan, Gene Simmons, and Trent Reznor.
Mixdown Magazine posted their list of The 10 greatest live albums of the 1980s this past week, and Rush's Exit ... Stage Left was included:
Canadian supergroup Rush released a collection of recordings from their respective 1980 and 1981 widely successful tours, Permanent Waves and Moving Pictures. The recordings on Exit...Stage Left, were specifically curated, and track-listed by the members of the band themselves, giving the project a creative flow that often eludes other live albums. 'Tom Sawyer' is an obvious highlight, in which the three-piece band create an almost orchestral scope of sound over five-minutes. The individual musicianship of Geddy Lee, Alex Lifeson, and Neil Peart culminates in a gigantic new wave-infused hard rock wall of noise. Exit...Stage Left went on to have both critical and commercial success, going platinum in the US.
In recognition of Ranked Choice Voting Day this past Monday, we at RIAB decided to run a Ranked Choice Voting style poll to determine the top 5 Rush albums. A Ranked Choice Voting poll works by allowing poll-takers to rank their selections rather than forcing them to just pick one, and requires the winner to get at least 50% to win. If the top choice does not get 50%, then the album in last place is thrown out, and those votes are then reallocated to those poll-takers' 2nd choice. This process repeats until one of the albums gets to 50%. In this case, Moving Pictures was on top right from the start, but took 16 rounds to get to 50%. You can check out the full results below or at this location, and learn more about Ranked Choice Voting at rankthevote.us.
That's all for this week. Have a great weekend!!