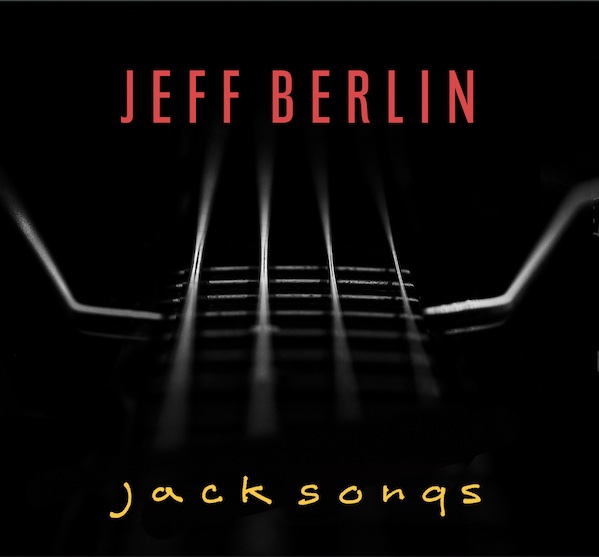 Bass legend Jeff Berlin's long-awaited, all-star Jack Bruce tribute album Jack Songs was released earlier this week and includes guest appearances from both Geddy Lee and Alex Lifeson. The project has been in the works since way back in 2015, and was originally launched as a Pledge Music project before the crowdfunding company went bankrupt in 2019. The bankruptcy ended up contributing to the delayed release, and forced Berlin to finance the project himself. We've also known that Alex Lifeson was involved since back in 2019 when Berlin began recording the album as described in this post, but Geddy Lee's inclusion in the project wasn't known until more recently. Lifeson contributed a guitar solo to a Cream Medley track titled Creamed, and Geddy Lee guests on Smiles Story and Morning Grins. Other guest performers on the album include Sammy Hagar, Gregg Bissonette, Gary Husband, Eric Johnson, Bill Frisell, Ron "Bumblefoot" Thal, Alex Ligertwood, Scott Henderson, Marcus Miller, Ron Carter, Tony Levin, Michael League, Nathan East, Mark King, Bruce Guttridge, Billy Sheehan and Johnny Hiland. From the press release:
... 'Jack Songs' isn't a cover CD, not in the literal sense. Except for a couple of tunes from his Cream period (arranged in ways that should surprise people) most of the songs on this CD come from other periods in Jack's musical life after Cream. Jack's solo career represented a multitude of musical styles. This recording will be a new revamp of some of those songs, some of the best music that I heard from one of the greatest musicians of the last fifty years. In arranging the music, I was inspired by Giles Martin's production of The Beatles 'Love' CD. His production work on this CD is fantastic. I tried to follow his example of his fitting various Beatle song quotes from different tunes into each tune by doing a similar thing by combining different Jack songs. Rather than computerized manipulation of music that was already recorded, I arranged the music so that each song on 'Jack Songs' would end up as an individual work comprised of various parts of other songs in them. I never would have thought of this without Giles showing me this path." ...
You can purchase the album as a CD or download via jeffberlinmusicgroup.com, and follow Jeff Berlin on Facebook and Instagram.
The late Neil Peart grew up in the St. Catharines, Ontario community of Port Dalhousie, the lakefront home of Lakeside Park which inspired the lyrics to the 1975 Rush song of the same name. Back in 2020 the St. Catharines City Council, with the full support of the community, voted to name the newly rebuilt pavilion at Lakeside Park the Neil Peart Pavilion at Lakeside Park in honor of the hometown icon who passed away in January of 2020. The Council also established the Neil Peart Commemorative Task Force, with the objective to commission a public work of art commemorating Peart's life and legacy. Last January the Task Force officially began welcoming artists to submit requests for pre-qualification via the city's website, and revealed the finalists back in September along with the launch of a fundraising campaign for the Memorial. In an interview with the Something for Nothing podcast back in October, Task Force chair David DeRocco indicated that the Task Force had planned on making a decision on the final artist by March of this year. That obviously did not come to pass, and a Global News article from earlier this week gives an update on where things currently stand:
... A selection committee is reviewing bids from six artists - A Day On The Bridge Inc., Morgan Sculpture Inc., R.J. Burnside & Associates Ltd., Ruth Abernethy, Ted Fullerton and The Planning Partnership. "The six final submissions were quite varied in their approach," said David DeRocco, chair of the Neil Peart Commemorative Task Force. "They're all quite imaginative." Eric Lamothe, the city's manager of business planning and strategic services, said the selection committee is using a scoring matrix that looks at numerous aspects of the submissions, including design, ongoing maintenance required and features such as whether it has lighting. Once all the scores are submitted, Lamothe said, they'll be tallied and a public announcement on the chosen design will be made. "The selection committee continues to review the evaluations. We hope in the coming months we'll be able to announce the successful artist and project," he said. ...
In the meantime, fans can still make a donation towards the Neil Peart Memorial at Lakeside Park at www.EngageSTC.ca/Neil-Peart. On a related note, a Night for Neil memorial concert celebrating the life of Peart is scheduled for Oct. 22 at the Meridian Centre in St. Catharines after being rescheduled several times due to the COVID-19 pandemic and related restrictions.
Primus announced earlier this week that they were adding a couple of November shows in Santiago, Chile to their A Tribute to Kings Rush tribute tour. They had originally planned a European leg of the tour this coming Fall, but announced back in late June that they has been forced to cancel that leg due to "unavoidable logistical challenges". The Santiago shows will take place on November 2nd and 3rd, although the first show is already SOLD OUT. The tour features the band paying tribute to their musical heroes Rush by covering the A Farewell to Kings album in full, mixed in with a couple sets of Primus classics. The tour is currently on a break after wrapping up a West Coast stint of dates earlier this summer, but the band will be playing a pair of special shows at Red Rocks next week celebrating the 25th anniversary of the animated comedy show South Park (the show is set in Colorado and Primus performs the show's opening music). The shows will also feature South Park creators Trey Parker and Matt Stone, along with Ween. It's not clear whether they'll be playing any of the Rush sets at those shows, since the focus will be on celebrating the music of South Park. They'll then remain in Colorado for another pair of shows in Vail next weekend. For all the details and to purchase tickets for any remaining shows visit primusville.com. Primus frontman Les Claypool was interviewed for Boulder Weekly earlier this week in the lead up to next week's shows, and spoke a bit about Rush, South Park and Colorado:
... We had always joked, "We should go out and do Hemispheres in its entirety," because we did the Willy Wonka thing; we did the goblins record years ago; and I did Pink Floyd's Animals with the Frog Brigade. We had always kinda joked about it, but then we thought, "Maybe we should do something like that." You have to do "Cygnus I" before you do "Cygnus II," and 2112 seemed too obvious, and Moving Pictures seemed too obvious, so Farewell to Kings just seemed like the right record to do. ... When I was first starting to play, and all throughout high school, Rush was an obsession of mine. It happened to be one of the things that Primus was able to connect over, because we have such varied backgrounds but we were always able to come together on Rush. Doing the tour with them was amazing; it was like meeting Evil Kneivel or something-such a big part of your youth. To be able to go out and tour with them was pretty amazing, and they became very good friends of ours, so that's always a bonus. ...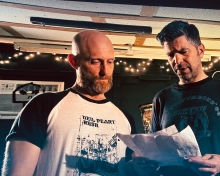 Reader David C let me know about a Rush t-shirt appearance in the 2019 film The Incoherents - a movie about middle aged musicians putting the band back together. In one scene, the drummer is wearing a Neil Peart t-shirt as seen in this screenshot. The film is available on Amazon prime and the t-shirt can be seen around the 55:30 mark.
In this past week's episode of the Something for Nothing podcast, composer and educator Iain Carnegie joins hosts Steve and Gerry to talk about his favorite Rush song, Chain Lightning. Iain dissects the song in a manner befitting his teaching position at the Royal College of Music in London - which is to say you'll learn how the song is arranged, why chord voicings are central to the song's tone, and about something called the devil's interval. You can listen to the episode below or wherever you get your podcasts:
That's all for this week. Have a great weekend everyone!!