UPDATE - 8/12@10:02AM: The track made FM96's list of 5 songs you must hear this week for the first week of August.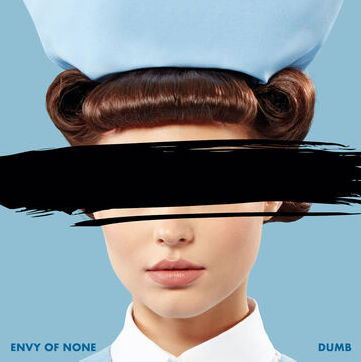 Alex Lifeson's Envy of None project with Andy Curran, guitarist Alfio Annibalini and vocalist Maiah Wynne released their self-titled, debut album back in April, and it's currently available for purchase and streaming worldwide via several different online retailers and services, including Amazon and the official Envy of None merch store. Earlier today they released a new music video for a remixed version of Dumb titled Dumb - Der Dummkopf Remix, which you can check out below or on YouTube. They also sent out a newsletter update to all of their fans which includes more info on the video along with news regarding the album release, their UNHCR fundraiser (sales from their 7-inch LE vinyl single raised over $90K!), touring plans (or lack thereof), and more. Here's what they said about playing live:
... We've had many requests to play live. It's probably the number one question other than "Who are those two ladies on your album cover and what does it all mean?" :) Anyway, we all like the idea of one day playing together live, but it's a massive undertaking to crank up the EON machine and not as easy as it might seem. Who will play drums? How about all the keyboard parts? What colour pants will Andy wear? Does Alex even have a guitar left to play live? Will Maiah's mom get to see her daughter play on Jimmy Kimmel? Is Alf's nick name really "St. Alfonzo "? All of these questions require some serious planning and consideration. Let's just say for now ... as Alex says, "We'll see!"
You can check out all the available purchase options for the album here, and follow the Project via their website, on Facebook, Twitter and Instagram for all the latest news.
Related Posts:
[Alex Lifeson on his Envy of None project and auctioning off his guitars in new Guitar World interview]
[Alex Lifeson talks Envy of None, auctioning off his guitars and more in new Guitar magazine interview]
[Watch the official music video for Never Said I Love You from Envy of None's self-titled debut album]
[Alex Lifeson's Envy of None project gets solid debut on the Billboard album charts]
[Alex Lifeson's Envy of None project releases self-titled debut album]
[Envy of None vinyl release delayed, plus new interviews and an album review]
[Watch the official music video for Look Inside - the latest single from Alex Lifeson's Envy of None project]
[Listen to Look Inside, the next single from Alex Lifeson's Envy of None project]
[Listen to Liar, the first single from Alex Lifeson's Envy of None project]
[Alex Lifeson's Envy of None project with Andy Curran and Maiah Wynne to release January 12th]