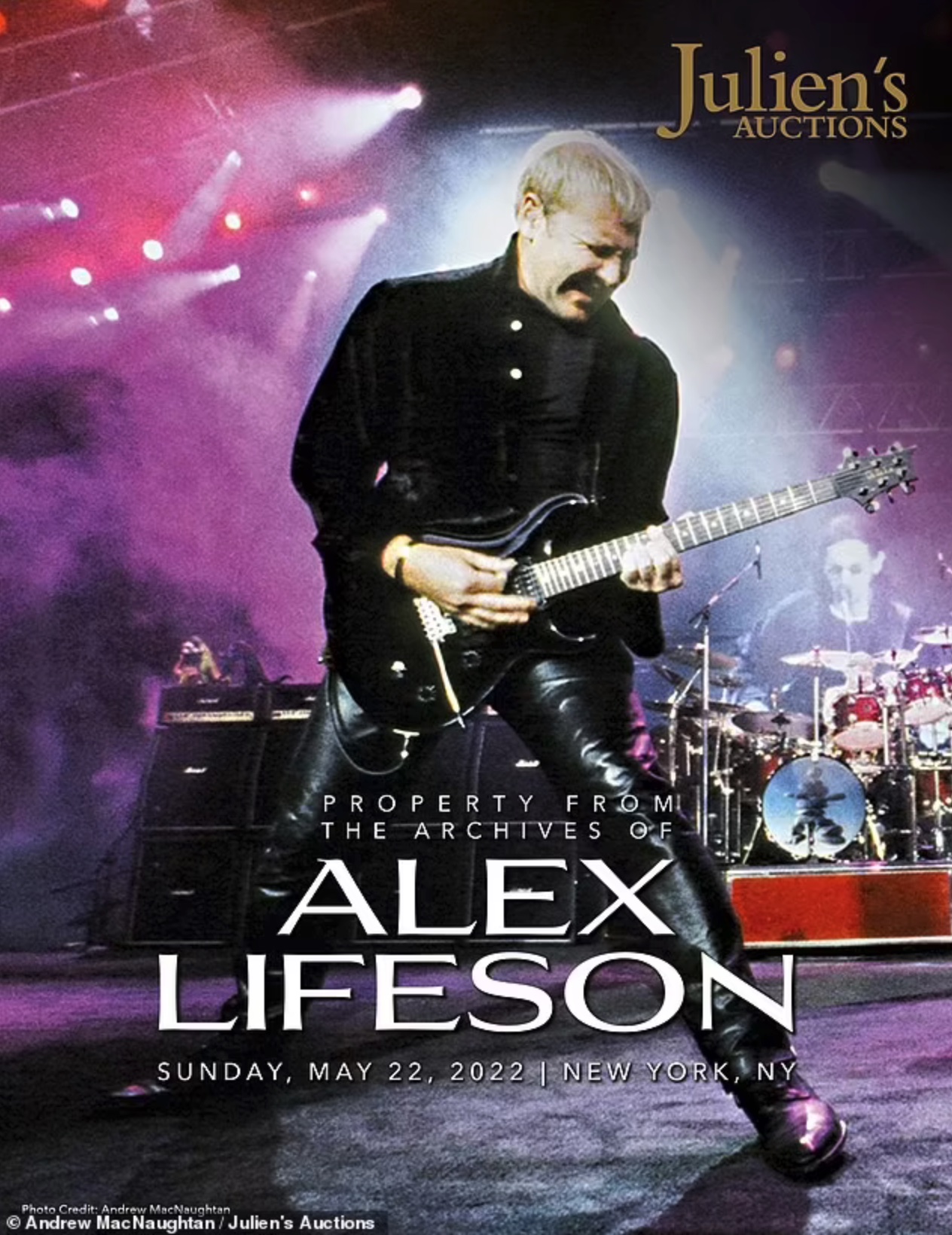 Alex Lifeson recently sat down with Guitar magazine's Darran Charles for a new interview to discuss his Envy of None project, why he's auctioning off his guitar collection, and more. We learned back in March that Lifeson would be auctioning off a large portion of his legendary guitar collection via Julien's this month. Property From the Archives of Alex Lifeson will be the centerpiece of Julien's Music Icons event next weekend. Lifeson's collection features over 60 vintage guitars and other career memorabilia, and will be auctioned off live from New York City's Hard Rock Cafe and online at JuliensAuctions.com next Sunday, May 22nd. Here's what Alex had to say about why he decided to part with his collection:
... my wife and I, we're at a stage in our life where we just feel like we have too much stuff and we're trying to get a little leaner. I'm auctioning off the bulk of my guitar collection for charity. I'm looking forward to that. It was probably one of the most difficult things I've ever done in my life; it was so emotionally difficult packing those guitars up. I cleaned them, polished them, did string changes. I made sure every single one was in tune when it went back in the case, and then I kissed it goodbye. ... [the 1976 Gibson ES-355] was the last one that was left. I was sitting in our mudroom, just off our garage, while the removal truck was waiting. I sat there with that case in between my legs and, maybe it sounds a little corny, but I was talking to it. I was reminiscing about gigs that we did together and kissing the bubble wrap. But I know that, with the funds I'm hoping to raise, it gives it all another life and helps other people, and in some cases gives people another chance at life. Why wouldn't you do that? ...
Alex also talks about his Envy of None side project, with a focus on the gear he used and his general approach to contributing guitar tracks to someone else's music:
... When I set out to play on somebody else's music I always try to do something that they're not expecting, and I've done well in that capacity. Almost every project that I've done, they've come back and said, 'I never in a million years would have thought of that piece in that song but now I can't hear it any other way'. That, to me, is success. ...
You can read the entire interview online at Guitar.com here.