UPDATE - 4/23@9:44AM: John over at Cygnus-X1.net has transcribed the entire Prog magazine feature and made it available online here.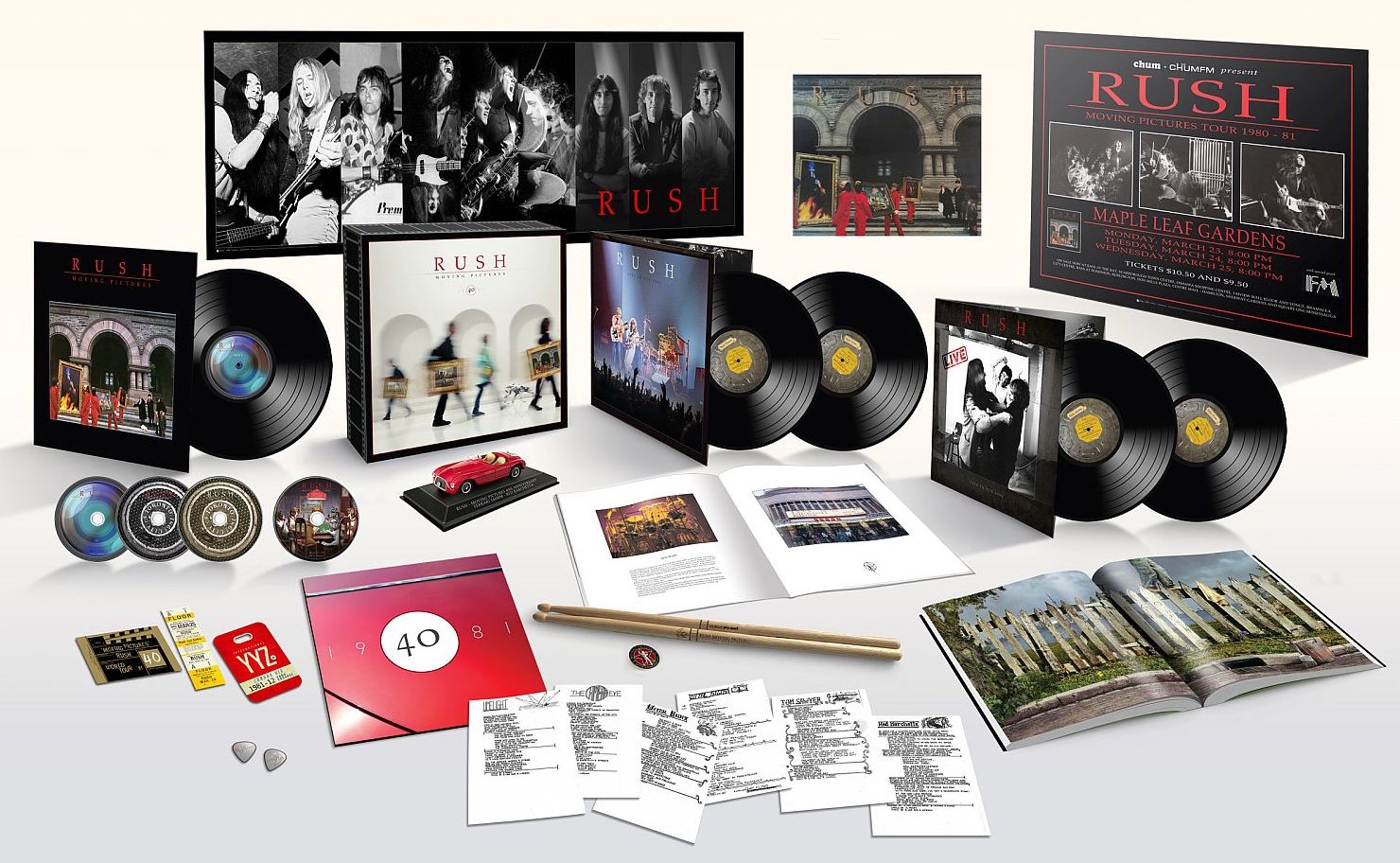 The latest edition of Prog magazine (Prog #129) hit UK newsstands today (May 20th in the US), and the issue includes a cover feature on Rush's Moving Pictures 40th anniversary box set, which released last Friday. The cover feature tagline reads, Rush: "We were never the same band again" - How Rush redefined themselves with Moving Pictures, and the issue includes a new interview with Geddy Lee and Alex Lifeson where they discuss the making of the band's 1981 classic album, along with a couple of side interviews with album artist Hugh Syme and producer Terry Brown. It also includes an article on Alex Lifeson's Envy of None project along with 4 Moving Pictures postcards. Rush's long-anticipated Moving Pictures 40th anniversary box set officially released last week, and it's currently available for purchase as a 3-CD set, a Deluxe vinyl edition, and a Super Deluxe Edition. Several reviews of the box set have emerged over the past week, including this one from Pitchfork (thanks RushFanForever), another from FYI Music News, and this one from the AV Club:
... It's because of the music. These seven songs represent, maybe better than any other record the band released, the breadth and scope of which they were capable, from the tightest of pop-rock songwriting to the most expansive of complex, soaring arrangements to the most forward-thinking genre-blending of sounds that bridged the gap between the hard rock '70s and new wave '80s. And, as a new deluxe reissue for its 40th anniversary reminds listeners, the album displays-quite simply-a band at the height of its ass-kicking prowess.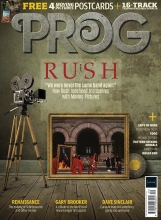 Geddy Lee and Alex Lifeson were guests on a special edition of The Strombo Show last Friday to discuss the album and box set among several other topics, and you can watch the entire, 45-minute interview below or on YouTube here. You can get all the details regarding the box set via the press release at Rush.com and order your copy today via Amazon (Super Deluxe, Deluxe vinyl edition, 3-CD edition) and other retailers.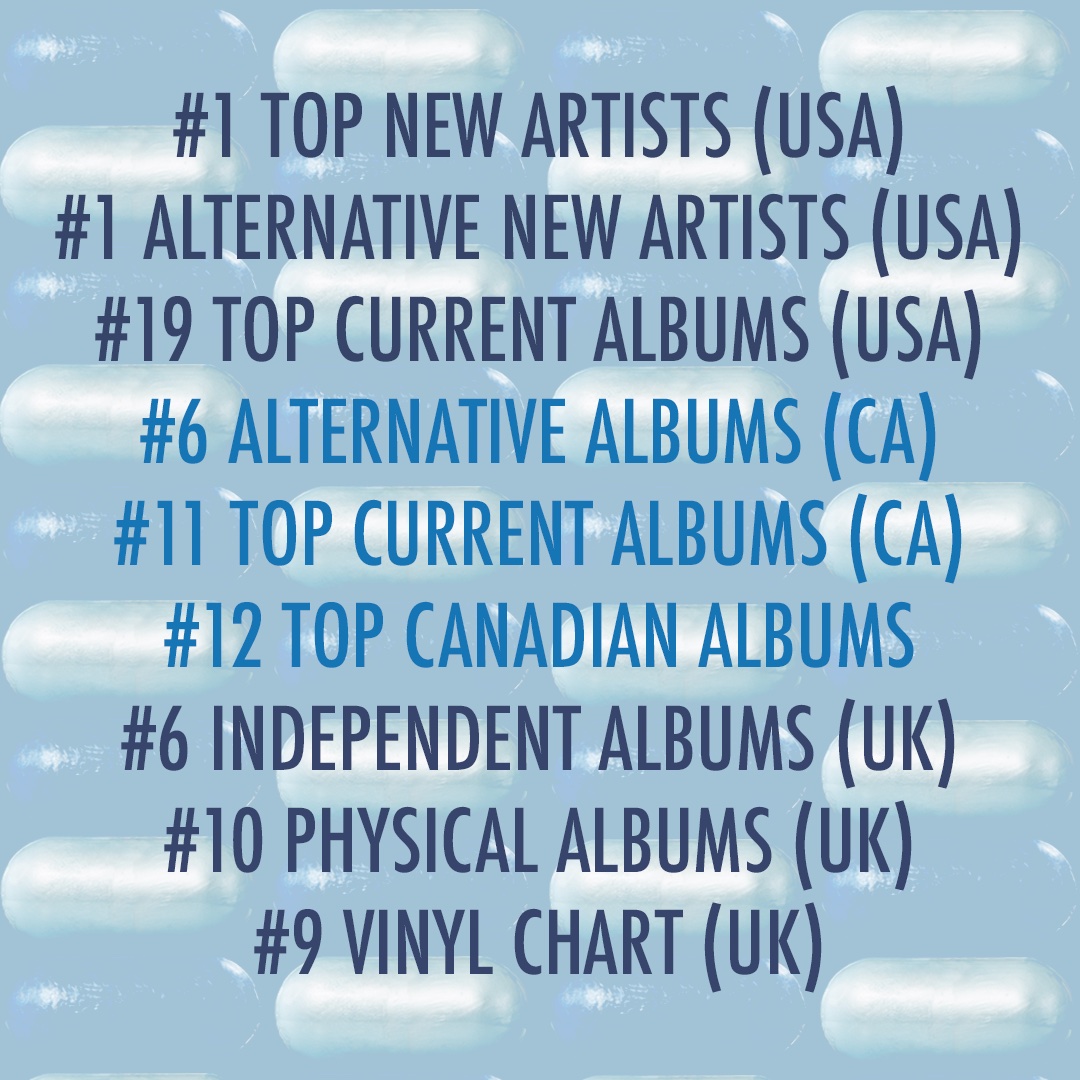 Alex Lifeson's Envy of None project with Andy Curran, guitarist Alfio Annibalini and vocalist Maiah Wynne released their self-titled, debut album 2 weeks ago, and it's currently available for purchase and streaming worldwide via several different online retailers and services, including Amazon and the official Envy of None merch store. The album made quite a splash on the Billboard charts in its first week of release, garnering the following accolades as reported on Envy of None's official social media channels:
#1 TOP NEW ARTISTS (USA)
#1 ALTERNATIVE NEW ARTISTS (USA)
#19 TOP CURRENT ALBUMS (USA)

#6 ALTERNATIVE ALBUMS (CA)
#11 TOP CURRENT ALBUMS (CA)
#12 TOP CANADIAN ALBUMS (CA)

#6 INDEPENDENT ALBUMS (UK)
#10 PHYSICAL ALBUMS (UK)
#9 VINYL CHART (UK)
Most of the charts referenced are not publicly available at Billboard.com (you need to subscribe to see them all), but the project did get called out in this Billboard article, which mentions a couple of additional charts that the album was included on:
... Envy of None enters Emerging Artists at No. 5, as its debut self-titled LP opens at No. 24 on Top Albums Sales (4,100 copies sold). The act is the new side-project of longtime Rush guitarist Alex Lifeson. ...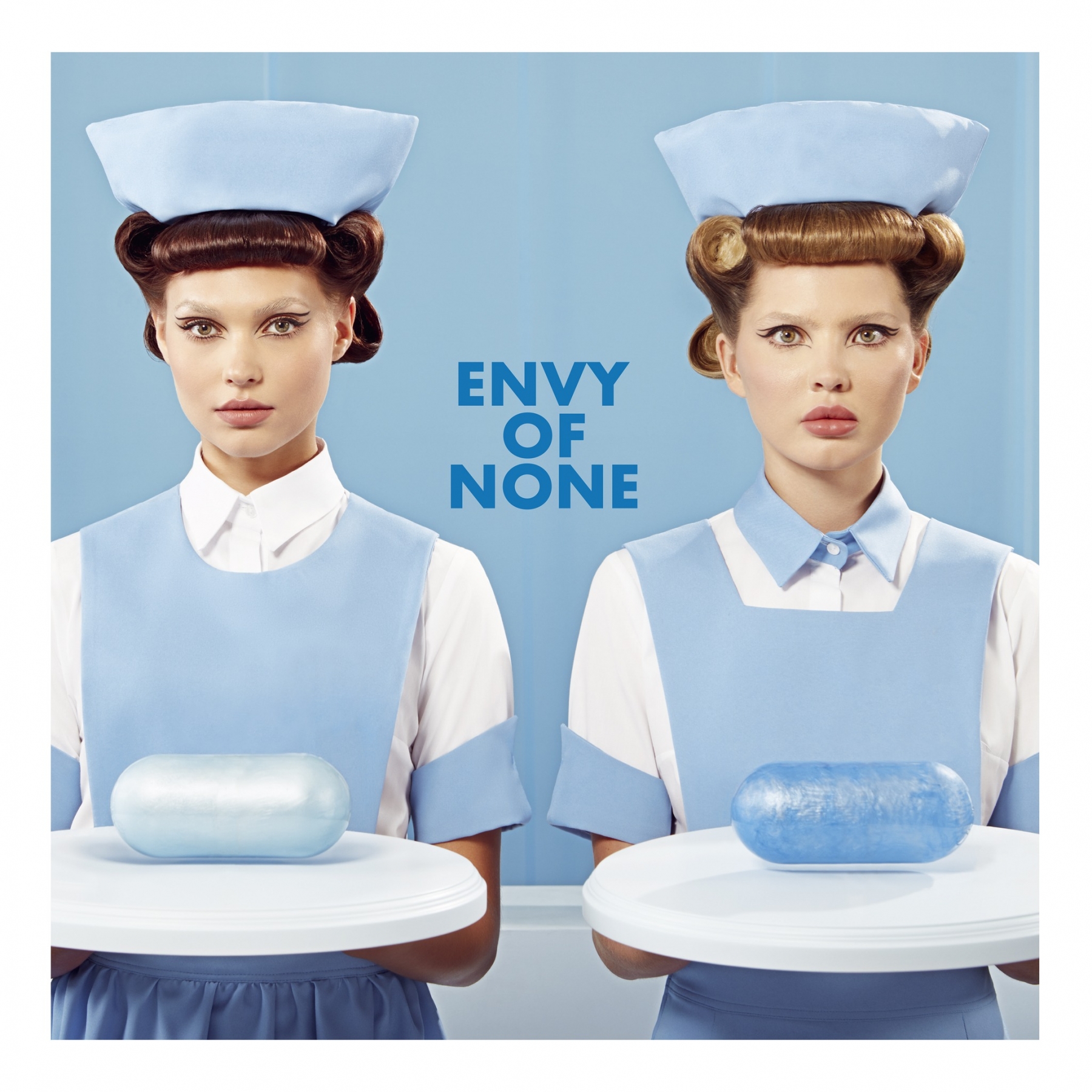 The album is available on CD, and black, white and blue vinyl (the latter is exclusive to North America), along with a limited-edition deluxe version featuring a five-track bonus CD and a 28-page booklet with exclusive content. John over at Cygnus-X1.net has scanned the album artwork and made the images available online here, along with the expanded liner notes and lyrics here. They are also offering a LE 7-inch single for $50 ($100 for an autographed copy) with the funds going to UNHCR's Ukraine emergency response. Record Store Day Canada is running a contest where you can win a bundle that includes the Envy of None Deluxe edition, with all the entry details here. Envy of None's Alex Lifeson, Andy Curran and Maiah Wynne hit the interview circuit hard in the week leading up to the release, conducting well over a dozen interviews between the three, and you can check them all out in this post. Of particular note was a 90-minute, live-streamed Look Inside Q&A/interview hosted by Alan Cross with the entire band together in the same studio which you can watch on YouTube. You can check out all the available purchase options here, and follow the Project via their website, on Facebook, Twitter and Instagram for all the latest news.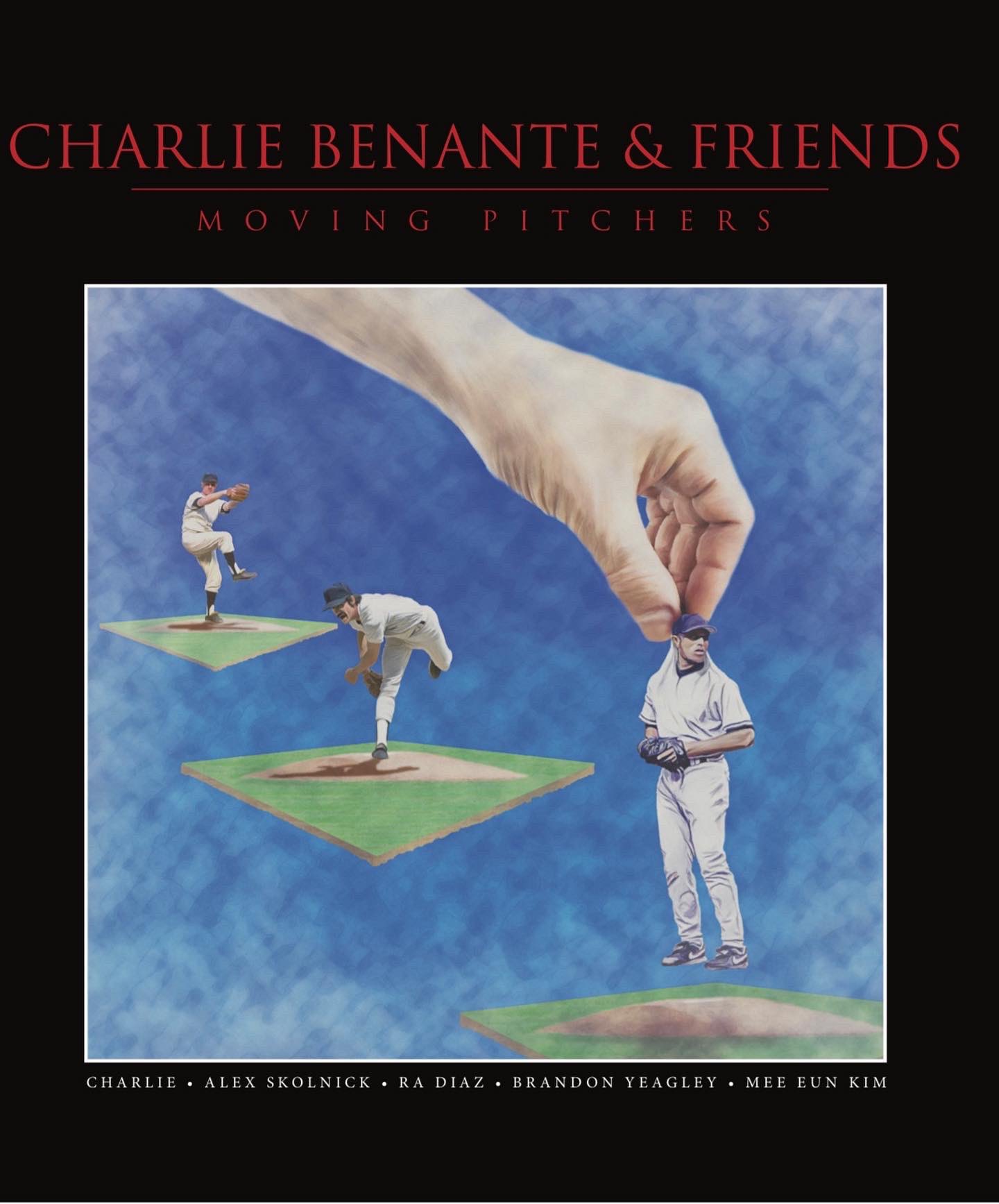 Back in the early days of the Pandemic, Anthrax drummer Charlie Benante shared a video to YouTube of himself, Testament's Alex Skolnick and Suicidal Tendencies' Roberto "Ra" Diaz performing a virtual cover of Rush's YYZ, recorded with each member separated in their own homes. They received such a great response, they decided to do some more virtual Rush covers, including La Villa Strangiato, Red Barchetta, Subdivisions and Freewill, along with covers of many other bands' songs. Last May they released most of the non-Rush covers as an EP titled Silver Linings, with a portion of the proceeds going to the Neal Casal Music Foundation, an organization that provides musical instruments and lessons to students and makes donations to much-needed mental health organizations that support musicians in need. The EP did not include any of the Rush covers, as those were being saved for a special Record Store Day release containing just the Rush songs. Earlier this week Benante announced the details behind this release, which will be available as an exclusive release via MegaForce Records for Record Store Day tomorrow. The EP titled Moving Pitchers will be limited to 1500 copies and include all five of the Rush covers mentioned above as performed by Charlie Benante & Friends (Benante, Alex Skolnick, Roberto "Ra" Diaz, Brandon Yeagley, Mee Eun Kim). Benante also posted a photo of the EP liner notes to his official Facebook page. For all the details and to get a list of all participating stores for Record Store Day, visit the official RSD site at recordstoreday.com.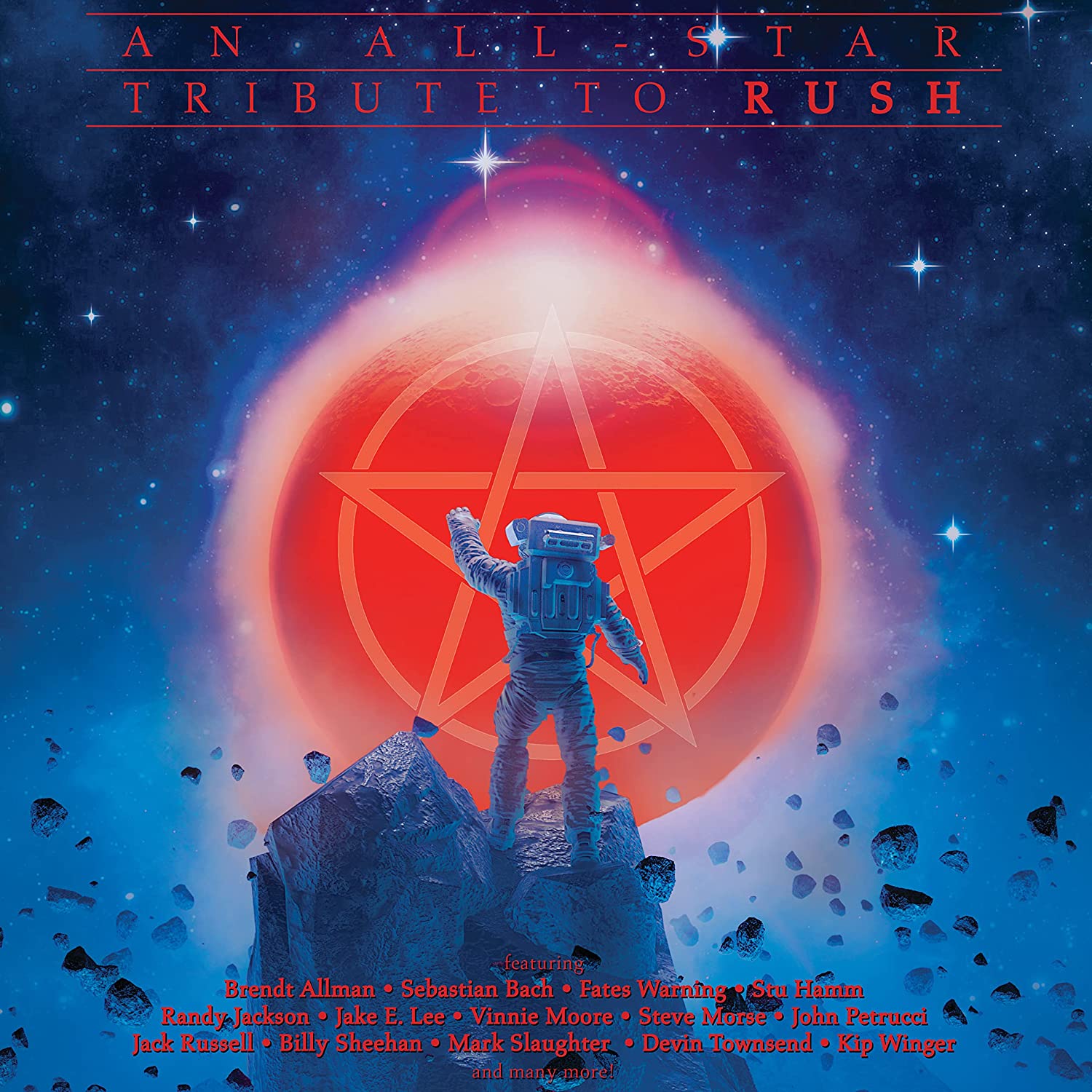 A new Rush tribute album titled An All-Star Tribute to Rush is slated for release via Magna Carta Records this coming June. The album will be available as a deluxe 2CD digipak edition and also a deluxe 2LP red vinyl edition. It will feature all the covers of Rush songs from Magna Carta's previously-released Rush tribute albums; Working Man, Subdivisions, and New World Man. The album is slated for release on June 24th and is currently available for pre-order (deluxe 2CD digipak edition, deluxe 2LP red vinyl edition).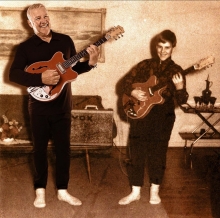 Back in June we learned that Loucin Guitars founder and master guitar maker Garren Dakessian had been entrusted with the task of restoring Alex Lifeson's first electric guitar - a Japanese Canora guitar that his parents gave him as a Christmas gift in 1967 at the age of 14. Garren completed the restoration a few weeks ago and posted a number of photos of the guitar to social media as seen in this Instagram post (also on Facebook):
Alex Lifeson Canora Restoration Project Here is the finished guitar. It arrived to me in a box full of parts. The body was covered in dents and dings, it had four different coats/colours of paint, even the fretboard & pick ups were painted. Alex had a request "please bring it back to life, the way it looked on Christmas Eve 1967". A gift from his parents that would change his stars ⭐️ A year later he formed Rush. ...
He also presented the guitar to Alex last week and took some photos which he also posted to Instagram. Alex himself had some fun with the photos, and posted a then and now picture of himself with the guitar as seen here:
Here's me with me, 54 years apart with the same Canora guitar after a recent rebuild by Garren at Loucin Guitars. Check out those mitts on the guy on the left! ~Lerxst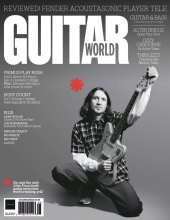 The 2021 leg of Primus' A Tribute to Kings Rush tribute tour finished off in Phoenix back in October, and - despite a few cancellations along the way due to COVID-19 - the tour was a huge success. The tour saw the band paying tribute to their musical heroes Rush by covering the A Farewell to Kings album in full as seen in these fan-shot videos (part 1, part 2), mixed in with a couple sets of Primus classics. The band is continuing the tour into 2022, starting with an extensive, 46-date, coast-to-coast extension, including several Canadian dates which kicked off last week in Oklahoma City and will conclude in Las Vegas on June 25th. They have also added a European leg to the tour this coming September which will begin in Sweden on September 9th, and make its way across mainland Europe before finishing off with 3 shows in the UK and one final show in Dublin on October 1st. For all the details and to purchase tickets visit primusville.com. Primus guitarist Larry LaLonde and Rush's Alex Lifeson were interviewed regarding the tour for a feature in the latest issue of Guitar World magazine:
First, you get to witness a chat between Lifeson and Primus' Les Claypool and Larry LaLonde. Why, you ask? Because Primus are touring with a tribute to Rush's classic A Farewell to Kings, so we thought it'd be fitting (and maybe even funny?) to get the guys together to see if Lifeson has any double-neck pointers for LaLonde - or tips about scarves. Turns out we were right! ...
They also chat with Lifeson about his Envy of None project. Primus frontman Les Claypool has also been hitting the interview circuit as the band makes it way across the country. Since the tour extension kicked off last week, Claypool has spoken to AL.com, Kansas City's The Pitch, and The Daily Times in Knoxville.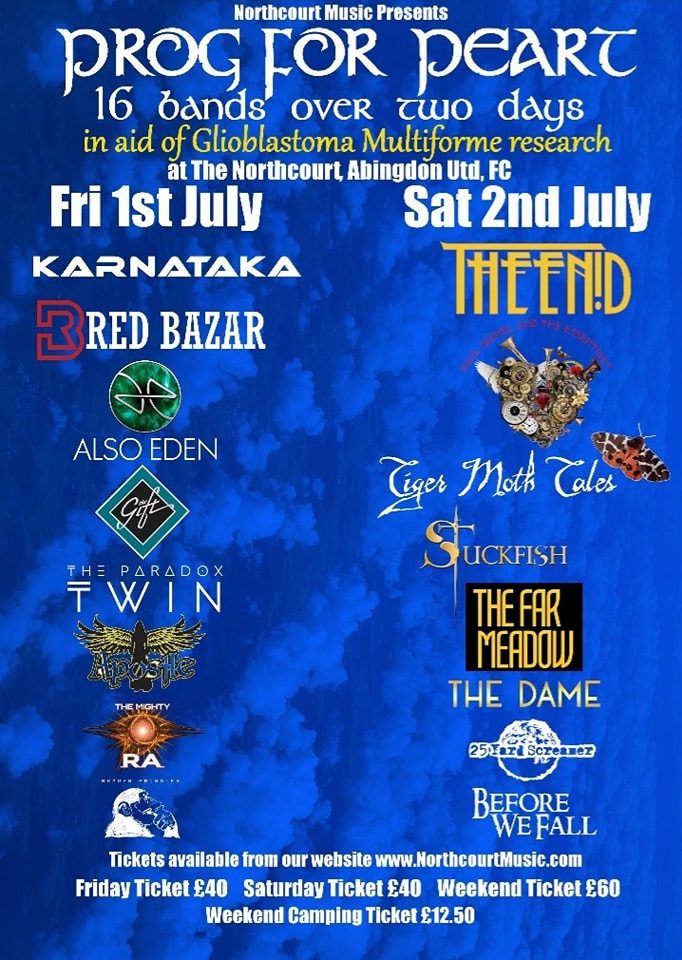 The 2nd annual Prog For Peart charity concert will take place this summer at The Northcourt in Oxfordshire, England the weekend of Friday, July 1 and Saturday, July 2. Sixteen prog rock bands will take the stage to celebrate the life of Neil Peart and raise money for brain cancer research. From the event listing:
... Eight bands will perform each day between 12midday and midnight, and we are delighted to name Karnataka as headliners for Friday and the legends that are The Enid as headliners on Saturday night.

The Enid, Karnataka, Tiger Moth Tales, Paul Menel (IQ), Red Bazar, Also Eden, The Far Meadow, The Gift, The Paradox Twin, Apostle, Stuckfish, The Dame (Netherlands), The Mighty Ra, 25yd Screamer, Shaven Primates, Before We Fall

There will be food concessions, CD and vinyl stalls as well as rock and prog art on sale. There is limited camping on site with room for several motorhomes as well a pitches for around 35 two man tents. Camping is only 100m from the venue entrance. A choice of cooked breakfasts as well as cereals & fruit will be available for campers. There are also 24hr "real" WCs. Showers will be available from 7-30am until 10-30am. Bars in the main venue room and a lounge bar additionally there is a large outdoor beer garden. Bars open until late. Tickets are available for Weekend, Friday, Saturday & Weekend Camping. There are also streaming tickets so if you simply cannot be there, you can watch from afar. ...
They are also working with rock artist and huge Rush fan Charlie Roy who has supplied two paintings for this year's Prog for Peart t-shirts. Just like the event itself, all profits from the t-shirt sales will go to the Headcase Cancer Trust. For more information and to purchase tickets, visit the website at northcourtmusic.com/progforpeart.html. There's also this review of last year's inaugural Prog For Peart event.
Former Queensryche singer Geoff Tate was recently interviewed for Metal Sludge's 80's Metal Recycle Bin and talks about the influence of Rush's 2112 album at about the 2:20 mark. Speaking of which, WhatCulture.com posted their list of the 10 Best Hard Rock Songs Over 10 Minutes Long this past week, and Rush's 2112 came in at #2:
... Rush's 1976 album, simply titled 2112, is a tour-de-force of what it means to be taken on a journey musically. 2112 is split into seven parts that are all identifiably different from each other; from the bombastic Overture to the screeching scene-setter of Temple of Syrinx, from the naïvely joyful Discovery to the morose reality of Soliloquy. Whilst twenty minutes may seem like a long time to some, the sheer scope of emotion that Rush pack into the runtime of 2112 is baffling: beautiful, biting and dripping with otherworldly ambience. ...
Longtime Rush album artist Hugh Syme will be making an appearance at Austin's Ao5 Gallery this evening to show off some of his artwork and sell signed copies of his book The Art of Rush. From the event description:
Hugh Syme and his fanciful, eye-catching art. For VIPs only, we will have the Art of Rush: Serving a Life Sentence second edition books available for sale, signed by Hugh Syme. In addition, a limited number of Moving Pictures 40th anniversary box sets available for sale. Guest will also be allowed to bring 1 item to have signed by Hugh. Register to get your tickets now for this exciting event for Rush fans. . . and see what art piece we give away this time!

Also... get ready for Highland Park whisky! Their wonderful Brand Ambassador Irene Jeonotte will be pouring drinks all night long for our VIP guests.
You can get all the details and purchase tickets here (thanks Stevie D).
TheGamer.com posted an article this past week where the guess what the favorite song of 10 iconic Nintendo characters might be. One of the featured characters was Samus Aran from Nintendo's Metroid game, and they think she'd like Rush's Tom Sawyer:
A kind of techno-bop would be a great choice for Samus on the surface, but that wouldn't do service to the power that comes along with a great character like her. A likely candidate for her favorite song might be Tom Sawyer by Rush. The classic rock song has some techno vibes to it while also putting out some strong and inspiring rock sounds that could get Samus amped up for her next mission. Many of her fans would probably agree it's likely a song in her playlist that she'd listen to on her gunship.
The offical Canada D'Eh Run 5K 2022 is the largest 5K race in Canada on Canada Day, and they recently announced that participants had voted Rush as the Race's Great Canadian to be featured on the finisher's medal. You can get all the details here (thanks RushFanForever).
That's all for this week. Have a great weekend!!