UPDATE - 4/5@3:54PM:
The record containing most of the jams as referred to in the YouTube comments is titled Silver Linings and will be released on May 14th with a portion of the proceeds going to the Neal Casal Music Foundation, an organization that provides musical instruments and lessons to students and makes donations to much-needed mental health organizations that support musicians in need. Silver Linings does not contain any of the Rush covers (full tracklist in this Blabbermouth.net article), as those will be saved for a special Record Store Day Black Friday EP as Benante also mentions in the YouTube comments. Benante was interviewed for the April edition of The Entertainer (page 29) to discuss the album and how it got started (thanks RushFanForever):
... Still reeling from iconic Rush drummer Neil Peart's death in January, Benante decided to pay tribute by virtually getting together with other musicians and uploading Rush covers on his YouTube channel. "I was talking to friends throughout this thing, and they were going through the same thing I was, so I invited some of them to join in," Benante says. "The first one I worked on was a Rush song. It was (with) Alex Skolnick (from Testament) and Ra (Diaz) from Suicidal (Tendencies). I was still grieving over Neil Peart's death, and that was just one that I wanted to do, I wanted to play those Rush songs again, and that's how it happened, and then it just snowballed after that." Benante and his friends began playing a variety of songs, everything from Iron Maiden to Billie Eilish, dubbing it the
(quarantine jam video series). ...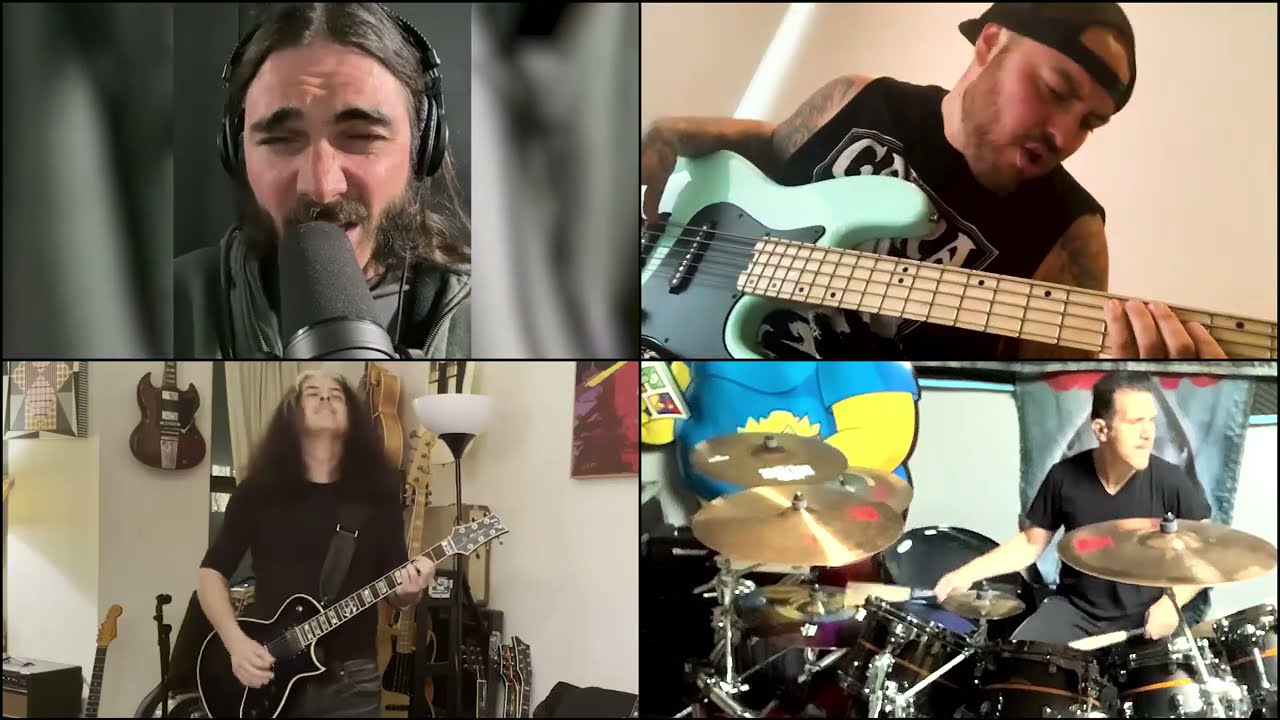 One year ago today, Anthrax drummer Charlie Benante shared a video to YouTube of himself, Testament's Alex Skolnick and Suicidal Tendencies' Roberto "Ra" Diaz performing a virtual cover of Rush's YYZ, recorded with each member separated in their own homes. They received such a great response, they decided to do some more virtual Rush covers, including La Villa Strangiato and Red Barchetta. In celebration of the first anniversary of that YYZ cover, Benante along with Skolnick, Diaz, Crobot's Brandon Yeagley, and keyboardist MeeEun Kim, have recorded a cover of Rush's Subdivisions which you can check out below or on YouTube. Benante also reveals that all the Rush covers will be getting released as a special EP on Record Store Day Black Friday in November. From the YouTube description:
One year ago I had this idea to make a video while in quarantine. I was feeling pretty down about the passing of Neil Peart and about the Pandemic...I needed to be creative and play! I contacted Alex and Ra about doing a Rush song and video and they both liked the idea. I felt that they were probably feeling the same way I was, and that this would be a great way of jamming and entertaining while we were stuck home. The response to the initial video was overwhelming! It really made us feel good during a bad time. A whole year ago...I cant believe it! It ended up being a year of making music and videos after all; I now have a record that's coming out May 14 with most of the Jams. The Rush songs will be out on a special EP on Record store day in November. This song will be included on that. Subdivisions is probably in every Rush fan's top 10 songs, definitely one of their best. The keyboards dominate this tune and Neil's sound on it is so unique! His drum fills are so precise and powerful...like little hooks throughout the song, an air drummer's dream! The lyrics tell a tale of life in the burbs and being shunned when you don't meet a certain standard.
Subdivisions
In the high school halls
In the shopping malls
Conform or be cast out!
@alexskolnik @ra @brandon bring it big time - Alex captures Lifeson's vibe so well, Ra kills Geddy's bass parts and Brandon brings his amazing voice. We'd like to welcome @meeeun ,(Thanks to Alex for the suggestion), she is an awesome musician and kills the keyboard parts on this. I hope you enjoy this one, It may be one of the last ones for a bit...unless Alex wants to do that Emerson lake and palmer tune ( hahahahaha)