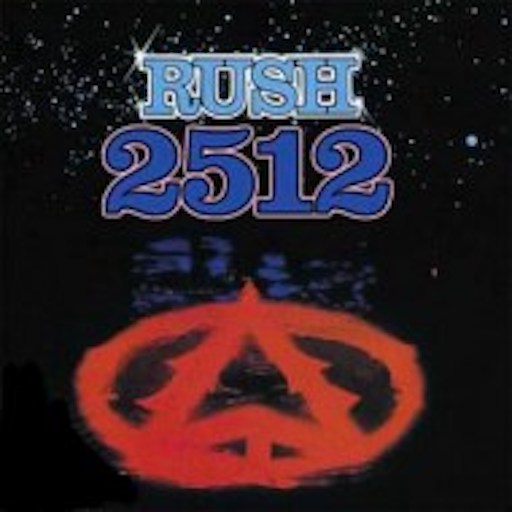 Earlier this week Toronto radio station JAZZ FM 91 posted a new interview with Alex Lifeson and Canadian session musician Bernie LaBarge as part of a special prime time airing of Session Notes hosted by Brad Barker. Bernie LaBarge is a Canadian performing and session guitarist, award-winning singer/songwriter, and producer. He also happens to be good friends with Alex Lifeson, and was a member of The Dexters - the house band at Alex Lifeson's former Toronto Nightclub The Orbit Room. The pair touched on a number of subjects, including how they met, their greatest influences, their history as Canadian musicians, golfing, the Ohio State Marching Band performing Rush, and more. Alex also spoke at length about his Envy of None project, which he states should be out sometime in the new year. Alex was asked about whether he'd consider touring with the project and here's what he had to say:
...If it comes down to me, I'm not really keen on going on the road. I think I would consider doing some one-off shows if it ever came to that. I would consider that, and certainly work with whatever band is organized to take it on the road. ... But to go on the road, I'm past that now. ...
The entire 53-minute interview is now available for watching below or on YouTube at this location.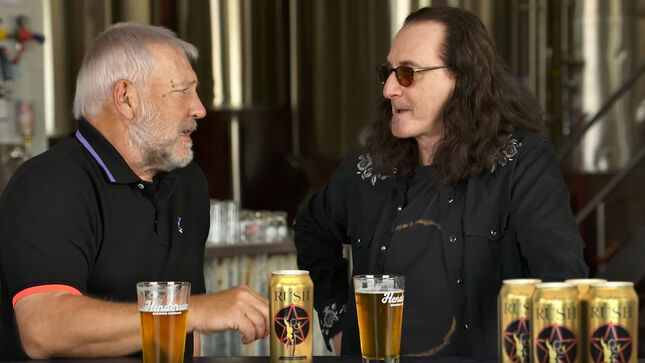 Back in August Rush teamed up with Henderson Brewing Company to release their first Rush-branded beer - Rush Canadian Golden Ale - and followed that up in October with Moving Pictures Ale. Last month they announced the release of a number of Rush beer holiday packs that began shipping out earlier this month. Most of the packs are sold out, but you can still purchase a limited-edition Rush Starman 6 Pack Carrier made of baltic birch plywood and pine as seen here. There's also an Ultimate Rush x Henderson Holiday Pack which includes 24 cans of Rush Canadian Golden Ale in special case box, 4 YYZ Rush Pint glasses, 100 pack of Rush x Henderson coasters, Rush Golden Ale, Rush Golden Ale T-shirt, and 1 Moving Pictures Belgian Ale bottle. Please note that bundles containing alcohol cannot be shipped to the USA or Quebec. When the beer first released this past summer, Rush posted a couple of videos of Alex and Geddy sampling the beer at the Brewery (What's Vat? and HOPS!). Earlier this week they released 2 more hilarious videos of the pair sampling the brew - Hammer and Refreshing - both of which feature even more words of wisdom from Lerxst.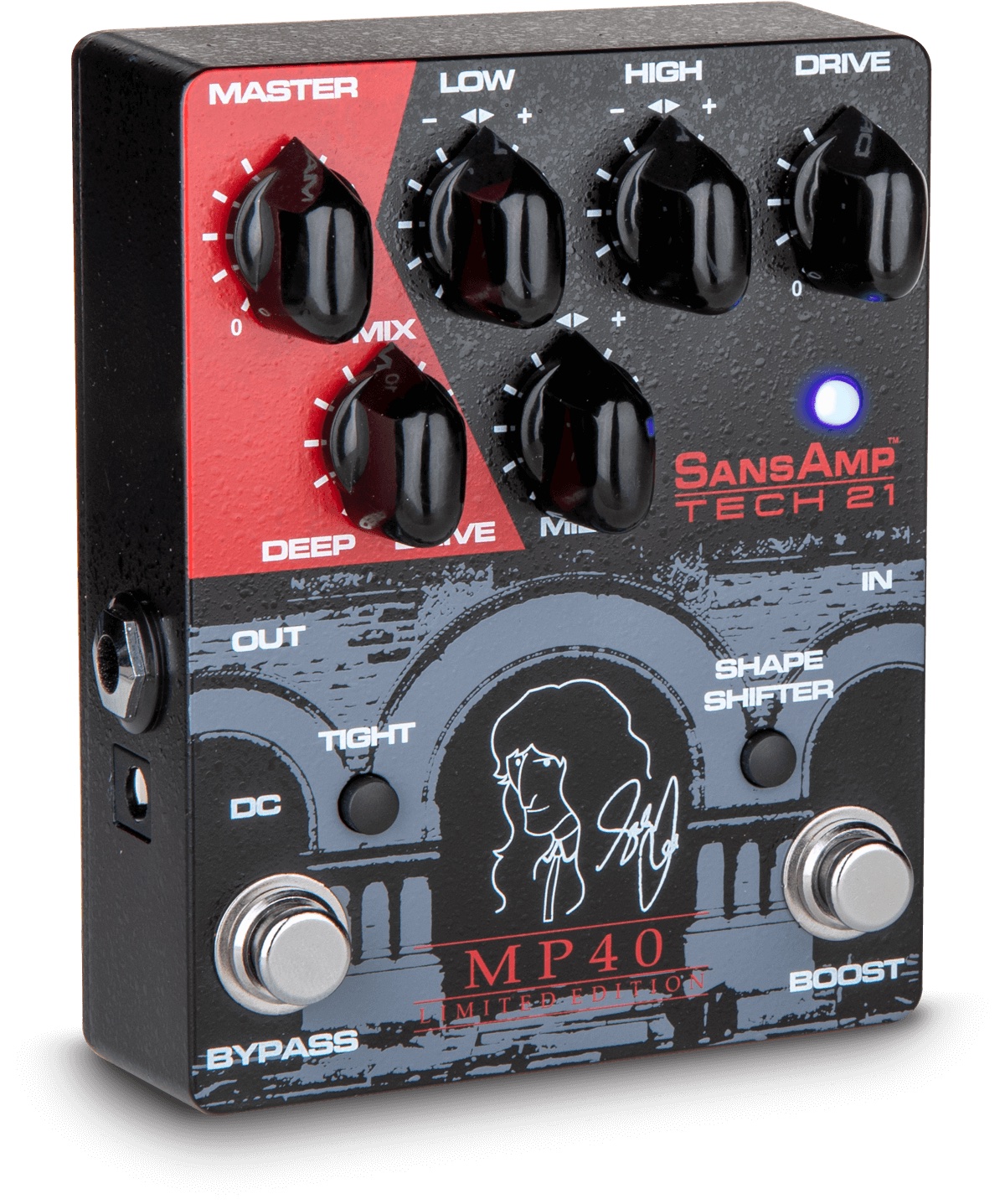 Tech 21 has added yet another new product to their line of Geddy Lee signature SansAmps with their Geddy Lee MP40 Signature SansAmp celebrating the 40th-anniversary of Moving Pictures. The new SansAmp is based on the original Geddy Lee YYZ Signature SansAmp pedal, but includes custom Moving Pictures-inspired artwork, along with an all-new shape-shifter button and footswitchable boost. From the Tech 21 product page:
... The all-analog MP40 SansAmp builds upon the original YYZ pedal with a brand new selectable Boost stomp switch that provides a 12dB presence boost for increased top-end distortion. Additionally, engaging the Shape-shifter button gives you 6dB of Schmegilka on top, which, according to Geddy, "is an indefinable thing of awesomeness!" ...
Tech 21 first introduced their GED-2112 Geddy Lee Signature SansAmp at the 2017 NAMM show as described in this post. Then at the 2019 NAMM show, they unveiled their pedal format version of the GED-2112 - the SansAmp YYZ - on which the new MP40 SansAmp is based. Last year they added a desktop version of the GED-2112 called the DI-2112. The Geddy Lee MP40 Signature SansAmp is expected to be available in March of 2022, and you can get all the details here.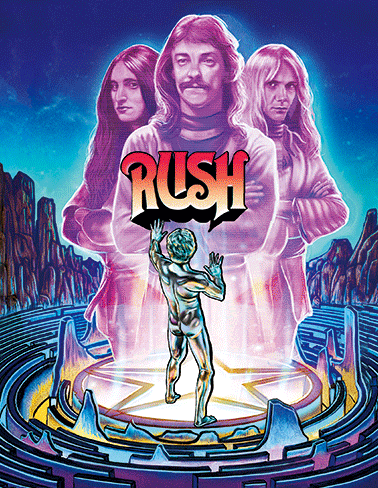 Iconic By Collectionzz celebrated International Rush Day (21/12 day) this past Tuesday with a new, officially-licensed, limited-edition Rush 2112 - Oracle: The Dream 3D lenticular print by artist Cuyler Smith. This is the second print in their 2112 art series in which different artists create a print based on one of the 7 sections of the song, with the first being last year's Temples of Syrinx. 212 hand-numbered copies of the 24"x18" Oracle: The Dream print have been made available for purchase at this location while supplies last.
Multi-instrumentalist songwriter and producer Ben Mink has won two Grammys, three Juno Awards, a Genie Award, a Gemini Award, and a Leo Award, but Rush fans know him best for playing electric violin on Losing It off the Signals album, and for co-writing and producing Geddy Lee's 2000 solo album My Favorite Headache. He was the latest guest on the Something for Nothing podcast, and chats with hosts Steve and Gerry about his family's passion for music, his earliest gigs, and playing the only violin solo on a Rush album. You can listen to the interview below or via your favorite podcast service:
uDiscoverMusic.com posted an article this past week titled How Guitar Anti-Heroes Revitalized Rock In The 80s and Rush's Alex Lifeson gets mentioned (thanks RushFanForever):
... Across the Atlantic, another 70s stalwart was giving his guitar solos a fresh coat of paint to push his band into the future. Rush spent a sizable chunk of the 70s coming off like a Canadian cross between Yes and Led Zeppelin, and Alex Lifeson accordingly developed a knack for unfurling furious streams of notes at an awe-inspiring pace. But by the time Rush reached a new commercial and artistic peak with 1981's Moving Pictures, Lifeson too was letting the zeitgeist flow through his Fender Strat (or Gibson 355, as the moment demanded). In place of his epic, machine-gun fire attacks, "Tom Sawyer" and "Limelight" - the songs that truly cemented Rush's rock star status - featured concise solos prioritizing unexpected swoops, preternaturally deep bends, and a high-tension sustain, while still showing Lifeson's technical prowess. ...
Cheap Trick guitarist Rick Nielsen was a recent guest on Gibson TV's The Collection, and talks about his extensive guitar collection, including Gibson Les Paul Bursts, one of which he acquired from Geddy Lee in an auction last year. Nielsen talks about the Les Paul Bursts and shows off the 1959 Les Paul Standard he got from Geddy from about the 10:22 to the 14:55 mark in this video (thanks RushFanForever).
That's all for this week. I hope everyone is having a great Holiday season despite the challenges of the Pandemic. For those who celebrate it, have a very Merry Christmas tomorrow, and here's to hoping that Santa leaves a ton of Rush swag in your stocking. Have a great Holiday weekend everybody!!