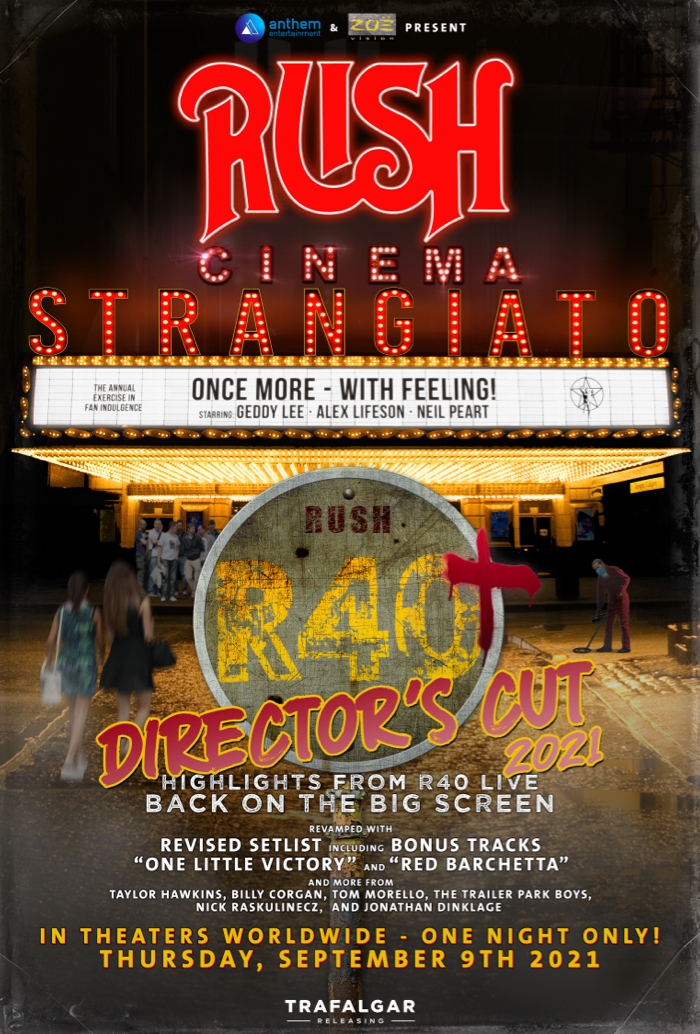 Yesterday evening Rush's Cinema Strangiato Director's Cut was shown in theaters worldwide. Since the event had been billed as a celebration of the 40th anniversary of Moving Pictures, it was expected that the film would include some kind of official announcement of the anticipated Moving Pictures 40th anniversary box set release. Instead, fans were treated to a pre-movie advertisement for an upcoming re-release of ... ICON - the band's 2010 Greatest Hits release (??). Otherwise the Director's Cut was essentially the same film that was shown in theaters 2 years ago, but with the addition of One Little Victory and Red Barchetta as well as Cygnus X-1 / The Story So Far featuring Neil's final recorded drum solo masterpiece - all of which are readily available for watching on the 2015 DVD/Blu-ray release.
Barenaked Ladies frontman Ed Robertson was recently interviewed for Classic Rock magazine's upcoming issue to talk about the band's new album Detour de Force among other subjects. Classic Rock posted a brief teaser of the interview earlier this week and Robertson revealed that he is currently working on a secret project with Rush's Geddy Lee. From the article:
... In the upcoming issue of Classic Rock, Robertson opens up about his love for [Geddy], describing their bond to be similar to that of family. He also shares that he's been in the studio with Lee working on a project he "can't talk about". "Geddy is somewhere between my surrogate father and imaginary big brother," he tells Classic Rock. "I love him so much. I was in the studio with him yesterday for a super-secret project that I can't talk about." ...
No other details are provided. The issue of Classic Rock referenced goes on sale next week. The Barenaked Ladies and Rush have crossed paths many times in the past. Geddy indirectly contributed to BNL's new album by letting them borrow his Taurus bass pedals as Robertson and bassist Jim Creeggan have both described in many recent interviews. Geddy also inducted BNL into the Canadian Music Hall of Fame back in 2018.
Speaking of Geddy, Samaritan Magazine reported earlier this week that the Rush front-man will be honored with a solo Lifetime Achievement Award for his career-spanning philanthropic contributions at the Artists for Peace and Justice (APJ) gala in Toronto tomorrow evening. From the article:
... The award honours "[Lee's] commitment to philanthropy," the press release states, citing his support of Brain Cancer research, Toronto Food Bank, Alberta Floods, Doctors without Borders, Grapes for Humanity, United Way, Canadian Museum for Human Rights, and Casey House. In 2015, Rush received the 2015 Allan Waters Humanitarian Award at the Juno Awards, and in 2017 the Allan Slaight Humanitarian Spirit Award from the Canadian Music & Broadcast Industry (read Samaritan's interview with Lee and Lifeson here). Rush was inducted into the Canadian Music Hall of Fame in 1994 and the Rock and Roll Hall of Fame in 2013. All three members were awarded the Officer of the Order of Canada in 1996. "...these veterans of the stage have raised over a million dollars for charities such as food banks and the United Way. Their efforts have enhanced an awareness of the plight faced by society's less fortunate, inspiring and awakening the social consciousness of an entire generation," it states. "Musicians far and wide have been influenced by the band's accomplishments, a testament to their contribution to popular music."...
The sold out Gala will be held outdoors at a private residence and will combine in-person and virtual experiences. The evening will look back on APJ's accomplishments and "unwavering commitment to the people of Haiti while highlighting the incredible individuals that have been instrumental in the organization's impact." The organization has already raised more than $33 million to help provide access to education for impoverished youth in Haiti. Radio personality George Stroumboulopoulos will emcee the event, which will include live performances by Haitian artist Paul Beaubrun,and Kayla Diamond of Slaight Music, a virtual one by Rick Springfield, and video messages from Ben Stiller, Susan Sarandon, and Madeleine Stowe, among others.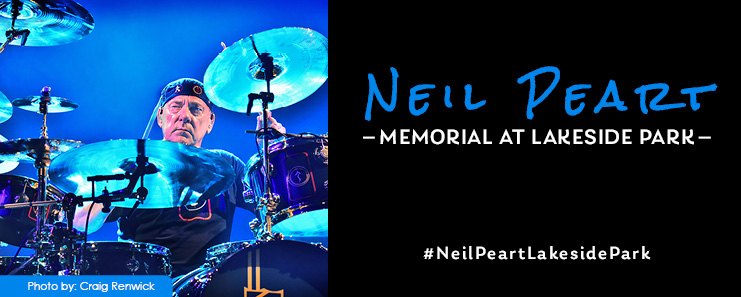 The late Neil Peart grew up in the St. Catharines, Ontario community of Port Dalhousie, the lakefront home of Lakeside Park which inspired the lyrics to the 1975 Rush song of the same name. Last year the St. Catharines City Council, with the full support of the community, voted to name the newly rebuilt pavilion at Lakeside Park the Neil Peart Pavilion at Lakeside Park in honor of the hometown icon who passed away in January of 2020. The Council also established the Neil Peart Commemorative Task Force, with the objective to commission a public work of art commemorating Peart's life and legacy. Earlier this year the city officially began welcoming artists to submit requests for pre-qualification via the city's website, and accepted submissions through March 29th. Yesterday the Task Force revealed the shortlist of artists and officially launched a fundraising campaign for the Memorial. You can get all the details in this post, and make your donation towards the Neil Peart Memorial at Lakeside Park at www.EngageSTC.ca/Neil-Peart.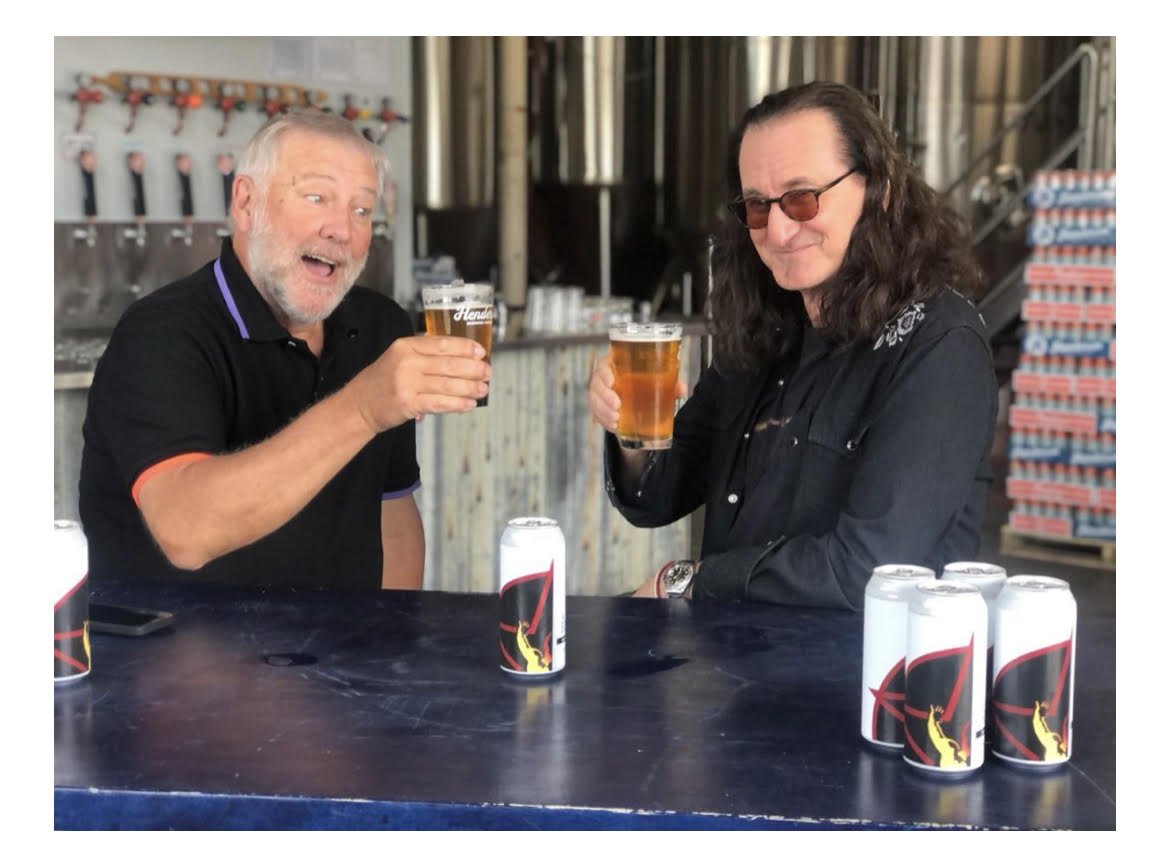 Rush in partnership with Toronto's Henderson Brewing Company released the world's first Rush-branded beer a couple of weeks ago. Rush Canadian Golden Ale comes in a beautiful golden can featuring the Rush Starman logo as seen here, and is now available in stores across Ontario, with planned distribution across Canada coming at a future date. You can access a list of Ontario stores selling the beer via the Liquor Control Board of Ontario's website here. Canadians can also order the beer online via the Brewery's Shopify store. Although they cannot ship alcohol across the border, they do have some other Rush beer branded products available, such as tumblers, coasters, t-shirts and more. You can check out their entire Rush product line here. InsideHook.com posted an article this past week on the recent artist-branded beer craze, and mentions the Rush beer:
What's kind of like a ham sandwich without the bread or the ham, comes in a can and you can drink it? A new beer from the band Rush, according to a tongue-in-cheek Instagram post by guitarist Alex Lifeson. Rush recently launched a Canadian golden ale in collaboration with Henderson Brewing Company, a Toronto craft brewer... The band's camp contacted Henderson Brewing in 2017 to express interest in developing a beer, brewery general manager Steve Himel tells InsideHook. After a period of discussion and what Himel calls "due diligence" about the concept, the brewery worked with Lifeson and singer/bassist Geddy Lee to develop the recipe. ... "What intrigued Rush is that they saw a bunch of other people making beers and they were curious what that was all about," Himel says. "They wanted to make a beer for their fans. You know, Rush fans, for the most part, are, let's say, slightly more complex than typical rock music fans. And we all felt that there was an opportunity to introduce this type of person to craft beer that maybe they hadn't had before." ...
The latest episode of the Something for Nothing podcast features part 2 of their in-depth discussion of Rush's swan song - 2012's Clockwork Angels. You can listen to the show below or via your favorite podcast service:
This past week's episode of the 2 Guys Talking Rush podcast features the first part of an interview with Andre´ Cholmondeley, who conducted an extensive interview with Alex Lifeson for Make Weird Music earlier this year. You can listen to part 1 of the interview below or via your favorite podcast service: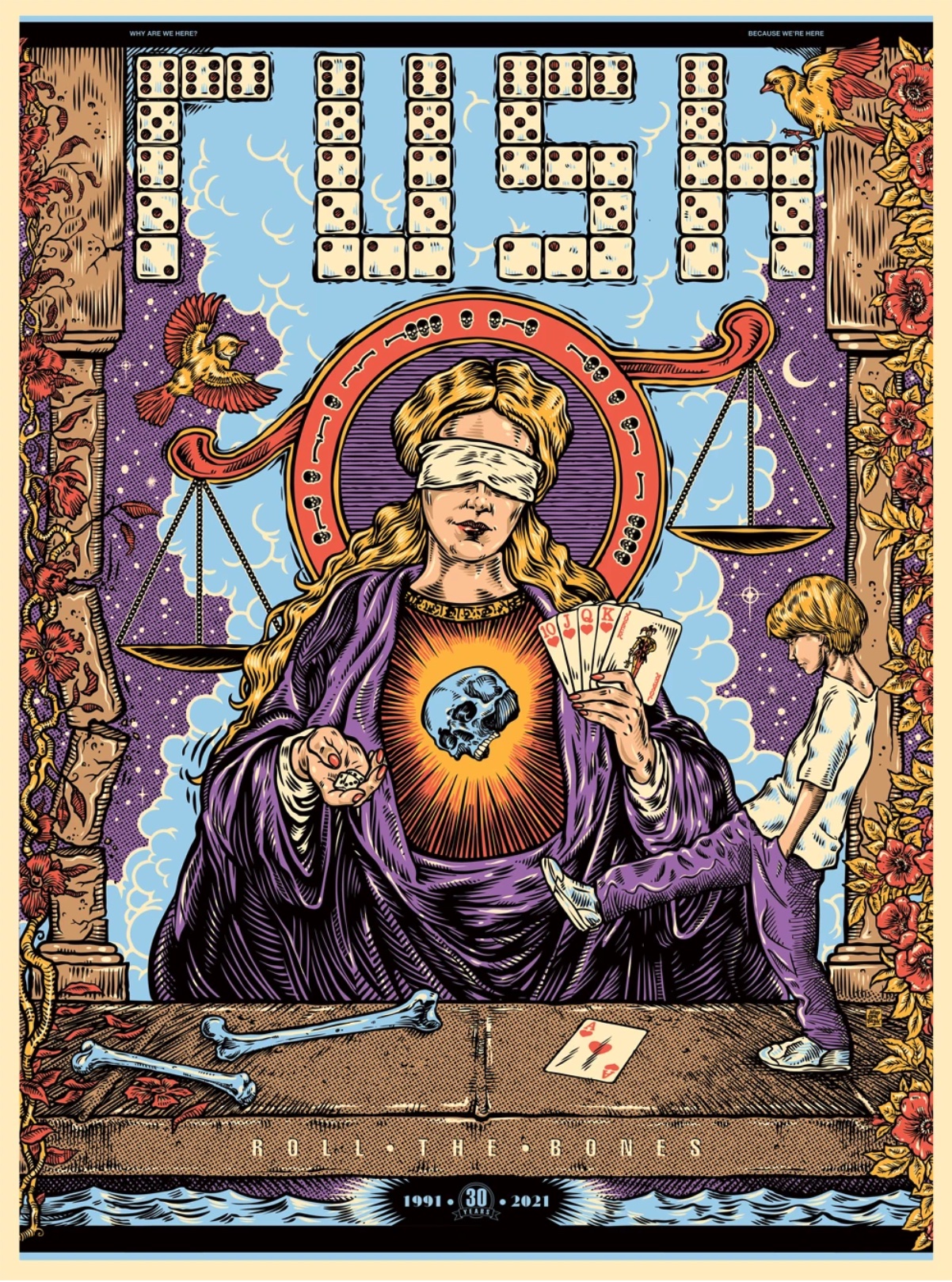 Iconic By Collectionzz is commemorating the recent 30th anniversary (the album was released September 3, 1991) of Rush's Roll the Bones album with a set of two officially-licensed, limited-edition poster screenprints by artist Ben Brown. The 18"x24" screenprints come in a main edition, 6-color screenprint for $75 (191 available); and a Now It's Dark Edition, 6-color, screenprint for $100 (91 available). Each hand-numbered screenprint has a holographic authenticity sticker on the back. The illustration also contains a number of Easter Eggs as described in this blog post. Although the Now It's Dark edition is SOLD OUT, the Main Edition is still available for purchase via the website at this location.
Speaking of Rush album anniversaries, September was a HUGE month for Rush releases over the years so there are several recent and upcoming anniversaries to mention. In addition to the aforementioned Roll the Bones anniversary, Caress of Steel (September, 1975), A Farewell to Kings (September, 1977), Roll the Bones (September 3, 1991), Hold Your Fire (September 8, 1987), Signals (September 9, 1982), Test for Echo (September 10, 1996) and All the World's a Stage (September 29, 1976) all celebrate anniversaries this month. In celebration of Roll the Bones's 30th anniversary last week, Something Else Reviews wrote a posthumous review of the album which you can check out here. Pete Rizzo of Cox Media Group celebrated the Signals 39th anniversary earlier this week by penning this homage to Rush's 1982 masterpiece. And since today is the 25th anniversary of Test for Echo, here's the music video for Driven:
This coming Sunday, September 12th would have been the 69th birthday of the late Neil Peart. Happy birthday Neil. We miss you! Have a great weekend everybody.