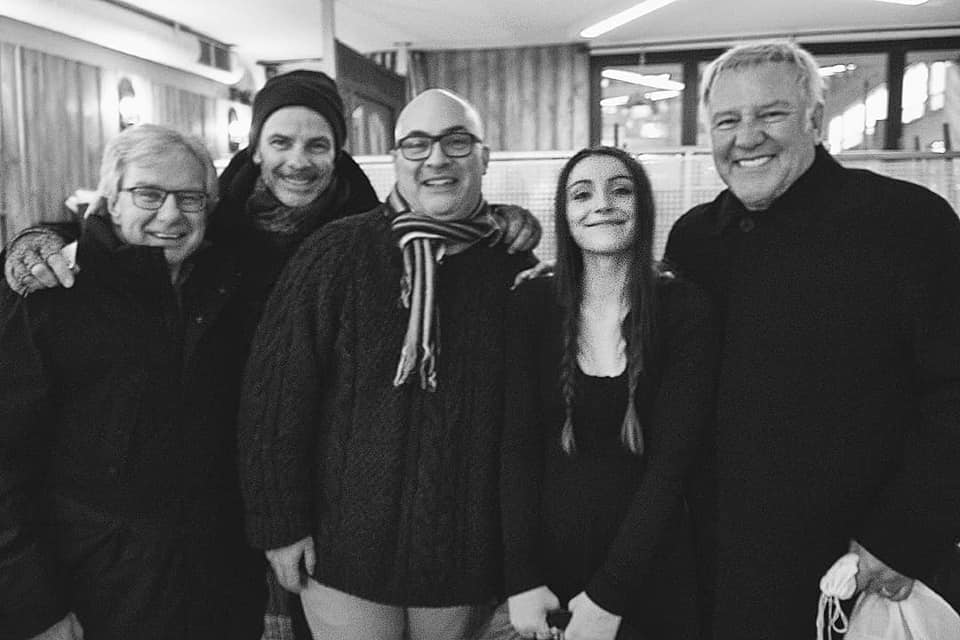 Earlier this summer Alex Lifeson surprised fans by releasing two new instrumental tracks via his newly-minted official website at AlexLifeson.com - Kabul Blues and Spy House - both of which are available for listening online here. These 2 tracks were the first glimpses of a new musical collaboration with Andy Curran, guitarist Alfio Annibalini and vocalist Maiah Wynne called Envy of None. The project has recorded a total of 10 songs and are hoping to release an album in the fall. Last night the project posted some in-studio photos from 2019 to social media (Facebook, Instagram, Twitter) depicting the first time the entire group had gotten together in the same place:
Some photos from the first time we all met together in person after months of sending files and emails back and forth between Toronto and Portland, OR. This was in 2019 and we had a great time recording in the studio. We are so excited to share this music with you soon!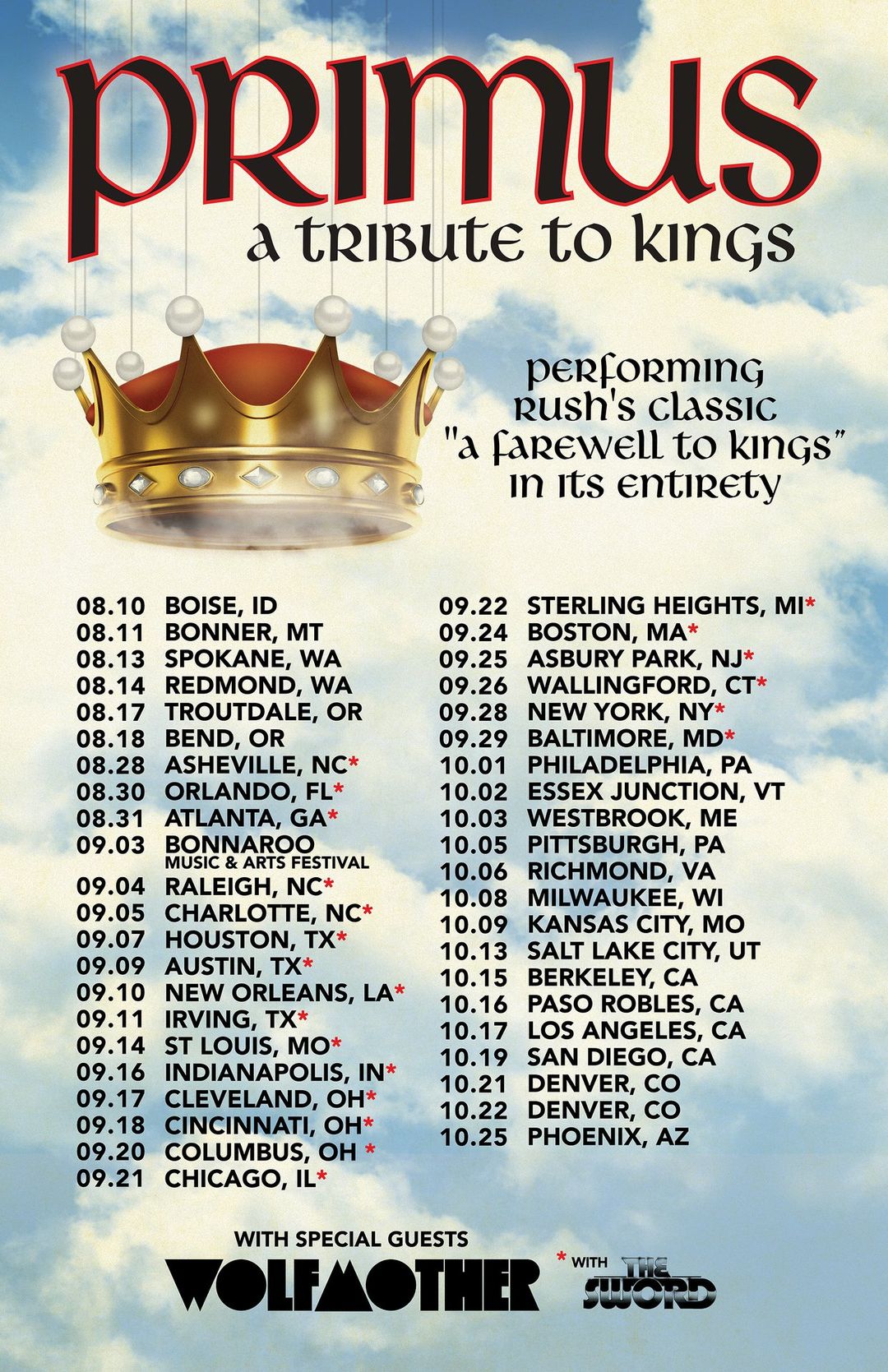 Primus' postponed A Tribute to Kings Rush tribute tour finally kicked off earlier this week at the Ford Idaho Center in Boise, ID. The band paid tribute to their musical heroes Rush by covering the A Farewell to Kings album in full as seen in the fan-shot videos below(part 1, part 2). They then performed a set of Primus classics before calling it a night. The band had originally planned the tour for last year, but were forced to postpone it to the summer of 2021 due to COVID-19 restrictions. Primus frontman Les Claypool was recently interviewed for relix.com in the lead-up to the tour and had the following to say:
... I go to this new rehearsal space, and we're playing hour after hour after hour to get this shit right. And it's been very good for us-it is bringing us back together after all this time and challenging us. We have a common interest, which is Rush. That's what brought us together in the first place. We always have this kind of collective prog-element to what we do. And that all came from the first time that the three of us played together-one of the things that we were able to just jam on was Rush tunes. ... So it's a full circle thing. It's an honor. It's a wonderful thing to be able to go out and do this and hopefully do it well. ... [Surviving Rush members] Alex [Lifeson] and Geddy [Lee] have been super supportive. Alex loaned Ler one of his guitars. It's been very cool. It's been a good way for us to kind of reconnect with those guys, too. I keep in touch with Geddy fairly regularly, but we have been even more in touch with those guys recently, especially with Alex. ...
Claypool re-posted a 4-year-old photo of himself and Geddy to Instagram earlier this week with the caption, learning from the master (re-posted image here), which many music sites misinterpreted as meaning that Les had been practicing for the tour with Geddy himself. The photo was actually from a visit Ged had paid to Les back in 2017 as seen in this post.
For all the details on Primus' Tribute to Kings tour and to purchase tickets, visit primusville.com.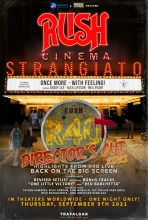 Rush's Cinema Strangiato theatrical film experience first hit theaters 2 years ago, premiering on August 21, 2019. The film brought Rush fans together for a special look into Rush's R40 Live tour, with new backstage footage, special guests, and performances. A couple of weeks ago, Rush announced that a new Director's Cut of the film would be coming to theaters worldwide on Thursday, September 9th in celebration of the 40th anniversary of Moving Pictures, and tickets for the event went on sale in the US last week. However, when fans purchased tickets, they were almost immediately refunded and the showings removed from movie ticketing websites, with folks receiving messages from theaters like this: "Due to COVID concerns, the studio decided to cancel the September 9th release". Adding to the confusion, tickets are suddenly back and available for purchase on the various movie ticketing sites such as Fandango and Atom Tickets. So is it back on? Who the hell knows! There has still been no official announcement made by the band or studio, and the website hasn't been updated. More information as we learn it.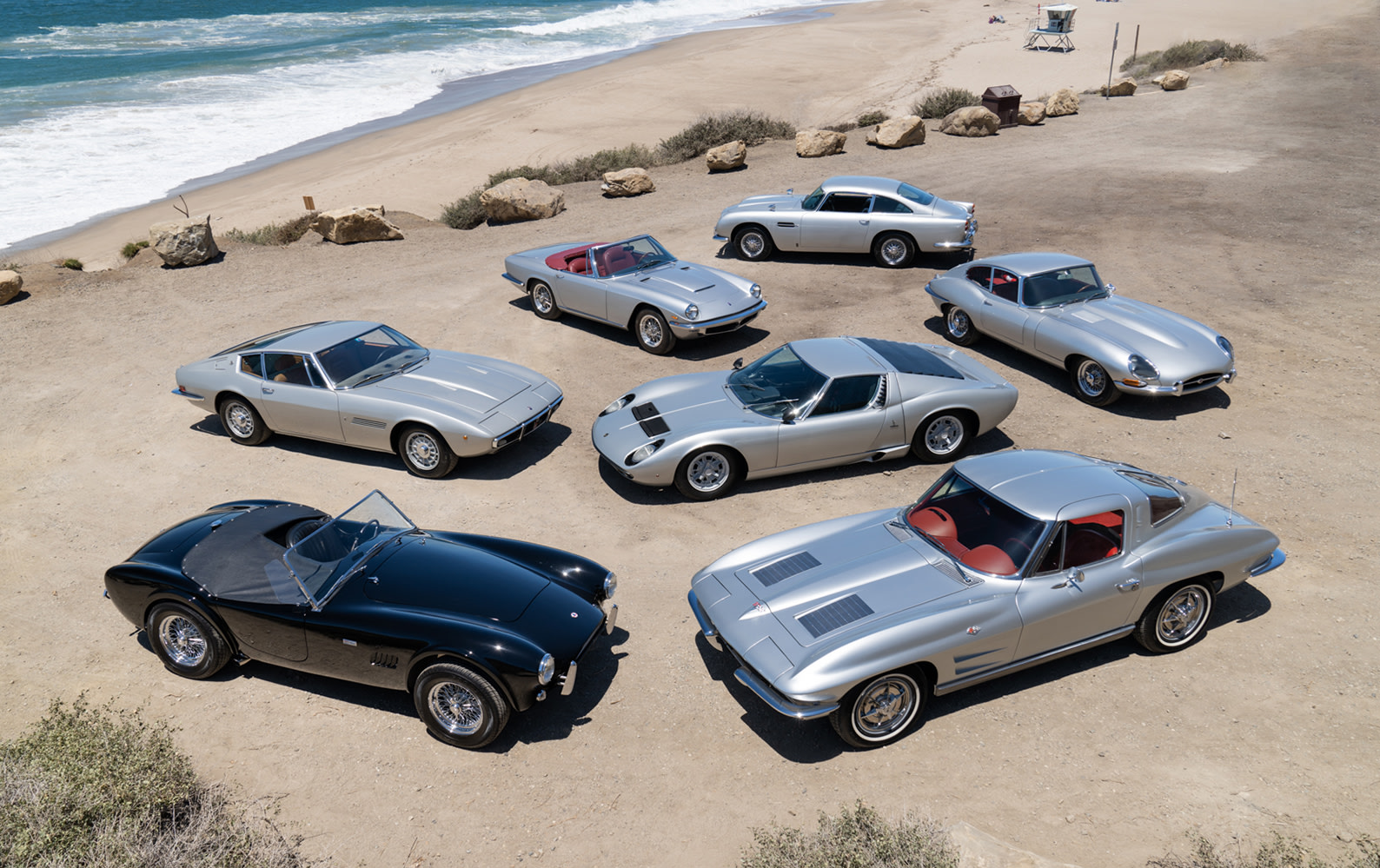 Neil Peart's extensive classic car collection - dubbed the Silver Surfers by Neil himself - will be going up for auction at Gooding & Company's 17th annual Pebble Beach Auctions this weekend, as first announced back in June. It turns out that this collection of classic cars were the subject of a coffee table book that Neil Peart was working on prior to his untimely passing last year. From Rush.com:
... Neil's love of classic cars was a lifelong passion, and prior to his passing, he was extremely proud to have completed his final book titled, "Silver Surfers." The following passage from his first coffee table book explains, in his own words, how the collection name came about:

"The title Silver Surfers for my collection of cars occurred to me while driving my DB5 up and down the Pacific Ocean. Because it felt right to me, I guess - the idea that I was just one of the wave riders.... In search of natural peace, I often drove out that way and up in to the Santa Monica Mountains. Out past Malibu to Ventura County, I'd weave along barren ridges of rock and vegetation, the ocean always on one big side. The waves were slow and gentle, or churned out a powerful, rolling rhythm..."

We are happy that his wish to see this book published will be fulfilled, with a release date to be announced. This will certainly be a loving homage to the man and one of his true passions.
Back in June we learned that Loucin Guitars founder and master guitar maker Garren Dakessian had been entrusted with the task of restoring Alex Lifeson's first electric guitar - a Japanese Canora guitar that his parents gave him as a Christmas gift in 1967 at the age of 14. From an Alex Lifeson Instagram post:
Garren is tasked with bringing my Canora back to life after a half century of neglect. @geddyimages and I both painted our Canoras in day-glo green and orange a million years ago and now it's time to restore it to that gorgeous fifty-nine dollar finish! Corduroy pants and a paisley shirt-stylin' big time! ...
Garren has been keeping everyone informed on his progress with the restoration, and earlier this week posted some more before pictures of the guitar body to Facebook. He'd also posted some before photos of the neck a few weeks ago, and promises some photos of the finished product in the near future. For all the latest updates, be sure to follow Loucin Guitars on Facebook and Twitter.
The latest episode of the 2 Guys Talking Rush podcast features part 1 of a discussion with Rush super fans Dave Shingleton (UK), Reid Smith (US) and Paul Beaulieu (CA). You can listen to the episode below or via your favorite podcast service:
Musician Brandon Dyke was the latest guest on the Something for Nothing podcast. Brandon has made a name for himself with a mix of original progressive rock music and cover songs, most notably his acoustic takes on Rush tunes. Hosts Steve and Gerry talk with Brandon about how Rush shaped his musical sensibilities, what goes into choosing which songs to cover, and what his teenage skateboarding friends thought of his love of Rush. You can listen to the interview below or via your preferred podcast service:
Ultimate-guitar.com posted their list of the 25 Best Bass Lines From the '80s this past week and Rush's YYZ was included at #6:
Of course, having "YYZ" here was pretty much expected. The entire piece is filled with some of Geddy Lee's best bass lines of all time.
Back in September as a tribute to Neil Peart on what would have been his 68th birthday, RUSHfest Scotland sponsored the release of an album of Rush songs dedicated to the iconic drummer titled TRIBUTES - SONGS FOR NEIL VOL.1, played by Rush tribute bands and musicians from around the world. Proceeds from sales of the album were split equally between two charities - Glioblastoma Foundation Neil Peart Research Award in the USA and Cancer Support Scotland (registered charity SC012867). Earlier this week RUSHfest Scotland announced that they'll be following up that release with THE STARS LOOK DOWN - SONGS FOR NEIL VOL. 2, due to release on Neil's upcoming 69th birthday this coming September 12th. Bands featured on the release include YYNOT (USA), Huis (Canada), Jacob Moon (Canada), Fleesh (Brazil), Rushed (England), 2YY2 (Spain), and Moving Pictures with Seeing Red (Scotland). Visit the RUSHfest Scotland website for all the details and to pre-order your copy.
UDiscoverMusic.com posted their list of The Best Songs Based On Books earlier in the week, and Rush's 2112 is mentioned (thanks RushFanForever):
... Seemingly natural bedfellows, prog rock's ambitions are ably fed by literature's lofty ideals. Take Rush, for instance, whose side-long title track to the game-changing 1976 album, 2112, was loosely based on Ayn Rand's book Anthem (with Rand's "genius" receiving an acknowledgment in the album's sleevenotes), setting the scene for a bleak concept suite of novelistic proportions, in which the world is controlled by the Priests Of The Temples Of Syrinx. ...
Loudwire posted their list of the 10 Most Dated Rock and Metal Videos earlier this week, and Rush's 1987 video for Time Stand Still is included at #6:
Rush were never really known for their music videos. Even though the performance clips of "Tom Sawyer" have become iconic, they are just playing the song and not much else. This was the late '80s, though, and guess who just got a brand new green screen? Yeah, throughout most of the video, the guys basically float through the air like this is their first time using editing software. You've got Alex Lifeson with his Flock of Seagulls hair, Neil looking confused and Geddy Lee twirling and desperately trying to make things work. This is objectively terrible editing, but how can you hate something this dorky?
Alex Lifeson made uDiscoverMusic.com's list of The 75 Best Guitarists Ever this past week, coming in at #55 (thanks RushFanForever):
Rush may be the only power trio where the lead guitarist could get overshadowed by the other two guys, especially when they reduced the guitar's role in the 80s. But Alex Lifeson proved a perfectly heroic player whenever they turned him loose, unleashing more fireworks on "La Villa Strangiato" than most do in whole careers. When Rush changed directions, he provided subtler peaks like the textural solo in "Subdivisions."
Rush fan Jason Wert wrote a piece for the Branson Tri Lakes News this past week titled Maybe our dead loved ones are watching over us. In it he recounts how, when filling up his Prius with gas, the pump automatically stopped at $21.12 3 weeks in a row in the wake of his mother's funeral. It got him to thinking about whether his mother was reaching out from beyond.
9-Year-old bassist Ellen Alaverdyan broke the internet this past week with her viral rendition of Rush's Tom Sawyer, using a Tech 21 Geddy Lee signature pedal. You can check it out via YouTube at this location (WARNING: cuteness overload!).
Here's Primus' full A Farewell to Kings set from this past Tuesday night's show in Boise:
That's all for this week. Have a great weekend!!