UPDATE - 8/18@11:15AM: It's on. Finally an official announcement from the band.
UPDATE - 8/13@11:24AM: Adding to the confusion, tickets are suddenly back and available for purchase on the various movie ticketing sites such as Fandango and Atom Tickets. So is it back on? Who the hell knows! There has still been no official announcement made by the band or studio, and the website hasn't been updated. More information as we learn it.
UPDATE - 8/4@4:43PM: Although there's still no word from any of the official channels, it looks like this event is being cancelled due to COVID-19 concerns. More concrete info as we learn it.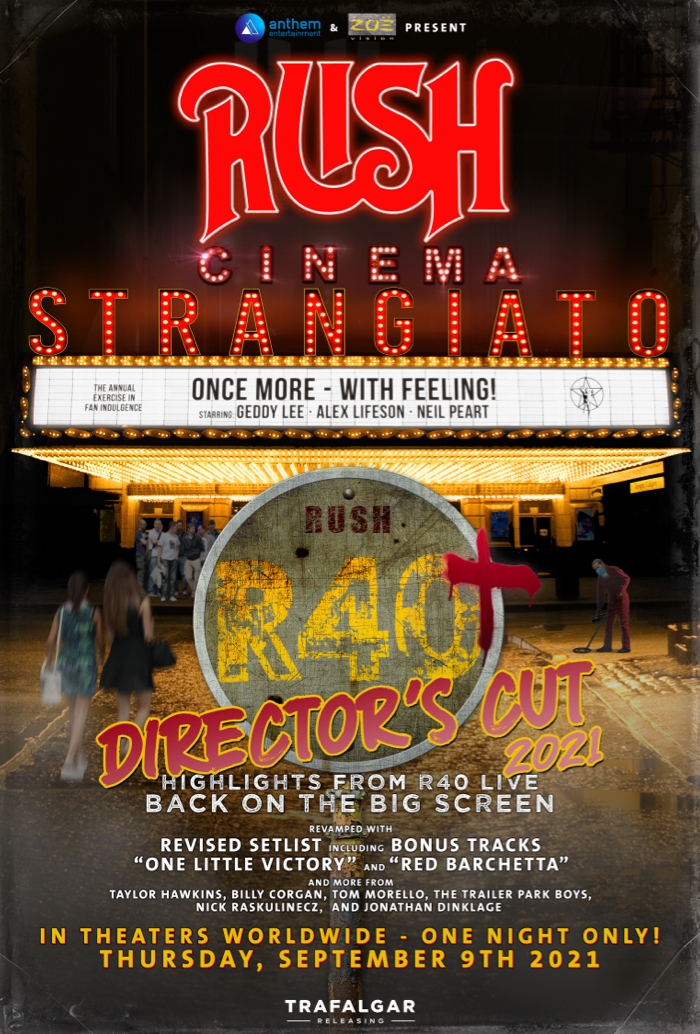 Rush's Cinema Strangiato theatrical film experience first hit theaters 2 years ago, premiering on August 21, 2019. The film brought Rush fans together for a special look into Rush's R40 Live tour, with new backstage footage, special guests, and performances. The event didn't return to theaters last year due to COVID-19 restrictions, but a new Director's Cut of the film will be coming to theaters worldwide on Thursday, September 9th. From Rolling Stone:
Rush will mark the 40th anniversary of Moving Pictures by screening the director's cut of their concert film, Cinema Strangiato, in movie theaters for one night only, September 9th, via Trafalgar Releasing.

Cinema Strangiato, which premiered in 2019, featured an array of performance highlights from Rush's 2015 R40 Live tour, plus previously unseen backstage and soundcheck footage and interviews with famous Rush fans like Billy Corgan and Tom Morello. The new director's cut offers a revamped setlist, including new performances of "One Little Victory" and "Red Barchetta," as well as "Cygnus X-1"/"The Story So Far."

To accompany the announcement, Rush have shared a snippet of that new performance of "Cygnus X-1"/"The Story So Far," which features late drummer Neil Peart's final recorded drum solo.

Tickets for the Cinema Strangiato screenings in the United States and some other countries will go on sale on August 3rd, while the on-sale date for Canada is September 1st. Complete information, including a list of participating theaters, is available on the film's website.
For all the details, including ticket information, visit cinemastrangiato.com. Thanks to John at Cygnus-X1.net for the heads up.