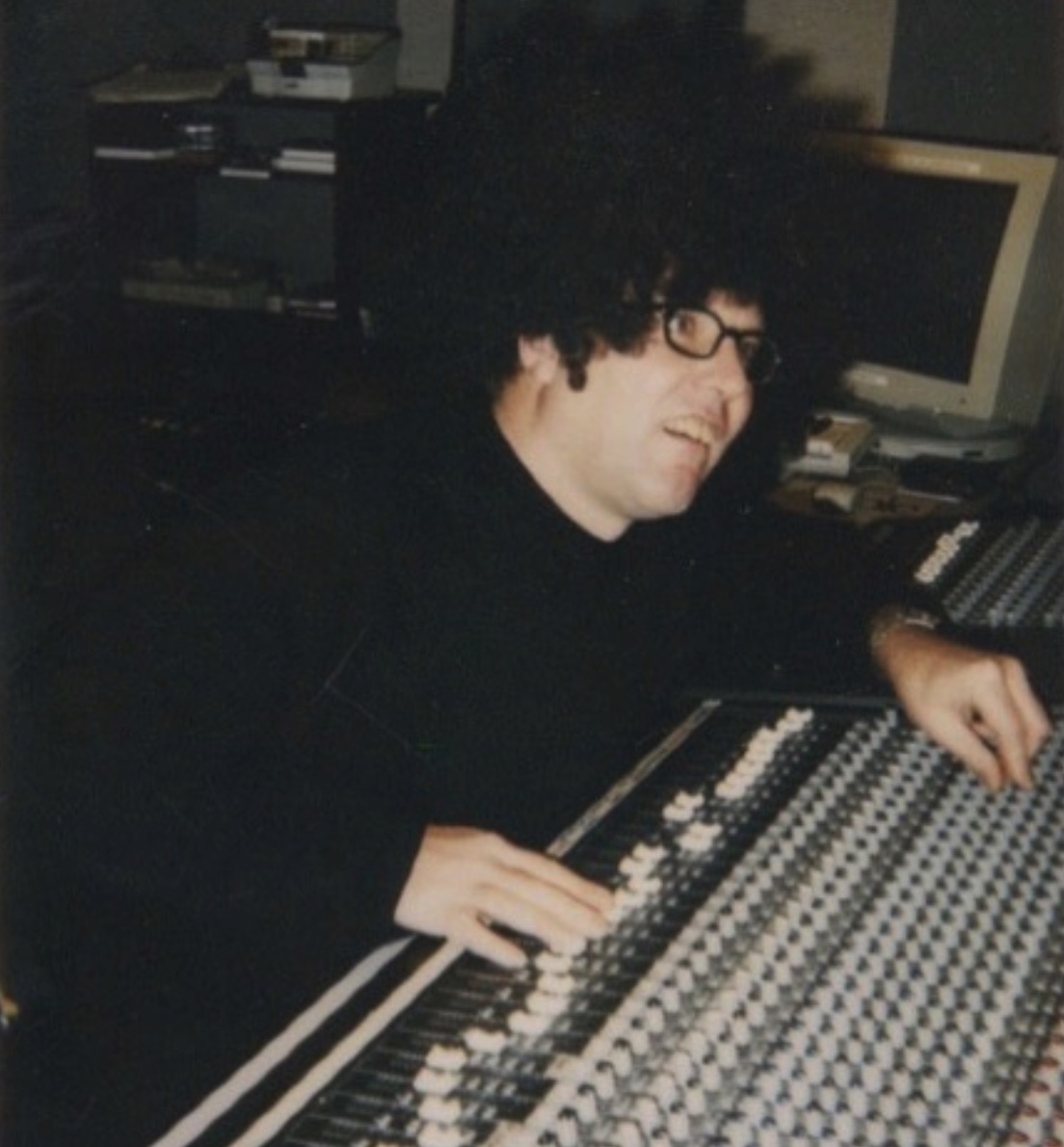 Earlier this week, Alex Lifeson posted three new '90s-era demo tracks online at AlexLifeson.com which he calls the Lerxst Demo Archives Part 1. The tracks are called Kroove, Banjo Bob, and Serbs and you can listen to all three online via AlexLifeson.com. Kroove may sound familiar to many fans since a version of it was played over the closing credits of the R30 concert video (listen here). From Lerxst's description:
So here's the next installment of some Lerxst demo music from the past that's been sitting in a music folder for over twenty years. They kind of mark an era for me and highlight a style of writing and performing. These are all demo recordings of music created for personal fun that I thought might be interesting to share. I hope you enjoy them and the others to come soon.

KROOVE: This was written and recorded @1996 late one night in my home studio. It started with the main guitar pattern then I added the drum loop, keys and bass. The geetar pickin' section was especially fun to record. I've always liked that late night feel of this one.<

BANJO BOB: This was a fun session I did mid 1999. Originally recorded to a drum loop, I asked my good friend and Black Sheep drummer, Jim MacLellan, to have a go. He basically played to the finished track after I'd recorded all the elements. I love the false setup of the banjo and all the ugly undertones in the middle section. It was recorded at Lerxst Sound-Richmond Hill as there is a strict no banjo in the house policy dictated by Charlene.

SERBS: This is another track Jim played on sometime in early 1999. It actually started with the accordion section and then built in reverse. I tried to create a soft pulse character for the guitar verse then an overcompressed drum moment before the Serbs marched in. My parents wanted me to play the accordion like a nice Serbian boy from suburban Willowdale should but the guitar was calling me. I'll never know if I made the right decision ...
Lerxst also announced the tracks via this Instagram post:
Three added tracks from the 90s on alexlifeson.com for you to check out. They're demos of stuff I was having fun with before I cut my Afro. I have a bunch of these that I plan to share with anyone who's interested in the coming weeks...I mean, in the music, not the weeks.
This is the second batch of new music Alex has released via the website, which he first launched back in June. For the initial launch of the site, he debuted 2 new tracks - Kabul Blues and Spy House - both of which are available for listening here. These 2 tracks were the first glimpses of Alex's Envy of None collaboration with Andy Curran, guitarist Alfio Annibalini and vocalist Maiah Wynne. The project has recorded a total of 10 songs and are hoping to release an album in the fall. Speaking of whom, Curran was the latest guest on the Something for Nothing podcast. Andy talks about his long history with Rush, the Envy of None project, and more. You can listen to the interview below or via your preferred podcast service: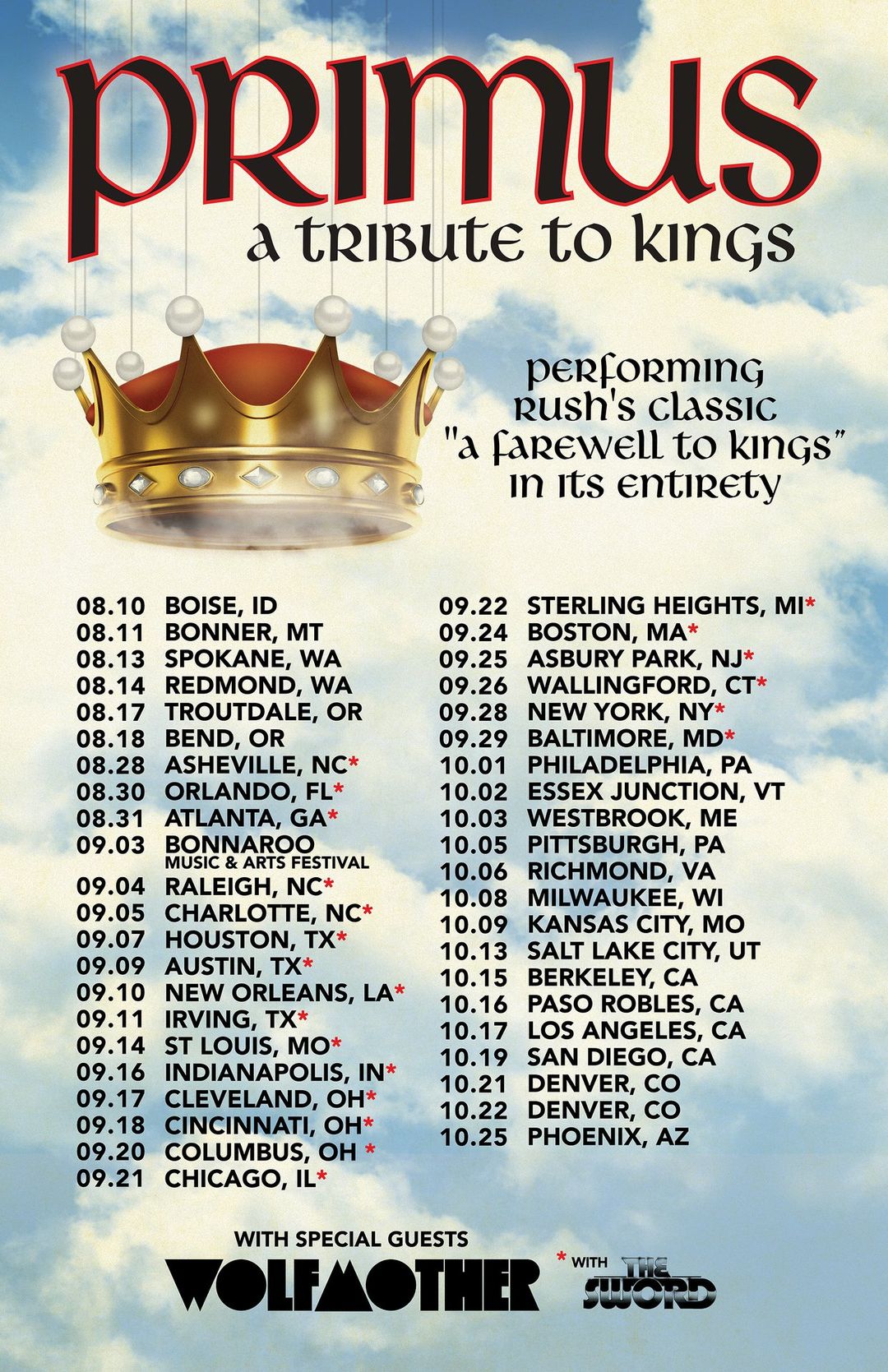 Primus' postponed A Tribute to Kings Rush tribute tour will kick off at the Ford Idaho Center in Boise, ID this coming Tuesday, August 10. The band had originally planned the tour for last year, but were forced to postpone it to the summer of 2021 due to COVID-19 restrictions. The tour will honor the band's musical heroes Rush where they'll cover the A Farewell to Kings album in full every night, before playing a full set of Primus classics. For all the details and to purchase tickets, visit primusville.com. Primus frontman Les Claypool was recently interviewed for relix.com to talk about the tour, the difficult task of rehearsing Rush songs, and some of his recent artistic endeavors with his son Cage (also a Rush fan), who is helping to provide visual elements for the tour:
... I go to this new rehearsal space, and we're playing hour after hour after hour to get this shit right. And it's been very good for us-it is bringing us back together after all this time and challenging us. We have a common interest, which is Rush. That's what brought us together in the first place. We always have this kind of collective prog-element to what we do. And that all came from the first time that the three of us played together-one of the things that we were able to just jam on was Rush tunes. ... I know how scrutinizing Rush fans can be so we have to be on this shit. There's a reason why they were Rush; they were fucking good. And they played this crazy shit. We're trying to learn it, and it's coming along and I'm excited. But it's also very daunting because we know we have to really land it. ... My first concert was the Hemispheres tour, and that's one of the reasons why we chose A Farewell to Kings. I remember being a 14-year-old kid watching the Rocinante fly through the black hole. I remember just sitting there, urinating in my pants with excitement. And it's really stuck to me. So it's a full circle thing. It's an honor. It's a wonderful thing to be able to go out and do this and hopefully do it well. ... we were trying to get the visuals from the Rush camp-the originals. But a lot of that stuff is just in storage, and we just didn't want to pester them too much about this stuff. And it hasn't been able to come to fruition. So, I just said, "Well, let's get Cage on it." He's on it. And he's happy to do it. [Surviving Rush members] Alex [Lifeson] and Geddy [Lee] have been super supportive. Alex loaned Ler one of his guitars. It's been very cool. It's been a good way for us to kind of reconnect with those guys, too. I keep in touch with Geddy fairly regularly, but we have been even more in touch with those guys recently, especially with Alex. ...
Rush's Cinema Strangiato theatrical film experience first hit theaters 2 years ago, premiering on August 21, 2019. The film brought Rush fans together for a special look into Rush's R40 Live tour, with new backstage footage, special guests, and performances. A couple of weeks ago, Rush announced that a new Director's Cut of the film would be coming to theaters worldwide on Thursday, September 9th in celebration of the 40th anniversary of Moving Pictures, and tickets for the event went on sale in the US this past Tuesday. However, it now looks like the release has been cancelled since several fans across the country are reporting that their ticket purchases were refunded with the message, "Due to COVID concerns, the studio decided to cancel the September 9th release". Tickets have also disappeared from all the major movie ticket websites. Despite all this, there has still been no official announcement made by the band or studio, and the website hasn't been updated. More information as we learn it.
On the past 2 episodes of the 2 Guys Talking Rush podcast, hosts John and Dan continue their discussion with the man who shot the iconic Le Studio versions of Tom Sawyer and Limelight - Bruce Gowers. You can listen to parts 2 and 3 of the interview with Gowers below or via your favorite podcast service:
The past week uDiscoverMusic.com posted their list of The 100 Greatest Rock Albums Of All Time and Rush's Moving Pictures was included at #64 (thanks RushFanForever):
Rush's best-loved album caught them halfway between the three-piece rock of their early days and the heavily textured prog to come. There's a thrill of discovery on every track on Moving Pictures, from the arena-shaking "Tom Sawyer" to the reggae-inspired "Vital Signs." And there's a peak Rush moment in "Red Barchetta," where high ambitions ride along with cheap thrills.
UK-based CODA Records is known for releasing recordings of past concerts that had been broadcast live on radio at some point in the past, and are now in the public domain in Europe. Although they are not in general officially-authorized by the artists, they are legal due to differing copyright laws in Europe as opposed to North America. Back in May they released 6 new, limited-edition, live Rush picture discs in Europe, one of which was titled Rush - 2112 Live in Concert (live radio broadcast, entire 2112). This past week they released a special, 10-inch double album edition of this recording on splatter vinyl which you can order online here (thanks Peter C).
The latest issue of Prog magazine (issue #122) includes an interview with multi-instrumentalist Marco Minnemann for their My Prog feature, and when asked about what prog musician he'd most like to work with he mentions Rush's Geddy Lee (thanks RushFanForever):
... I've worked with Alex Lifeson and I met Neil Peart - rest his soul - but never Geddy. He once said some very nice things about me but we never connected, but I think it's about time we did, if he's still up for doing something ...
He was also asked which proggy album gets him in a good mood, and his answer was Rush's Signals, which he says is "a great album".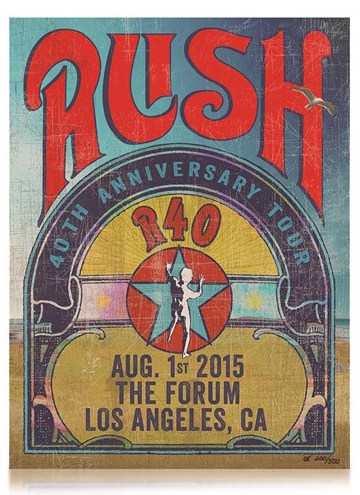 Six years ago this past Sunday, on August 1, 2015, Rush closed out the R40 Live tour at the LA Forum. Although fans were hesitant to accept the possibility at the time, this would end up being the last live show that the trio of Neil Peart, Alex Lifeson and Geddy Lee would ever perform together. Neil Peart's tragic passing last year sealed that sad reality. Probably the most poignant moment of that show was when Neil Peart emerged from behind his kit after the final song to join his bandmates at the front of the stage to wave goodbye to the fans and take one final bow, as seen in this video.
That's all for this week. Have a great weekend everyone!