UPDATE - 7/4@11:22AM: Lifeson reiterates his stance on touring with Envy of None in his recent UCR interview:
... "I haven't really considered [playing live], ... It's been almost six years [since the last tour]. After touring at that level [for decades], not to mention the six years before that of spending weeks in small bars and small towns, I'm not in a big hurry to go back on the road." ... If "something major" happens with his new collaborators in Envy of None and there is a chance to do "a handful of specific shows," Lifeson would consider that. But the idea of lengthy touring, either with Rush frontman Geddy Lee or Envy of None, is a different story. "I don't think that's something that's in my cards, really," ...
----- snip -----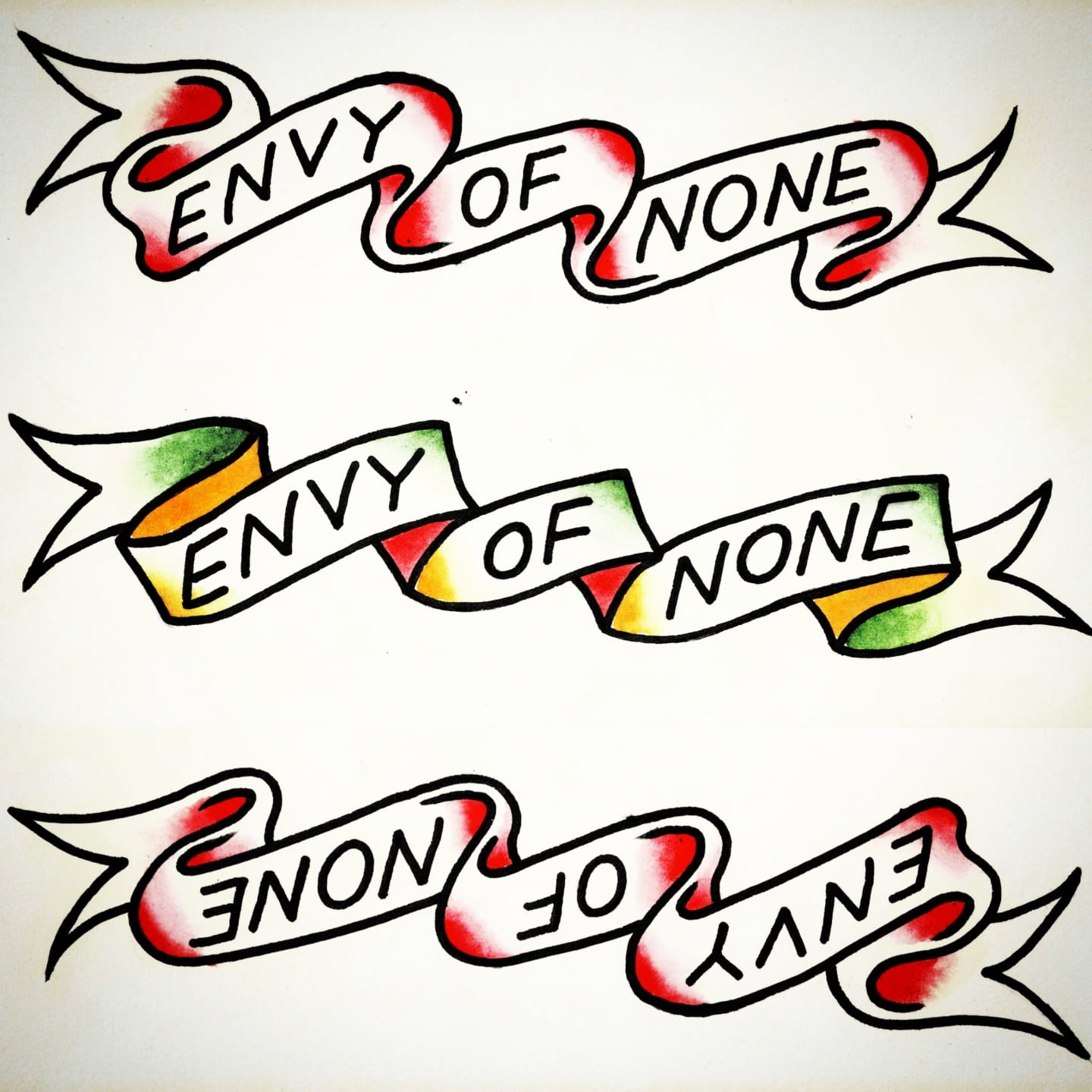 A couple of weeks ago Rush's Alex Lifeson surprised fans by releasing two NEW instrumental tracks via his newly-minted official website at AlexLifeson.com, coinciding with the release of his new signature Epiphone Les Paul Standard Axcess guitar. The 2 new tracks are titled Kabul Blues and Spy House, and both are available for listening online via his website here. Andy Curran plays bass guitar on both tracks and David Quinton Steinberg was recruited for the drums on Spy House, but otherwise it's all Lerxst. It turns out these 2 tracks are the first glimpses of a new Alex Lifeson side project collaboration with Curran, guitarist Alfio Annibalini and vocalist Maiah Wynne called Envy of None. Ultimate Classic Rock reported last Friday that the project has recorded a total of 10 songs and they hope to release an album by late summer or early fall. The project has also launched an assault on social media, and now have a Facebook page, Instagram, and Twitter feed. Over the last week, Lifeson has hit the interview circuit to discuss Envy of None and his other musical side projects. On Saturday Lerxst made an appearance at Sweetwater's 20th annual Gearfest, closing out the 2-day virtual event with a 20-minute interview which you can watch below or at this location. On Wednesday Alex was a guest on Sirius XM Volume's Trunk Nation with Eddie Trunk. At one point Eddie asked him if would ever consider taking the Envy of None project out on the road. Alex was noncommittal, but seemed open to the possibility depending on how things play out:
... To be honest with you, I don't think so. We've talked a little bit about it. But we don't want to get to far ahead of what we really need to do, and that is concentrate on finishing the record and getting it out. Maiah is a lot younger than any of us are - she's in her early-mid 20s - and she would love to take this out on the road and do a proper tour. And it all depends on how it goes. If there's a good response then maybe we'll look at it. I would probably at least consider a handful of shows. I'm not saying that we are [considering that], but at that time I would think about it anyways. If it was limited to something like that. But frankly after 40 years of touring, and half a dozen years before that playing bars and living in crappy hotel rooms, and small hotel bars and all of that, I don't have that much of a desire to be staying in a hotel room staring at the TV for 22 hours of the day for the 2 hours of excitement. I don't really miss the live experience. I've done it a few times since in smaller venues, smaller projects - mostly charity stuff. And it's fun when it's for a couple hundred people and I don't mind. But to do the whole big production - I'm not so sure ... I'm very lazy by nature. I don't know if I'd want to dive into that again. ...
Alex also put put to rest any notion that Rush would ever continue without Neil Peart:
...There's no way Rush will ever exist again, because Neil's not here to be a part of it. That's not to say that we can't do other things, and we can't do things that benefit our communities and all of that. I have lots of plans for that sort of thing that don't necessarily include Geddy ...
Sirius XM subscribers can listen to the entire interview on demand or via the Sirius XM app. Sirius also posted a short excerpt from the interview to Twitter where Alex talks about his relationship with Geddy. Ultimate Classic Rock also spoke with Alex and have been posting portions of that interview over the past several days. In an article posted on Wednesday, Lifeson reveals that he has recorded a new track with Rage Against the Machine's Tom Morello and Metallica's Kirk Hammett as part of a virtual guitar summit he recently attended with the pair - the song is slated to appear on a project that Morello is currently putting together. Yesterday UCR posted an installment from the interview focusing on whether Lifeson felt any urgency to make new music with his longtime friend and bandmate Geddy Lee:
... "We've talked about it, but we're not moving in any specific way right now," ... "I have all of this stuff going on, and he has stuff going on in his life. If we don't get together, that's fine." ... "We talk to each other, probably every other day," ... "He's my absolute best friend and always was. That's not going to change. I know if we do sit down and start [messing] around, it will be very casual over a cup of coffee, and [we'll] see what happens. But there's no urgency." ...
He noted that both he and Geddy have been busy with other projects and spending time with their families. He also explains that most of the side projects he's been collaborating on just start out because a friend asked him to provide some guitars for a song or two:
... "That's the way this Envy of None stuff started out with Andy [Curran]. He just asked me if I would kindly throw in some guitar on some music that he'd been working on. I wasn't doing anything and I'd love to, so I said, 'Yeah, sure!" As it grew, and then [singer] Maiah [Wynne] got involved, it took on a whole different character, and now it's become a big project for us." ... "This has been sort of a resurgence these last few weeks of all things musical for me. It's not bad - after being retired, I've sort of come out of retirement," he laughs. "I've been forced into being proactive with all of this, but it's fun!"
Alex has also been very busy with his new Instagram page @TheRealLerxst, which he launched in conjunction with his AlexLifeson.com website. The images he's been posting include his friend Metropolitan Tikhon with his own Epiphone Alex Lifeson Axcess, along with a painting Alex did of Tikhon for an upcoming Brush of Hope charity auction. He also posted several vintage photos of himself with his first electric guitar - a Canora that Loucin Guitars is currently in the process of restoring: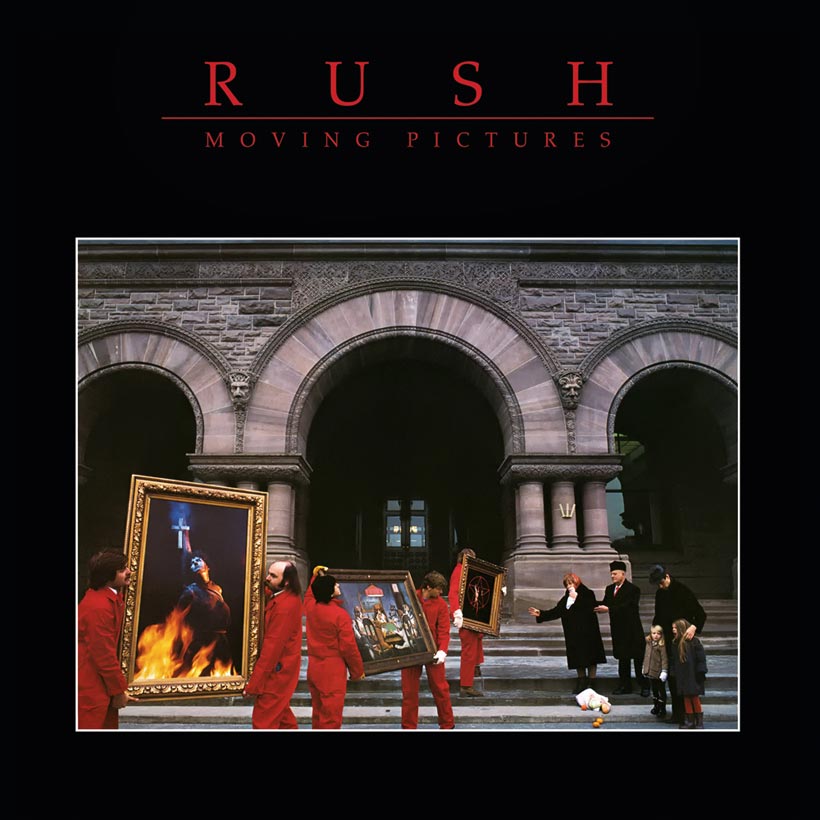 Over the past several years, Rush has released 40th anniversary editions of several of their classic albums, including 2112, A Farewell to Kings, Hemispheres, and Permanent Waves, so it had been expected that they'd give Moving Pictures - which celebrated its 40th anniversary in February, 2021 - a similar treatment as well. But after the 40th anniversary of the album's release came and went without any news of an anniversary box set, it led many fans to speculate (including me) whether there would even be a 40th anniversary release this time, or if perhaps it would just be delayed until later in the year. According to some fans (thanks Fletch G, Brian, Stevie D and others) who attended a VIP meet-n-greet event for Hugh Syme's new art exhibit this past Friday evening at Austin's Ao5 Gallery, it turns out that the latter is the case. Rush's longtime album artist spoke with fans and confirmed that there would be a Moving Pictures 40th anniversary box set coming soon and that he had submitted the final artwork for the set just last week. Alex Lifeson himself also confirmed that the set was in the works at the tail-end of his recent Eddie Trunk interview. So it's probably a safe bet to assume that the set will be released sometime closer to the holiday season - likely around November.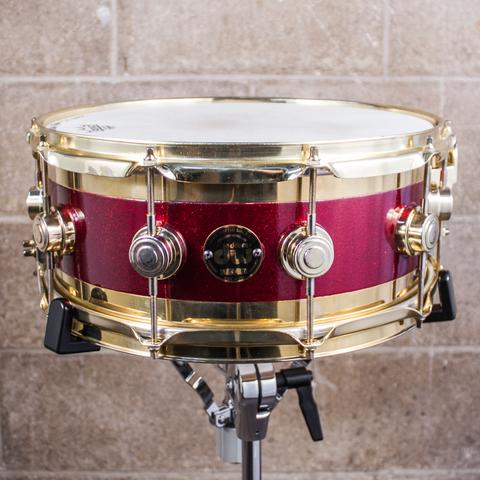 Soul Drums of Canada has been commissioned to sell a small selection of Neil Peart snare drums used on various Rush tours over the past 25 years. Three snare drums from the Bubba Gump collection are currently available for sale via Soul Drums. From the Soul Drums website:
For twenty years Neil Peart and his drum technician, Lorne "Gump" Wheaton were at the pinnacle of presenting the very best in rock drumming performance. Known affectionately as Neil "Bubba" Peart, by bandmates and the stage crew family, together, they became "Bubba Gump". Through all the album concepts; the drumsets, the snare drums, and the cymbals became the reference for the best in drumming design, pure sonic power and incredible inspiration. There are no comparisons! Together, Soul Drums and "Bubba Gump" are offering the best known snares and drums from the Test for Echo era, Vapor Trails, Snakes and Arrows, Clockwork Angels and the R40 tours. These incredible instruments represent the art, history and science of modern rock drumming and celebrate the legacy of a true master.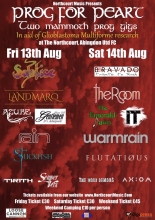 Prog for Peart is an upcoming two-day charity concert event to be held at The Northcourt in Abingdon, Oxfordshire, featuring over a dozen progressive rock bands with the goal to raise funds to combat Glioblastoma - the disease that claimed the life of the Neil Peart. Due to a delay in the lifting of COVID restrictions, the event organizers have been forced to postpone from July to August. The event had been originally scheduled to take place the weekend of July 2-3, but will now instead occur the weekend of August 13-14. From the event organizers via Louder:
... "As far back as the end of January we worked with all the bands and set a fall-back date of 13th and 14th August. Once we had talked it through with all the artists it was the only sensible date that pretty much everyone could commit to. Despite that, we are sadly going to lose five bands for a variety of personal reasons with two involving medical treatments which cannot be postponed. The positive side of this is that I am delighted to say we have been able to welcome five fabulous acts to the festival including Landmarq, Flutatious, Axiom, The Tirith and today Stuckfish. ... as part of our safety requirements, we are asking all attendees, staff and artists to undertake a Lateral Flow test a maximum of 48hrs prior to the event. With the NHS App on their phone they can show the results of their test on entry to the site. Unfortunately, we will not now be able to permit entry without proof of a negative test result. Everyone we have spoken to so far has supported this decision and understood that this is simply about making the event a safe place for us all to enjoy the music and to remember the Neil Peart and the huge contribution he made to progressive rock and music in general."
Tickets can be purchased at this location, and tickets already purchased for the original dates remain valid for the new dates.
Speaking of Peart, Neil grew up in the St. Catharines, Ontario community of Port Dalhousie, the lakefront home of Lakeside Park which inspired the lyrics to the 1975 Rush song of the same name. Last year the St. Catharines City Council, with the full support of the community, voted to name the newly rebuilt pavilion at Lakeside Park the Neil Peart Pavilion at Lakeside Park in honor of the hometown icon who passed away last January. The Council also established the Neil Peart Commemorative Task Force, with the objective to commission a public work of art commemorating Peart's life and legacy. Back in January the city began welcoming artists to submit requests for pre-qualification, and continued accepting submissions through March 29th. They also launched a public fundraising campaign in February to raise money for the memorial. Since then we haven't heard much in the way of any updates, but that should change by the end of the month. The task force is slated to meet with the St. Catharines city council on July 29th to begin planning, including reviewing options for the scope and type of the memorial. A copy of the meeting's agenda can be found online here.
In the latest episode of the Something for Nothing podcast Steve and Jerry close out their 4-episode-spanning discussion on Rush's classic 1985 Power Windows album with a deep dive into Emotion Detector and Mystic Rhythms. You can listen to the discussion below or via your favorite podcast service:
This week's episode of the 2 Guys Taking Rush podcast features part 1 of an interview with legendary Canadian record producer David Bottrill, who was responsible for the 2013 remix of Rush's Vapor Trails. You can listen to both episodes below or via your favorite podcast service.
Canadian musician Ben Mink was recently interviewed by Rodrigo Altaf and Paul Beaulieu (The Canadian Music Scene) for Sonic Perspectives to discuss his prolific career, including his multiple collaborations with Rush. Mink became friends with Rush after his band FM supported the Canadian trio in 1980, and Rush had Mink play a violin solo for Losing It off of their Signals album. He later co-wrote and played guitar on Geddy Lee's one and only solo album - 2000's My Favourite Headache. He would also play strings on Rush's Faithless from the Snakes and Arrows album, and perform Losing It live with Rush on their R40 Live tour. You can listen to the entire podcast interview at this location (thanks RushFanForever).
Greg Prato recently wrote a piece for Classic Rock magazine discussing the story behind Rush's The Spirit of Radio which is available online here.
Classic Rock posted their list of the 50 Greatest Live Albums Ever this past week and 2 Rush albums made the cut; All the World's a Stage at #12, and Exit ... Stage Left broke the top 5 at #5 (thanks RushFanForever):
On Exit... Stage Left, Rush are at their peak, combining prog rock odysseys with More modern classics such as The Spirit Of Radio and Tom Sawyer, and that combination certainly made its mark. "I discovered Rush around 1981 or so, when Moving Pictures came out," says drummer extraordinaire Mike Portnoy. "As much as I love Moving Pictures and Permanent Waves and Hemispheres, to me, Exit...Stage Left was the go-to album, because it had all the best songs from those albums. "It had Jacob's Ladder, Xanadu, YYZ. So to me, Exit...Stage Left was the go-to album to have a crash course in Neil Peart. I remember just learning every one of those songs - inside and out - and pretty much redefining my drumming at that stage of my life. "Neil turned my world upside down - in terms of what you can do with a drum kit. As well as progressive type writing - in terms of longer songs and odd time signatures. That was the album that really shaped my style."
The St. Louis Science Center will be hosting a series of classic rock laser light shows over the next couple of weeks in the McDonnell Planetarium, and one of the albums featured will be Rush's 2112 on July 2nd at 6PM. The series combines laser artwork, music, "immersive lighting" and 3D atmospheric effects, with each show lasting 40 minutes to 1 hour. Visit slsc.org for more information and to buy tickets.


Toronto-based architecture/lifestyle photographer Gus Sarino recently let me know about a mural he stumbled upon while on a job at the Toronto Marriott Markham. As you drive into the building's parking garage, you can see a huge Music Garage Mural featuring colorful renderings of famous musicians, including Geddy Lee and Alex Lifeson of Rush as seen in these photos.
Billboard posted their staff list of the 100 Greatest Car Songs of All Time this past week and Rush's Red Barchetta was included at #88 (thanks RushFanForever):
Make and Model: This six-minute epic, inspired by a 1973 short story in Road & Track and recorded for Rush's 1981 Moving Pictures album, sketches an entire story set in a dystopian, speedphobic future, in which the singer takes a train to his uncle's country house to joyride illegally in "A brilliant red Barchetta/ From a better, vanished time." The Barchetta -- which means "small boat" in Italian, but here refers to a high-performance, open-top car -- may not be economical, but the song's lyrics are.

Fuel Economy: This isn't about going for a ride, it's about driving: adrenaline, "hot metal and oil," and then - suddenly - a car chase.

Overdrive: The song speeds up as the Barchetta does - and both seem perilously close to spinning out of control. Then, in one final twist, the narrator ditches his pursuers, and calls it a day ("Race back to the farm/ To dream with my uncle at the fireside"). -- ROB LEVINE
That's all for this week. Happy belated Canada Day to all my Canadian readers, and Happy 4th of July for my fellow Americans. Have a great weekend!!