UPDATE - 2/12@6:25PM: In celebration of the 40th anniversary of Moving Pictures and to honor the late Neil Peart, Consequence of Sound gathered four renowned drummers via Zoom to discuss the album and Peart's legacy. Taking part in the round-table discussion were Mike Portnoy, Charlie Benante, Matt Halpern and Arejay Hale (thanks RushFanForever).
----- snip -----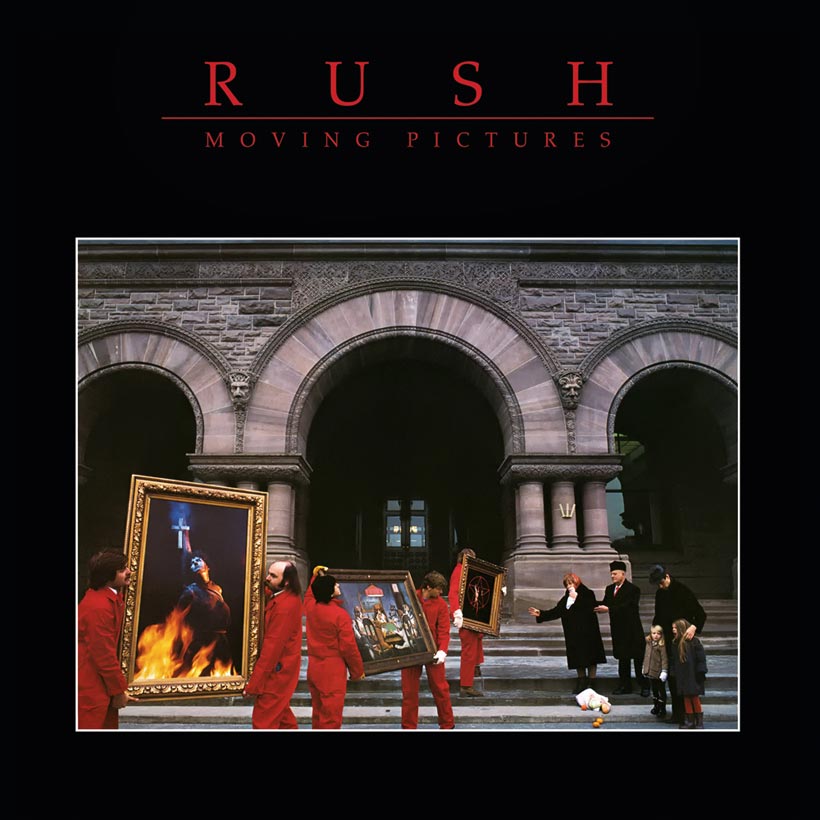 Today is the 40th anniversary of the release of Rush's most commercially successful album, the 1981 classic Moving Pictures. The album was certified quadruple-platinum by the RIAA, and reached number one in Canada and number 3 in the US and United Kingdom. Alex Lifeson spoke a bit about the album in his recent Make Weird Music interview, saying the following (transcript via UGR):
... 'Moving Pictures' was by far the greatest record that we made. And, from our perspective, we had such a great time making that record. We were in a great space, we spent the summer working fairly close to Toronto - to home - writing it. When we went to the studio and started recording, everything about it fell into place and we really, really enjoyed the experience. I thought the material was strong and all that stuff, but the recording process itself was really a lot of fun, and for the most part quite smooth. And that doesn't happen really very often. I could tell you horror stories about [1984's] 'Grace Under Pressure' that was so difficult to make, and [2002's] 'Vapor Trails.' But 'Moving Pictures' was really a delight. When we came to 'Vital Signs' song, and I have to jog my memory, we had songs on the record like 'YYZ' and 'Limelight' and 'Tom Sawyer' that were pretty big, rock, traditional rock songs, maybe a little more concise than our previous writing as we were moving into that kind of writing economy that we sort of moved into from the late '70s. But when we came to that, it was just really different in the way we arranged it and put it together. Starting with the sequencer and having that part, and working out a guitar part above that, around that, and Neil [Peart, drums] was really into that kind of a drum approach, to that ska sort of thing, more reggae-ish. And when I say reggae, I mean modern white reggae. And he was really looking forward to that, and he was messing around with electronic drums at the time too, so it all became a part of this little exploration, and it touched on certain things that were coming to the world from that point forward. So that's really it, I don't really remember too much else about it. ...
Alex did not address any possible plans for a 40th anniversary box set to commemorate the album's milestone. Over the past few years, Rush has released 40th anniversary editions of 2112, A Farewell to Kings, Hemispheres, and Permanent Waves, so it's been expected that they'd give Moving Pictures a similar treatment. However, the band did release a special 30th anniversary edition of the album back in 2011, so perhaps they've decided to skip releasing a 40th anniversary set. Also in celebration of the anniversary, In the Studio with Redbeard will be airing an episode with past interviews with Geddy and Alex where they talk about the making of Moving Pictures. The episode will be posted online next week at this location. On a related note, Best Classic Bands included the album in their look back on the best classic albums of 1981.
In recognition of Canadian pop star The Weeknd's halftime performance at the Super Bowl last Sunday, Elton John devoted the latest episode (airing this past Saturday) of his Apple Music radio show Rocket Hour to the music and musicians of Canada. In addition to Joni Mitchell, Leonard Cohen, k.d. lang and many others, he mentioned Rush and played their hit song Tom Sawyer:
... Right now, we're going to the most legendary Canadian band of all time, Rush. This is a song called Tom Sawyer. It's inspired obviously by Mark Twain's 1876 novel, 'The Adventures of Tom Sawyer.' The legendary drummer and lyricist Neil Peart passed away last year, and it was such a tragedy because I think most musicians considered him to be one of the definitive drummers in the band. Rush sold so many records and continued to do so. I want to play this track to pay tribute to them and to Neil. ...
You can learn more about Elton John's Rocket Hour and listen/subscribe to the podcast at Apple Music.
The Vancouver Symphony Orchestra (VSO) will be hosting a Virtual Gala Concert next week in support of the VSO and the VSO School of Music. Rush's Geddy Lee, Itzhak Perlman, k.d. lang and many others will be taking part in the event. The Show Must Go On: Stories of Resilience will be streamed via TheConcertHall.ca next Thursday, February 18 at 6:30 PM. From CreateAStir.ca:
... Hosted by vocalist and past VSO soloist Steve Maddock, it features songs and inside stories (about everything from missed flights to cancelled concerts), with VSO maestro Otto Tausk, violin virtuoso James Ehnes, Canadian opera star Measha Brueggergosman, broadcasting legend Red Robinson, former-Barenaked Ladies-member-turned-solo-artist Steven Page, brass star Jens Lindemann, singer-trumpet sensation Bria Skonberg, and Canadian pianist Stewart Goodyear taking part, as well as many others.
For ticket information visit theconcerthall.ca. Note that the tickets page includes the following message, so it doesn't look like Geddy or any of the other special guests will be performing:
Please note: Special guests are appearing virtually to share their support for music, resilience in the arts, and the VSO in this benefit event. They will not be performing with the VSO.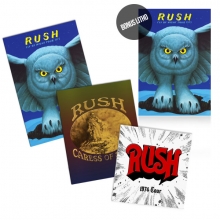 Back in October Rush released the Missing Tourbooks Collection; newly-created tourbooks for the band's first 3 tours which didn't originally have a tourbook created. From the product description:
While leafing through your Rush tourbook collection, have you ever noticed there are three studio album tours with no tourbook? We had to correct this! And correct we have done, with The Missing Tourbooks Collection. We went back in time, collecting photos, artwork, gear lists and much more from the tours for RUSH, Fly By Night, and Caress Of Steel. One benefit we had with this project is the ability to use modern 2020 printing techniques and materials, resulting in three unique tourbooks. The Fly By Night tourbook is HUGE, the RUSH tourbook feels great, and the Caress tourbook, well it just shines. ...
The collection can be purchased as a set of three for $79.99, which includes a bonus lithograph of the Fly By Night tourbook cover. You can also purchase each individually for $29.99 (Rush, Fly By Night, Caress of Steel). Over the last few weeks John over at Cygnus-X1.net made scans/transcriptions available for both the debut album (scans, transcript) and Fly By Night (transcript, scans) tourbooks. This past week he completed the set by posting the scans/transcript for the Caress of Steel tourbook here. Speaking of which, Carter Alan wrote an article for iHeart Radio this past week on Some Of The Best Third Albums In Classic Rock, And Some Not So Great Ones. He included Rush's Caress of Steel in the not so great category:
Rush Saying something bad about Rush is usually akin to inserting one's head into a guillotine and allowing one of the band's millions of rabid fans to let the rope go. But, CARESS OF STEEL came after the focused concepts and clarity of FLY BY NIGHT, with recent arrival Neal Peart handling the drums and the lyrics, and before the grand concept and breakthrough of 2112.By comparison, this third effort feels unfocused and more than a little uncertain.
Classic Rock magazine posted their list of the The 12 greatest prog drummers ever this past week, and to nobody's surprise Neil Peart is the first mentioned:
Recently voted No.1 prog musician of all time by the readers of our sister title Prog, Rush's drummer was a poster boy for progressive rock - a disciplined, metronomic and powerful player. Part of that ultimate power trio from 1975 until his untimely death in 2020, Neil Peart continued pushing himself and boundaries, inspiring generations of drummers.
Sonic Perspectives posted an interview with Mr. Big frontman Eric Martin this past week, and Martin spends about 20 minutes telling stories about Mr. Big's time touring with Rush in the '90s. You can listen to the interview at this location with the Rush piece coming in from the 33-53 minute mark (thanks RushFanForever).
Rock Cellar magazine is running a contest for new and existing subscribers where the winner receives a custom-made Rush vinyl wall clock. To get all the details and enter the contest, visit rockcellarmagazine.com (thanks Eric at Power Windows).
AXS TV's This Week in Music History paid tribute to the 40th anniversary of Moving Pictures with this video featuring excerpts from Geddy Lee's 2017 appearance on Dan Rather's The Big Interview (thanks RushFanForever):
That's all for this week. Have a great weekend!!