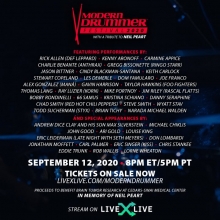 Modern Drummer magazine's 20th annual Modern Drummer Festival took place this past Saturday evening as a virtual, livestreamed, pay-per-view event produced by LiveXLive, and paying tribute to the late Neil Peart, who would have celebrated his 68th birthday on Saturday. The event was a huge success, and included an all-star tribute to Peart, with record attendance and ticket sales. From the press release:
... For its first-ever livestream pay-per-view event, the Modern Drummer Festival 2020 featured never-before-seen footage of Neil Peart, as part of a tribute to the iconic drummer of the rock band Rush who passed away in early 2020. Peart was recognized with Modern Drummer's "Lifetime Achievement Award" and named as the inspiration for the "Neil Peart Spirit of Drumming" award coming in 2021, which provides one drummer the opportunity to win a year of drum lessons from a world-class drumming educator.

Fans also erupted with enthusiasm for Kristina Schiano, a YouTuber Influencer drummer and other next-generation drummers, including Jackson Daw and young drummers from School of Rock worldwide. Other special moments included Ringo Starr's surprise guest appearance and introduction of Gregg Bissonette along with some of Neil's closest friends providing never-before-seen video clips, photos and telling behind-the-scenes stories for the first time publicly.

Red Hot Chili Peppers' Chad Smith, Foo Fighters' Taylor Hawkins, Styx's Todd Sucherman, Rascal Flatts' Jim Riley, Def Leppard's Rick Allen, Anthrax's Charlie Benante, Korn's Ray Luzier and many of rock's greatest drummers were among the 35+ performances at the festival. In addition, special guests included legendary drummers Carl Palmer, Carmine Appice, Cindy Blackman-Santana, Mike Protnoy, Keith Carlock, Danny Seraphine, Kristina Schiano, Gavin Harrison, Les DeMerle, Dom Famularo, Thomas Lang, Wyatt Stav, 66 Samus, Brian Tichy, Jason Bittner, Stewart Copeland, Nirada Michael-Walden, Eric Singer and Steve Smith. ...
In case you missed the event, LiveXLive and Modern Drummer are offering video-on-demand viewing options for $12.99 available at LiveXLive.com until December 11th. Fan donations and a portion of the proceeds will go to benefit brain research at Cedars Sinai Medical Center, Los Angeles.
Also in tribute to Neil on his birthday this past weekend, RUSHfest Scotland sponsored the release of an album of Rush songs dedicated to Neil Peart titled TRIBUTES - SONGS FOR NEIL VOL.1, played by Rush tribute bands and musicians from around the world. The album officially released on Saturday, with all profits being split equally between two charities - Glioblastoma Foundation Neil Peart Research Award in the USA and Cancer Support Scotland (registered charity SC012867). The project has released some video with a sampling of tracks 5-9 on the album, which you can check out here. You can get all the details and order your copy of TRIBUTES - SONGS FOR NEIL VOL.1 via the crowdfunding page at this location.
Music journalist Philip Wilding wrote a beautiful tribute to Neil back in January after his death, and Prog magazine re-posted it for Neil's birthday here. Geddy Lee took to Instagram on Saturday to pay tribute to his friend, and posted a couple of smiling Neil photos from his collection:
I like to look at pictures of Neil smiling, as his smile was magnetic and lit up the room.

Neil Ellwood Peart
September 12, 1952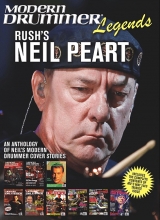 Modern Drummer magazine has released an anthology containing all nine of Neil Peart's Modern Drummer cover features, including the complete contents of the May, 2020 tribute issue. The anthology is titled Modern Drummer Legends Vol. 1 - Neil Peart and is currently available to purchase via the Modern Drummer website and also via Amazon for $19.95 at this location.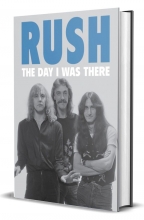 A new book from British author Richard Houghton titled Rush - The Day I Was There is slated for release this coming November 13th. The 378-page book features stories and memories from over 400 Rush fans. From the publisher's description:
... With previously unseen photos and fan memorabilia, Rush - The Day I Was There brings together over 400 previously unpublished eye witness accounts to allow the reader to take a journey back in time and recapture the experience of seeing live the greatest ever power trio in rock. ...
Orders made via the publisher before the November 13th release date will include a limited edition hardback copy signed by the author, with shipping available worldwide. For all the details and to place your order visit this location.
This past Monday's edition of the Howard Stern Show featured a heated debate between Howard, a caller named Joe, and a few members of the staff on whether Led Zeppelin's John Bonham or Rush's Neil Peart was the better drummer. So on the following day's show they brought in Metallica drummer Lars Ulrich to help decide the debate. Although Ulrich has a lot of respect for both drummers, he ultimately decided on Bonham as described at HowardStern.com:
... "I've been asked that question on and off for 40 years, it's very hard," ... "No disrespect to Neil but I'll have to go with John Bonham. "When the Levee Breaks" and you know, songs like "All My Love," that's just sort of the blueprint for that pocket that I continue to want to bring to Metallica ... that's just my inspiration."

Leaning on his expertise, Lars further elaborated on Bonzo's drumming on "Levee," an old blues song first recorded by Kansas Joe McCoy and Memphis Minnie in 1929. "That is sort of classic Bonham - the drums are big, thunderous, ambient," he explained. "It's got that kind of sexiness and that groove ... he's in a pocket. "He had a little more weight, he played really heavy ... it just sounds like fucking thunder."

That's not to say the Metallica co-founder doesn't hold Rush's Peart in the highest regard. "You can't have a drum conversation, you know, at any level without being so fucking appreciative of Neil and anything he's done, not just for the instrument but for the community," he said emphatically before sharing a personal story of the first time they met, over the phone in 1984. "I was 20 years old, not a pot to piss in ... I was so intimidated and so awestruck ... Neil was just like a rock god. We spoke 30, 45 minutes on the phone and we're geeking out on drums ... the whole thing was like a fairytale." ...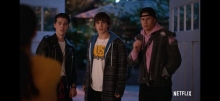 There was a Rush t-shirt sighting in Netflix's new series Julie and the Phantoms, which was released last week. You can check out a screenshot here (thanks Eric at Power Windows).
uDiscoverMusic.com posted their list of the 100 best guitar solos this past week and Rush's Red Barchetta made the cut at #53 (thanks RushFanForever):
Rush may be the only power trio where the lead guitarist often got overshadowed by the other two players. But this track is one of many reasons why Lifeson was an MVP himself: It's his riffs that drive the song along, increasing the sense of freedom and danger at every turn. And when he gets the chance to play some flashy lead at midpoint, he doesn't let you down.
MusicRadar.com posted a list of 11 electronic drumming pioneers and Rush's Neil Peart was included at #3:
Not only was Neil Peart one of the most influential drum heroes of all time, he was an electronic drum enthusiast too, implementing many different brands at various points in his career to help bolster the power trio sound of Rush. Like many drummers, The Professor started using Simmons pads in the '80s. The album Grace Under Pressure featured a Simmons Clap Trap (handclap synthesizer) and SDS-V module as well as four Simmons pads and Shark trigger pedals. Neil's love of electronics reached its peak with his monstrous hybrid Time Machine/Clockwork Angels tour kit. The 360-degree setup was loaded with electronics, from the distinctive DrumKAT Mallet KAT Express (with its piano-like pad layout) to the Dauz 'target' pad (a tribute to The Who) to the custom-built DW shells housing the guts of Roland V-Drum pads triggering sounds from a Roland TD-30.
Ultimate-guitar.com posted their list of the 7 Quintessential Progressive Rock Albums of the '70s this past week, and Rush's 2112 was included:
While England became the birthplace of progressive rock, North America had their own heroes of the genre in Rush. While the band remained primarily in hard-rock territory up until 1975 when Neil Peart joined the band and steered the overall sound to be more progressive. The first couple of attempts in "Fly by Night" and "Caress of Steel" were not the successes the band wanted, but they didn't give up and struck gold with their third prog rock album "2112" that featured a 20-and-a-half minute title track despite the pressure from the label to write shorter, more radio-friendly tracks. It was a breakout album for the band that reassured Rush, that the approach they'd chosen for their music was the right one. To this day, the album remains among the best the band has ever put out.
Former UFO bassist Pete Way passed away last month at the age of 69 after sustaining life-threatening injuries in an accident earlier this summer. Way played with UFO from 1969 to 1982, briefly in 1988-1989 and once again from 1991 to 2008. He was also known as a founding member of Waysted and Fastway, and played with the Michael Schenker Group and Ozzy Osbourne as well. The September issue of Classic Rock magazine (issue 280) includes a feature where other artists pay tribute to Way, including Rush's Geddy Lee (thanks RushFanForever):
By the time of Lights Out in '77, UFO were making waves in America, where they opened for Rush, who were touring A Farewell To Kings. Although Rush didn't fully share UFO's hedonistic streak, the two bands got on famously. "On one occasion when we played Xanadu, Pete and Phil snuck up through the dry ice and nailed a pair of slippers to the stage beside my foot pedals," Geddy Lee says with a smile. "Pete fell off the stage twice during that tour. We were in our dressing room, and his bass just vanished from the mix - 'Uh-oh, Pete's gone over the edge again.' "Pete and I spent a lot of time together on the tour and I enjoyed his company," Lee continues. "He was a very different kind of musician to me - this guy in skin-tight pants with his shag haircut and playing his big Thunderbird bass, with a really heavy bottom end. He described it to me once as 'three-quarters nice, one quarter not very nice'."
Rush was the subject of discussion on several podcasts this past week. The Something for Nothing podcast chatted with Billy Alexander, Tim Starace, and Rocky Kuner of popular Rush cover band YYNOT; the 2 Guys Talking Rush podcast dedicated this week's episode to the legacy of Neil Peart on his birthday as did the Geeks and Beats podcast; and the Sonic Perspective podcast (thanks RushFanForever) chatted with Dream Theater's John Petrucci, who always seems to bring up Rush at some point in his interviews. Also, reader RushFanForever dug up an old, early 2019 appearance by Alex Lifeson on the Talkin' Blues podcast, where he and Bernie LaBarge (The Dexters) chat about a wide range of subjects including Domenic Troiano, guitar playing, and the many side projects Lifson had going on at that time.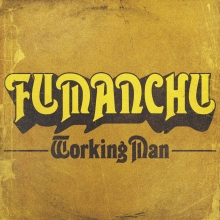 Earlier this week American fuzz rock pioneers Fu Manchu released a cover version of Rush's Working Man as a tribute to the late Neil Peart, with all proceeds going to Brain Tumor Research at Cedars-Sinai Medical Center in his memory. The band explained via social media why they chose to cover Working Man as a tribute to Peart, despite the fact that John Rutsey played on the original recording of the song:
Members of our band and our manager were in the audience on August 1, 2015 when this was the final song played by Neil, Geddy and Alex. We are forever grateful for all of the music and memories.
You can listen to the song below and purchase/stream a copy via this link. Alex Lifeson made a guest appearance on Fu Manchu's 2018 album Clone Of The Universe, contributing some guitar work to the album's 18-minute, side-long centerpiece Il Mostro Atomico as outlined in this post.
That's all for this week. Enjoy the last weekend of summer and have a great Friday everyone!