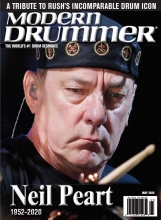 The May, 2020 issue of Modern Drummer magazine is a special edition that pays tribute to the late Neil Peart with an extensive cover feature as outlined at ModernDrummer.com (thanks RushFanForever):
... To honor Neil Peart's musical contributions-and the outsized influence he had on so many people, in so many forms-we begin by examining the music he made with the progressive-rock band Rush, pointing out highlight moments on each and every studio album they recorded with him, from their 1975 sophomore set, Fly by Night, through 2012's Clockwork Angels.

Later we trace the evolution of his famous drumsets via several of Rush's iconic live albums, and then survey the popular books he wrote during his lifetime, a "side career" that Neil took to with the same energy and thoughtfulness that he approached his playing and...well...everything else that interested him throughout in life.

Finally, we hear from the pro drummers: some household names, others less famous, but all profoundly influenced by their exposure to Peart's life's work. All have a unique tale to tell, but also share with their peers an utter respect not only for Neil's artistic accomplishments, but for his humanity, and the role that he reluctantly yet brilliantly played as representative to the world of the power and glory of drumming. ...
The issue also includes many other Neil Peart feature articles that can be previewed via the Modern Drummer website. To learn how you can subscribe and/or obtain a copy of the tribute issue, visit this location.