UPDATE - 2/15@12:30PM: The band played a couple of shows in Southern Cal this past weekend to debut the album and ended their set with Il Mostro Atomico both nights. You can watch live video of the performance from their show Saturday night at The Casbah in San Diego below or at this location:
----- snip -----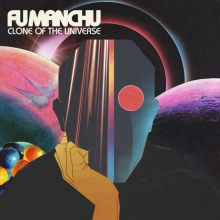 Southern California fuzz rock pioneers Fu Manchu will be releasing their 12th studio album Clone Of The Universe tomorrow via their personal label At The Dojo Records. Rush's Alex Lifeson makes a guest appearance on the album's 18-minute, side-long centerpiece Il Mostro Atomico, which has just been made available for streaming via RollingStone.com. You can listen to it below or at this location. Fu Manchu's Scott Hill recently spoke with Revolver magazine about how the collaboration came to pass:
... Our manager is friends with his manager, and they were talking. Without asking us, our manager was like, "Hey, would Alex want to play on their new record?" His manager asked him and got back to our manager, like, "Oh yeah, he totally will. Send him a song!" When he told us, we were all like, "Holy shit!" We immediately reverted back to the Rush fans we were in seventh grade! [Laughs] So we sent him the four-track, which was a little lower than normal demo quality and he was like, "This is great. What do you want me to do on it?" We were like, "Holy shit, he's asking us?!? Dude, do whatever you want, wherever you want!" So we got in the studio and recorded the song, and then we sent it to him in Canada; he sent us back a bunch of stuff, and it all just sounded insane. He was like, "Use whatever you want," so we picked this one section of stuff that he did; it's in the first part where the band drops out - he's playing a really effected guitar riff along with the bass and drums, and then the bass and drums drop out. He's doing stuff with a bunch of different effects, all these sci-fi sounds and pick slides, and we were just flipping out listening to it. We still can't believe it! [Laughs] ... He could have been doing leads over it, and we would have been like, "Fuck yeah!" But he really added to it; that riff that he played, that wasn't even in the song! I remember leaving the studio that night after we first got it back from him, and we were all like, "Fuck, this is insane!" ...
Hill also spoke about his favorite Rush songs in the interview:
... "Subdivisions" [from 1982's Signals LP]. I would hear that song all the time at parties in the mid-Eighties. And from '80 - '87, all I listened to was hardcore punk rock stuff. That's it! No rock - but that Rush song, I would just listen to it all the time. I mean, I love "Fly By Night," I love "Working Man," I love all their songs with the gnarly riffs. But I really love "Subdivisions," I just love it. ...
RollingStone.com describes Lifeson's contribution to the epic Il Mostro Atomico track below:
... Lifeson's contributions can be heard in the first half of "Il Mostro Atomico." The song (whose Italian title translates to "The Atomic Monster") starts out with one of the band's signature bottom-heavy, fuzzed-out grooves. At the 3:58 mark, Lifeson plays a loose, bluesy riff over a hypnotic pattern from Fu Manchu bassist Brad Davis and drummer Scott Reeder. Around 4:15, the Rush guitarist adds adds some tasteful effects, giving his part a spacey, echo-y sound. As the rhythm section drops out, the riff continues to mutate, leading into a trippy ambient swell around 5:10. The full band kicks in around 5:53, and Fu Manchu's lead guitarist, Bob Balch, takes over with a fluid psychedelic solo. From there, the mostly instrumental song moves on through various sections, touching on boogie-friendly psych (listen for a Lifeson pick scrape at 7:04; a couple minutes later, Hill enters on vocals, howling "Light the throttle"); space rock bathed in synth-like guitars; and a dubby, percussion-accented breakdown. ...
You can listen to Il Mostro Atomico below or at this location. The band will play a couple of shows in Southern Cal this weekend to debut the album before hitting the road for a full tour early next month. For more information visit the Fu Manchu website at fu-manchu.com.
Related Posts:
[Fu Manchu's Scott Reeder explains Alex Lifeson guest appearance on band's upcoming Clone Of The Universe album]
[Alex Lifeson guest appearance on Fu Manchu's upcoming Clone Of The Universe album]