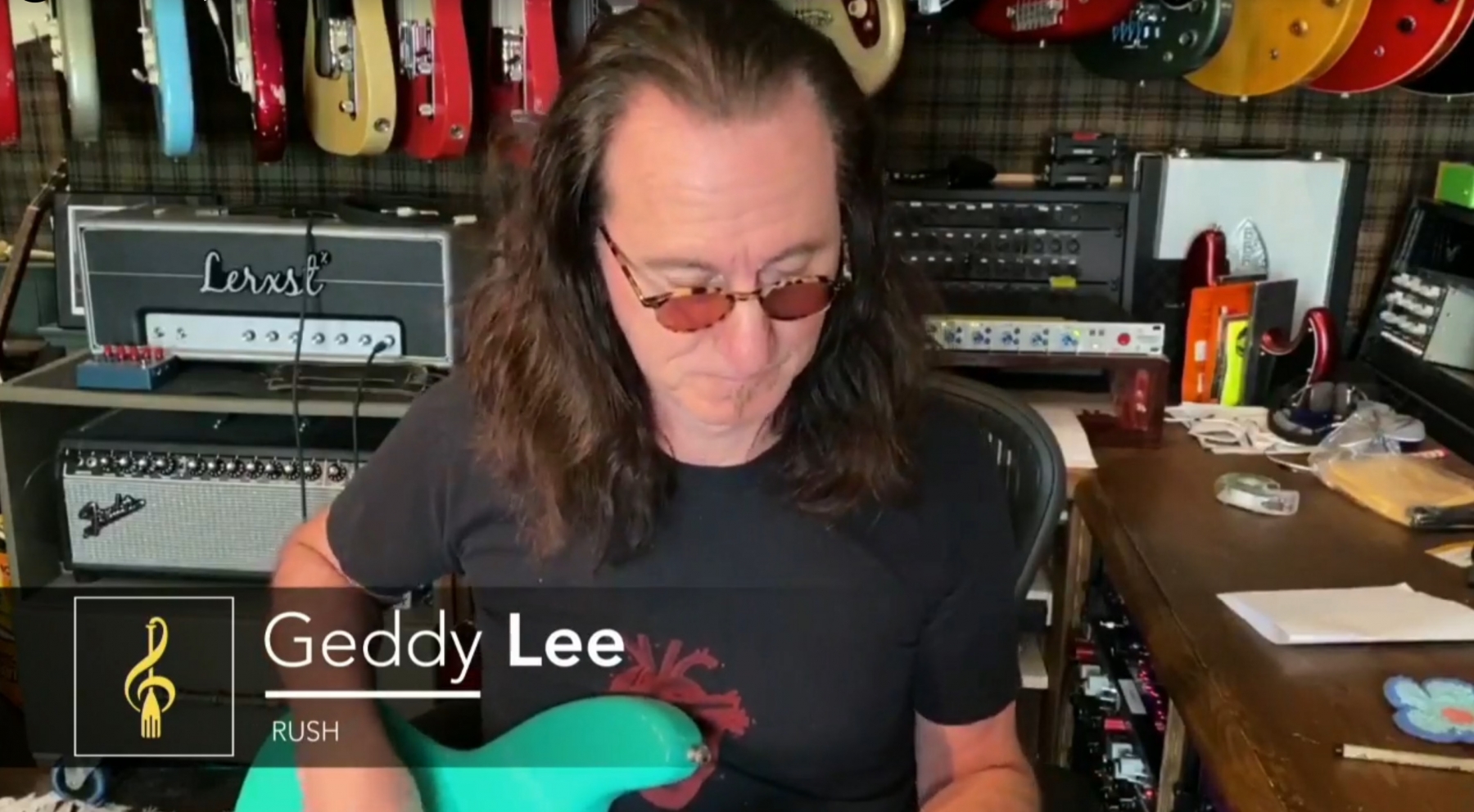 Canada's Great Kitchen Party is a live streaming fundraising event that's been airing every Wednesday night on Facebook Live since the middle of last month. The show is hosted by CBC Music's George Stroumboulopoulos from his home in downtown Toronto with the aim being to encourage Canadians coast-to-coast to order food from local restaurants, and raise money for Goodfoodfund.ca - and also to enjoy performances and food-related greetings from notable Canadians. This past week's show featured an appearance from Rush's Geddy Lee, who showed up at about the 1:18 mark of the 2-hour broadcast. He was sitting in his home studio holding his aquamarine bass, and started things off by playing a little of YYZ before saying the following:
Hi. I'm Geddy Lee. During this unprecedented time - restaurants - which are the lifeblood of our community, are either closed or are struggling to keep their people employed. The trickle down of all of this has shaken our cultural foundation and quite literally affects the livelihood of thousands of people; chefs, sommeliers, wait staff, hostesses, delivery personnel, farmers, fishermen, bakers and so many more. That's why I'm ordering in contact-less pickup at least once a week and definitely every "takeout Wednesday". In the past few weeks I've ordered from [lists off restaurants] and I'll continue to support my local restaurants and food community by ordering in and buying gift certificates. I encourage you to do the same. Wherever you may live, these important food producers and suppliers need our help now to get through this tough time. So please stay safe, stay home, and trust the science. Thank you.
You can watch the broadcast on the Great Kitchen Party Facebook Watch page here (Geddy appears at 1:17:50).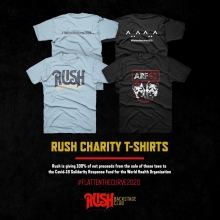 Speaking of Geddy Lee and COVID-19 relief, in his appearance on the Stronger Together, Tous Ensemble TV special a couple of weeks ago, you may have noticed that Geddy was wearing his ARF40 t-shirt, which depicts his 2 dogs Lucy and Stanley as seen here. Geddy also wore this shirt extensively throughout the R40 Tour, and earlier this week the Rush Backstage Club began selling the t-shirts, with 100% of the proceeds going to support the Covid-19 Solidarity Response Fund. From the product listing:
After the R40 tour, we have had a ton of requests for this tee, which Geddy wore quite frequently on stage. Geddy's dogs, Lucy and Stanley, were nervous about the perils of fame, and thus wouldn't allow Geddy to sell the shirt. Until now! Lucy and Stanley had a meeting with Geddy and they all agreed that the world is in rough shape right now, and the sales of this shirt could help those in need during this tough time. Rush is giving 100% of net proceeds from the sale of this tee to the Covid-19 Solidarity Response Fund for the World Health Organization.(covid19responsefund.org). Printed on a 100% cotton, unisex tee with prints on the front and back. Please note that purchases are not tax deductible as a charitable contribution by the purchaser. This shirt will ship in approximately 3 weeks.
You can purchase your ARF40 t-shirt here. They are also selling a Rush Flatten the Curve t-shirt as part of this fundraiser. The shirt depicts the Rush explosion logo on the front with the hashtag #flattenthecurve2020 written on the back. You can also order one of these t-shirts online here.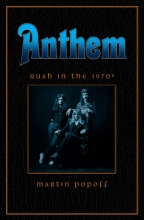 Music writer Martin Popoff has written a new Rush book titled Anthem: Rush in the '70s, which is the first of a 3-part Rush Across the Decades series. The book will officially release this coming Tuesday, May 12th and you can order your copy here. The second book in the series will be titled Limelight: Rush in the '80s and is slated for an October release; it can be pre-ordered at this location. Popoff was recently interviewed for Rock Talk With Mitch Lafon to discuss the book. You can watch that interview on YouTube here or read a transcript of some of the highlights here. Although the book hasn't officially released yet, Popoff has received a supply of the books from the publisher and is selling signed copies via his website. Anthem is the fourth Rush book from Popoff who also authored the 2004 Rush biography Contents Under Pressure, 2013's Rush: The Unauthorized Illustrated History (an updated edition was released back in 2016), and - most recently - Rush: Album by Album in 2017. Anthem: Rush in the '70s can also be ordered via Amazon at this location.
Philosophy Phd. and Rush fan Dr. Liz Swan wrote a piece for Psychology Today last week titled If Rush Could Wave Their Magic Wand where she talks about how Rush and their music can help us deal with the COVID-19 pandemic:
... As you find ways to survive physically and emotionally during these dark times, I encourage you to get outside in nature somewhere, walking or not, and listen to this "magic music that makes your morning mood." We'll get through this. "So we just keep smilin', move onward every day." The recent darkness has tested us: our physical health, our emotional well-being, and our mettle as human beings. The light is coming. "Fantastic dreams come true." Someday our living with this global pandemic will be a distant memory, but "though it's just a memory, some memories last forever." So, amidst the darkness, find some sources of light, and make some good memories. Fill your heart. Neil Peart wrote, "If I could wave my magic wand, I'd make everything all right." You did, Neil, you did.
Central New Jersey craft brewery company Carton Brewing unveiled a new lime-lighted Canadian lager back in March which honored Neil Peart, who passed away from brain cancer in January. The name of the beer is Pronounced Pier-T, playing off the often mispronounced late drummer's last name, and combines Pilsner and Vienna malts with Motueka hops and lime puree for a beer that is playful, crisp and incredibly refreshing. The beer's initial run was a smash hit and raised $7,000 that was donated to Rutgers University in Peart's name for research into glioblastoma, the type of brain cancer Peart had been diagnosed with. The brewery announced last week that they are bringing back the beer for one final run. It's available for purchase online to be picked up at the brewery's East Washington Avenue tasting room or for delivery within New Jersey - each four pack costs appropriately $21.12. To order Pronounced Pier-T and for more information, visit squareup.com/market/carton-brewing. Carton Brewing is also now selling a t-shirt inspired by the art on the Pronounced Pier-T cans for $30 via teespring.com/stores/carton-brewing.
Complex.com posted a story this past week on Showtime's popular Billions drama, and the frequent nods to music contained in the show, including this prominent nod to Rush from back in Season 3. The article is titled Billions & Bangers: Showtime's High Finance Drama is a Stealth Love Letter to Music, and here's what they say about the above-mentioned Rush reference:
... In Season 2, Billions broke ground in series television with the introduction of a non-binary character, Axe analyst Taylor Mason (Asia Kate Dillon), who quickly climbed the corporate ladder despite not fitting into the company's chest-thumping macho culture. Eventually, you see how much Mason has bonded with her domineering alpha male boss when you see that they've found common ground in a hard-rocking but extremely nerdy band. Axelrod sarcastically suggests delaying the cap raise in a contract until the year 2112, "as a celebration of Rush's second-best album." Mason responds, "You mean Moving Pictures is number one, but I think it goes Hemispheres, then A Farewell To Kings, then 2112, then Pictures." This season, Taylor was seen dialing in 2-1-1-2 as the PIN number to open a door, and "2112: Overture" blared while Bryan (Toby Leonard Moore) sweated out in a cycling class at the gym. Billions was in production in January when drummer Neil Peart passed away, so the likelihood of further Rush tributes in Season 5 seems high. ...
That last line was prophetic, as the Season 5 premiere of Billions aired earlier this week and did indeed include a veiled Rush reference as described in this Thrillist recap (minor spoilers):
... first some table-resetting is required. That means opening with a tense, awkward wedding, where Chuck and Wendy must watch Chuck's father marry his former mistress as their own relationship continues to crumble, and a funny, sweaty ayahuasca retreat off the Alaska Canada Highway, where Axe and his right-hand man Wags (David Costabile) rediscover their passion for waging war and chopping off heads. (According to Koppelman, the soul-searching motorcycle road-trip was inspired by Ghost Rider, the memoir by late Rush drummer Neil Peart.) ...
Classic Rock magazine is asking readers to help them determine the greatest rock song of the 21st century and are collecting votes online. Rush's Caravan from the band's 2012 album Clockwork Angels is in the running, so go vote for Rush!
WhatCulture.com posted their list of the 10 Best Drum Solos In Classic Rock this past week and coming in first was Neil Peart's YYZ solo:
Right...like I was gonna make a classic rock drumming list and not include Rush. From their second album onward, this power trio was never the same once the Professor Neil Peart stepped behind the kit. While there is a strong lineup of great drum parts from Peart's recording career, "YYZ" is probably his purest artistic expression ever put to tape. Many uninitiated fans might take a look at this instrumental as a passing track amid other hits, but Rush are about something much more than just noodling. Starting as a jam between Peart and Geddy Lee, the song quickly spread out into a complete extravaganza of musical brilliance. After each stab of guitar chords from Alex Lifeson, Peart fills in the gaps with some of his most tasteful fills as he makes his way around his drum village. All of the little accentuations that Peart puts into his performance are some of the greatest examples of songwriting on the drums. While much of this period for Rush was dominated by more commercial material, the band never forgot how to wow their audience with purely concentrated music. There have been many great drummers who have played with incredible fury in the rock sphere, but this song goes to show you that there's only one Neil Peart.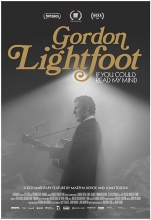 The 2019 documentary on legendary Canadian singer-songwriter Gordon Lightfoot titled Gordon Lightfoot: If You Could Read My Mind made its world premiere at the Hot Docs Film Festival in Toronto last year. Back in March the movie was shown on the CBC's documentary Channel and is currently available for streaming for Canadian viewers on CBC Gem. Rush's Geddy Lee and Alex Lifeson appear in the documentary (Geddy mostly), and here's a transcription of their comments from the film (thanks RushFanForever):
Geddy Lee: He [Gordon Lightfoot] to me is one of the greatest examples of timeless singer-songwriter, you know. A man dedicated to the word and to the tune. He is our poet laureate; he is our iconic singer-songwriter. He sent the message to the world that we're not just a bunch of lumberjacks and hockey players up here. You know, we're capable of sensitivity and poetry and that was a message delivered by the success of Gordon Lightfoot internationally. People were more willing to listen to someone from Canada because someone of such enormous talent had paved the way.

Alex Lifeson: He was at the top of the totem pole and we were proud of it.
The film had been slated to hit US theaters this month, but due to the COVID-19 pandemic, it will instead go straight to video-on-demand streaming channels this summer. The filmmakers released a new trailer for the movie this past week, and Geddy Lee and Alex Lifeson can be seen at about the 25-second mark (although only Geddy speaks).
RushCon will be hosting an event tomorrow evening where they'll be interviewing the members of the popular, Rush-inspired band YYNOT. The Pass the Evening With a Drink and a Band event will take place via Zoom from 9-10PM EST, and you can get all the details here:
RushCon is proud to announce "Pass the Evening With a Drink and a Band." Join us for our virtual interview with YYNOT, this Saturday, May 9th at 9 pm ET/8 pm CT/6 pm PT. Watch on Zoom and Facebook live while we learn about YYNOT's evolution from internet band to 2 albums with all original material and a loyal fan base that spans the world. Billy, Tim, and Rocky will share their plans to stay connected to fans from a distance and plans for their next album.
Five years ago today, on May 8, 2015, Rush kicked off what would prove to be their final tour at the BOK Center in Tulsa, OK. Here are a few highlights from that show:
That's all for this week. In the words of Geddy Lee, "please stay safe, stay home, and trust the science." Have a great weekend everyone!