UPDATE - 5/21@4:11PM: Someone threw this up on YouTube. Get it while it's hot!
----- snip -----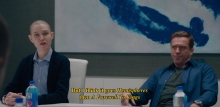 There was a Rush reference on last night's episode of the Showtime drama Billions (Season 3, Episode 9 - Icebreaker). Axe, Taylor and Wags and are having a meeting with Spartan-Ives to secure some capital, and Axe explains that they need $20 billion. The Spartan-Ives rep then asks when they need it and Axe and Taylor respond as follows:
Axe: Oh, the year 2112. We'll do the raise as a celebration of Rush's 2nd best album. That's why we got you in here today.

Taylor: You mean Moving Pictures is number 1. But I think it goes Hemispheres, then A Farewell to Kings, then 2112 then Pictures.

Axe: Well, you would. But the point is: I want the f**king money now.
The reference occurs at around the 9:45 mark of the episode. Thanks to Marc S for the heads up.