UPDATE - 4/30@6:04PM: They uploaded the full, 55-second clip of Geddy's comments to YouTube now (thanks RushFanForever):
----- snip -----
UPDATE - 4/27@8:56PM: Here's a tweet with Geddy's full comments.
UPDATE - 4/27@9:03AM: Here's the full Lean on Me video. Geddy shows up at around the 2:25 mark:
----- snip -----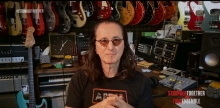 Earlier this evening from 6:30-8PM EST, the CBC in conjunction with Bell Media, Corus Entertainment and Rogers Sports & Media broadcast a 90-minute, multi-platform special to support front-line workers across Canada during the COVID-19 pandemic. Around 50 Canadian celebrities participated in the broadcast including Rush's Geddy Lee. Geddy showed up at around the 48-minute mark to urge Canadians to donate to Food Banks Canada, live from his home studio as seen below or in this tweet:
I'm Geddy Lee and I'm in isolation at home with my family, my grandson, and my pups. Where - like you - we are witnessing the suffering of so many families due to the loss of their livelihoods. Some of these folks are close to us and some of them are strangers. But one thing's for sure that we're all connected by the same situation that we face. I'm coming down here to my studio to remember how comforting music can be at a time like this. I've toured coast to coast across this wonderful country with my band Rush. And I know how resilient and giving Canadians are. So now is the time to throw a lifeline to those who need us. Food Banks Canada is helping those families who are struggling to put food on the table, so if you feel like you want to help this is a worthy organization. There is a lot going on so take care of yourself. We are going to get through this. Thanks.
They also did a virtual Lean on Me sing-along towards the end and Geddy sang one part with his dog in his lap as seen below or in this tweet. The song is available for download/streaming with all proceeds going to support COVID-19 relief. You can listen to it below or on YouTube at this location.
Geddy on CBC Stronger Together #Rushfamily @RushFamTourneys pic.twitter.com/HkEU2tfzDN

- Jonathan Lane (@JonnyFreaknLane) April 26, 2020
Could Geddy Lee and Beiber ever cut a track together? #NeilPeart pic.twitter.com/cVYuc50XMA

- IronGerbil (@rogerwebst) April 26, 2020