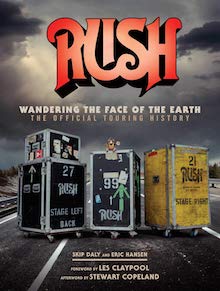 Skip Daly and Eric Hansen's new book Rush: Wandering the Face of the Earth: The Official Touring History officially released back on October 29th, and is now available to purchase via Amazon and at bookstores. This past Saturday night, the book's publisher Insight Editions hosted an official book signing and launch party at Toronto's Another Story Bookstore. The event featured a signing with the book's authors, followed by a Q&A discussion. Insight Editions' James Faccinto sent along the following report, detailing the day's activities and all the special guests who attended:
After landing in YYZ Thursday night, Mark [Irwin, from Insight Editions] was whisked from the airport by Paul Beaulieu (RushFest Scotland and long time friend of the band) to a dinner with none other than Terry Brown! Terry, Paul and Mark spoke long into the night, with some terrific Rush tidbits about Permanent Waves, A Farewell To Kings, and "the guys" in general in the offing.

Saturday, Paul picked up Skip, Eric, and Mark and took them on a trek up to Lee/Lifeson Art Park in Willowdale. After paying homage, they proceeded over to the site of The Coff-In, Rush's first live venue.

Later, in the early afternoon, they had lunch with Ian Grandy, Rush's first roadie and erstwhile contributor to our book. Ian regaled them with some fun stories at King's Taps, one of Toronto's many fine beer drinking establishments. From there, they headed to Barque, a bbq experience, where they sat down for wings and fine conversation with none other than Allan Weinrib, video master-of-all-things for Rush (...and Geddy's brother).

A few doors down from Barque, our event began. Luminaries like Gerry Fielding (one of the drummers who auditioned to replace John Rutsey and someone who DID replace John, albeit briefly, in rehearsals), Gary 'Doc' Cooper (Rush's first driver, as well as longtime friend of Alex and John), Mike 'Mitch' Bossi (2nd guitarist with the band), Patrick McLoughlin (Rush Backstage Club/Showtech Merchandising), Andy Curran (Rush A&R rep, Coney Hatch), Pegi Cecconi (Rush management), Ray Wawrzyniak (Rush fan and keeper of all Rush knowledge), and Bill Rutsey (the man who named Rush, as well as John's older brother) were in attendance.

The Q&A was well attended, with Bill and Andy telling some great stories about the band. Another Story Bookstore was great, hospitably staying open well past the end of the event, as the group slowly made its way out and back over to Barque for a long night of drinks, good times amongst friends, and Rush love. ...
Author Skip Daly posted some great photos to his Facebook page which you can check out here:
As is apparent from the book's title, Rush: Wandering the Face of the Earth chronicles Rush's entire decades-spanning touring history, including setlists, opening acts, new imagery and every noteworthy moment meticulously researched and vetted by the band themselves. The book also includes a foreword by Primus front-man Les Claypool, an afterword by Police drummer Stewart Copeland and an introduction by Rush lighting director Howard Ungerleider. Several preview pages and scans can be seen in this post and also here. John over at Cygnus-X1.net has also posted a preview including Claypool's foreword along with some more photos from the book which you can check out at this location.
Related Posts:
[Rush: Wandering the Face of the Earth: The Official Touring History officially released tomorrow]
[Rush: Wandering the Face of the Earth: The Official Touring History Toronto book signing and launch party]
[New preview pages from Rush: Wandering the Face of the Earth: The Official Touring History]
[Exclusive new preview photos from Rush: Wandering the Face of the Earth: The Official Touring History]
[Preview excerpt and photos from upcoming book Rush: Wandering the Face of the Earth: The Official Touring History]
[New book Rush: Wandering the Face of the Earth: The Official Touring History coming in October]