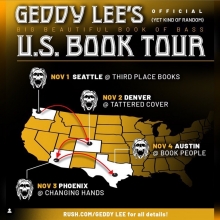 Earlier this week Rush and Geddy Lee announced a few more US book signing events for his Big Beautiful Book of Bass in the lead up to the Holidays. Ged will be at Third Place Books in Seattle on Friday, November 1; Tattered Cover Book Store in Denver on Saturday, November 2; Changing Hands in Phoenix on Sunday, November 3; and BookPeople in Austin on Monday, November 4. For all the details and to purchase tickets, visit rush.com/geddylee. Geddy was the subject of a cover feature in the latest edition of Bass Guitar magazine (issue #175) as detailed in this post, and transcribed here by John at Cygnus-X1.net. The article focuses on Geddy's future plans including whether he'll continue making new music in any capacity, write another book, or even join/produce another band. The interview was actually conducted earlier this year, with the first part having appeared in the the March, 2019 (#166) edition. That first part focused specifically on Geddy's book and has also been transcribed and scanned by John over at Cygnus-X1.net and made available online here.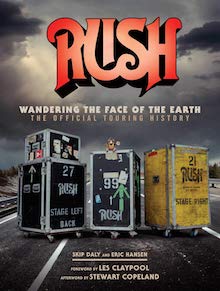 Skip Daly and Eric Hansen's new book Rush: Wandering the Face of the Earth: The Official Touring History officially releases this coming Tuesday, October 29th, and publisher Insight Editions has just announced an official book signing and launch party at Toronto's Another Story Bookstore on Saturday, November 9th. The event will feature a signing with the book's authors, followed by a Q&A discussion moderated by Skip and Eric and special guests, including Andy Curran, Gary 'Doc' Cooper, Bill Rutsey, and more (although no band members are scheduled to appear unfortunately). You can get all the details via the Another Story website or the Facebook event page. As is apparent from the book's title, Rush: Wandering the Face of the Earth chronicles Rush's entire decades-spanning touring history, including setlists, opening acts, new imagery and every noteworthy moment meticulously researched and vetted by the band themselves. The book also includes a foreword by Primus front-man Les Claypool, an afterword by Police drummer Stewart Copeland and an introduction by Rush lighting director Howard Ungerleider. Several preview pages and scans can be seen in this post and also here. John over at Cygnus-X1.net has also posted Claypool's foreword along with some more photos from the book which you can check out at this location. Author Skip Daly also shared some teaser photos and book excerpts to his Facebook page, including this post about early Rush friend/driver Doc Cooper. You can pre-order Rush: Wandering the Face of the Earth on Amazon at this location.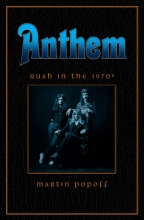 Speaking of Rush books, music writer Martin Popoff will be releasing a new book next year titled Anthem: Rush in the '70s. The book will be the first of a 3-part Rush Across the Decades series. From the product description:
The definitive biography of the rock 'n' roll kings of the North

With extensive, first-hand reflections from Geddy Lee, Alex Lifeson, and Neil Peart, as well as from family, friends, and fellow musicians, Anthem: Rush in the '70s is a detailed portrait of Canada's greatest rock ambassadors. The first of three volumes, Anthem puts the band's catalog, from their self-titled debut to 1978's Hemispheres (the next volume resumes with the release of Permanent Waves) into both Canadian and general pop culture context, and presents the trio of quintessentially dependable, courteous Canucks as generators of incendiary, groundbreaking rock 'n' roll.

Fighting complacency, provoking thought, and often enraging critics, Rush has been at war with the music industry since 1974, when they were first dismissed as the Led Zeppelin of the north. Anthem, like each volume in this series, celebrates the perseverance of Geddy, Alex, and Neil: three men who maintained their values while operating from a Canadian base, throughout lean years, personal tragedies, and the band's eventual worldwide success.
This will be the fourth Rush book from Popoff who also authored the 2004 Rush biography Contents Under Pressure, 2013's Rush: The Unauthorized Illustrated History (an updated edition was released back in 2016), and - most recently - Rush: Album by Album in 2017. Anthem: Rush in the '70s is currently slated for release in May, 2020 and can be pre-ordered at this location.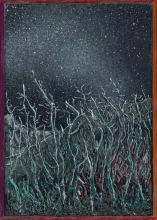 The Kidney Foundation of Canada's annual A Brush of Hope charity auction fundraiser kicked off earlier this week and Alex Lifeson is once again one of the many Canadian celebrities participating by donating their original paintings. Alex's contribution this year is a 10"x14"x1.5" acrylic painting titled Minus 20, which is now available for bidding on the eBay.ca website at this location where the current bid is at $7,400 CAD. Alex has participated in the auction nearly every year since 2006, including last year with his painting Self Portrait #2 which ended up selling for over $12K CAD! The Brush of Hope online charity auction will run through Wednesday, October 30th at Noon. For all the latest news and information be sure to follow A Brush of Hope on Facebook.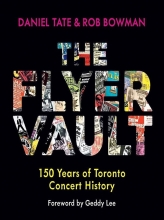 Daniel Tate is the curator of the popular Flyer Vault Instagram page, where he has shared thousands of Toronto-area music flyers that he has collected over the years. He'll be releasing a book version of his Instagram page with co-author Rob Bowman next month titled The Flyer Vault: 150 Years of Toronto Concert History. The book includes a foreword by Rush's Geddy Lee, which is available to preview on Google Books here (thanks RushFanForever). The authors have been hitting the interview circuit to promote the book, having spoken to Cashbox Canada, CIUT 89.5 FM's The Bill King Show, and The Toronto Star over the last few weeks (thanks RushFanForever). The Flyer Vault releases in the US on November 19th and can be pre-ordered at this location.
The third annual Rush Camp event/fundraiser took place over Labor Day weekend this past summer at Independent Lake Camp in North East Pennsylvania. Freelance writer Matt Crossman was in attendance at the event and wrote a lengthy article for Experience magazine profiling the festivities, its charitable activities and several of the attendees. You can check out the article online at this location. To learn more about Rush Camp visit the Overtime Angels website and check them out on Facebook.
Reader Justin H let me know of a Rush Vapor Trails reference/discussion in a recent episode of the Twenty Thousand Hertz podcast titled Loudness Wars. The discussion starts around the 10-minute mark, where they begin discussing Vapor Trails, including samples of the original version and the remastered version.
As the decade comes to a close over the next few months and we transition from the teens to the twenties, Classic Rock magazine is running a poll to determine the best rock album of the last decade (thanks RushFanForever). Rush's 2012 Clockwork Angels album is in the running, so go vote for Rush! The results will be announced at the end of the year.
American Public Media's Live from Here with Chris Thile is a weekly variety show airing on Saturday nights that features a unique blend of musical performances, comedy and audience interaction. Acclaimed musician and songwriter Chris Thile welcomes a wide range of well-known and up-and-coming talent to share the stage and create a beautiful listening experience. According to one of the show's ongoing traditions, if you're on the show during your birthday week, you get to choose a song to play in their Musician Birthdays segment. This past week it was the show's music director Mike Elizondo's birthday, and he chose to play Rush's YYZ for his October 22nd birthday as seen in this video (thanks to Aaron L and Adam J):
That's all for this week. Have a great weekend!