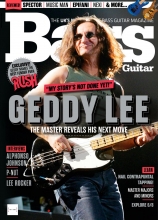 Geddy Lee is the subject of a cover feature in the latest edition of Bass Guitar magazine (issue #175). The cover tagline reads Geddy Lee: The Master Reveals His Next Move - "my story's not done yet", and the issue hit newsstands earlier this week. The interview focuses on Geddy's future plans including whether he'll continue making new music in any capacity, write another book, or even join/produce another band.
... time will tell. Now that the book is done I will certainly try to put the basses to good use. They stare at me and it makes me feel very guilty. They're all looking at me, like 'Use me!' ... I haven't been talking to people about production in a long time ... I don't have the patience to sit there and do that for somebody else, because it's so hard - it's such a tough job. You have to really love being in a studio. You have to really wanna be a studio rat. Alex has a much better temperament for that than me. ... I was just talking to Alex this morning. We try to get together regularly. I was just in LA three weeks ago, visiting Neil. You know, when the band ended, everybody had a different sort of response to that last show, so it took a little bit of time for everyone to sort it out in their own brains, how we were gonna move forward. At the end we just decided that the most important thing is that friends are friends. That's what comes first, so that's the way it's remained ... It's funny, when I went to do this bass book, everybody wanted me to do one of those. They said 'We'll let you do this silly book, but how about an autobiography?' I don't think my story's done yet. It feels a bit premature. Maybe I'm kidding myself, but I don't quite feel like I'm ready to do that yet. I have other ideas for books, but they're not autobiographical. ... A few kind musicians have contacted me and asked me to do stuff with them and go on tour, but that's hard for me to do unless I really feel like I'm connected to it. I still have a hangover from Rush ... it might take me a little while to get past that!
John at Cygnus-X1.net has the entire article transcribed and available online here.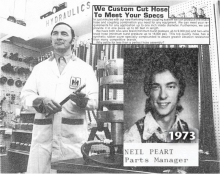 Mike Lessiter of Farm Equipment magazine was recently able to connect with Neil Peart's father Glen Peart for a rare interview to ask a few questions about his son Neil and the International Harvester dealership he co-owned and operated (Dalziel Equipment Ltd.) in St. Catharines, ON. The elder Peart shares the story about how Neil became a parts manager at the store, went to London to pursue his musical dream, but then ultimately came back home and worked in the store ... until the day the white corvette showed up:
... Neil had joined a small local band playing only on weekends. Somehow, his reputation had gotten around. The "White Corvette" visit to our farm equipment dealership has been documented several times. After lunch when the two men left, I could tell that Neil was really tormented. He was certainly not himself. When we locked the door, he came and sat in my office and unloaded. The two visitors were the managers of Rush, a band from Toronto that were about to hit the big time. They had signed a contract and their first tour was arranged but their drummer had just dropped a bomb on all their plans - for health reasons, he had been told not to travel. The managers wanted Neil to audition ASAP and, if successful, to join the other two guys and start to practice - immediately! Neil was consumed with guilt because we were just coming into our busy season and he felt he was letting me down. I finally said, "Neil, this could be the chance of your life. We have to talk this over your mother when we get home, but I feel you have to do this. It could be a dream come true and if it doesn't work out, there will still be a Parts Department that can use you!" Obviously, Mom agreed with my thoughts and the rest is history!"...
You can read the entire article at this location, along with a companion piece that discusses in more detail how Neil became a part of Rush here.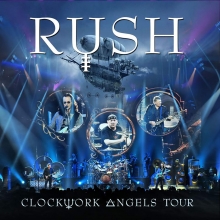 This past Friday Rush officially released a 5-LP vinyl box set edition of their 2013 Clockwork Angels Tour live album. From the product description:
This live 5LP set is pressed on 180-gram vinyl, and includes an etching on the flipside. The set comes packaged in a two-piece telescopic box with a full-color booklet, and a code to download a high-definition digital version of the album. The band recorded concerts in 2012 in Phoenix, Dallas and San Antonio for a live album, and this set includes all 31 tracks from those recordings. This vinyl set also features the bonus tracks from the original CD release, including a version of the classic "Limelight" that the band recorded during soundcheck.
You can order Clockwork Angels Tour vinyl set on Amazon here. Earlier this year the band released vinyl box set versions of both Rush in Rio and Time Machine 2011: Live in Cleveland.
Geddy Lee auctioned off six vintage bass guitars from his collection at a Mecum Auction in Las Vegas this past weekend. Over the course of the last several years he has amassed a huge collection of vintage guitars while compiling his Big Beautiful Book of Bass, and decided to unload a few of them, saying that, "he feels that the time has come to reunite a select few of his finest string instruments with talented musicians around the world who can help these works of art fulfill their original and intended purpose of making art". The Mecum Auction Facebook page posted a gallery of photos from the event earlier this week, including a few of Geddy's guitars such as this one. Thanks to Thomas P for the heads up.
Maroon 5 guitarist James Valentine was recently interviewed by the Sun-Sentinel in the lead up to the band's upcoming performance at the new Hard Rock Live in Hollywood next week. Valentine is a big Rush fan, and when asked about the craziest ticket he'd ever bought since becoming famous, he had the following to say:
Interesting. One thing that I did do - I was able to take my brother to go see the band Rush. My older brother introduced me to Rush when I was very young, so that's always been one of my favorites. We were able to go see them, and also sneak into the meet-and-greet, to get our picture snapped with Geddy Lee and Alex Lifeson, which was a big deal. I probably wouldn't do that for a lot of artists. [Laughs] They are on a very short list of artists that I would stand in line to get a photo snapped with, but it was really cool. ...
Interviewer Marc Allen and producer Alan Berry recently started a new podcast called The Tapes Archive where they present never-before-heard interviews with notable musicians, actors, comedians and other iconic people that took place during the 1980s and 90s. Episode 7 of the podcast featured a 1990 interview with Neil Peart which you can listen to below or at this location (transcript here).
That's all for this week. Have a great weekend!!