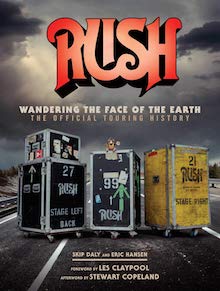 Skip Daly and Eric Hansen's new book Rush: Wandering the Face of the Earth: The Official Touring History is slated for release later this month on October 29th. As is apparent from the title, the book chronicles Rush's entire decades-spanning touring history, including setlists, opening acts, new imagery and every noteworthy moment meticulously researched and vetted by the band themselves. The book also includes a foreword by Primus front-man Les Claypool, an afterword by Police drummer Stewart Copeland and an introduction by Rush lighting director Howard Ungerleider. Earlier this week, the publisher made a few more preview pages from the book available, including the opening of the All the World's a Stage Tour chapter, some pages from the A Farewell to Kings Tour section, and the book's title page: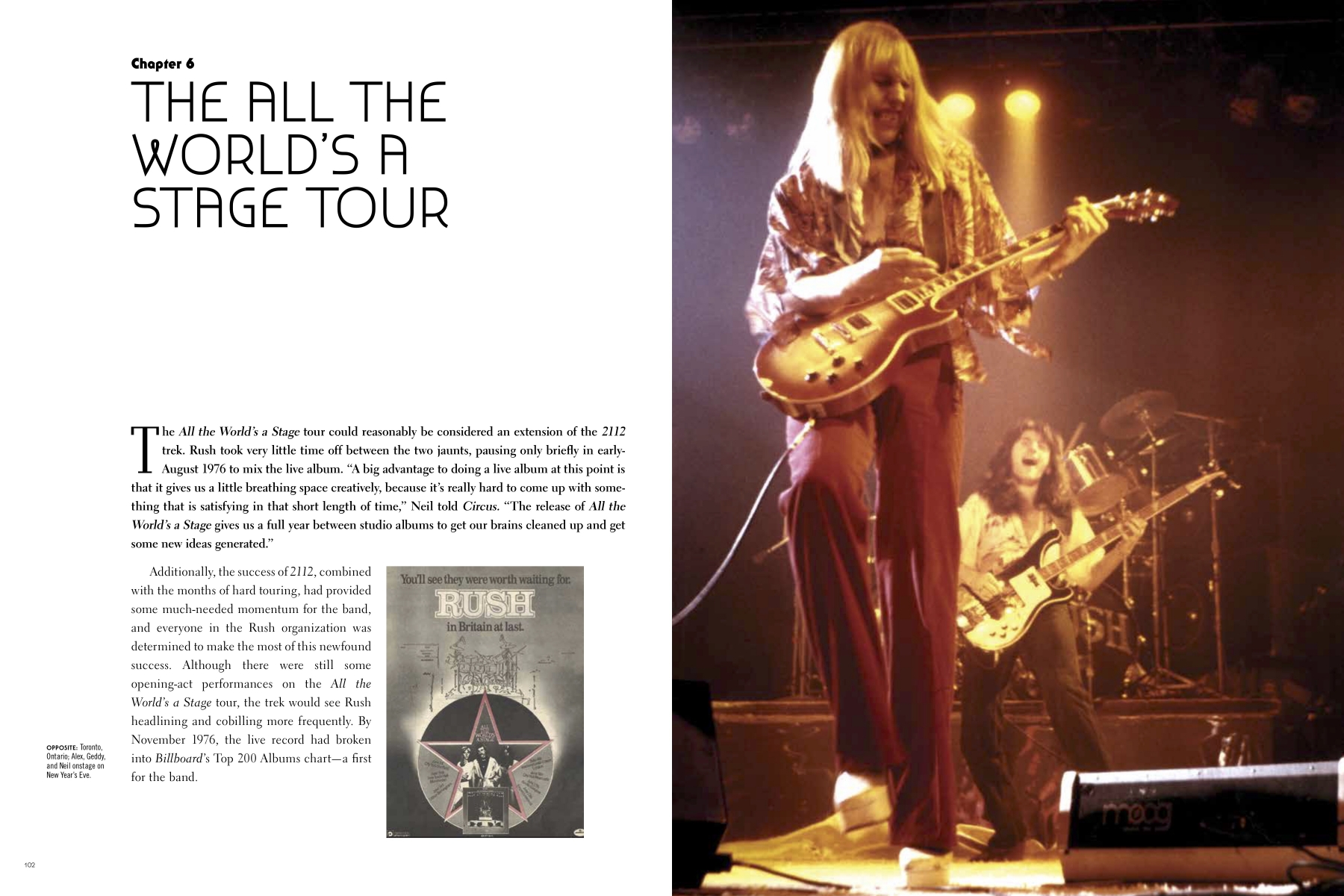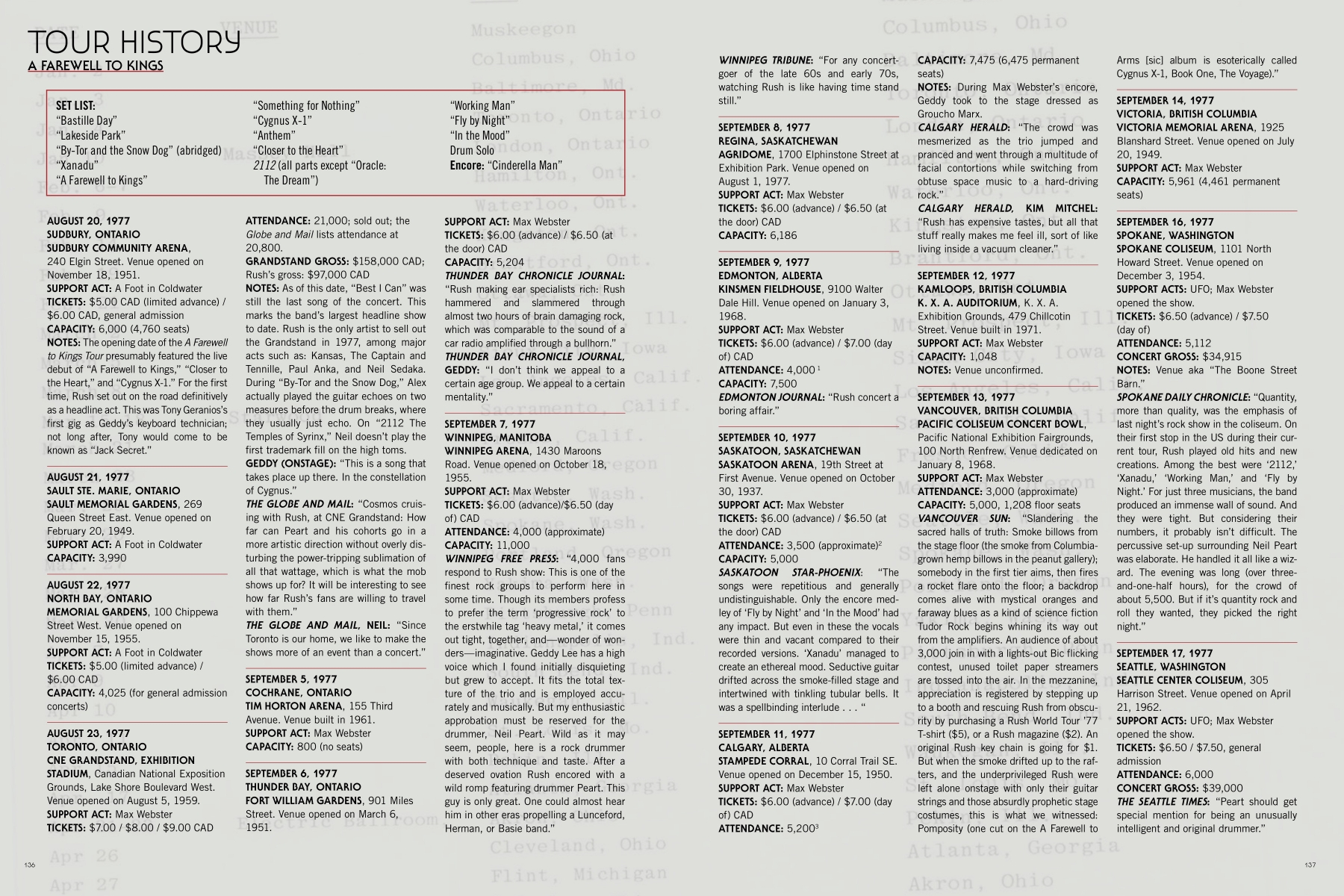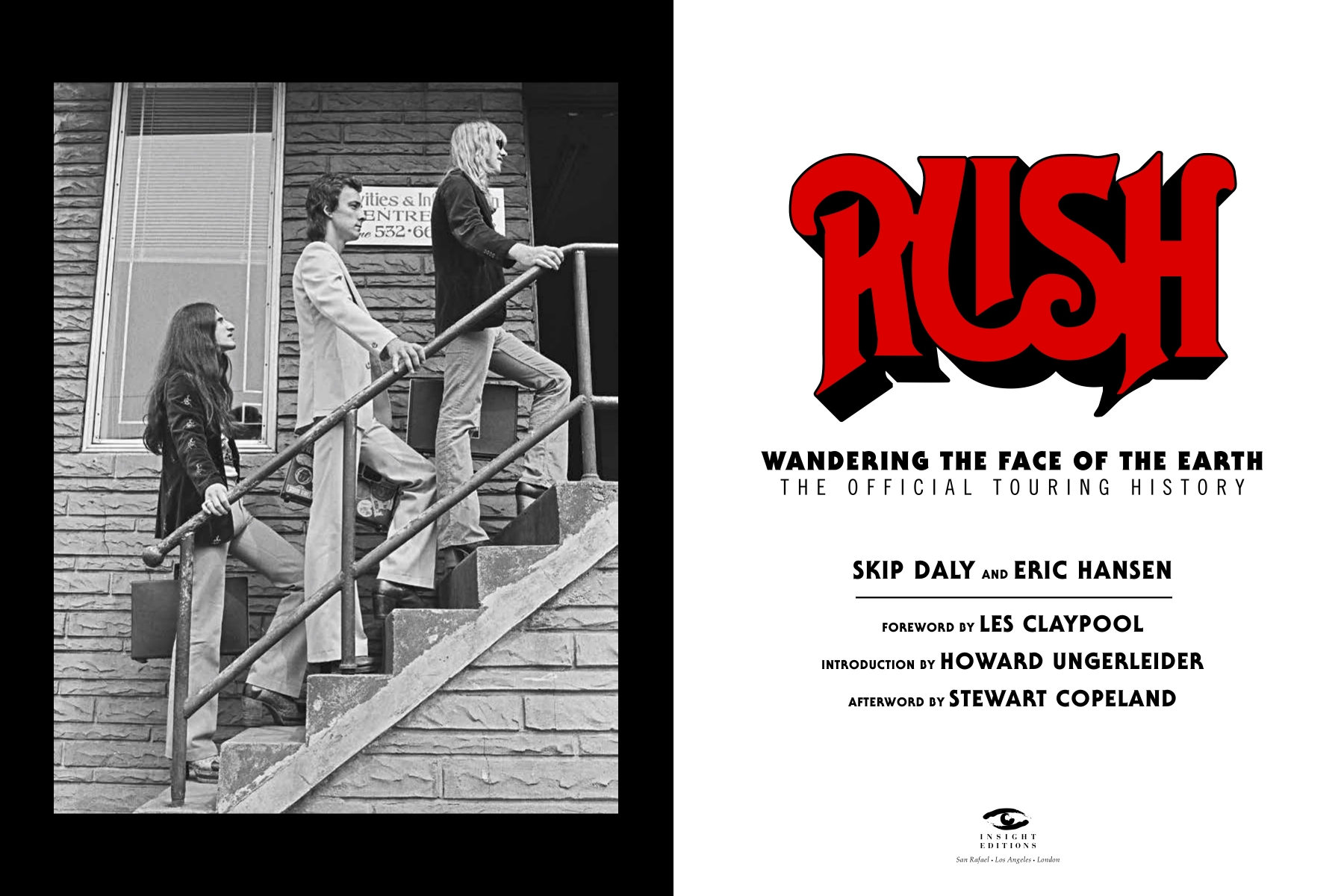 Back in August, we posted a few other preview images and pages here, and - prior to that - John over at Cygnus-X1.net posted Claypool's foreword along with some more photos from the book which you can check out at this location. Author Skip Daly also shared some teaser photos and book excerpts to his Facebook page, including this post about early Rush friend/driver Doc Cooper. You can pre-order Rush: Wandering the Face of the Earth on Amazon at this location.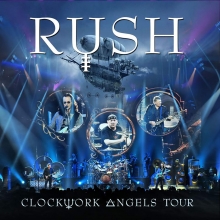 Rush will be releasing a 5-LP vinyl box set edition of their 2013 Clockwork Angels Tour live album next Friday, October 11th. From the product description:
This live 5LP set is pressed on 180-gram vinyl, and includes an etching on the flipside. The set comes packaged in a two-piece telescopic box with a full-color booklet, and a code to download a high-definition digital version of the album. The band recorded concerts in 2012 in Phoenix, Dallas and San Antonio for a live album, and this set includes all 31 tracks from those recordings. This vinyl set also features the bonus tracks from the original CD release, including a version of the classic "Limelight" that the band recorded during soundcheck.
Earlier this year the band released vinyl box set versions of both Rush in Rio and Time Machine 2011: Live in Cleveland, and are also planning to release a Geddy Lee My Favorite Headache vinyl box set later this year.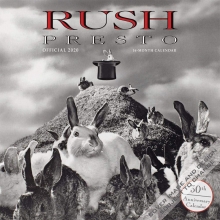 BrownTrout Publishers and Rush released their official 2020 Rush wall calendar earlier this month, and they are now shipping from Amazon. The calendar celebrates the 30th anniversary of the November, 1989 release of Rush's Presto album and can be purchased at this location. John over at Cygnus-X1.net has scanned the entire calendar and made the images available for viewing online at this location.
AXS TV's long-running docu-series Rock Legends aired an all-new episode on Progressive Rock last night and Rush was prominently featured as seen in the episode's trailer here.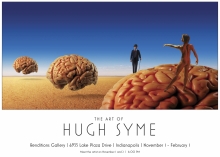 Renditions Fine Art, Framing, & Photography in Indianapolis will be hosting longtime Rush album artist Hugh Syme and his artwork for an art exhibit next month titled The Artwork of Hugh Syme. The event will take place from 6-10PM on Friday, November 1st. From the Facebook event page:
We are so excited to announce The Artwork of Hugh Syme coming to Renditions Fine Art, Framing, & Photography. Hugh was the art director for the Canadian rock band Rush from 1975-2018 and has done album covers for countless other bands and performers. Stop by from 6:00 to 10:00 on Friday, November 1st to meet Hugh, see some limited edition, signed album art and all the other work he's been doing! Framed, signed & numbered prints will be available for sale. #hughsyme

The Kidney Foundation of Canada's annual A Brush of Hope charity auction fundraiser will take place later this month and Alex Lifeson is once again one of the many Canadian celebrities participating by donating their original paintings. Although Alex's painting has yet to be revealed, reader RushFanForever contacted the organizers via Facebook and they confirmed that they have the painting and will be posting an image of it in the near future. Alex has participated in the auction nearly every year since 2006, including last year with his painting Self Portrait #2 which ended up selling for over $12K CAD! The Brush of Hope online charity auction will run from October 20th through October 30th at Noon. For all the latest news and information be sure to follow A Brush of Hope on Facebook.
24/7 Tempo recently conducted an analysis of rock bands where they used a variety of metrics to determine the 100 most popular bands of all time. Their selections were based on measurements such as Wikipedia page views, Facebook likes, popularity on the online streaming platform Spotify, Ranker user votes and more. Rush ended up making their list at #84. For all the details on how the rankings were compiled and to check out the complete list, go to this location.
TV Overmind posted an article this past week where they perform a thought experiment involving casting a movie biopic on Rush. To see which actors they thought could best portray the holy triumvirate, go to this location.
Ultimate-Guitar.com posted their list of the Top 9 Bassists Who Shocked Everyone With Technical Skills When They Appeared this past week, and Rush's Geddy Lee made the cut:
When he got together with Alex Lifeson in Rush, Geddy Lee couldn't have imagined that he would eventually become one of the most influential bass players of all time. Starting his career in the late 1960s, Lee's musicianship and technical skills inspired countless bassists of all the different genres. His skills are even more impressive when you consider the fact that he sings while playing all the intricate bass lines. Either way, it was mind blowing to hear him do instrumental stuff as well, and his work on a piece like "YYZ" is still a go-to for all the lovers of progressive rock music.
Ernest Skinner recently sat down with Great White guitarist Mark Kendall for a new interview for wawa-news.com and asked him who his favorite Canadian guitarist was and why:
I loved Alex Lifeson's approached to the guitar. He knew the best way to compliment the bands music. I don't know that anyone else could have done it better than Rush. Unique guitar sound that spoke well but left air for the bass and drums! Alex has great playing skills..
This coming Wednesday, October 9th will mark the 45th anniversary of Rush's 1974 appearance on Don Kirshner's Rock Concert. The band performed Best I Can, In the Mood and Finding My Way as captured in this video:
On this day back in 2012, Rush was selected as a nominee for induction into the Rock and Roll Hall of Fame's 2013 class. As we all know, they were ultimately chosen for induction a couple of months later on December 11th, and inducted the following year on April 18, 2013. That's all for this week. Have a great weekend!