UPDATE - 5/31@2:03PM: Here's the audio of Geddy Lee's interview with Allan Neal from this past Wednesday's signing event at the Ottawa International Writers Festival (thanks Ralph Y) as posted to the CBC's Ottawa All in a Day radio show website:
----- snip -----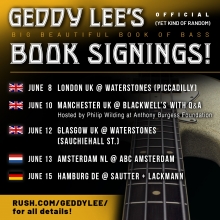 Earlier this week Rush and Geddy Lee announced several European book signing events for Geddy's Big Beautiful Book of Bass. Geddy will be signing copies of his new book in London, Manchester and Glasgow in the UK, along with an event in Amsterdam and another in Hamburg from June 8-15, including a Q&A session hosted by Philip Wilding at the Manchester event. You can get all the details and purchase tickets for the various events here:
Saturday, June 8th: London, UK at Waterstones Piccadilly, 4PM - tickets

Monday, June 10: Manchester, UK at Blackwell's at International Anthony Burgess Foundation (Q&A hosted by Philip Wilding), 7PM - tickets

Wednesday, June 12: Glasgow, UK at Waterstones Glasgow Sauchiehall Street, 5:30PM - tickets

Thursday June 13: Amsterdam, NL at ABC Amsterdam, 6PM - tickets

Saturday June 15: Hamburg, DE at Sautter and Lackmann, 4PM - tickets
Prog magazine briefly spoke with Geddy about the European book signing tour in this article:
I was a little bit unsure of the best way to go out there and promote this book and we had a lot of different ideas - taking the basses on tour and doing a big show, but it just didn't feel right to me. Yet, at the same time, I wanted to get out there and support independent bookstores and music stores and see if I could get out there and meet some fans. One thing lead to another and the experience, I think, for the fans and for myself, was so sweet and so gratifying, that I decided to just keep doing them every once in a while. ... We just go out there and get to meet some fans and it's really nice. They come out and get a couple of minutes with me, and we chit-chat. It's a really nice vibe for me.
Geddy is currently on a Canadian signing tour which kicked off last week in Victoria, and worked its way east across Canada over the past week making stops in Vancouver, Calgary, Edmonton, Winnipeg, Toronto, and Ottawa. Tomorrow he'll head to Richmond Hill and then wrap things up in Oakville and Montreal next week. This past Saturday Geddy was in Calgary for a signing event and Q&A to open his Big Beautiful Bass Exhibition at Studio Bell. You can watch a video of Geddy showing off the exhibit below or at this location. Geddy also spoke to Rob Brown on CBC Radio's The Homestretch for an interview previewing the Calgary event. For complete coverage of Geddy's Canadian signing tour, including interviews, check out this post.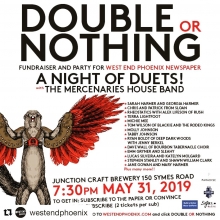 Dave Bidini's West End Phoenix monthly community newspaper for Toronto's West End launched back in October, 2017 and Alex Lifeson contributes a "storytelling comic" titled The Meaning of Lifeson to the publication, which is illustrated by artist Casey McGlynn. The newspaper will be holding a Double or Nothing concert fundraiser this evening at Junction Craft Brewery in Toronto, and Alex Lifeson will be one of the participants, joining Chris Walla from Death Cab for Cutie and the Rheostatics. For a complete list of performers and all the pertinent details, visit westendphoenix.com. Lifeson also performed at last year's fundraiser concert for the newspaper as described in this post.
A collection of rare and unreleased recordings of Rory Gallagher playing strictly blues material titled Rory Gallagher Blues releases today. It contains previously unheard and unreleased tracks from Rory's archive, special guest sessions with legendary blues artists (Muddy Waters, Albert King), lost radio sessions and more. It's currently available for purchase as a deluxe 36-track 3CD version, 2LP version and standard CD version. In recognition of the release, Rush posted a short, 15-second video of Alex Lifeson talking about Gallagher which you can watch below or on Twitter. Rush toured with Gallagher both as an opener and headliner in the '70s and '80s.
Alex Lifeson pays tribute to one of the greatest guitar players to ever live, Rory Gallagher. #RushOnRoryhttps://t.co/TpyG9Urb1e pic.twitter.com/FPQTckBfja

- Rush (@rushtheband) May 31, 2019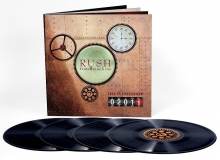 Fresh off their January release of Rush in Rio on vinyl, Rush is also set to release a 4-LP vinyl edition of their 2011 live release Time Machine 2011: Live in Cleveland in its entirety next Friday, June 7th. The set is now available for pre-order via Amazon and the Rush Backstage Club.
The Vibe Machine Media Undercovers podcast recently spoke with longtime Rush graphic artist Hugh Syme to talk about his 40+ years with Rush as well as his work with Dream Theater, Megadeth and many others. You can listen to the hour and 20 minute long podcast interview at this location.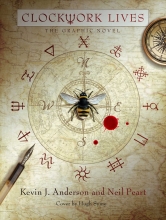 Back in October we learned that author Kevin J. Anderson and Neil Peart had optioned the television and film rights for their 2015 novel Clockwork Lives to writer/producers Benjamin Raab and Deric A. Hughes. Anderson posted an update to his social media earlier this week saying that he had received the option/shopping agreement check, which I assume just means that they are now actively shopping the show to different networks. Fingers crossed... Kevin J. Anderson and Neil Peart's Clockwork Lives was released back in 2015 and is the follow-up to their 2012 Clockwork Angels novel. The graphic novel version of Clockwork Lives was released last summer.
Diamond Head guitarist Brian Tatler was recently interviewed for Classic Rock to talk about the 10 records that changed his life, one of which was Rush's Moving Pictures (thanks RushFanForever):
With Moving Pictures, I think Rush reached the culmination of a work in progress from the previous six albums. It was all building up to this masterpiece. I find it a little bit English in places - Witchhunt evokes the middle ages and mob rule - and the references to an 'English rain' on Camera brings you into heart of London. All this despite YYZ being the call tone for Toronto airport. The lyrics were still highbrow, but talked to me without making me feel dumb because I hadn't studied Tolkien or 18th century poetry. In Diamond Head we strived to emulate Geddy Lee's bass sound. That was always our benchmark. It's a brilliant album. I love Xanadu and Hemispheres, but this felt more concise and clean. It was just seven perfect songs, so I still love it now. The minute you hear Tom Sawyer it's instantly Rush, whether it's on a little system or a PA.
Reader Daniel H let me know that this past Sunday's LA Times crossword puzzle had a Neil Peart clue in it. The clue for 74 across was, Rush's Neil known for his 360-degree drum set. The answer - of course - is PEART.
Lost in Vegas is a popular YouTube channel (over 800K subscribers) where the 2 hosts George and Ryan play a song that they are unfamiliar with, and react to it in real time, occasionally pausing to expand on their thoughts. While originally covering hip-hop and R&B songs, over the past couple of years they've expanded into rock and metal, and even some progressive rock. In late 2017 they checked out Rush's YYZ for the first time and absolutely LOVED it. The video garnered a lot of attention, so the guys decided to do some more Rush songs over the past year or so, including Working Man, The Spirit of Radio, and even 2112. They offer insightful commentary and analysis (and have a lot of fun doing it), and always have great things to say about Rush. Their latest target was Rush's La Villa Strangiato, which they posted a video of earlier this week as seen here.
CBC Music posted an article this past week where they profile 11 Canadian songs that reimagine literature including Rush's Tom Sawyer:
Tom Sawyer is the cheeky and fun-loving protagonist of Mark Twain's The Adventures of Tom Sawyer. Set in the 1840s along the Mississippi River, the novel follows orphan Tom throughout his antics - some harmless and others quite serious. Rush's reimagining of the figure begins with "a modern-day warrior," which at first seems far from the original depiction of the 12-year-old boy. Released in 1981 on Rush's album Moving Pictures, "Tom Sawyer" quickly became one of the Toronto rock band's staple songs. It was co-written by frontman Geddy Lee, drummer Neil Peart and guitarist Alex Lifeson in collaboration with lyricist Pye Dubois. During rehearsal one summer, Peart received a poem from Dubois entitled Louis the Lawyer, which became the basis for the song. According to the Canadian Songwriters Hall of Fame, the lyrics were "a portrait of a modern-day rebel, a free-spirited individualist striding through the world wide-eyed and purposeful." Whether a lawyer or a 12-year-old boy, Tom Sawyer proved to be an everlasting, defiant figure.
Geddy Lee previews his Big Beautiful Bass Exhibition at Studio Bell in Calgary this past weekend in this video from the Calgary Herald.
That's all for this week. Have a great weekend!