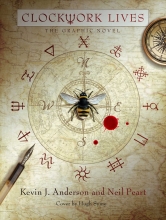 Kevin J. Anderson announced earlier this afternoon that the television and film rights have been optioned for his 2015 novel Clockwork Lives that he co-wrote with Neil Peart. From the official announcement:
Kevin J. Anderson and Neil Peart have optioned their steampunk fantasy adventure CLOCKWORK LIVES to writer/producers Benjamin Raab & Deric A. Hughes (Arrow, The Flash, Warehouse 13). CLOCKWORK LIVES is set in the universe of the concept album CLOCKWORK ANGELS by legendary rock band Rush and Anderson's New York Times bestselling novel of the same title. Anderson and Rush drummer and lyricist Peart wrote CLOCKWORK LIVES as a companion to ANGELS in a novel published by ECW Press and a new graphic novel from Insight Editions.
Kevin J. Anderson and Neil Peart's Clockwork Lives was released back in 2015 and is the follow-up to their 2012 Clockwork Angels novel. The graphic novel version of Clockwork Lives was just released this past summer.