UPDATE - 5/28@10:21AM: Geddy's book signing tour stopped in Winnipeg yesterday and took some time out to speak with CTV's Renee Rodgers about the book:
----- snip -----
UPDATE - 5/25@9:56AM: Geddy Lee previews his Big Beautiful Bass Exhibition at Studio Bell in Calgary in this new video from the Calgary Herald. Geddy will officially unveil the exhibit later today at a signing event that will also include a Q&A session conducted by writer and broadcaster Daniel Richler.
Geddy also spoke to Rob Brown on CBC Radio's The Homestretch for a new interview about what fans can expect for today's event (thanks RushFanForever).
----- snip -----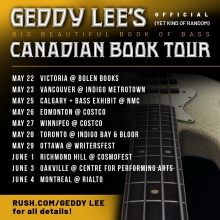 Geddy Lee kicked off his Big Beautiful Book of Bass Canadian signing tour Wednesday night at Bolen Books in Victoria,BC. CTV News was on hand and posted a short video news segment including some footage of fans and a short interview with Geddy which you can watch below or at this location. The Times-Colonist also published an article covering the event where they spoke with some of the fans who were in attendance. Geddy continued his tour yesterday evening at Indigo Metrotown in Vancouver, and tomorrow he'll head to Calgary for a signing event that will include a Q&A session conducted by writer and broadcaster Daniel Richler, along with the opening of Geddy Lee's Big Beautiful Bass Exhibition at Studio Bell at The National Music Centre (NMC). The exhibit will highlight a selection of his rare and iconic bass guitars - a larger collection than what was featured at the Rock and Roll Hall of Fame in Cleveland earlier this year (photo here). In the lead up to tomorrow's event, Geddy was interviewed via phone for Calgary's CJAY92. Ged talks with host Lew Macdonald for about 10 minutes about the book and bass guitars, and you can listen to the entire thing online here. From Calgary, Geddy will make his way east across Canada for events in Edmonton, Winnipeg, Ottawa, Toronto, Richmond Hill, Oakville and Montreal, and you can get all the details and purchase tickets for the various events here. To promote the signing tour, Geddy has been hitting the interview circuit, where he's conducted interviews with the Times-Colonist, the Toronto Sun, and Postmedia. He spoke to the Toronto Sun's Jane Stevenson about his future plans with regards to music and Rush:
... I try to go down at least once or twice a week to my (home) studio and get to know these instruments a bit more and put some ideas down, but I don't know what will come of them, if anything. Time will tell. They're going to keep me busy (with the book tour in other parts of the world) until next Christmas and then I'll be free as bird and probably next spring I'll start looking at some serious musical ideas ... I miss those three hours on stage with my buddies. That, especially in the last 10 years of touring, was so much fun and so gratifying. ... Alex is turning into this super session guy. He loves playing on other people's records without the responsibilities of having to write anything other than his solo. I know he's really digging that. I've been doing this project, but we talk, quite a lot. We see each other quite a lot. And we visit with Neil quite often. So we're all close but I don't think we would ever do a project - the three of us. It's certainly possible that Alex and I would do something down the road. I can't see the three of us ever really doing anything. ...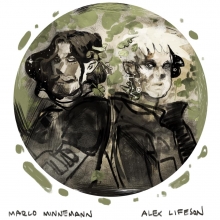 Multi-instrumentalist Marco Minnemann announced earlier this week the release of a limited edition EP featuring a new track he co-wrote with Alex Lifeson titled Lover's Calling. From Minnemann's Facebook page:
I'm very pleased to announce the release of this cool looking EP 12" vinyl picture disc.

Alex and I have been working together on a lengthy 7 mins+ piece called 'Lovers Calling', which also features both the incredibly talented Mohini Dey on Bass and Maiah Wynne on Vocals.

The EP will be available as a very limited collector's edition of 500 physical units only, to be sold exclusively at our merch tables on the upcoming Aristocrats tour starting end of June and my drum festival tour in September.

The EP also features the beautiful artwork and paintings by the amazing Brigitte Roka.

Stay tuned for more info.
Minnemann has collaborated with Lifeson on a few other projects over the past couple of years. Back in the summer of 2017 Lifeson made a guest appearance on Minnemann's album BORREGO, playing on 3 tracks, including one which he co-wrote with Minnemann - On That Note. He also appeared on the album Atheists And Believers - the 3rd album from Minnemann's prog-rock supergroup The Mute Gods, which released back in March.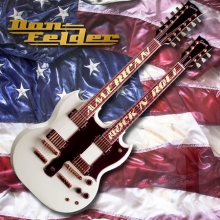 Speaking of Alex Lifeson side projects, former Eagles guitarist and songwriter Don Felder's highly anticipated, all-new album American Rock 'N' Roll released last month and is now available for purchase. The album features guest appearances from Sammy Hagar, Slash, Richie Sambora, Orianthi, Peter Frampton, Joe Satriani, Mick Fleetwood, Chad Smith, Bob Weir, David Paich, Steve Porcaro, and Rush's Alex Lifeson. Lifeson appears on the album's 2nd track - Charmed - playing acoustic rhythm guitar on the song's bridge and electric guitar on the song's ending solo. You can listen to Charmed on various streaming channels including YouTube at this location, or purchase the album via Amazon and other retailers. Felder was recently interviewed for Ultimate-guitar.com and spoke a bit about how Lifeson's involvement came about:
... "Alex Lifeson and I have done a bunch of golf events together for St. Jude's Children's Hospital. I had heard from Neil Peart two or three years before this that Rush was pretty much done and he wasn't going to go out and work anymore. I knew Alex had been sitting around playing golf and wasn't really active so I reached out to him to see if he would be interested in playing guitar on a song. The song I chose for Alex to play on was a song called "Charmed". Now, Canadians have a really interesting approach to celebrity and fame. If you're a hockey player, you're a god. Movie stars or rock stars or musicians, that's ok, but it's nothing compared to being a hockey star. So anyway, "Charmed" is about when you go through the business, any business, and you wind up being successful and having a lot of money and a big house and fancy cars and private jets, and all the trappings that go along with success, all of that stuff loses its charm when the passion in what you're doing is no longer there. When the passion is no longer in the music, all that other stuff loses its charm. So I thought that was really an appropriate song and concept for Alex because Canadians are very humble that way, they don't flaunt their success or wealth. They're very modest that way. So I thought not only would he be able to relate to that but he would be the perfect person to play on it. So I sent him some files, he asked me where I wanted him to play and I told him, 'anywhere you want. You just do what you do'. So he put a bridge in there and some acoustic guitars and a solo. We edited in some of his parts and I ended up answering some of his guitar parts and figuring out harmonies. So it sounds like we were sitting in the same room toe to toe but sadly we couldn't do that like I did with [Joe] Satriani. ...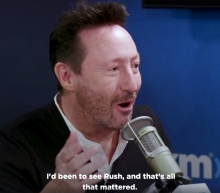 Julian Lennon was recently interviewed by Theodora Richards for Sirius XM. At one point he was asked if there were any concerts he snuck out to go see while growing up, and he recounts a story about when he snuck out to see Rush - his "favorite band in the world at that time". You can watch the interview snippet below or on Facebook at this location:
... and then the night before what we call my "O-levels" in England ... one of my favorite bands in the world at that time were Rush. They were playing locally, and I snuck out the bedroom window to go and see Rush the night before the O-levels. It was such a late night, and I got back, and I literally went to school the next day and said, "What's the exam today?" 'Cause I didn't have a clue. I didn't care. I'd been to see Rush, and that's all that mattered. ...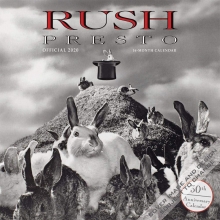 BrownTrout Publishers will be releasing their official 2020 Rush wall calendar this coming July. The calendar will celebrate the 30th anniversary of the November, 1989 release of Rush's Presto album (a year late?). From the Amazon description:
This official, 16-month calendar features images highlighting the complete Presto album and tour cycles, as well as complete 1990 tour dates, among other notable events from that year! This calendar also includes a four-month (SeptemberDecember) 2019 planner page, so get yours early! Calendar includes holidays, moon phases, image captions with locations and other information, the highest quality photography, and more!
The calendar is slated to release on July 1st and can be pre-ordered via Amazon and other online retailers.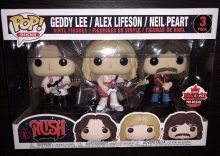 Funko first introduced their Rush Funko Pop! vinyl figurines as a pre-release during Fan Expo Canada last summer. It looks like they are now available in wide release, but retailers are having trouble keeping them in stock. Both Hot Topic and GameStop are sold out of their online stock although you might be able to pick up a set in store, and you can always grab some overpriced sets on eBay and other reseller sites. For those not familiar with Funko, their Pop! Vinyl line are figures modeled in a style similar to the Japanese Chibi style, typically depicting licensed characters from franchises and other pop culture entities. You can find out more about Funko and their Pop! vinyl figures at funko.com. Thanks to Mark R for the heads up.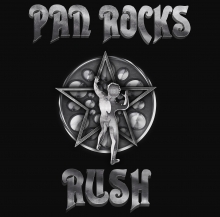 Back in March the Pan Rocks steel drum orchestra released their video for YYZ - the first official video from their Pan Rocks Rush steel drum tribute project featuring Mike Portnoy - and earlier today they released a video for The Spirit of Radio. Both videos were recorded from the Pan Rocks Rush sessions at Eldorado Recording Studios in Los Angeles, and you can watch them on the Pan Rocks YouTube channel here. Pan Rocks is a 50 piece steel drum orchestra founded by drummer Tracy Thornton. The Rush project is a follow-up to 2017's Pan Rocks Project LA which featured the music of Led Zeppelin, KISS and Jane's Addiction performed by 30 steel pan drummers and a band consisting of Billy Sheehan (Mr. Big, Sons Of Apollo), Stephen Perkins (Jane's Addiction, Porno For Pyros), Tracii Guns (LA Guns) and Bruce Kulick (KISS, Grand Funk Railroad). In addition to Mike Portnoy, the Pan Rocks Rush project includes Philip Bynoe on bass and Pete Thorn on guitar. The Pan Rocks Rush EP is now available for digital purchase via Amazon and other streaming services, and can also be purchased at panrocks.com.
Steve Gillies at McSweeney's Daily Humor website wrote an article this past week titled That Thing You Do While You're Listening to Rush? It's Not Actually Drumming (thanks Kelly D):
Ultimate Classic Rock posted an article this past week where they collect and display dozens of Rush magazine ads spanning the band's decades-long career. You can check them all out online at this location.
Here's Geddy's CTV interview discussing his Big Beautiful Book of Bass and Canadian signing tour: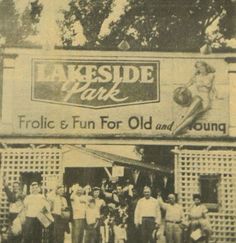 It's Victoria Day in Canada today! ... sort of at least. The holiday was originally celebrated on May 24th but an amendment to the Statutes of Canada in 1952 moved the holiday to the last Monday before May 25th. So this year it was celebrated this past Monday, May 20th. The date holds special significance for Rush fans due to its mention in the final verse of Rush's Lakeside Park
... Everyone would gather
On the twenty fourth of May
Sitting in the sand
To watch the fireworks display
Dancing fires on the beach
Singing songs together
Though it's just a memory
Some memories last forever
Rush has played at least a dozen live shows (that we know of) on the 24th of May over the years, but actually never played Lakeside Park at any of those shows (we think) up until the R40 Live tour. They played the song as part of their encore but left out the last verse. Many Rush fans had hoped that on that special day 4 years ago in Tampa they would humor their fanbase and throw in that last verse, but no such luck. Here's Rush playing the tune live back in 1976. Another reason that May 24th is significant to Rush fans is that it was on this day back in 1974 that a certain program director at WMMS in Cleveland received an album by some unknown Canadian band named Rush from her friend Bob Roper (then a record promoter at A&M of Canada) and decided to play Working Man on the air. That program director was none other than Donna Halper, who wrote about the experience in her blog a couple of years back. That's all for this week. Happy Victoria Day to all my Canadian readers, and here's hoping that all my fellow US readers have a safe and happy Memorial Day weekend!