UPDATE - 1/2@9:14PM: Geddy Lee's recent radio interview with Eddie Trunk is currently available on YouTube, but is likely not a sanctioned recording, so get it while it's hot (thanks RushFanForever).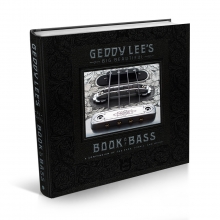 It was an understandably quiet week for Rush news as fans worldwide celebrated the Christmas Holiday. Hopefully Santa left everyone a bunch of cool Rush swag under the Christmas tree Monday night. Many lucky Rush fans likely received the Hemispheres 40th anniversary box set along with Geddy Lee's Big Beautiful Book of Bass. So what did Santa bring you? Let us know in the comments. Speaking of the box set and Geddy's new book, in case you were naughty this year and didn't get either of these from Santa, you can still purchase them for yourself; the box set is available as a 2 CD or 3 LP set along with a Super Deluxe edition, and Geddy's book is also available in bookstores and at Amazon.com. Geddy was all over the place promoting the book last week leading up to Christmas, giving interviews and signing books. He hosted a book signing event at IndigoSpirit in Toronto last Monday, and another one at Bookend Books in New Jersey last Tuesday. You can get a complete rundown of all of Geddy's many interviews in this post. One new interview was posted online this past week; The Guardian's Michael Hann sat down with Ged for a piece where Geddy lists off Rush's greatest songs and talks a bit about each one. His list contains the obvious ones like Tom Sawyer, 2112 and Working Man, but Geddy also includes a few surprises such as Grace to Grace from his one and only solo album My Favorite Headache, and Roll the Bones:
Through the 80s, Rush sidelined Alex Lifeson's guitar and foregrounded synthesisers, but Roll the Bones saw a shift back. "Alex was driving at that point and he made it very clear we were drowning under a synthy noise and he wanted the guitar to return to its rightful position," Lee says. "That's fine. It unburdened me in a way. I accepted that maybe I had taken it a bridge too far." Lee suggests he was always the least assertive member of the band, that at first Peart was the most strong-willed of the trio, and then "I think as our relationship evolved, Alex became more of the guy to convince, and Neil and I relaxed into our roles." He smiles. "I just realised that." This is a rare Rush track that is, in Lee's words, "rhythmically relaxed. It was really a way of calming down. Rush has a tendency to play very hyper, very fast. We were just not very good at playing in a relaxed state. Roll the Bones was our answer to that."
Gordie Johnson of Canadian rock band Big Sugar was recently interviewed for the Niagara Falls Review in the lead up to their show tomorrow night at The Moose & Goose in Thorold, ON (thanks RushFanForever). In the interview Johnson mentions that the band is currently working on a new album that will feature Rush's Alex Lifeson:
... "He came out and jammed with us," Johnson says, adding that Lifeson offered to help on the album. "We've been friends for quite a while. He asked what was going on with the record. I sent him some tracks and he sent me half a dozen different overdubs with exotic instruments. Now I just have to choose." ...
The as-of-yet-unnamed album does not have a release date yet, but is expected sometime in the coming new year. Big Sugar performed at the Danforth Music Hall in Toronto back in November of 2017 and Lifeson sat in with the band for a couple of songs including the Big Sugar classic Ride Like Hell and a cover of Led Zeppelin's Good Times Bad Times. Lifeson and Johnson have been friends since the 1990s and Alex once gave Johnson one of his double neck guitars as he described in a Telegram interview back in 2011:
... "I didn't have to sign a single paper. He'd just met me, but he already knew about Big Sugar. And essentially he walked up to a stranger and handed it to me," Johnson said of the guitar he used to record "Farewell to Kings," and play in the video for "Digging a Hole," its ivory white double necks jutting out like the tusks of a mastodon with every piercing note. "I got really paranoid at one point that it would get stolen, so I gave it back to him. ... By the time we started making (the 1998 Album) "Heated," I kinda got to thinkin 'this belongs in the Rock Hall of Fame, not under my bed in Little Italy in Toronto." ...
Brad Birzer (author of the Neil Peart: Cultural Repercussions) wrote an article for the American Conservative this past week titled How Rush Kept Me Alive where he describes how discovering Rush as a teenager changed his life in a profound way - a story many Rush fans can identify with. Yours truly is quoted in the article which you can check out online at this location.
Eddie Trunk's syndicated radio show Eddie Trunk Rocks will be doing an "all Rush" show as part of his annual holiday specials this weekend. To find out where and when you can hear the show, check out this list of stations from Trunk's website. Thanks to Mark S for the heads up.
New Arena posted their list of the 25 Best Rock Drummers of All Time last month and Rush's Neil Peart came in at #2 (thanks Louis G):
It's been said nobody other than Peart can play the complex music of prog-rock giants Rush. Though technically sound and amazingly creative, what's perhaps most impressive about Peart is that he makes it look easy. Not to mention, he's a great showman who has always been humble about his talent. He's a perfectionist, who always was - and is - willing to learn. There are obviously many Rush songs that exemplify Peart's greatness, but "YYZ" and "La Villa Strangiato" are an ideal introduction.
Noisey recently sat down with Cloud Nothings frontman Dylan Baldi to have him listen and react to Rush's 2112 album, which he'd never heard all the way through before, despite his parents being huge Rush fans. From the article:
While Cloud Nothings don't sound anything like Rush, frontman Dylan Baldi grew up devouring classic rock. And honestly, he just seems like a guy who would love Rush. But he's actually never heard any of their albums all the way through. He says, "I know plenty of stuff about Rush, actually. I've seen a movie of theirs. They're one of my parents' favorite bands. They even went to see them when Rush were filming their live DVD in Cleveland. My parents might even be in the movie." He adds, "I know the hits but I don't think I've heard any of their records." To fix this, Noisey hung out with Baldi before Cloud Nothings played Chicago's Thalia Hall supporting the band's excellent and pummeling fifth studio album Last Building Burning. We brought our vinyl copy of 2112 for him to hear for the first time and we wrote down his song-by-song reaction. ...
On that note, here's Rush playing 2112 live from way backin 1976:
That's it for this week, and also for 2018. It's been a tough year for Rush fans with the band essentially announcing their retirement many times over in interviews, beginning with Alex Lifeson's announcement that Rush was basically done back in January. Since then, both Alex and Geddy have reiterated this assertion over and over again in interviews, most recently with Geddy's announcement last week that Neil Peart has not only retired from Rush, but has retired from drumming altogether. The coming year promises to kick off with some more book signing events from Geddy Lee, and Alex Lifeson will likely continue with his many side projects, but otherwise it's anybody's guess. Hopefully by the end of the year, Alex and Geddy will get the itch to work together again. There won't be any 40th anniversary box set in 2019 - we'll have to wait until 2020 for the Permanent Waves set. I hope everyone has a safe and happy New Year's celebration. Here's to 2019!