UPDATE - 11/27@9:53AM: Here's a short interview with Rik Emmett at the Sonic Elements YouTube channel, (thanks chutch15) which includes a short bit at the end of Rik recording some of Red Barchetta. And here's yet more info on the future of the project from Dave Kerzner via the Rush Forum (thanks John at Cygnus-X1.net). They'll be releasing the full version of Red Barchetta, along with YYZ and eventually a full album of Rush covers!
... If you're curious, here's the deal with this. We're going to be releasing the full version of the song soon along with a cover of YYZ done with ex-Yes multi-instrumentalist/producer Billy Sherwood as well as an original tune we wrote in a different style than Rush but with Neil's drum tracks from YYZ (kind of a trip). We put a little Yes/Genesis influence in there. If you're curious to hear a partial clip of that here you go: http://soundcloud.com/sonicelements/trifecta-pt-1-wip

Anyway, later on we'll release a whole album of Rush covers with various other musicians from bands you might like. John Wesley from Porcupine Tree, Mike Keneally, Nick D'Virgilio, Roger Manning and various other people including myself on keys (and I'm going to perform keyboard drums for the song "Losing It" playing Neil's sampled DW drum kit from our library). All of that to come. Follow the progress of that on our Facebook page: http://www.facebook.com/sonicelements -OR- we'll have our sonic elements web site up soon and you can check in there... and I'm also on here in case you have any questions about Neil Peart Drums or Sonic Reality or the Sonic Elements progressive rock project. It spans into other territories of classic rock like Floyd, Genesis, Yes, Bowie, Beatles, Supertramp... really unusual mix of elements involved as you can see! ...
----- snip -----
UPDATE - 11/25@12:21PM: Sonic Elements also has the Limelight outro up on SoundCloud, featuring Kerzner, John Wesley, Billy Sherwood and a Neil Peart drum track (thanks John at Cygnus-X1.net), along with a second Red Barchetta teaser. You can check them out on SoundCloud and I also added them to the bottom of this post.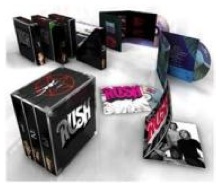 I hope that everyone in the US had a happy Thanksgiving yesterday and is surviving Black Friday. The big news this past week was Rush's release of their Sector box sets which span the band's entire 15-album Mercury Records recording career. Each of the 3 sets contain five of Rush's 15 Mercury albums in chronological order, all transferred to high resolution 96kHz/24-bit audio (see note below) along with one album from each set in 5.1; Sector 1 contains Fly By Night in 5.1, Sector 2 has A Farewell to Kings in 5.1, and Sector 3 includes Signals in 5.1. Each album is packaged in a replica vinyl mini-jacket of the original album release. Each set also includes an exclusive booklet packed with unpublished photos, original album lyrics and credits with all three box sets forming a Rush CD road case. Note that each album was remastered in 96kHz/24-bit then downconverted to 44.1kHz/16-bit for transfer to CD. However, HDTracks.com will eventually have all 15 albums available as full 96kHz/24-bit downloads for about $18 each - just like what was done for the Moving Pictures remaster. You can read the official press release at this link and Rush.com posted a 1.5-minute preview video of the box set which you can check out here. You can order all 3 Sector box sets now at this location, and Guitar World is running a contest where you could win all three sets; for details and to enter go to this link.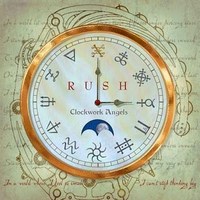 Darren Redick of UK internet radio station Planet Rock spoke with Alex Lifeson via phone from Toronto last Friday morning where Rush is busily working on recording their upcoming Clockwork Angels album. In the 10-minute interview Alex covered several topics, focusing on the progress being made on the recording of the album. They are finished writing and hope to have most of the recording done by Christmas. They'll then finish recording and handle the mixing after the New Year. Everything seems to still be right on track for a Spring release with a tour to follow. The entire 10-minute interview is available online at the Planet Rock website or you can listen to it using the player below.
John Wesley of Porcupine Tree recently visited Rush in their Toronto studio and took a few photos which he posted to Facebook (thanks Cygnify). There are a couple of nice shots of Alex's guitars (and Alex too) plus one with Neil.
Canada's only national food and wine publication - Tidings magazine - recently interviewed Geddy Lee for a feature in their December issue. Geddy talks food, wine, the Grapes for Humanity charity and his retirement plans (or lack thereof):
... My retirement plan keeps getting pushed back. I'll just keep playing it by ear. What we've learned over the last ten years in particular is just how unpredictable life is. So when it's good you just ride it. And right now things are very good for us. I don't think we've ever had an audience as big as we have now or been as well received around the world. And I don't think we've ever enjoyed playing as much as we do now. So we are really having a lot of fun right now. We're really luck and we do really like what we do and we like just hanging out with each other. I hadn't seen Alex in about a month and we got together the other day to work on some new stuff and just had the best time. We're all just natural friends and the relationship between the three of us is very much one of being three equals. ...

... If it gets to the point where one of us has had enough or we look at each other and kinda decide we've got nothing, we're out. I don't see that happening, but obviously there's gonna come a time when we don't feel we're playing as well as we have, and that will probably be the sign that says to hang it up. Neil had a bit of a revelation not long ago. He'd always been hesitant to tour but realized that as long as he can play the way he plays, he should be doing it, 'ause he wouldn't be able to play that way forever. And I think that's what's motivated us all to get out there and keep touring - do it while we can do it this well.

People associate rock and roll with a particular lifespan that they wouldn't attribute to say a painter or a writer. In rock and roll the clock seems to be always ticking and everyone seems to be waiting for you to run out of juice, declare you're old age and fly the flag. But I think this is an outdated way of looking at rock and roll that has largely been transcended now. It is now an art form as legitimate as every other art form and those involved in the industry should be allowed to play until they are no longer creative. ...
You can read the entire interview online at this location.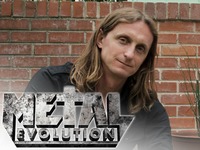 Speaking of Geddy, the new VH1 Classic show Metal Evolution premiered a couple of weeks ago. The show is the brainchild of Rush documentary and Time Machine video director Sam Dunn and builds on the mission first put forth in his groundbreaking Metal: A Headbanger's Journey documentary - in which Geddy Lee had appeared. In the film Geddy discusses the contributions of American garage rock band Blue Cheer to the origins of heavy metal. Metal Evolution's second episode aired this past weekend and focused on the history of American heavy metal, and Geddy once again makes a brief appearance about 10 minutes in to discuss Blue Cheer. Here's what Geddy had to say about the band:
In many ways they were the first metal band but they didn't think in terms of metal. It was volume that they were all about - and fury.
Rush had covered Eddie Cochran's Summertime Blues - which had also been covered by Blue Cheer in the '60s - for their 2004 Feedback covers album. One of the upcoming episodes of Metal Evolution will focus on progressive metal and will very likely make heavy mention of Rush, so stay tuned. In another bit of Rush-related information regarding the show, the production manager is credited as Allan Weinrib - Geddy Lee's brother. Allan has been the Executive Producer and Head of Production and Development at Banger Films (Sam Dunn and Scot McFadyen's film production company) since December of last year (thanks Habs2112). For more information visit the Metal Evolution website.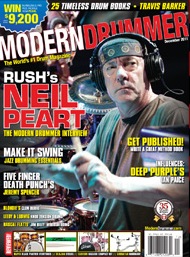 Neil Peart was the feature of a cover story in the December, 2011 issue of Modern Drummer magazine. The issue hit newsstands late last month and a few excerpts were made available online at Cygnus-X1.net. Neil touches on a number of subjects in the interview including how he prepares for a tour, how he deals with the rigors of touring, his approach to composing drum parts and the inspiration behind his recently-released Taking Center Stage instructional video. Earlier this week Modern Drummer posted a web-exclusive addendum to the interview where Neil has more to say on his instructional DVD, and also touches on his appearance on the David Letterman Show's Drum Solo Week this past summer and his surprise appearance at KoSA. You can read it at the Modern Drummer website here and check out the Modern Drummer review of Taking Center Stage here.
Rolling Stone magazine recently assembled a panel of top guitarists and other experts - including Rush's Alex Lifeson - to compile a list of the 100 Greatest Guitarists of All Time. Not only did Alex help compile the list, he also made the list at #98. Here's what they had to say:
Even if he had never progressed beyond the brain-rattling riffing of "2112" and "Xanadu," Rush's guitarist would have left his mark on Metallica and other like-minded metalheads. But he went on to fill out Rush's power-trio sound with a seamless mix of lush arpeggios and rock crunch that sounded like at least two players at once. "The guitar just had to make a broader statement," he says. Alex Lifeson reserves his most daring playing for his solos – just try wrapping your head around the extra­terrestrial lunacy of "Freewill."

Key Tracks: "La Villa Strangiato," "The Spirit of Radio"
Topping out the list were Jimmy Page at #3, Eric Clapton at #2 and Jimi Hendrix at #1. You can check out the entire 100 at RollingStone.com.
Rush's Closer to the Heart made Guitar World's list of the 25 Greatest Acoustic Songs In Hard Rock (thanks RushFanForever):
By 1977, Rush had firmly established themselves as fine purveyors of glorious 20-minute sci-fi opuses that could fill entire album sides. But on this, their fifth studio release, the Canadian prog trio demonstrated their ability to be hooky, concise and, with "Closer to the Heart," radio-friendly. Perhaps the most surprising aspect of the song's gentle, ringing 12-string acoustic guitar intro is that it was written by bassist Geddy Lee, rather than guitarist Alex Lifeson. The same figure is later repeated after a particularly ripping electric guitar solo-only this time the 12-string acoustic is smartly doubled by a six-string electric. When it comes to Rush, of course, the contributions of drummer extraordinaire Neil Peart can never be overlooked. Here, he adds plenty of bells and whistles throughout. Okay ... they're actually chimes.
Back in June of 2010 we learned that Geddy Lee had optioned the film and TV rights to Dave Bidini's 2005 book Baseballissimo. A couple of months ago Variety magazine reported that development on the film was moving forward with Jay Baruchel and Jesse Chabot as co-writers. Bidini was recently interviewed for Aux.tv (thanks RushFanForever) and gave a little update regarding how development on the film was progressing:
Jay Baruchel and his writing partner Jesse are working the script now. They'll have the script delivered to us by Christmas. It's great. We've had tons of interest in terms of getting the film made without actually having a working script. So it looks really positive. Those guys did a 10 page treatment of the film and I feel like they really get it. And Geddy [Lee, as in, of Rush, who is connected to the film] has run a band for 25 years, so he's a natural producer. He's a great communicator, and he's great at gathering people together. We're hoping for TIFF in 2013, which probably means shooting around the end of next fall. When Baseballissimo came out, it wasn't that well promoted, but the people who liked the book really liked the book. It's so neat that it's had this second life 12 years after it came out. It just goes to show that if you have a good story and you believe in a good story, you never know where it's going to lead.
Bidini is a Canadian musician, author and founding member of the Rheostatics who is also good friends with Geddy. The book details Bidini's story of his travels to the small town of Nettuno, the baseball capital of Italy since 1944.
Chicago-based rock duo Local H will be performing a New Year's Eve show at the Bottom Lounge which will celebrate the end of the world and also give a nod to Rush's 2112. From AntiMusic.com:
... The New Year's Eve show will celebrate the end of the world (as predicted by the Mayans) with a salute to Rush's 2112 and handlebar mustaches.

"This is the end of our sci-fi New Year's trilogy," explains Local H frontman Scott Lucas. "We did 2001 and 2010 -- both of those were obviously nods to Kubrick. For 2012, we had no choice but to celebrate the oeuvre of Roland Emmerich. He's pretty much cornered the market on annihilation and destruction. Expect lots of explosions."

In addition to digging into their own deep catalog, which includes six studio albums, a quasi-greatest hits, a live album, an awesome mix-tape covers record and several EPs, Local H are preparing a slew of their favorite end-of-the-world songs, including bits of Rush's "2112" opus (Side A of the 2112 album). A video montage, edited by Felix Pinero of Bailout Pictures, will accompany the performance.

"Being Rush fans, we also realized that it was now or never to do something with 2112," says Lucas. "It's not numerically correct, but none of us will be around in 100 years, so we're doing this for humanity's sake. I hope Brian has enough drums." ...
Thanks to Brad Hirsch of Used Bin Radio and RushTabConVideo for the heads up.
Canadian rocker Gordie Johnson (Big Sugar, Grady) was recently interviewed by The Telegram and makes mention of the double-neck guitar Alex Lifeson had given him:
... He began a new career (along with playing metal tunes in Grady) as a producer for the likes of The Trews and Joel Plaskett on the Halifax troubadour's breakthrough "Ashtray Rock."

Part of that musical paternal instinct stems from the graciousness his own guitar heroes showed him - like Rush's Alex Lifeson, who bestowed Johnson with his first double-necked guitar.

"I didn't have to sign a single paper. He'd just met me, but he already knew about Big Sugar. And essentially he walked up to a stranger and handed it to me," Johnson said of the guitar he used to record "Fairwell to Kings," and play in the video for "Digging a Hole," its ivory white double necks jutting out like the tusks of a mastodon with every piercing note.

"I got really paranoid at one point that it would get stolen, so I gave it back to him. ... By the time we started making (the 1998 Album) "Heated," I kinda got to thinkin 'this belongs in the Rock Hall of Fame, not under my bed in Little Italy in Toronto." ...
Reader Falcon let me know of a Rush reference on the Windows Phone blog. They recently put up a post about making custom ringtones and use Rush's 2112 as an example. You can check it out at this link.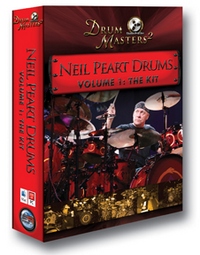 Last year Sonic Reality released their Neil Peart series drum sample instrument library. It features drum samples from Neil Peart himself and was produced with the help of Rush producer Nick Raskulinecz. Sonic Reality CEO Dave Kerzner recently put together a unique progressive rock project called Sonic Elements, which features a revolving door of musicians from around the world playing classic rock covers and fresh originals that all make use of the various sound elements of yesterday and today with the latest music software instrument and recording technology. One track they recently recorded was Rush's Red Barchetta with Triumph's Rik Emmett on vocals and guitar and Neil Peart on drums via his sample library. Kerzner recently revealed several details about the recording via a post on the Progressive Ears forum including the fact that they plan on shooting a music video for the track that will include footage of all the participants from different locations. You can listen to a 1-minute sample of the track on SoundCloud below or at this link.
Red Barchetta featuring Rik Emmett SE Teaser 1 by sonicelements
Red Barchetta featuring Rik Emmett SE Teaser 2 by sonicelements
Sonic Elements: Limelight Outro by sonicelements
Be sure to follow the Sonic Elements project on Facebook.
I'd like to take a moment to thank everyone who has generously donated to the site over the past few weeks - I greatly appreciate it. If anyone wants to make a donation you can do so at this link and you'll get a free RUSH IS A BAND bumper sticker as a thank you gift. Other ways to help out the site are to purchase items through my Amazon links or at RushSwag.com, or just click on my sponsor links. Thanks and have a great weekend!