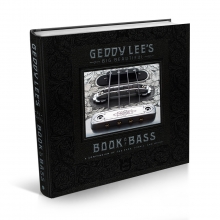 Happy Friday and Happy International Rush Day to everyone!! The past week's Rush news was dominated by Geddy Lee's Big Beautiful Book of Bass, which officially released this past Tuesday. Geddy was all over the place promoting the book, giving interviews and signing books. He hosted a book signing event at IndigoSpirit in Toronto on Monday, and another one at Bookend Books in New Jersey on Tuesday. In addition to several print interviews that came out last week (MusicRadar.com, Rolling Stone, Billboard), Geddy conducted a slew of live interviews on various TV/radio shows this past week. On Sunday Geddy visited the Toronto offices of Live Nation for an invite-only event where he and collaborator Daniel Richler gave an onstage interview where they discussed the book and showed off several of the basses featured in it as seen here. On Monday morning Geddy hit a few morning news programs in Toronto including Global's The Morning Show (video), CTV's Your Morning (video), and CBC's Q with Tom Power (video). On Tuesday Geddy was a guest on Eddie Trunk's Sirius XM Volume (channel 106) radio show where he once again reiterated the fact that Neil Peart is retired and Rush is done:
... Neil is retired ... He hasn't just retired from RUSH; he's retired from drumming. He's not drumming anymore, and he's living his life. Which is fine - Alex and I are cool with it. We're all still total pals. In fact, Alex and I were there just a few weeks ago visiting him, and we stay in touch. And, of course, Alex lives very near to me, so we're constantly going out to dinner, 'cause he loves to drink everything in my wine cellar. We're still pals, and we all talk, but that period of our life is done. ...Is there more music to come from myself and from Alex? ... I don't know when and what shape that will take. I don't know if Alex and I will do something together. People keep me asking me and they want me to be definitive, and I can't be, because I really haven't thought that far ...
The "revelation" that Neil Peart has retired from drumming was predictably hyped up on the internet - spawning countless articles from "shocked" music news publications, despite the fact that Neil first publicly stated he was a retired drummer OVER 3 YEARS AGO, and has said/done nothing to indicate otherwise since. Moving on ... This past Wednesday Geddy appeared on The Moment with Brian Koppelman podcast for an excellent and extensive hour-plus interview. Geddy talks a lot about the book, but covers several other interesting topics as well. You can listen to it below or at this location:
And on Wednesday evening, Ged attended a private book launch event in NYC, which included an interview conducted by Rolling Stone's David Fricke. Producer Cliff Burnstein and other industry insiders were in attendance. Geddy also spoke with the Canadian Press as part of his media blitz for both print and video news stories that were posted online yesterday. Also yesterday, he made an appearance on Q104.3 in New York which you can check out on YouTube. As mentioned above, Geddy conducted book signing events earlier this week at IndigoSpirit in Toronto on Monday afternoon, and at Bookend Books in New Jersey Tuesday evening. He has promised that more signing events will be coming in the New Year. Geddy also posted this humorous animated video (created by FANTOONS!) promoting the book and starring his two dogs over on his official Instagram page. You can get a look inside the book for a preview at the Amazon store listing where you can read the book's foreword, and a "backword" by Alex Lifeson along with the book's Introduction. Geddy Lee's Big Beautiful Book of Bass is now in stores and you can order it online at this location.
Actor/comedian Brian Posehn was a guest on Late Night with Seth Myers this past Wednesday and towards the beginning of the interview talks about being a big Rush fan and trying to pass on his fandom to his 9-year-old son. He relays a story about being in the car with his son and listening to Tom Sawyer when his son said, "hey dad, I think Rush is my favorite band", and Brian tears up. You can watch the whole interview on YouTube at this location (thanks Nancy M).
Here are a couple of Geddy's many interviews from this past week where he talks about his Big Beautiful Book of Bass:
That's all for this week. Have a Happy International Rush Day and a very Merry Christmas next week everyone!!