UPDATE - 11/30@12:41PM: John at Cygnus-X1.net has transcribed the entire Prog magazine cover feature and made it available online at this location.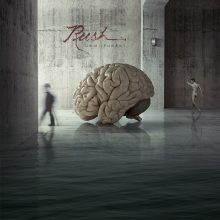 The latest issue of Prog magazine (Prog #93) hits newsstands today and includes an extensive 8-page Hemispheres cover feature including an interview with Geddy Lee where he dishes on the making of Rush's 1978 prog masterpiece. Rush's new Hemispheres 40th anniversary box set released a couple of weeks ago and is now available as a 2 CD or 3 LP set along with a Super Deluxe edition that includes both the 2 CDs and 3 LPs along with a bonus Blu-ray disc. The set uses the Abbey Road Studios 2015 remastered edition of the album, along with a newly restored bonus recording of the band's June 1979 Pinkpop Festival performance in the Netherlands (with the 2112 performance replaced with one from a Tucson show in November 1978). The Super Deluxe edition also includes a 5.1 Blu-ray mix of the album (from Rush engineer Rich Chycki), 4 bonus videos, a 40-page hardcover book with unreleased photos, new artwork by original album designer Hugh Syme, and several other exclusive items. John at Cygnus-X1.net has transcribed the liner notes and made them available online here, along with scans of all the contents here. You can order the box set now via Amazon (2 CD, 3 LP, Super Deluxe edition), and also check out this unboxing video.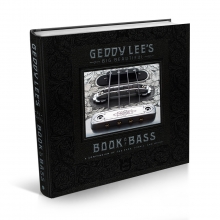 The aforementioned Prog magazine cover feature also includes a bonus, 4-page interview with Geddy where he talks about his upcoming Big Beautiful Book of Bass, which releases next month. That interview concludes with a question about Geddy's musical future:
... Now that he has completed his paean to the bass, Lee is bracing himself for the onslaught of questions about his future musical plans. Nearly a year has passed since Rush announced their retirement, and little has been heard from any of the band. Lee is perhaps the Rush member most expected to re-enter the fray, so Prog asks if there is any prospect of new music on the horizon. "The honest answer is no. Not really," Lee chuckles. "I go down to my studio, which I do, and I play these bass guitars because I have quite a few of them and they're fun to play. I like to keep my fingers in shape. When I play, ideas come out, so I record them and then I forget about them. When I go back to them, I'm sure half of them will be shit and I'll erase them. But I fully intend to go down one day and see what I've gathered down there. Once I've finished promoting this book, I do hope to become a musician again! But I have no idea what form that will take. I have no plans and I don't know where I'm headed." Whatever he does end up doing, it's a safe bet that Geddy Lee will be armed with more bass guitars than he actually needs. And he'll be loving every single nerdy second of it. "I took about 27 various guitars out on the last Rush tour and it was super fun," he concludes. "People expect me to be playing my [Fender] Jazz and I remember the looks on people's faces when I first went onstage with a Gibson Thunderbird... it was like, 'What the hell is he doing with that? Why would he do that?' It was funny. And if I'm honest, I can't imagine ever doing a tour again without taking a bunch of basses with me."
Geddy Lee will kick off the December 18th release of the book next month with a book signing event at Bookend Books in Ridgewood, New Jersey where Geddy will sign copies of the book for fans. Unfortunately the event quickly SOLD OUT, but we're hopeful that Geddy will be scheduling more such signing events after the Holidays. If you are unable to make the book signing event, Prog is also running a contest where you can win a SIGNED copy of the book. For all the details and to enter the contest go here. Geddy has been posting several excerpts from the book to his official Instagram page over the past few weeks. There's an excerpt from an interview with John Paul Jones from the book here, an excerpt from chapter one on the Fender bass here, and - most recently - this snippet from the Höfner chapter. In addition to the Prog interview, Geddy spoke at length about the book and his writing process in this recent Classic Rock magazine interview. Geddy Lee's Big Beautiful Book of Bass is slated for release on December 18th and you can pre-order it at this location.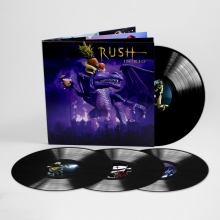 Rush will be releasing their 2003 live album Rush in Rio on vinyl for the first time this coming January. The 4-LP set will be produced on 180 gram vinyl with a newly designed jacket, and will also includes a download card containing all of the tracks. The set is due to release on January 18th and is now available for pre-order.
Classic Rock magazine posted their list of the 50 Best Rock Albums Ever as chosen by their readers this past week, and a couple of Rush albums made the cut; 2112 came in at #33, and Moving Pictures made the top 20 at #16 (thanks RushFanForever):
... An oddball mix of heavy riffs, new wave shapes and 80s technology, it closed the door on the satin kimonos and sci-fi epics that defined Rush in 70s, and embraced a brave new world. In the 70s they had become the undisputed masters of progressive hard rock, famed for their epic conceptual pieces that played out over entire sides of vinyl. But with their first album of the 1980s - Permanent Waves - came a significant change. Opener Tom Sawyer was the crystallisation of this new, modern Rush: a powerful, finely crafted hard rock song with a punchy yet deeply philosophical message. ...
Louder posted their list of the 20 best albums of 1989 yesterday and Rush's Presto made the cut (thanks RushFanForever):
A real return to form for the progressive trio from Canada. Rush and producer Rupert Hine retreated from the synth-heavy sound that muddied Power Windows and Hold Your Fire, and created a tighter, tougher sound that sacrifices none of the group's trademark technical wizardry. Hard-rocking opener Show Don't Tell is a highlight and features a stellar vocal performance from Geddy Lee.
They are also asking readers to vote for the best album of the 80s, and Rush has 4 albums in the running. So go vote for Rush!
Winter is fast approaching, so it now seems an appropriate time for some winter advice from Geddy Lee:
The folks at RushCon have announced their 2nd annual Rush fan Secret Santa! Fans who wish to participate can sign up via this Google docs form. The deadline for entry is TODAY with matches being sent out on December 5th. For details and updates be sure to follow RushCon on Facebook and Twitter. That's all for this week. Have a great weekend everyone!!