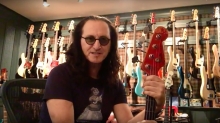 Both Geddy Lee and Alex Lifeson appeared in gear-related videos online this past week. Geddy was featured in this YouTube video plugging Rotosound's Swing Bass 66 strings - Geddy's go-to string choice throughout most of his professional career. Alex Lifeson appeared in this grainy Facebook video showing off a new custom guitar he received from guitar maker Jacob Harper. From TriStateHomepage.com:
... A recent request from a rock and roll god tops almost all the other builds. Thanks to his work, an icon has a piece of Boonville, Indiana. If you know your music legends, you have probably heard of the band 'Rush.' They have a spot in the Rock and Roll Hall of Fame, and now guitarist Alex Lifeson has a spot for one Harper masterpiece. A mutual friend in the music industry hooked the two up. In a grainy Facebook video, Lifeson gives the Harper a test drive. "Hey Jacob, thank you so much, this guitar is mind-blowing, I'm speechless, I can't believe how beautiful it is," he said. "Very cool," said Harper. "I don't think I'll ever get over the fact that I'm building for some of my heroes." The attention to detail is unmatched. The fret inlays are interpretations of 'Rush' albums. The pick guard, adorned in 'blah blah blah,' is a nod to Lifeson's Hall of Fame speech. Of course, 'Harper' is scripted on the head. ...
You can check out some closeup shots of the guitar, showing all the fine details in this Facebook photo gallery. Nice!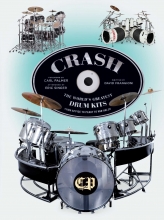 David Frangioni's new coffee table book Crash: The World's Greatest Drum Kits released earlier this week in association with Modern Drummer magazine. The book is an illustrated history of legendary rock drum kits featuring images from live concerts, outdoor festivals, and private recording sessions. Along with the makes and models, each kit is accompanied by commentary about the history of the kit, its special characteristics, as well as its significance to rock history. The book features Neil Peart, Carl Palmer, Ginger Baker, Keith Moon, Ringo Starr, and many more, and is currently available to order via Amazon at this location. Modern Drummer is currently running a contest where you could win one of 3 signed copies of the book. For all the details and to enter the contest, go to this location, and you can watch a video trailer for the book here.

Speaking of Neil Peart drumkits, Neil and the R40 drum kit are featured in the Edge Factor documentary Masters of Resonance. The film had its first pre-release theater screening as part of the Rush Family Reunion event at the Fox Theatre in Toronto back in June, and the documentary's official world premiere took place last Wednesday night at the GRAMMY Museum at LA Live. The premiere included a post-screening conversation with storyteller and founder of Edge Factor, Jeremy Bout, DW's John Good, and drummer Paul Wertico. The film will be hitting the festival circuit soon and be released to video-on-demand streaming channels later this fall. It should be available on iTunes by late October, with presales slated to kick off on September 18th, and releases on other platforms are lined up for December. For more information about the film and to keep up on the latest news, visit the website at mastersofresonance.com, and follow them on Facebook and Twitter. You can watch the trailer on YouTube at this location.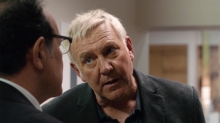 Alex Lifeson has a small role as a cereal company executive in Trailer Park Boys creator Mike Clattenburg's new CBC comedy-drama Crawford, which premiered on the CBC in Canada earlier this summer. Lifeson appeared on the show last month and reprised his role in last week's episode (Season 1, Episode 9 - I Can't Go to U2 Without You) as seen in this preview clip. He also appeared in last night's episode (Season 1, Episode 10 - Manny's Way) as mentioned in this Twitter post:
#AlexLifeson from @rushtheband gets downright nasty tonight on #CrawfordSeries. Come check it out at 9/930NT on @CBC!
You can learn more about the show and how to watch it via the CBC website.
Canadian band Max Webster's career-spanning box set The Party released in Canada this past fall and last month was made available in the US via Pledge Music. The band were early Anthem label mates of Rush and toured with them throughout the late '70s and early '80s until they split up in 1981. They are best-known to Rush fans for the track Battle Scar from 1980's Universal Juveniles, which featured a guest appearance by Rush. Max Webster founder/frontman Kim Mitchell was recently interviewed for the Prince George Citizen and spoke a bit about an important lesson he learned from his tourmates:
... "That speaks to what I learned a long time ago from Rush," ...
Rush's record company applied a lot of pressure on the band when one album failed to meet their sales expectations. Some of that pressure was to tailor the next album to the trends of the day. Mitchell was sometimes involved in their internal conversations as the Rush-mates pondered what to do, and he took clear note of their conclusion. "They turned to each other and said f#@* it all. This is our lives. This is our band. These people (at the record company) work for us, we don't work for them. We're going to do what makes us happy. And they made 2112 (a concept album that ignored all hit-maker conventions) and look what happened. It went platinum in the States. It exploded, and it exploded on their terms. So that's always been my advice to musicians." ...
The Party is available for purchase via Pledge Music and also as an import via Amazon.
Here are the aforementioned videos of Geddy Lee and Alex Lifeson that appeared online this past week:
That's all for this week. Have a great weekend!!