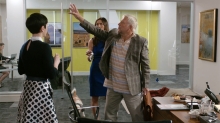 Alex Lifeson has a small role in Trailer Park Boys creator Mike Clattenburg's new CBC comedy-drama Crawford, which premiered on the CBC in Canada last month. A preview trailer for tomorrow night's episode (Season 1, Episode 5 - Rukma Vimana) was posted online earlier today and shows a scene prominently featuring Lifeson's character which you can watch below or on the show's Facebook page. Actress Jill Hennessy, who plays the lead role of Cynthia in the show, spoke to the Toronto Star a few months ago about the series and working with Alex Lifeson:
... "He's phenomenal," says Hennessy, a RUSH fan. (Hennessy herself has released two albums: her last, I Do, in 2015.) Given the musical connections, the Star says it's surprising that Clattenburg hasn't got Lifeson and Hennessy busking in a Toronto subway in a giant ironic wink to the audience. "That would so work!" says Hennessy. "My character didn't finish high school, she was in a band. And one of her future fans was her boss (Lifeson) at the cereal company. So yes, I think somebody should talk to Mike about that scene. Could you maybe put in a word for me?"
Hennessy's character Cynthia is the matriarch of a dysfunctional family who is an "award-winning cereal executive" for a product called Sugar Maple Pops, Cynthia's husband Owen is a former police chief played by American actor John Carroll Lynch who is unable to use his voice and communicates with his smartphone, and Don is a struggling musician played by Kyle Mac who has been dropped by his label and is a "raccoon whisperer". Lifeson plays the part of Taylor, who is Hennessy's boss at the cereal company. Lifeson spoke about the role in his Globe and Mail interview earlier this year:
... It's fun to put yourself in an uncomfortable situation. If you have a little bit of confidence and you just get out of your own way, these things can happen. The same thing happened when I got asked to do a small role in a TV show, Crawford, a new comedy on CBC from Mike Clattenburg, who created Trailer Park Boys. I thought I couldn't do it - that it was something for real actors. But I ended up doing a few episodes. It definitely was not in my comfort zone. But if you throw a challenge at yourself and dive into it, it can be really gratifying.
According to imdb.com, Lifeson also appears in episodes 9 (I Can't Go to U2 Without You) and 10 (Manny's Way). You can learn more about the show and how to watch it via the CBC website.