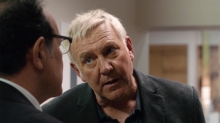 Alex Lifeson has a small role in Trailer Park Boys creator Mike Clattenburg's new CBC comedy-drama Crawford, which premiered on the CBC in Canada earlier this summer. Lifeson appeared on the show a few weeks ago and reprised his role in last night's episode (Season 1, Episode 9 - I Can't Go to U2 Without You) as seen in this preview clip. Actress Jill Hennessy, who plays the lead role of Cynthia in the show, spoke to the Toronto Star earlier this year about the series and working with Alex Lifeson:
... "He's phenomenal," says Hennessy, a RUSH fan. (Hennessy herself has released two albums: her last, I Do, in 2015.) Given the musical connections, the Star says it's surprising that Clattenburg hasn't got Lifeson and Hennessy busking in a Toronto subway in a giant ironic wink to the audience. "That would so work!" says Hennessy. "My character didn't finish high school, she was in a band. And one of her future fans was her boss (Lifeson) at the cereal company. So yes, I think somebody should talk to Mike about that scene. Could you maybe put in a word for me?"
Hennessy's character Cynthia is the matriarch of a dysfunctional family who is an "award-winning cereal executive" for a product called Sugar Maple Pops, Cynthia's husband Owen is a former police chief played by American actor John Carroll Lynch who is unable to use his voice and communicates with his smartphone, and Don is a struggling musician played by Kyle Mac who has been dropped by his label and is a "raccoon whisperer". Lifeson plays the part of Taylor, who is Hennessy's boss at the cereal company. Lifeson spoke about the role in his Globe and Mail interview earlier this year:
... It's fun to put yourself in an uncomfortable situation. If you have a little bit of confidence and you just get out of your own way, these things can happen. The same thing happened when I got asked to do a small role in a TV show, Crawford, a new comedy on CBC from Mike Clattenburg, who created Trailer Park Boys. I thought I couldn't do it - that it was something for real actors. But I ended up doing a few episodes. It definitely was not in my comfort zone. But if you throw a challenge at yourself and dive into it, it can be really gratifying.
According to imdb.com, Lifeson will also appear in next week's episode (Season 1, Episode 10 - Manny's Way). You can learn more about the show and how to watch it via the CBC website.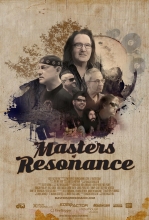 Neil Peart and the R40 drum kit are featured in the Edge Factor documentary Masters of Resonance. The film had its first pre-release theater screening as part of the Rush Family Reunion event at the Fox Theatre in Toronto back in June, and the documentary's official world premiere took place this past Wednesday night at the GRAMMY Museum at LA Live. The premiere included a post-screening conversation with storyteller and founder of Edge Factor, Jeremy Bout, DW's John Good, and drummer Paul Wertico. The film will be hitting the festival circuit this fall and be released to video-on-demand streaming channels, beginning with iTunes, later this year. For more information about the film and to keep up on the latest news, visit the website at mastersofresonance.com, and follow them on Facebook and Twitter. You can watch the trailer on YouTube at this location.
Paul Fairfield is a Professor of Philosophy at Queen's University in Kingston and runs a blog/podcast called Philosophy Crush, where he discusses various philosophical topics. His latest podcast and blog post are dedicated to discussing Rush and what makes them such a great band (thanks John at Cygnus-X1.net).
Europe frontman Joey Tempest was recently interviewed for Classic Rock's 10 records that changed my life series and mentions Rush's Moving Pictures (thanks RushFanForever):
Well, there's no denying that AC/DCs Back in Black deserves a place in the time capsule placed out in space for future civilisations to find. However, as a band, as a unit, as a musical force and inspiration, I believe Rush should be our planet's musical ambassadors. If our planet ever finds itself in the situation where we have to describe and explain rock music to a new civilisation - or another life form from another galaxy - I would put forward the catalogue of the band Rush! And in that first intergalactic chit chat, I would suggest opening up the meeting with the song Tom Sawyer, followed by the rest of the tracks from Moving Pictures. This action would insure new positive future relations with other galaxies, with respect and admiration for planet Earth... Amen.
Here's a clip from Alex Lifeson's appearance in last night's episode of Crawford:
Today is the anniversary of the 1974 Mercury re-issue of Rush's debut album. Four days later on August 14, 1974, the band played their first show with their new drummer - some guy named Neil Peart. Speaking of Pratt, Neil's daughter Olivia will turn 9 years old this coming Sunday, August 12th. Happy birthday Olivia!! That's all for this week. Have a wonderful weekend everybody!