UPDATE - 4/12@12:55PM: As expected ... it's 2112 on blue vinyl.
UPDATE - 4/2@11:31AM: So from all the comments here, on Facebook and on Twitter ... this is probably just going to be a blue vinyl release of 2112 (because there haven't been enough 2112 vinyl releases already). The April 1st announcement was likely due to the "anniversary" of 2112, and the subsequent Rush.com 2112 anniversary post helps to bolster that. Maybe the 12 part of April 12th is alluding to 2112? The use of the 2112 font is another good indicator. It's probably too late in the game for this to be a Record Store Day release, since it wasn't on the original RSD list, so it probably isn't related to that. I was skeptical to assume it was a 2112 release at first since we had the 2112 Hologram Edition Vinyl release 3 years ago, and the 2112 box set vinyl re-issue 2 years ago. Assuming our guess of a 2112 blue vinyl release is correct, that would make 3 separate 2112 vinyl releases in just over a 3-year timespan ...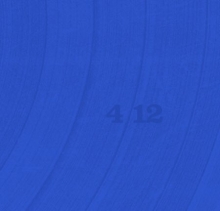 Amid all of the April Fools' Day pranks and Easter well-wishing yesterday, Rush tweeted a cryptic image depicting what looks like a closeup of the grooves on a blue vinyl record, along with the text 4 12 in the 2112 font. No explanation or follow-up message has been posted, so fans began coming up with their own wild theories as to what it all means. Here are a few that have been thrown around so far by myself and others:
New album/tour announcement: Extremely unlikely given what the band has said in recent interviews, along with the fact that Neil Peart has been essentially MIA for the last couple of years. But a girl can dream! Still, I'm not holding my breath.
Hemispheres 40th anniversary box set announcement: Since Rush has released 40th anniversary box sets the past 2 years for 2112 and A Farewell to Kings respectively, it makes sense that they would have plans to release a 40th anniversary Hemispheres box set as well. But why on April 12th when the album was released in October, 1978? And why blue vinyl? And why use the 2112 font. Nothing really fits with this one.
April Fools' Day joke: It was posted on April Fools' Day so this makes sense. However, they never followed up with any kind of joke - which would be the whole point of an April Fools' Day prank ... it kind of needs a punchline.
2112-related ... something? The band also posted a Happy Anniversary to 2112 message to Rush.com and Facebook earlier in the day, since April 1st is often used as the "official" anniversary of the 1976 release of of 2112. Although this date is really only used as a convenience, since the actual release was probably in late March sometime. In any case, nobody has ever claimed the release date to be April 12th, so that doesn't fit either. And they also just released a 40th anniversary box set 2 years ago, so what could they possibly come up with for the 42nd anniversary!? A cassette tape box set?
Record Store Day release: Record Store Day is coming up on April 21st (not April 12th though... dyslexia to blame?), and the message did seem to allude to a vinyl record. So maybe Rush will be announcing some kind of 2112-related Record Store Day release? They released something for Record Store Day last year and in years past, so it's not too off-base.
So those are all the theories I have so far. Have a theory of your own or think I'm way off base with mine? Let us know in the comments.
April 1, 2018