UPDATE - 4/20@2:00PM:

There are already plenty of these popping up on eBay now, so you can see some more photos of the packaging on a few of those listings (here, and here for instance).
UPDATE - 3/30@9:48AM: Here's the official press release from Rush.com.
UPDATE - 3/22@12:52PM: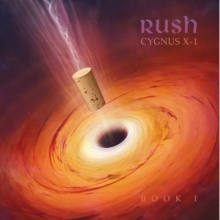 Record Store Day now has some more details along with the artwork posted on their website:
2017 marks the 40th anniversary of A Farewell To Kings and to kickstart the celebration, Books I & II of "Cygnus X-1" are newly compiled together for the first time ever as an audiophile 180g vinyl EP with brand new artwork by longtime Rush artwork creative director Hugh Syme.

SIDE A: Cygnus X-1: Book 1 SIDE B: Cygnus X-1: Book II
----- snip -----
According to TheFutureHeart.com, Rush will be releasing a Cygnus X-1 12-inch 180 Gram Audiophile Vinyl EP for Record Store Day this year, which will include Cygnus X-1 Book I: The Voyage and Cygnus X-1 Book II: Hemispheres, although it's not yet clear which recordings of the songs will be used. The release will be limited to 5000 copies and will be available at select independent record store locations for Record Store Day on April 22nd. To find participating store locations and to learn more about Record Store Day, visit the website at recordstoreday.com. More information as we learn it. Thanks to Robbie S for the heads up.