UPDATE - 12/22@9:32AM: Here's Jacob Moon's cover of Something for Nothing (thanks RushFanForever):
----- snip -----
UPDATE - 12/16@2:42PM: Note that the Steven Wilson cover of Twilight Zone is also now available for streaming (thanks Eric at Power Windows):
----- snip -----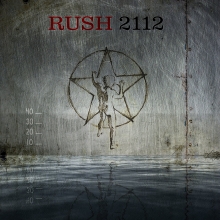 Rush's new 2112 40th anniversary edition box set officially releases tomorrow and pre-orders are already shipping out. In fact, some folks have even received their copies already. The standard edition is a 2CD+DVD set which includes a CD of 2112 remastered (the version from last year's 2112 vinyl reissue), another CD of some rock celebrity covers of a few of the various songs on the album along with some live outtakes, and a DVD of the newly-restored Live at Capitol Theatre 1976 show along with some other bonus videos. There's also a 3 LP version with the same content as the CDs along with a few bonus goodies. The Super Deluxe edition contains both the 2CD+DVD and 3 LP sets along with some additional bonus content. The cover songs included on the set are 2112: Overture from members of the Foo Fighters, A Passage to Bangkok from Billy Talent, The Twilight Zone by Steven Wilson, Something for Nothing by Jacob Moon and Tears by Alice In Chains. You can listen to the Billy Talent cover of A Passage to Bangkok online at this location, Alice in Chains' take on Tears at this link, and the Foo Fighters cover of 2112: Overture here (at the 46 minute mark). One of the live outtakes on the bonus CD is a 1976 Massey Hall recording of Something for Nothing which is also available for streaming online here. Geoff Barton wrote a review of the set for TeamRock.com this past week which you can check out here. You can get all the details regarding the contents of the 2112 40th anniversary edition via the official Rush.com press release and also watch a 1-and-a-half minute promotional unboxing video which highlights the contents of the box set here. You can order the 2112 40th anniversary edtion on Amazon (2CD+DVD, 3 LP, Super Deluxe), or pick it up at your local retailer tomorrow.
Related Posts:
[Listen to Billy Talent's cover of Rush's A Passage to Bangkok from the upcoming 2112 40th anniversary box set]
[Listen to 1976 live outtake of Rush's Something for Nothing from upcoming 2112 box set]
[Listen to Alice in Chains' cover of Rush's Tears from the upcoming 2112 40th anniversary box set]
[Geddy Lee and Alex Lifeson to appear on The Strombo Show tomorrow]
[Rush 2112 40th anniversary Super Deluxe edition coming next month]