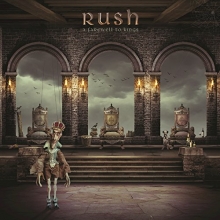 Rush's A Farewell to Kings celebrates its 40th anniversary this year, and in 2 weeks from today the band is releasing a special 40th anniversary box set celebrating the anniversary. To help promote the box set and celebrate this milestone, the latest edition of Prog magazine includes a 12-page cover feature where Prog's Philip Wilding chats with Geddy Lee and Alex Lifeson about the making of the album and its importance in the Rush discography. Earlier this week Prog posted a preview of the feature that included the first few pages of the article, but now the entire issue is available for download on issuu, with the Rush feature on pages 34-45. In addition to the main article/interview with Geddy and Alex, there's a sidebar piece where they speak with Terry Brown (also available online here), along with 10 inserts where several different prog rock artists explain what A Farewell to Kings means to them (available online here), including former Queensryche frontman Geoff Tate:
"When that album came out, it captured my imagination because it was one of those with lots of sound effects and atmosphere, and that put you in the mood of the stories. Things like Xanadu and Cygnus X-1, those tracks were fantastic. They had a lot of interesting audio scenes that they painted, and with this incredibly complex but melodically catchy and precisely played music. It was played well and the production is fantastic. It's a great album to listen to on headphones - it really places you in the scenes that Neil Peart was writing." ... "I absolutely love [Xanadu]. The type of melodies they were experimenting with, that Middle Eastern influence, I wasn't familiar with that and it really opened my eyes to world music for the first time. Then that becomes a life's journey. Rush were one of those bands that influenced me the most."

A Farewell to Kings producer Terry Brown (aka Broon) made a new mix of the complete Rush concert recorded in February 1978 at London's Hammersmith Odeon that's included on the A Farewell to Kings 40th anniversary box set. This concert includes a few previously unreleased tracks including Closer to the Heart and Lakeside Park, both of which are now available for streaming on YouTube and other streaming channels. You can listen to Closer to the Heart here, and Lakeside Park here. Broon is currently in London and this past weekend conducted a Master Class with his brother Phill at The Troubadour, and as part of the class he talked a bit about the recording of A Farewell to Kings. They'll be conducting another such class this weekend. From his official Facebook page:
The RUSH boys were there in spirit at The Troubadour on Saturday when my brother Phill & I did our master class, Phill talked extensively on making albums with Talk Talk and I walked everyone through the making of A Farewell to Kings. We'll be doing another master class next Saturday the 18th. at The Troubadour, come on by - Blurred Vision took to the stage that evening and rocked the joint ! Precious pic by Eric Duvet
As mentioned above, the A Farewell to Kings 40th anniversary box set releases 2 weeks from today on December 1st, and fans will be able to purchase either a 3-CD set, a 4-LP set or the Super Deluxe set as described here:
The A Farewell to Kings 40th Anniversary Super Deluxe version includes three CDs, one Blu-ray Audio disc and four high-quality 180-gram vinyl LPs.

The set encompasses the Abbey Road Mastering Studios 2015 remastered edition of the album for the first time on CD; a complete Rush concert recorded in February 1978 at London's Hammersmith Odeon, newly mixed by longtime Rush engineer and original A Farewell to Kings producer Terry Brown from the multi-track live tapes; four newly-recorded cover versions of songs from the original album by Dream Theater, Big Wreck, The Trews and Alain Johannes; and an instrumental studio outtake of the spacey sound effects the band has creatively titled "Cygnus X-2 Eh."

The Hammersmith show features, for the first-time ever, over 34 minutes of unreleased performances including a complete "2112" suite, "Lakeside Park," a drum solo and "Closer To The Heart." The Super Deluxe Edition's audio content on its CDs is duplicated on its vinyl discs. Meanwhile, the Blu-ray Audio disc contains a brand new 5.1 surround mix of the album by four-time Grammy® nominated surround sound producer Steven Wilson, along with three original 1977 promo videos from a newly found 2-inch quad video master significantly improving the video quality for "Closer To The Heart." The Super Deluxe package also includes an elaborate new 40th anniversary cover treatment by longtime Rush creative director Hugh Syme, who has also created a new piece of artwork for each of the album's six songs, and an extensive 12,000-word liner notes by Grammy®-winning rock historian Rob Bowman.

Finally, The Super Deluxe Edition includes several exclusive items, including a unique King's Ring, with custom velvet pouch and neck chain; two lithographs with original artwork by Hugh Syme; a special 12-inch turntable mat featuring distinctive artwork by Hugh Syme; and a reproduction of Rush's original 1978 A Farewell To Kings tour program. ...
Rush posted a 1.5-minute promotional video a couple of weeks ago highlighting the contents of the set which you can watch on YouTube, and the set is now available for pre-order (3-CD set, 4-LP set, Super Deluxe set). There are also various merchandise bundles available via the Rush Backstage Club. Rush will also be celebrating the A Farewell to Kings 40th anniversary by participating in the Record Store Day Black Friday event on November 24th with the release of a 7-inch vinyl version of Closer to the Heart/Madrigal. Back in April Rush released a Cygnus X-1 12-inch 180 Gram Audiophile Vinyl EP for Record Store Day, also in celebration of the album's 40th anniversary.

The Kidney Foundation of Canada's annual A Brush of Hope charity auction fundraiser ended last week and Alex Lifeson's 20,000 Feet Over The Sea painting wound up selling for a whopping $9600 CAD! Alex has participated in the charity auction nearly every year since 2006, including last year with his painting Aquarium which ended up selling for nearly $8700 CAD. The Kidney Foundation of Canada is now offering a set of 200 limited edition prints of Aquarium to raise money for the charity. Each print is numbered and personally signed by Alex Lifeson and comes on high quality, heavy stock, acid free paper along with a certificate of authenticity. The prints cost $200 CAD and you can purchase your copy at this location.

The folks over at FANTOONS are gearing up for the Holidays with some new Rush-inspired Christmas card designs. The 2 new designs are inspired by Rush's A Farewell To Kings and Different Stages albums, and you can order some for yourself at this location.
Ultimate-Guitar.com posted their list of 10 Songs About Nuclear Annihilation earlier this week, and Rush's Manhattan Project made the cut:
This Rush's song has the lyrics written by the band's drummer Neil Peart and tells a story of the well-known Manhattan Project in four steps. It first addresses the time of World War 2, then the scientist J. Robert Oppenheimer, then the place which is Los Alamos in New Mexico, and finally Enola Gay pilot. Rush also dealt with the similar subject in some of their other songs, like "Distant Early Warning." That particular song shows the difficulties average person faces in the world where nature is polluted and where the humanity is waiting for a few men to decide whether the civilization as we know it will end by a nuclear holocaust.
Danimal Cannon is an American video game composer and chiptune music performer best known for combining guitars with Game Boy music. He just released a chiptunes-meet-guitar cover of Rush's Subdivisions which you can check out on YouTube here (thanks RushFanForever).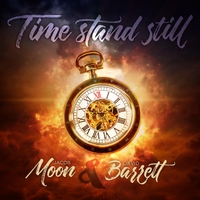 This past summer Jacob Moon and David Barrett, along with drummer Rob 'Beatdown' Brown performed a free concert of Rush and Rush-inspired music at the Lee Lifeson Art Park in Toronto's Willowdale neighborhood. The fan-funded event was such a big success and the experience so enjoyable that the pair decided to record an acoustic version of Rush's Time Stand Still as a thank you to the fans. They enlisted the help of former Rush producer Terry Brown to do the mixing and the result of all their hard work is now available for purchase on CDBaby, iTunes and other streaming channels. They also just released a music video for the song which you can check out on YouTube here. Here's a video of Jacob and David discussing the song and the recording.
David Hood of Clemson Tigers fansite TigerNet.com posted an article earlier this week on Clemson's big win over Florida St. this past weekend which he titled, 2112, Assume Control. Canadian rock band Rush and Travis Etienne. Etienne is from Jennings, LA where the high school football historian Randall Fuselier is a huge Rush fan. The article goes on to describe the connection (thanks Brandon D):
As the final minutes ticked off the clock in Saturday's victory over Florida St., there probably weren't many fans in the stadium thinking about the Canadian rock band Rush, but Tiger running back Travis Etienne had the lyrics from one of their songs running through his head. ... A huge fan of Rush, Fuselier was reading a book about the legendary band and the chapter on 2112 and Assume Control stuck with him. "My two favorite worlds came together," Fuselier said. "Rush and Jennings High football. So whenever I would hand out the award, I would say 2112, Assume Control. It kind of went from there." Etienne smiled Tuesday when he was asked about it. "Assume control. Back in high school, we had somebody who had been around the program come talk to our team," Etienne said. "He started that my senior season. Guys just took to it and it's been that ever since." ... "When Travis had the ball and he scored a touchdown that put us up by touchdowns, we had assumed control of the game," Fuselier said. "Or if we were behind and he scored the go-ahead touchdown, we were assuming control. That is where it came from."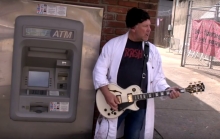 Alex Lifeson has a long history of involvement with the Canadian comedic team The Trailer Park Boys, having appeared on their TV show, in their movies and at their live shows. Back in March we learned that Lifeson would appear in the upcoming Trailer Park Boys Netflix series Out of the Park USA via a series of tweets from Mike Smith (aka Bubbles). Bubbles also mentioned recording a new song with Alex called Who's Got Your Belly? The show will hit Netflix next Friday, November 24th and Netflix has released a trailer for the series featuring Lifeson and a number of other celebs that will make an appearance in the show. In the trailer Lifeson is shown standing on the sidewalk in front of an ATM wearing a lab coat, a RASH t-shirt, a really bad toupee and playing/singing Tom Sawyer very badly on a guitar (looks like his signature Gibson Les Paul!) as seen in this screenshot. In the next scene "Lifeson" and the Boys are sitting in a restaurant and Alex has a HUGE cheeseburger in front of him as seen here. Alex then says, "are you guys gonna order anything?" Right after that point, a song plays during the trailer that seems to be the aforementioned Who's Got Your Belly? You can watch the trailer below or at this location, with Alex coming in at about the 45-second mark.
That's all for this week. Have a great weekend!